If you've ever googled the phrase "best paleo recipes", you've probably clicked on and browsed this list of the 100 best paleo diet recipes of all time compiled by paleogrubs. When we first started on our paleo journey, we referred to this list frequently to get new ideas for meals and try out some new paleo recipes. One of the best recipes we found on this list was the Mile High Power Breakfast Burger. The first time we tried it we were amazed by original flavor of the burger and the piled-high stack of toppings that mixed together to form a perfect meal.
While we've made this burger several times and love the flavor, we have to be honest, it's not a quick recipe to put together. There are a lot of ingredients that need to be chopped up and mixed together to make the burger and it's not something you can just throw together in a few minutes on a weeknight.
So for our recipe we adapted and streamlined a few things from the original recipe to make our own version of this paleo breakfast burger. We kept the egg and bacon (duh) but simplified the seasonings for the burger to make it quick to mix up and get right into the skillet.
While the burger forms the base of this meal, the star of the show is really the stack of toppings piled on top of the burger. We started with a base of some spinach, added the burger and then topped it with a heap of sauerkraut, olives, avocado, bacon and an egg.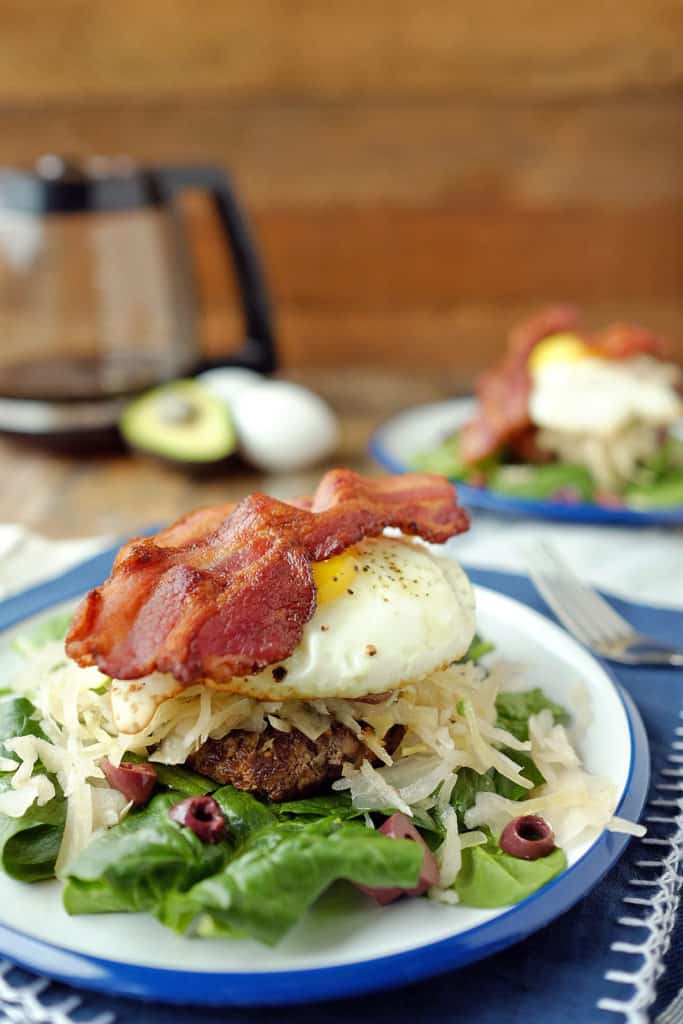 Yes, it took several attempts to get that stack of toppings to balance on the burger. While it looks pretty in the picture, the best part is really cutting it all up and mixing it together so you can get a mouthful of burger and all the toppings in one BIG bite!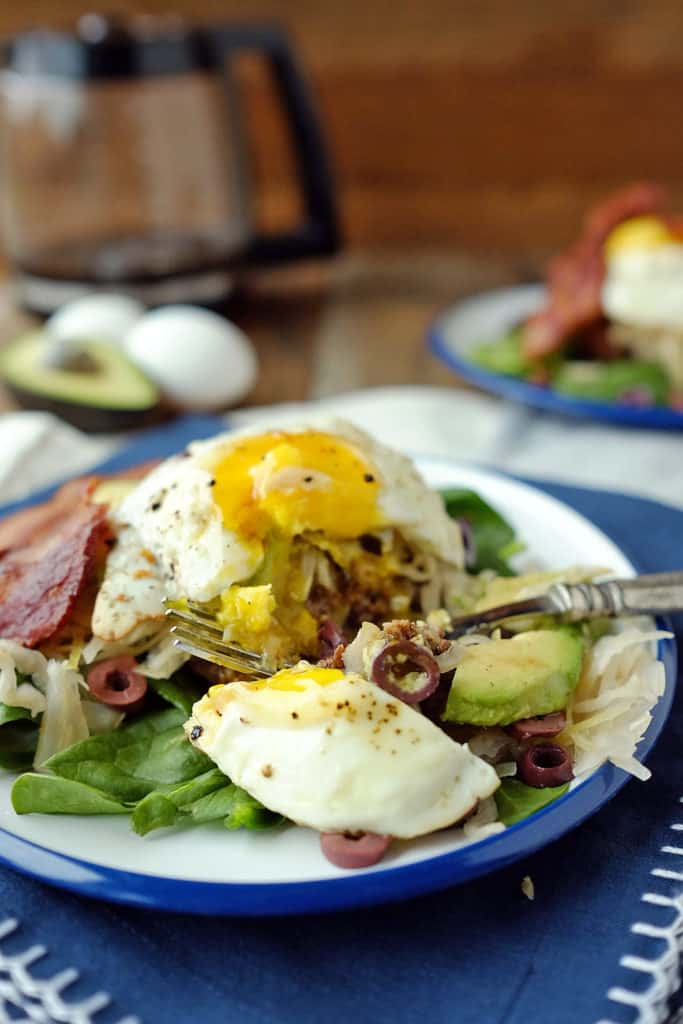 If you try out this recipe, let us know what you think by leaving a comment below and adding a rating. Also, take a picture and tag it on Instagram @realsimplegood so we can check it out!
---
Get the Recipe:
Paleo Breakfast Burger (Whole30 + Keto)
While the burger forms the base of this meal, the star of the show is really the stack of toppings piled on top of this Whole30 + paleo breakfast burger.

Ingredients
For the burgers:
1 lb grass-fed ground beef
1 tsp garlic powder
1 tsp onion powder
1/2 tsp salt
1/2 tsp pepper
For the toppings:
2 handfuls of spinach
1 cup sauerkraut
1/2 cup olives, - sliced
1 avocado, - sliced
3 pastured eggs
4 slices bacon
Instructions
Start by cooking the pieces of bacon. Once cooked, set aside on a paper towel lined plate.

Mix the ground beef, garlic powder and onion powder together in a bowl with your hands. Form the ground beef into 3 patties (you'll have one left over for later). You want a big 1/3 lb patty to form the base of this meal.

Heat a skillet over medium heat. Add the burger patties to the skillet to cook, approximately 5 minutes per side.

While the burgers are cooking, chop up the other ingredients and set them aside.

When you flip the burgers, heat another small pan for your egg over medium heat. Crack an egg to cook over easy for a runny yolk.

Now, it's time to put together your burger stack. Start with a handful of spinach and put your burger down as a base. Next, pile on the kraut, olives, avocado and egg. Finish it off with 2 slices of bacon. Repeat for the second burger.

Dig in and enjoy!
Notes
Nutrition facts are an estimate provided for those following a Ketogenic or low-carb diet. See our full nutrition information disclosure here.  
Adapted from thehealthyfoodie.com - Mile High Power Breakfast Burger
Calories: 731kcal, Carbohydrates: 11g, Protein: 38g, Fat: 59g, Saturated Fat: 18g, Fiber: 7g