The one thing I missed the most when I switched to a Paleo diet was a big, juicy burger. I've always loved burgers, and wanted something I could pick up with both hands and sink my teeth into. Since I couldn't just go buy buns from the store, I had to be more creative and use Paleo friendly ingredients. After discovering the magic of plantains, these Paleo burgers were born. They are Paleo + Whole30 friendly and will satisfy any burger craving you have!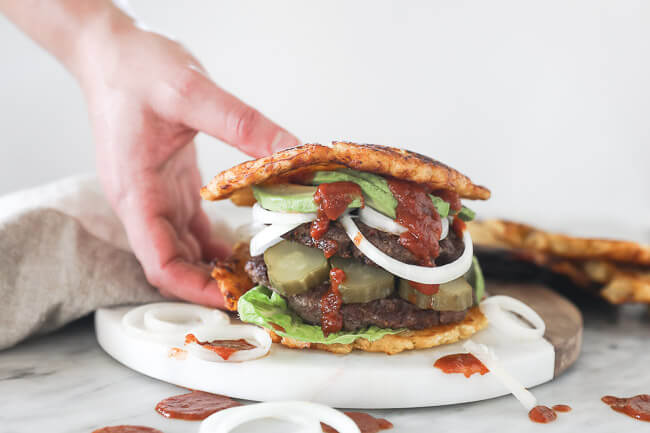 So what are the buns made of?
If you haven't ever cooked with plantains, don't be scared! They make the perfect buns for these Paleo burgers because they become firm and crisp up when they are smashed and fried. They end up being sturdy enough to hold a big burger with toppings without falling apart.
How to pick the perfect plantains for your paleo burgers
We've made these plantain buns with plantains of different ripeness. Green plantains are starchy and kind of hard, more like a potato. Ripe plantains, the yellow and black ones, are softer and sweeter. This recipe will work with either, but it's best to use plantains that aren't too ripe or too green. Look for the ones that are just turning yellow without many black spots. These will form the perfect, starchy buns for your burgers.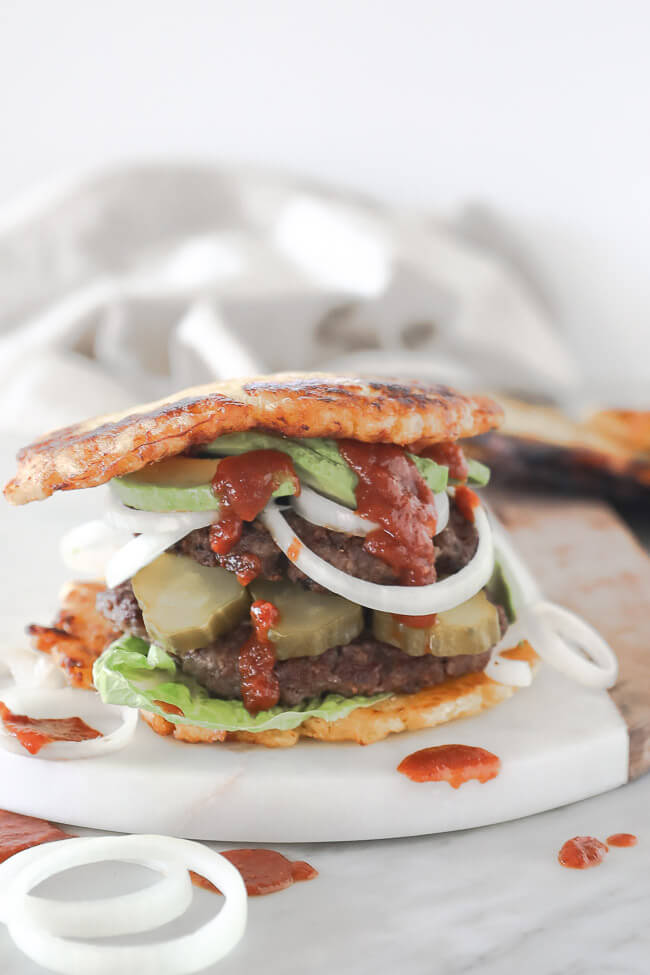 A burger and fries anyone?
The best thing about these burgers is that you don't even need a side of fries with them. The plantain buns are starchy and crispy, kind of like french fries. So, when you eat this Paleo burger it's kind of like eating a burger and fries all at once! You'll be amazed by how filling these healthy burgers are.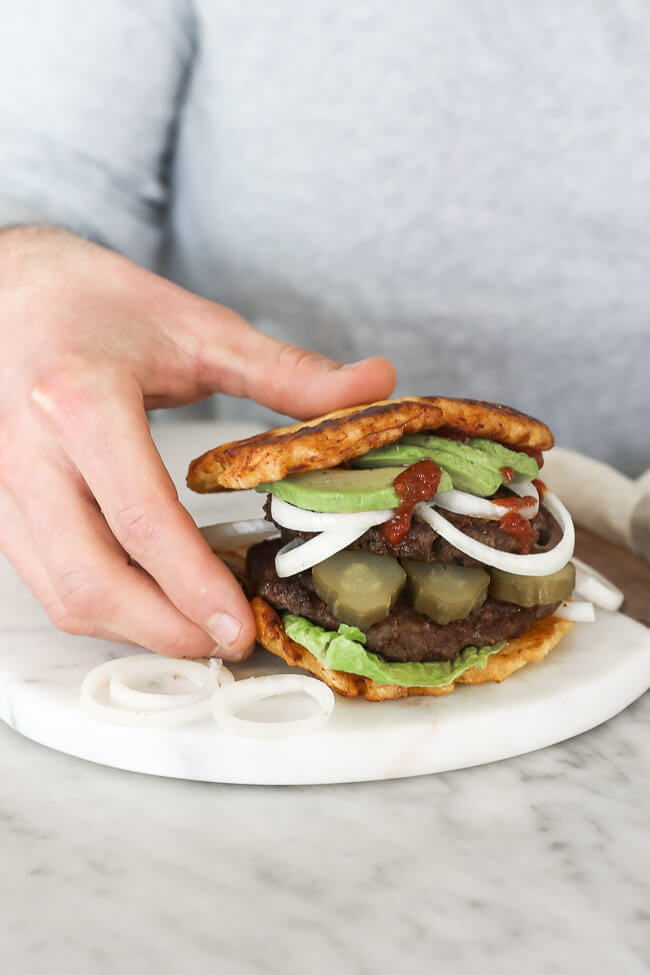 More recipes featuring plantains
Your turn to try these Whole30 + Paleo burgers
Be sure to try this recipe soon so you can pick up a big juicy burger with your hands and dig in! If you are missing burgers at all, this recipe is sure to satisfy your craving. Leave a comment below to let us know how it goes if you try the recipe. Also, take a pic to share on social media. Tag us on Instagram @realsimplegood, we love to see what you're cooking!
---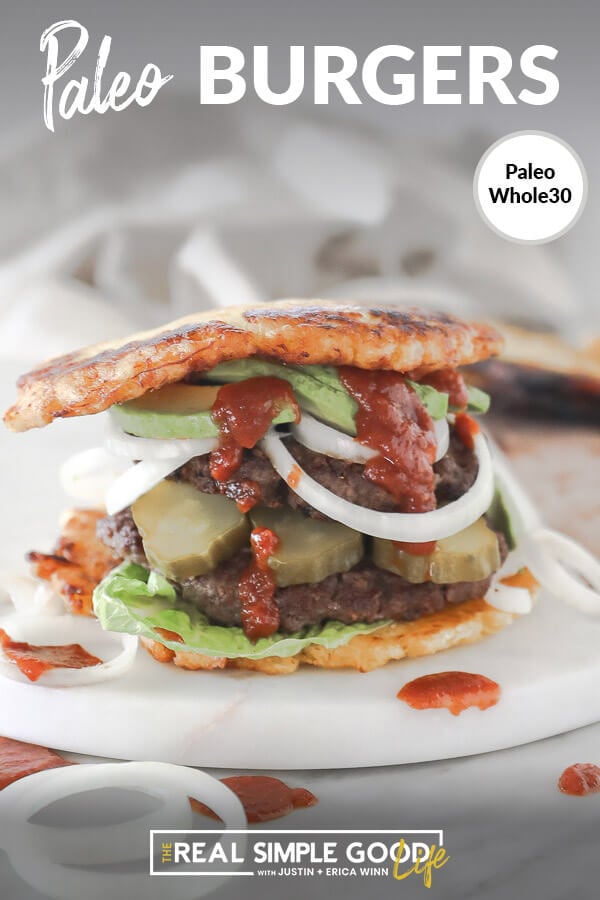 ---
Like this Recipe?
SHARE IT NOW OR PIN IT FOR LATER!
---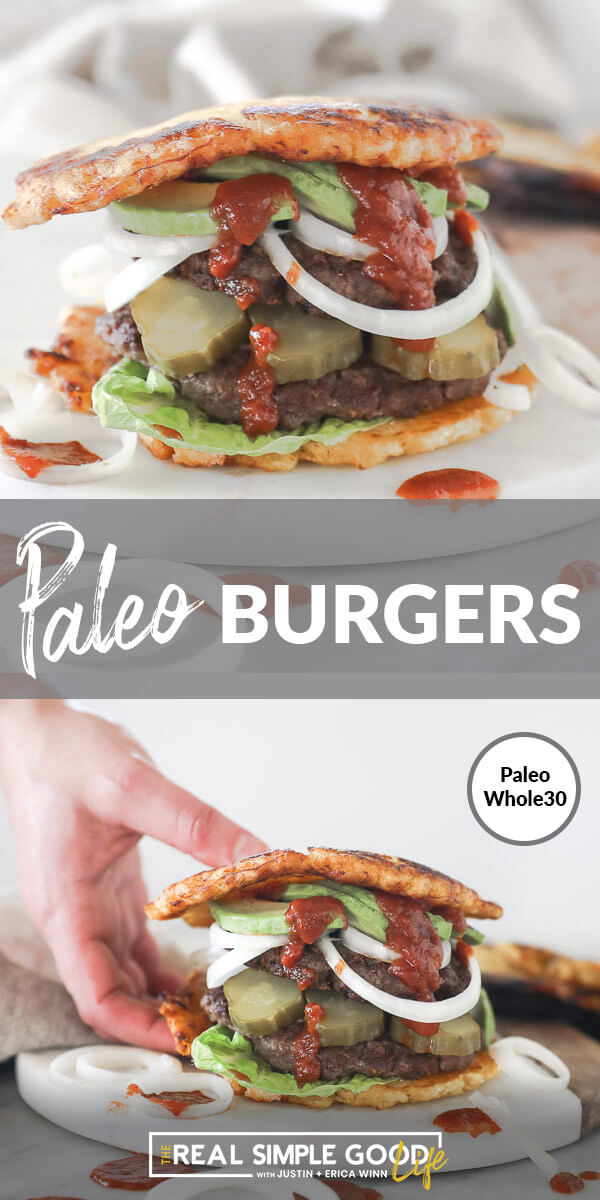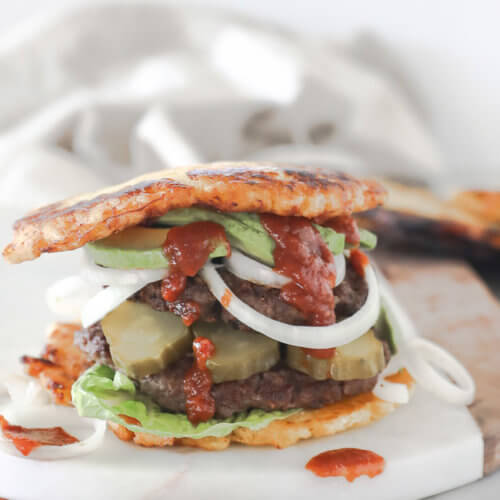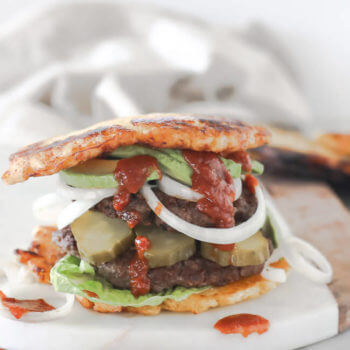 Get the Recipe:
Paleo Burgers
These Whole30 + paleo burgers are like having a burger and fries all at once. Satisfy your burger craving and enjoy a juicy burger with a bun you can savor!
Ingredients
For the buns:
2 green plantains
1/4 cup of avocado or coconut oil, (+ more if needed)
Salt to taste
For the burgers:
1 lb grass-fed ground beef
1 tsp onion powder
1 tsp garlic powder
1 tsp salt
1 tsp pepper
Whatever burger toppings you want (pickles, lettuce, tomato, avocado, mayo, mustard, etc.)
Instructions
Bring a pot of water to a boil for the plantains. Peel the plantains and slice them in to 2-3 inch long pieces. Once the water is boiling, carefully drop the plantain pieces in and boil for 5 minutes.

While the plantains are boiling, place the ground beef in a bowl and add in the onion powder, garlic powder, salt and pepper for seasoning. Mix everything together with your hands to get the seasonings evenly incorporated. Form the burgers into 3 large patties and set aside.

Carefully drain the water from the pot. Using the back of a plate or other flat object, smash the plantain pieces into "buns" between two sheets of parchment paper. Using a spatula, set the flattened plantains aside on a plate.

In a large skillet, heat the avocado or coconut oil over medium-high heat. Working in batches, fry the flattened plantains until brown a crispy, about 3-4 minutes per side. Season with salt on each side and place the cooked "buns" on a paper towel lined plate. Add more oil as needed to finish cooking all of the plantains.

When half of the plantains are cooked, heat another large skillet to medium. Add the burgers and cook for about five minutes per side, or to your desired doneness.

Now make up your burgers. Put a bun on a plate, top with a burger patty, add your favorite burger condiments and top it off with another bun. Enjoy.
Notes
If two people are available to prepare this recipe, you can work as a team with one person cooking the buns while the other person cooks the burgers. You can start cooking the burgers once a few of the buns are done and everything should be hot and  ready to eat once the burgers are cooked.