This colorful salad is easy to put together and has a creamy, tangy taste that mixes with the savory bacon and sweet apples to pack a ton of flavor in each bite. And if you're looking for the perfect paleo coleslaw to go with pulled pork, you just found it.  We tried this combination recently and it was pretty amazing. A little bit of this slaw on your fork with some pulled pork makes the perfect bite. Our plates were empty before we knew it but there was an easy way to solve that problem – go back for seconds.

Of course you can never go wrong with bacon and when you add some apples, cabbage and tangy mustard flavor you get a great side dish that is light but savory and full of flavor. This paleo coleslaw with apples and bacon will be a great side dish for your next BBQ or get together. It's even better the next day after all of the flavors blend together, so if you have time and are planning ahead, make it in advance and leave it in the fridge overnight.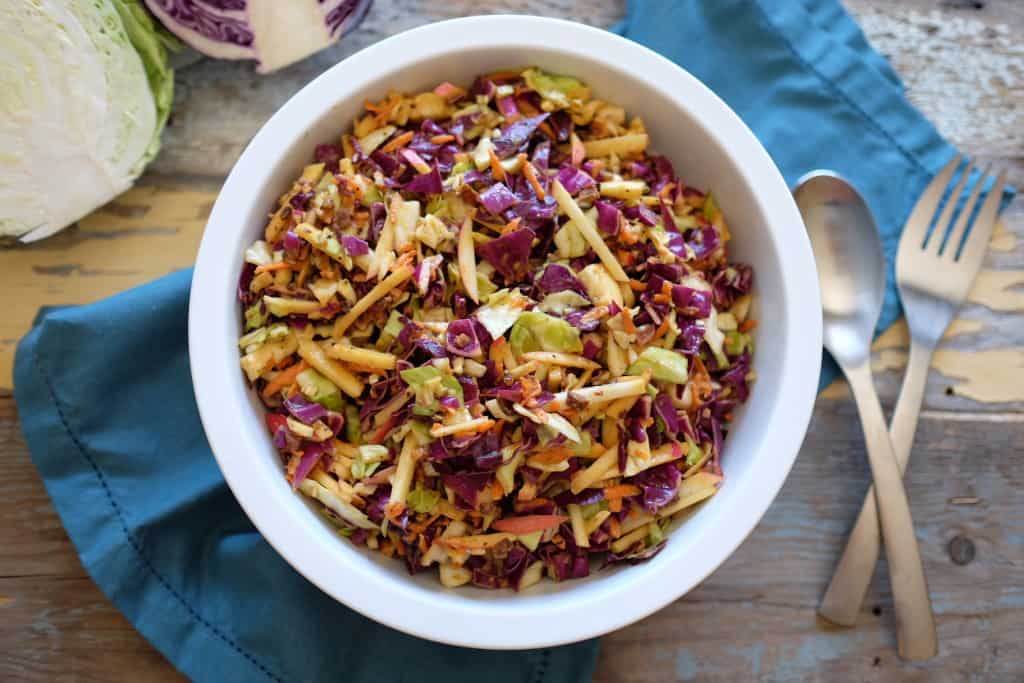 ---
Get the Recipe:
Paleo Coleslaw with Apples and Bacon
This paleo coleslaw with apples and bacon has a creamy, tangy flavor from the savory bacon and sweet from the apples to pack a ton of flavor in each bite.
Ingredients
4 slices of bacon, - cooked and chopped into bacon bits
1 head of cabbage, - roughly chopped (we used 1/2 head each of green and red cabbage)
2 apples, - julienned
3 carrots, - grated
1 avocado, - mashed
2 Tbsp mustard
1/4 cup olive oil
1/4 cup apple cider vinegar
1 Tsp pepper
salt, to taste
Instructions
Start by cooking up your bacon. After it has cooled, chop it up into bacon bits.

While the bacon is cooking, chop up the cabbage and apples and grate your carrots. Add everything to a large bowl.

Mash an avocado in a separate bowl.

Add in the bacon bits, mashed avocado, mustard, olive oil, vinegar and pepper to the large bowl. Mix everything well to distribute the dressing and coat everything evenly.

Taste and add more salt and pepper if desired.

Serve immediately or let it sit in the fridge overnight to allow the flavors to blend together.