It's like lasagna and spaghetti met pizza, and they made a baby. This paleo lasagna is our new favorite casserole dish. Imagine the tantalizing taste of pepperoni and sausage mixed with tomato sauce and fresh basil. There is no cheese or pasta, and you won't miss either. 
For this paleo lasagna, we tried to re-create the flavor of lasagna but not necessarily the layered texture. Why try and pretend you have noodles and cheese when you don't? Even without those ingredients, this lasagna is full of meaty flavor and sure to fill your belly. Serve it with a side salad or just eat it on its own as a meal. It makes great leftovers too! And for real, the leftovers are the best part!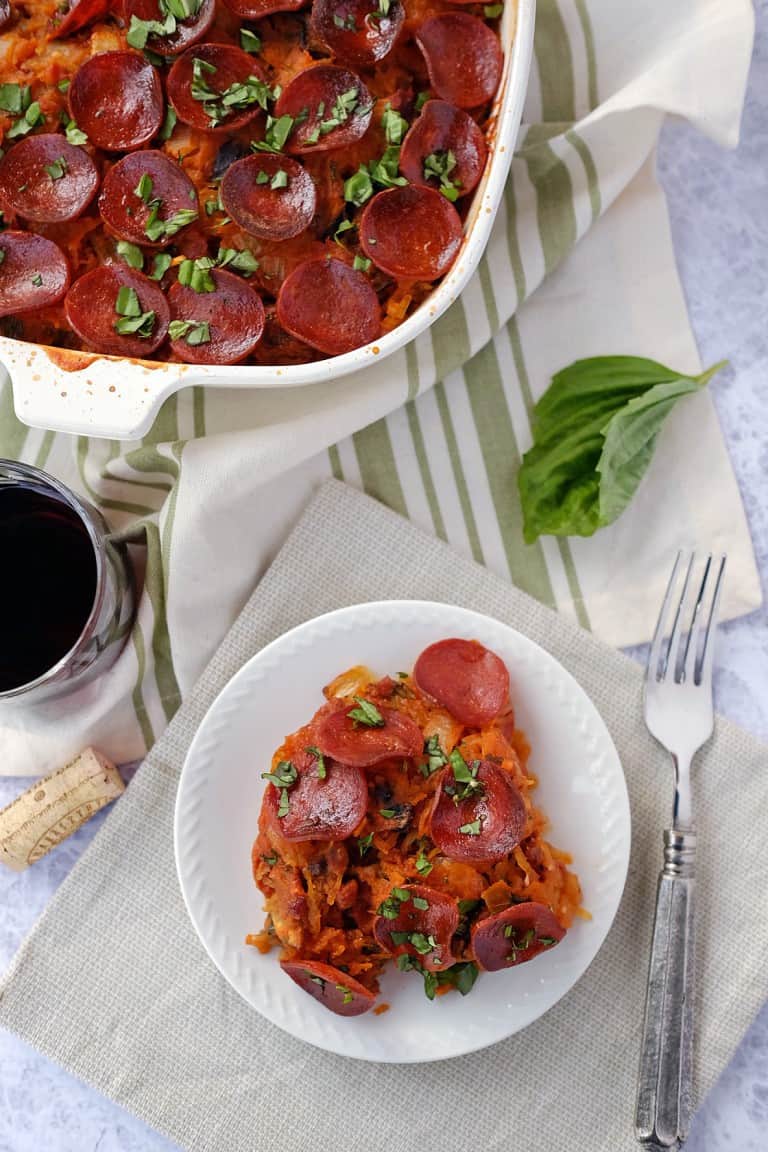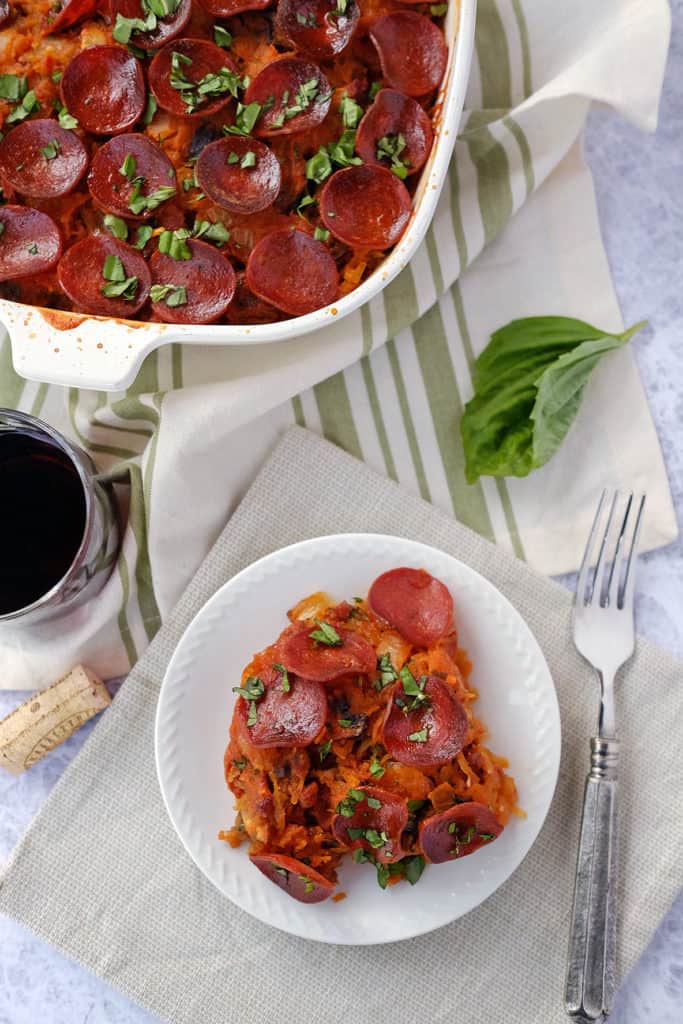 I love that we can mix up a big batch and have it on hand for lunches or dinner on our busy weeknights. This paleo lasagna is also a good one for freezing and having on stand-by. Your house will smell like Italian deliciousness though, so you may not be able to resist sneaking at least a bite or two. Your dish will come out of the oven bubbling, teasing you to take a bite. Let it cool for at least five minutes, but get ready to dig in.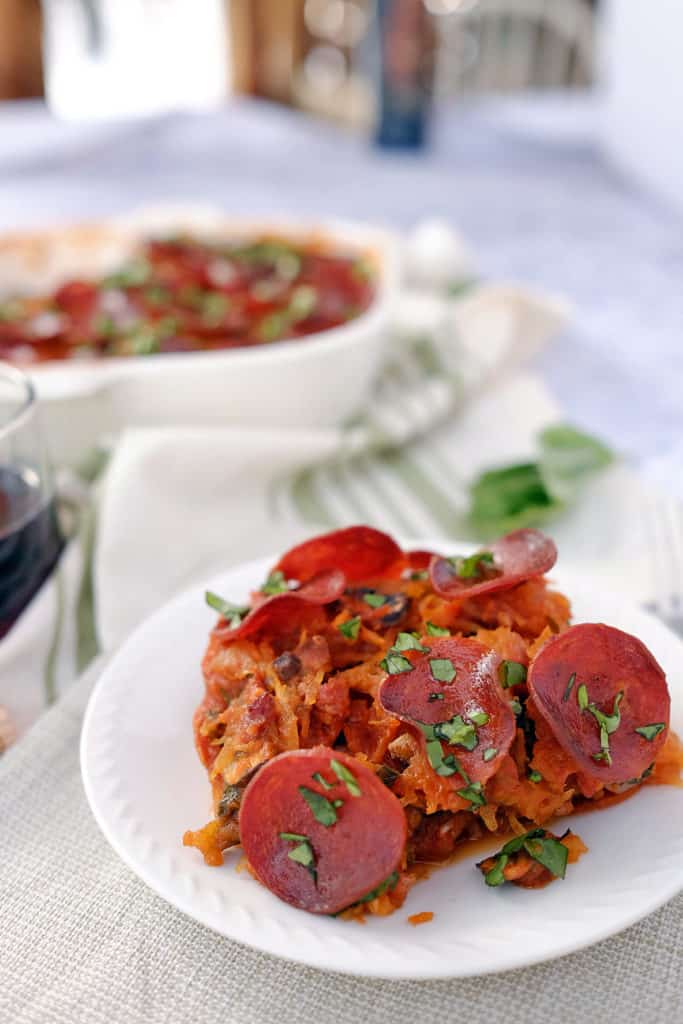 Get ready to take your taste buds on a ride with this paleo lasagna, and let us know how you like it by leaving a comment below. Also, take a picture and tag it on Instagram @realsimplegood so we can check it out!

---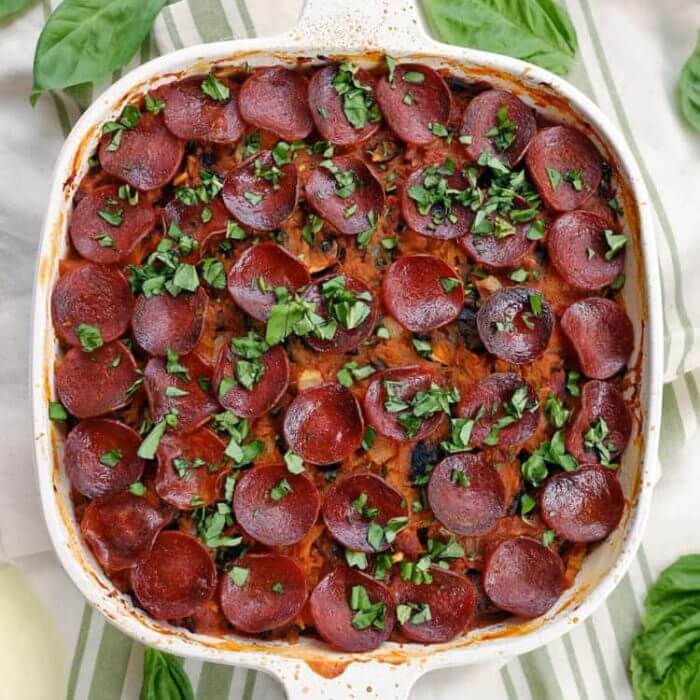 Get the Recipe:
Paleo Lasagna (GF, Dairy-Free + Whole30)
This paleo lasagna is our new favorite casserole. Made with spaghetti squash, you won't miss the cheese or pasta in this Paleo & Whole30 lasagna.
Ingredients
1 lb spicy Italian sausage
1/2 onion, diced
6 cloves garlic, minced
2 cups mushrooms, sliced, -
10 leaves fresh basil, diced, -
1 jar spaghetti sauce, (25 oz) Choose a sauce that has some flavorful ingredients (capers mushrooms, garlic, etc.), as it adds to the overall flavor of the dish. We really enjoy a jar we found at Trader Joe's. It's called Trader Giotto's Puttanesca.
5 oz pepperoni
Instructions
Preheat oven to 425 degrees.

Slice the spaghetti squash lengthwise and scoop out the seeds. Place the two halves face-down on a baking dish and place in the oven to bake for 30 minutes.

While the squash is cooking, chop up all of your other ingredients and set aside.

Next, get the sausage cooking. Heat a large pan over medium heat and add in the sausage and chopped onion. Cook until the sausage is browned and remove from heat.

Once cooked, remove the squash from the oven and lower the oven temperature down to 350 degrees. Allow the squash to cool for handling, about 5 minutes.

With a fork, scrape out the spaghetti squash "noodles" into a large bowl.

Add the cooked sausage, garlic, mushrooms, basil and spaghetti sauce to the bowl. Stir everything around to mix it well.

Dump 1/2 of the spaghetti squash mixture into a 9x13 casserole dish. Spread it around to make an even layer on the bottom of the dish. Top with a layer of 1/2 of the pepperoni.

Add on the other half of the spaghetti squash mixture and spread it around again to create an even layer. Top with a layer of the remaining pepperoni.

Place in the oven to cook for 1 hour.

Remove and allow to cool for at least 5 minutes prior to serving.