These Paleo plantain fries are our cleaned-up version of an old guilty pleasure, and they are sure to satisfy any cravings you have for a salty, starchy side dish. But first, think back…
Do you remember being a younger, not-so-wise, and less health conscious version of yourself? Did you love cakes? Perhaps you could have leaped into a vat of ice cream and swam around for a bit (that was me and maybe still is!). Maybe your thing was potato chips, or could you devour those squishy, salty fries from the double arches? Oh man, I sure remember those! Whatever it was, you probably had your guilty pleasures, and hopefully you still do because they sure make life a little more fun, but hopefully they are much healthier versions these days.
We still eat potatoes from time to time and enjoy them, but when we want a starchy, salty, dip in your favorite sauces kind of thing, we definitely lean toward our Paleo plantain fries. They get crispy on the outside, yet just a little squishy on the inside, and they make it so you don't even miss the bun when you are having a Paleo burger. Yeah – that's right! You won't even miss the bun because these Paleo plantain fries are all the starchy goodness you will ever need. Ever.
Looking for some more fries? Check out these baked jicama fries, butternut squash fries or grilled sweet potato fries!
More About Plantains
Have you tried plantains before? Do you use them in casseroles, eat them with breakfast, or as a side dish? They can be on the sweeter side or the more starchy side, depending on how ripe they are. Green plantains will be much more starchy, and they are ideal for this type of recipe. However, the sweeter ones, which are yellow or browned, turn out well, too. They just pack a little different flavor punch.
When Justin and I were on vacation in Mexico last year, one of the restaurants we ended up frequenting served plantains as a side dish, and they were a little on the sweeter side and served with a balsamic glaze. Holy Moly! They were so so fantastic paired with these yummy steak and veggie kabobs they also served. So, sometimes, depending on what the rest of your meal entails, you may try the sweeter or more starchy plantains. Don't be afraid to play, and create new ways to enjoy plantains!

Paleo Plantain Fries
We paired our Paleo plantain fries with a Cuban style burger…OMG! We are working on a new e-cookbook that we cannot wait to share with you, and the Cuban burger was one of the recipes we were testing for it! This e-book is going to be a fantastic resource for 30-minute Paleo meals. And the best part – all of the recipes are made in 30-minutes or less as the title suggests, AND they all have seven or less ingredients (not including oils, salt and pepper, of course). What!? That's right! We have been working on our craft and honing in on creating efficiencies in the kitchen, and we can't wait to share this special project with you! Stay tuned for more info, and catch behind the scenes action this summer!
30-Minute Paleo Meals E-Cookbook
Here's a little preview of some of the recipes we've got in store: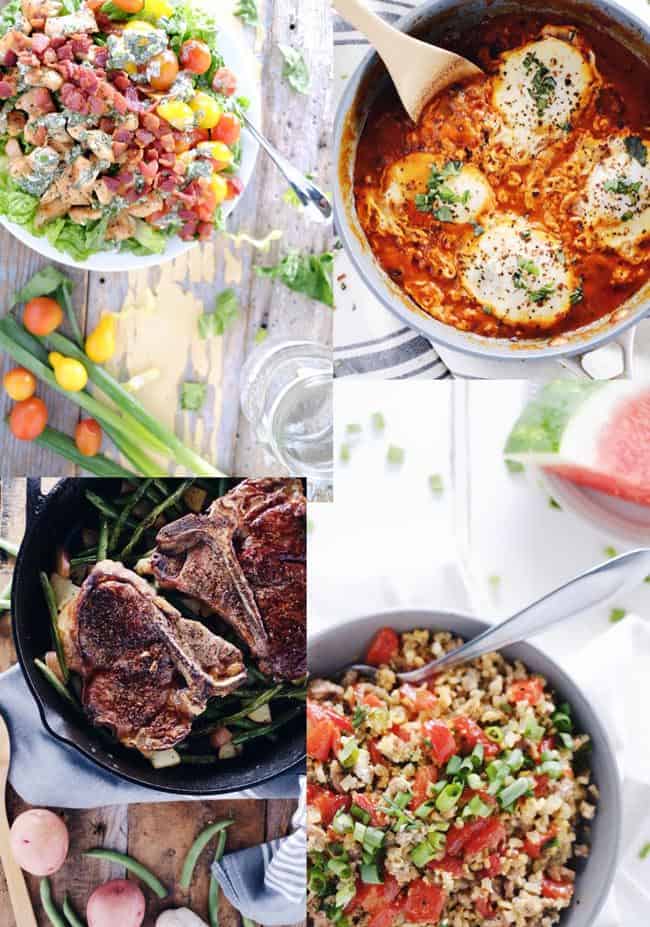 Have you signed up for our newsletter yet? Get on it, so you'll be the first to know about all the exciting details of the cookbook. Also, just for signing up you'll get our FREE one week meal plan with shopping list and prep list! Start learning how to be more efficient in the kitchen so you can spend more time enjoying your family, friends and loved ones, without losing any flavor in your dishes.
Back to These Paleo Plantain Fries
Alright, back to these Paleo plantain fries just one last time…look at the crispy edges, and imagine all of the sauces and dips you can dunk them in.
Give these Paleo plantain fries a try, and let us know what you think by leaving a comment below. Then, snap a photo and tag us on Instagram @realsimplegood so we can check it out!
---
Get the Recipe:
Paleo Plantain Fries (Whole30)
These paleo plantain fries are our cleaned-up version of an old guilty pleasure. They are sure to satisfy any cravings for fries on your Whole30 too.
Ingredients
2 green plantains
2 tbsp coconut or avocado oil
sea salt, to taste
Instructions
Start by scoring your plantain peels lengthwise with a knife, and then remove the peels. Cut your plantains in half, and then cut the halves in half again so you end up with four half cylinders. Slice them into thin strips like fries.

Heat a large skillet over medium heat, and once it is hot, add your coconut or avocado oil to the pan.

Place your plantain strips into the skillet, and season with salt. After a few minutes, flip the strips over and season with salt again. Add more oil if necessary as you go. You want the fries to get a little brown and crispy on both sides.

Once your fries have reached your desired level of crispy perfection, remove the fries from the heat and place them on a paper towel lined plate to absorb any excess oil.

Enjoy! Dip these babies in your favorite sauces, and pair these Paleo plantain fries with all your favorite proteins!