It's that time of year…fall is creeping in and as the leaves start to change, all things pumpkin sound yummy! These paleo pumpkin blondies are just the right amount of savory paired with sweet to deliver a great fall flavored treat.
Not only are these super tasty, they are equally easy to throw together and sure to please your whole family! It only takes about five minutes to mix up all the ingredients and then 22-25 minutes to bake in the oven. Similar to our paleo chocolate chip fudge brownies, you want them to come out of the oven a little squishy. They will firm up as they cool, yet stay soft and gooey on the inside. Yep…a little gooey on the inside is how you know you made these paleo pumpkin blondies just right. So get to it…go make a batch of these yummy fall flavored blondies and snuggle up on the couch with a warm beverage.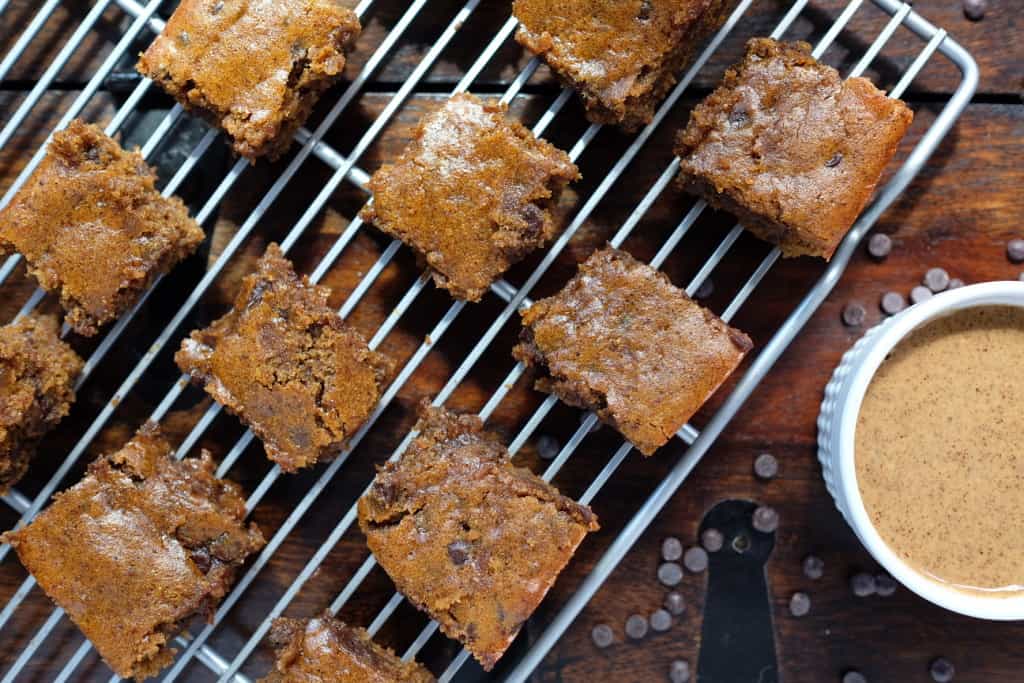 And here they are drizzled with extra almond butter…oh so good.
If you try out this recipe, let us know what you think by leaving a comment below and adding a rating. Also, take a picture and tag it on Instagram #realsimplegood so we can check it out!
---
Get the Recipe:
Paleo Pumpkin Blondies
Instructions
Preheat your oven to 350 degrees.

Grease an 8x8 baking dish with the fat of your choice (I used avocado oil, but coconut oil would be good too).

Add all of the ingredients, except the egg baking soda and apple cider vinegar, to a medium sized mixing bowl.

Mix with a spoon until creamy.

Whisk your egg in a separate bowl and then dump it into your mixing bowl and stir it into the mixture until it's evenly combined.

Add your baking soda and apple cider vinegar last...it will be like a science project. The apple cider vinegar will make your baking soda all fizzy. You MUST do this last because it is what will make your blondies rise a little extra!

Once the fizzing starts to slow down mix all the contents of your bowl up until everything is combined.

Fold in the chocolate chips if you use them.

Pour the mixture into your baking dish.

Bake in the oven for about 22-24 minutes. It will seem a little squishy when it is done. Just take it out and let it cool as it will harden as it cools.

Enjoy these paleo pumpkin blondies! They're especially fun in the fall, but tasty all year long!

Store them in the fridge in an airtight container for about a week.