Recently we had a couple of cooler days in this heat wave, and it really got me excited for fall. It might just be my favorite season, and I certainly have a thing for pumpkin. It just speaks to me. Like boots and scarves, pumpkin IS fall to me. While I have moved away from nuts as a snack for the most part, I do indulge from time to time, especially on days where I am very active. These paleo pumpkin granola cookies have far less nuts than you'd expect and they're combined with coconut, seeds and pumpkin for a hearty snack, great for a busy day. You might even find some other tasty uses, like crumbling one over a bowl of vanilla coconut cream ice cream. Yep, that happened. Beware…you've been warned…these are a little addicting.
This recipe just requires starting with roughly chopped nuts, seeds, and coconut flakes. Combine them with the rest of the ingredients and bake in the oven. In about 30 minutes you'll have a wonderful smelling home and a tasty little treat to enjoy. Go on…get to it. Make these pumpkin granola cookies, and let us know if you are able to not become addicted!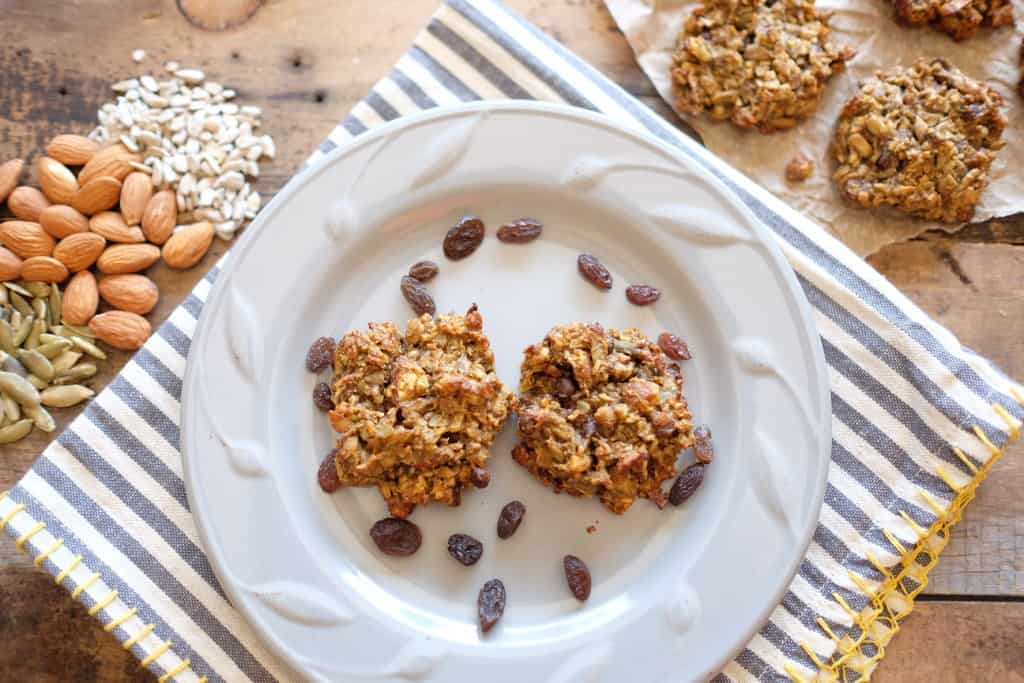 ---
Get the Recipe:
PALEO PUMPKIN GRANOLA COOKIES
Ingredients
1 cup raw almonds
1 cup raw pepitas, (shelled pumpkin seeds)
1 cup raw sunflower seeds, - shelled
1 cup raisins, - optional (they add a little sweetness and chewy texture)
1 cup pumpkin puree
1/2 cup sunflower seed butter
2 tbsp pumpkin pie spice
1 tbsp cinnamon
1/4 cup pure maple syrup or coconut sugar, - optional for a little sweeter granola
pinch of salt
Instructions
Preheat your oven to 350 degrees.

Line a baking sheet with parchment paper.

Place your almonds, pepitas, and unsweetened coconut flakes in your food processor.

Pulse until the ingredients are roughly chopped.

In a medium mixing bowl, combine your nut mixture with the rest of the ingredients.

Mix with a fork until it is clumpy and the pumpkin is combined.

Scoop the mixture into tablespoon sized balls on your parchment lined baking sheet.

Bake at 350 degrees for about 15 minutes, or until the edges and tops of the cookies begin to brown.

Let the cookies cool on the baking sheet (this will help them to stay together).

Store in air tight containers and enjoy for a snack or treat. Consider yourself warned though...they're addicting!!