Fall is upon us, and all the cozy soups sound like the best idea ever. Curling up with a big bowl of hot soup just feels so comforting and soul-satisfying. It's one of my favorite parts of fall and winter. This Paleo sausage soup is filled with so much goodness from the roasted garlic to the potatoes and kale. 
Roasted Garlic – So Easy and Delicious
If you've never tried roasted garlic before, you're really missing out. It's so delicious I like to just eat it straight out of the peel. Seriously, the roasted garlic in this Paleo sausage soup adds such a dynamite dimension of flavor your taste buds will be rockin'!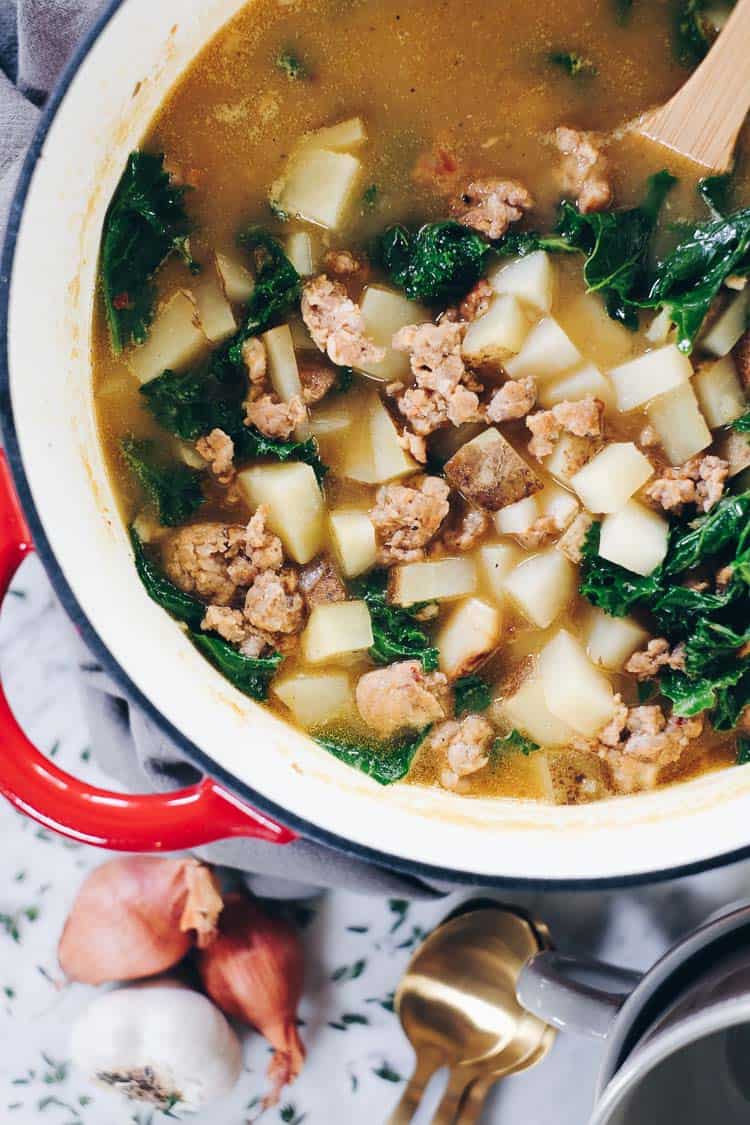 The best part about making roasted garlic is that it's super easy! All you have to do is cut the top off of a clove, drizzle it with a little oil and a pinch of salt and roast it in the oven. Simple as that!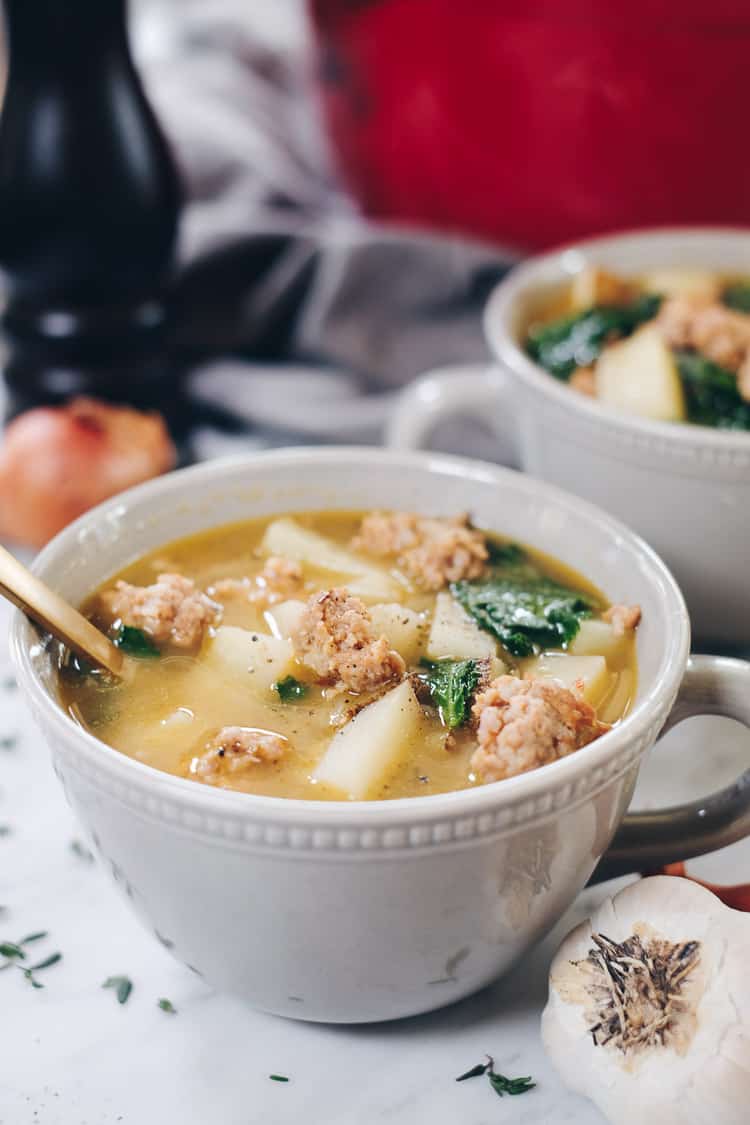 A Simple Soup to Make
As it turns out, roasting the garlic might be the hardest part of putting this soup together! Really though, for a hearty soup, this doesn't take much effort to put together. Just cook up some sausage, add in potatoes, herbs and chicken broth and that's about it. Finish it off with the roasted garlic and some kale and you have a healthy, filling soup you'll be dying to dip your spoon into.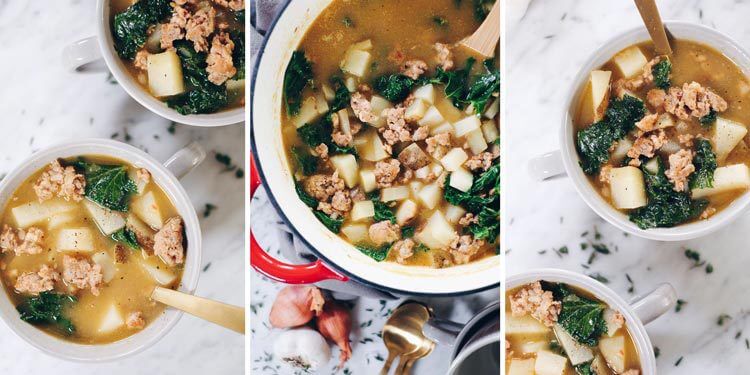 This Paleo Sausage Soup is so Hearty and Comforting
Have you ever been outside on a cold day, craving something warm and cozy to eat to fill up your belly and warm you up? Okay, maybe you aren't even outside but the weather outside puts you in the mood for a hearty soup. Either way, this Paleo sausage soup with roasted garlic and potatoes is the perfect soup to dig into on a cold fall or winter day. The potatoes and sausage will fill you up but the roasted garlic flavor will have you dying to go back for seconds. I know, I know, it's a tough dilemma you'll face.
Your Turn to Try This Paleo Sausage Soup with Roasted Garlic and Potatoes
For me, I always end up going back for seconds to fill my bowl up with this delicious Paleo sausage soup. Why don't you give this recipe a try, and let us know if you end up doing the same? Roast up some garlic and enjoy the bold flavor it adds to this hearty and warming soup. Let us know how it goes by leaving a comment below. Also, take a photo and tag us on Instagram @realsimplegood, so we can check it out!
---

---
Get the Recipe:
Paleo Sausage Soup with Roasted Garlic and Potatoes (Whole30)
Curling up with a big bowl of this Paleo sausage soup feels so comforting and soul-satisfying. It's filled with roasted garlic, potatoes and kale.
Ingredients
2 teaspoons olive oil
1 shallot, diced
2 large heads garlic, (full heads, 12 – 15 cloves each)
2 tbsp avocado oil, divided
1 lb ground Italian sausage
2 potatoes, cut into small cubes
4 cups kale, roughly chopped
2 sprigs fresh thyme
2 sprigs fresh parsley
4 fresh sage leaves
1 lemon, juice of
6 cups chicken broth
Salt and pepper
Instructions
For the roasted garlic (you can prepare in advance):
Preheat oven to 400° Fahrenheit and dice shallot.

Use your fingers to peel away all of the loose outer layers around the head of garlic. Leave the head itself intact with all the cloves connected. Trim about 1/4 inch off the top of the head of garlic to expose the tops of the garlic cloves.

Set heads, trimmed side up, in a small, oven-proof dish or a ramekin. Add 1 teaspoon avocado oil and a pinch of sea salt to each head. Wrap the garlic in aluminum foil and roast in the oven for 40 minutes. Once garlic is done, remove foil and set it aside to cool. When cool, slide cloves out of their skin and set aside or place in a container and refrigerate.
For the soup:
In a large pot or dutch oven, heat 1 tbsp avocado oil over medium heat. Once hot add in shallot and cook, stirring occasionally, for 2-3 minutes.

Add sausage and break it into small bits. Cook, stirring occasionally, until the sausage is browned, about 7-8 minutes.

While the sausage is cooking, chop potatoes and kale and tie herbs together in a bundle with twine.

Once the sausage is browned, add in about 1/2 cup of chicken stock and scrape up any sausage bits from the bottom of the pan. Then, add in the remaining chicken stock, potatoes, roasted garlic cloves, herb bundle and lemon juice. Season with some salt and pepper (about 1/2 tsp each). Stir to mix.

Bring mixture to a boil and then turn heat down to a bubbling simmer. Cook until potatoes are tender, about 15-20 minutes.

Remove the herb bundle and add in kale. Cook another 2-3 minutes, until the kale is wilted. Taste and season with additional salt and pepper as desired. Remove from heat and serve.