Whether it's to have a snack on hand, to take with you on a road trip or to share at a holiday gathering, these Paleo spiced nuts are a great way to add a little extra flavor to your day! They are super simple, easy to make and obviously crazy addictive!  
Perfect For The Holidays
You are definitely going to want to make these Paleo spiced nuts a part of your holiday celebrations this year. Not only would they be great to have sitting with the rest of the appetizers for people to munch on, they'd also make a great DIY gift idea. I always love having some sort of DIY gift to give to family, friends, hosts of gatherings, etc. You can pack them up in mason jars and add a little plaid ribbon around the tops! Ok, you don't have to use plaid ribbon, but that's what I'll be doing! 😉
Crazy Addictive
It would be wrong of me to not warn you that these Paleo spiced nuts are sooooo addictive! Ever since the very first time Justin whipped up a batch I've been sold. They have just the right seasonings to keep you coming back for more, especially when they are just sitting on the counter begging for you take a little handful…or a big one, like as many as you can fit in your hand if you're like me. But for real, that makes them the perfect addition to your holiday festivities this year. Make a double batch and have them out to nibble on. Just be warned, they may not last as long you'd like!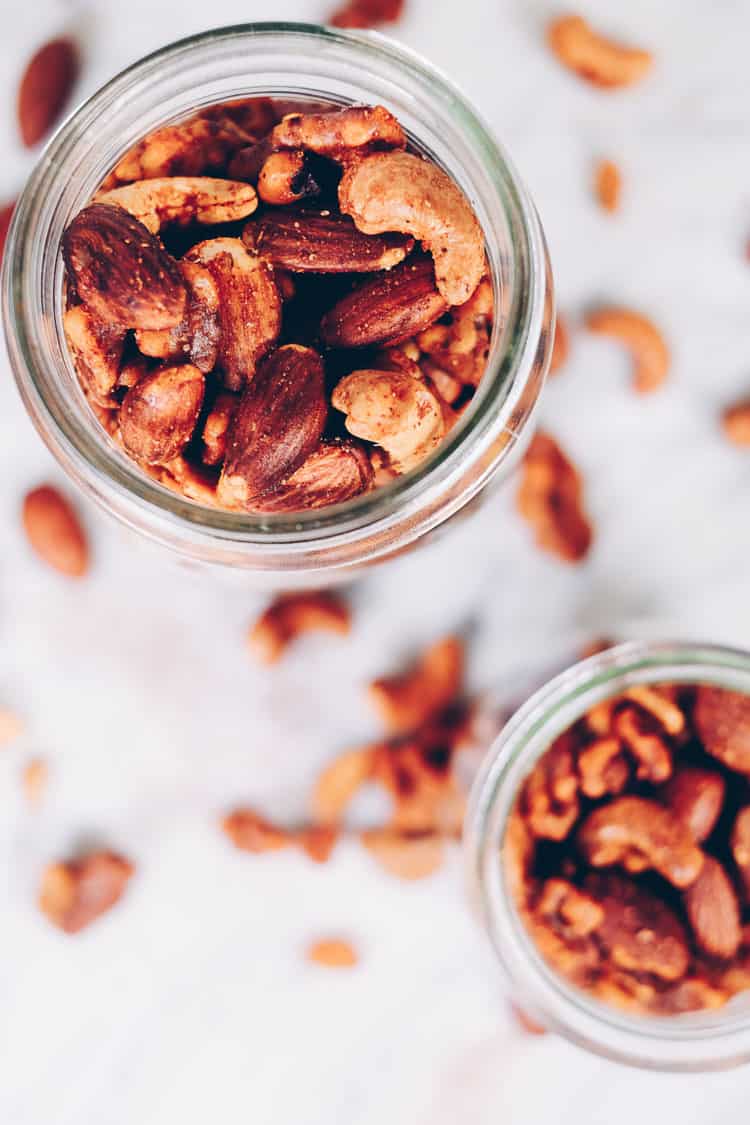 Easy Peasy
In addition to being addictive, these Paleo spiced nuts are also way too easy to make! You just get a bunch of raw, unsalted nuts (we used our favorites in the recipe but you could really go with whatever you have on hand or whatever your favorites are). Then, you roast them for 15 minutes. Everything then comes together in a big mixing bowl, combining some olive oil and seasonings. And that's why they are super easy and crazy addictive…I can't figure out if that is the best or most dangerous combo!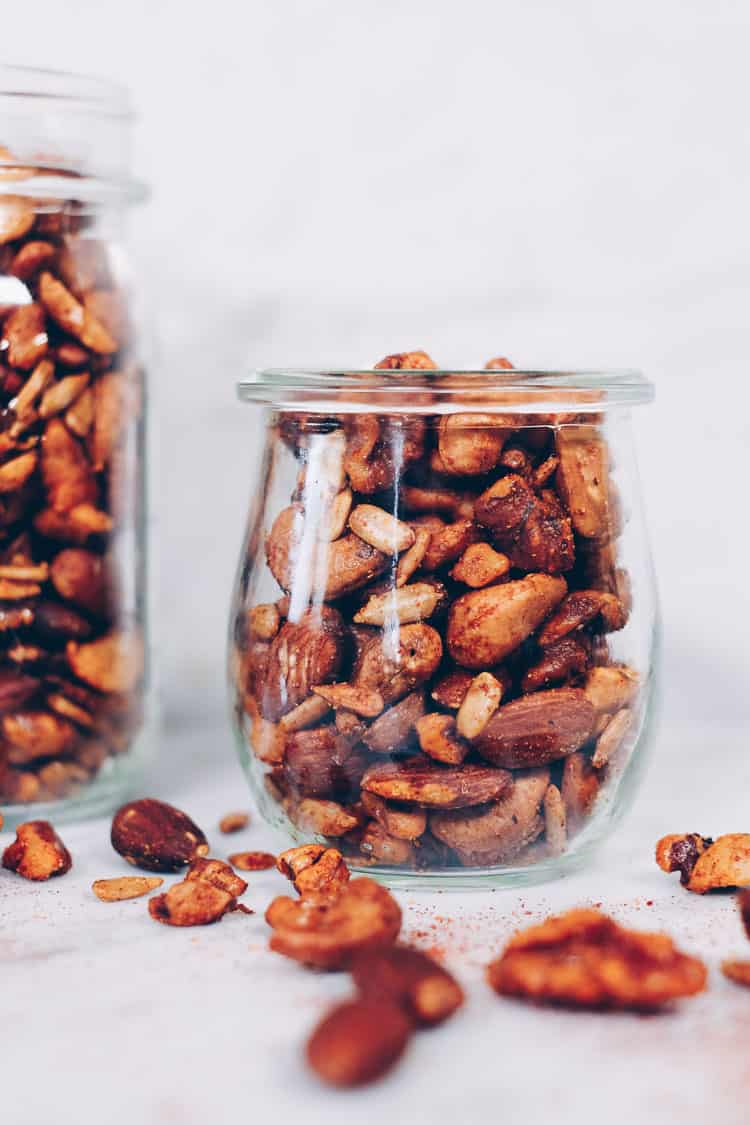 Other Snack Ideas
Your Turn To Try Our Paleo Spiced Nuts
As you get your plans in order for the rest of the holiday season, make sure you give these Paleo spiced nuts a try! They'll be a crowd favorite, and you'll be whipping up another batch and then another one! Let us know how it goes by leaving a comment below. Also, take a photo and tag us on Instagram @realsimplegood, so we can check it out!
---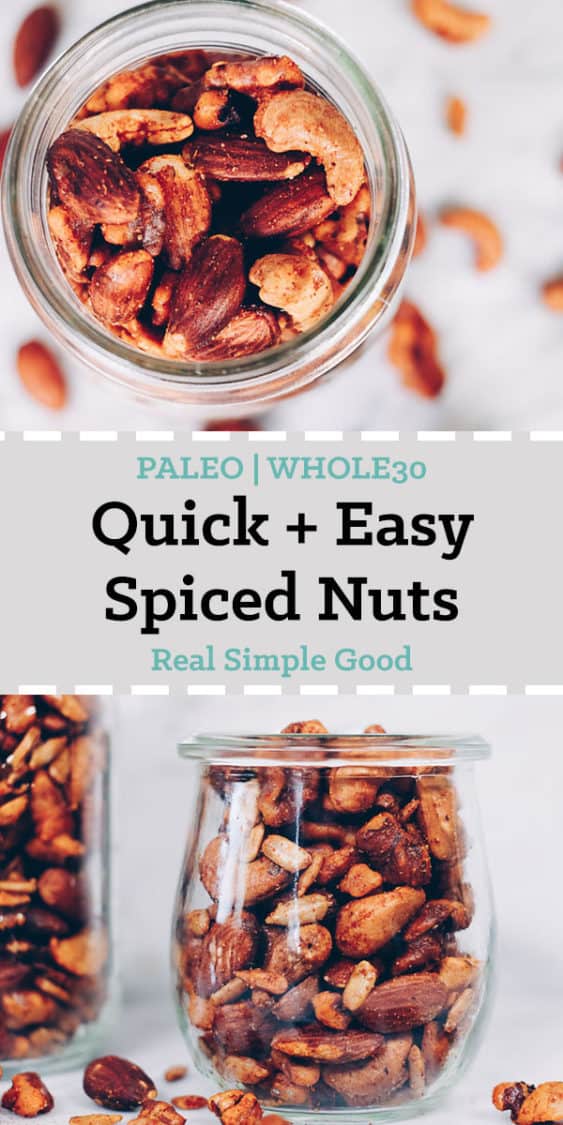 ---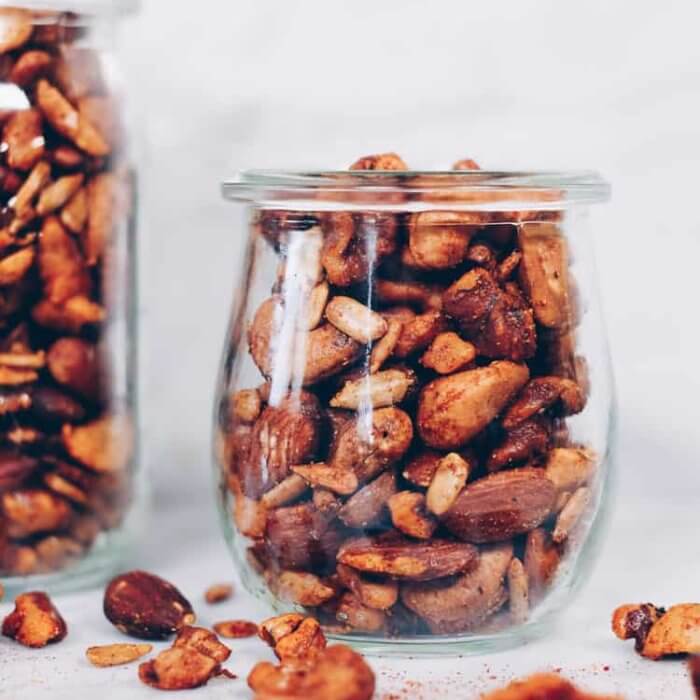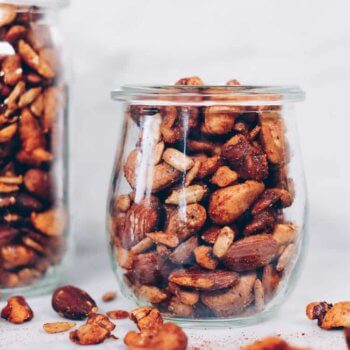 Get the Recipe:
Paleo Spiced Nuts (Quick, Easy + Whole30)
These Paleo spiced nuts are a great way to add extra flavor to your day! They are super simple and easy to make and obviously crazy addicting!
Ingredients
1 cup almonds, (raw and unsalted)
1 cup cashews, (raw and unsalted)
1 cup walnuts, (raw and unsalted)
1/2 cup shelled sunflower seeds, (raw and unsalted)
2 tsp smoked paprika
1 tsp sea salt
1/2 tsp garlic powder
1 tbsp avocado or olive oil
Instructions
Preheat oven to 350° Fahrenheit and line a sheet pan with parchment paper. Place nuts in single layer on the sheet pan. Place in oven to roast for 15 minutes, turning halfway through.

While nuts are roasting, prepare spice mixture by combining smoked paprika, sea salt and garlic powder in a small bowl.


Remove nuts from oven and allow to cool. Transfer to a bowl and coat nuts with olive oil, then coat with spice mixture.


Store in an airtight container at room temperature until serving.