It's officially June now, and hopefully you've already dusted off your grill and fired it up a few times already. If you haven't, this Paleo steak marinade recipe will get you motivated to grab a good cut of meat from the store (or your local butcher), throw it in this easy marinade for a while, and sear it over a hot grill.
Use this marinade for tougher cuts of steak
This is a go-to steak marinade for us. We use a version of this marinade to flavor a lot of our tougher cuts of steak like flank, skirt, hanger and flat iron. These are perfect cuts for a marinade because they are a little tougher and need some extra flavor. They also happen to absorb the marinade really well because they are a thinly cut steak – not to mention they are cheaper! If you are interested in learning a little more about these cuts of steak, head on over to this page for a nice little summary.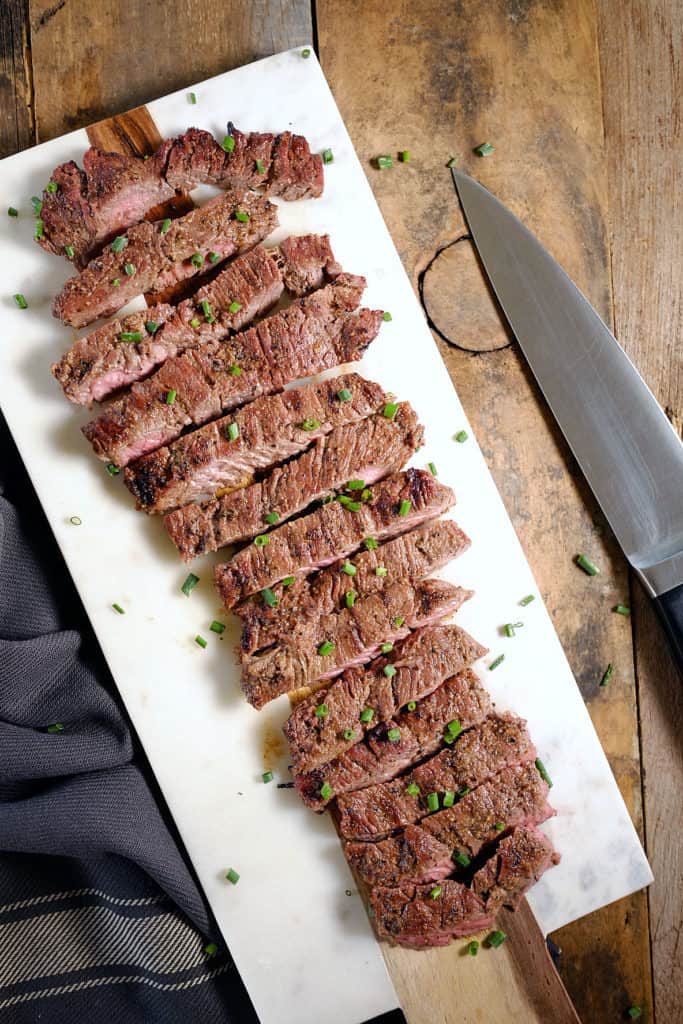 Ok so tell me, if you read that summary, do you feel more informed to know which parts of the cow you are eating? Or do you prefer for the steak to just arrive on your plate without any knowledge of the cow and/or what part of the cow it came from? We are interested to know so leave us a comment and tell us how you feel about getting to know your cuts of meat.
The essential Paleo steak marinade
Now, onto this easy Paleo steak marinade. It takes only about 5 minutes to put together and is a basic, flavorful marinade that you can use over and over. It uses only eight ingredients that most everyone has on hand in their pantry and spice cabinet. If you don't have any of the ingredients (like coconut aminos or apple cider vinegar) you can substitute another type of vinegar or salty sauce or just add water in place of the missing ingredient to get the right consistency of the marinade. This marinade will work for a cut of meat up to two pounds and can also be used on chicken, pork, bison or fish.
This paleo steak marinade is easy to make and adds tons of flavor
Just mix up the ingredients in a zip top bag or shallow dish, add in your desired cut of meat and let it marinate for at least a couple of hours. Then, your meat will be ready for tossing on hot grill! We paired our skirt steak with some grilled veggies for the perfect simple BBQ meal.
Give this steak marinade a try for your next grilling adventure. Let us know how you like it by leaving a comment below, and tag us on Instagram @realsimplegood so we can check it out!
---
Paleo Steak Marinade (Paleo, GF + Whole30)
Total Time:
2
hours
5
minutes
This easy Paleo steak marinade takes about 5 minutes to put together and is a basic, flavorful marinade that you can use over and over. Only 8 ingredients!
Print Recipe
Rate Recipe
Instructions
Combine all of the ingredients in a zip top bag or shallow dish and mix well.

Add in your steak (or other meat) and mix everything to get the meat coated well with the marinade.

Cover and refrigerate for at least 1 hour and up to 24 hours.

Remove from the container and get to grilling!