5 reasons to love this healthy low-carb steak marinade
It's so easy to put together with only 8 ingredients and it packs on the flavor even when marinating steak for as little as 20 minutes.
The marinade uses coconut aminos, oil, vinegar and spices so it's a cinch to make it. If you don't have coconut aminos, you can use our coconut aminos substitute recipe.
It's perfect for any cut of steak, especially tougher cuts like flank steak, flatiron steak, and skirt steak.
Especially great for grilled steaks, but it can be used when marinating stakes for cooking in the pan or cast iron.
The simple, healthy ingredients are a fit for any diet – keto, whole30, Paleo and gluten-free.
Featured review
This is THEE BEST marinade ever!! I make it every single time I make steak, or stir-fry beef strips, because the family LOVES it! I've marinated for 1 hour up to overnight – the longer the better, but it's even tasty at 1 hour. Excellent!!

Beverly
How to make the best steak marinade (step-by-step)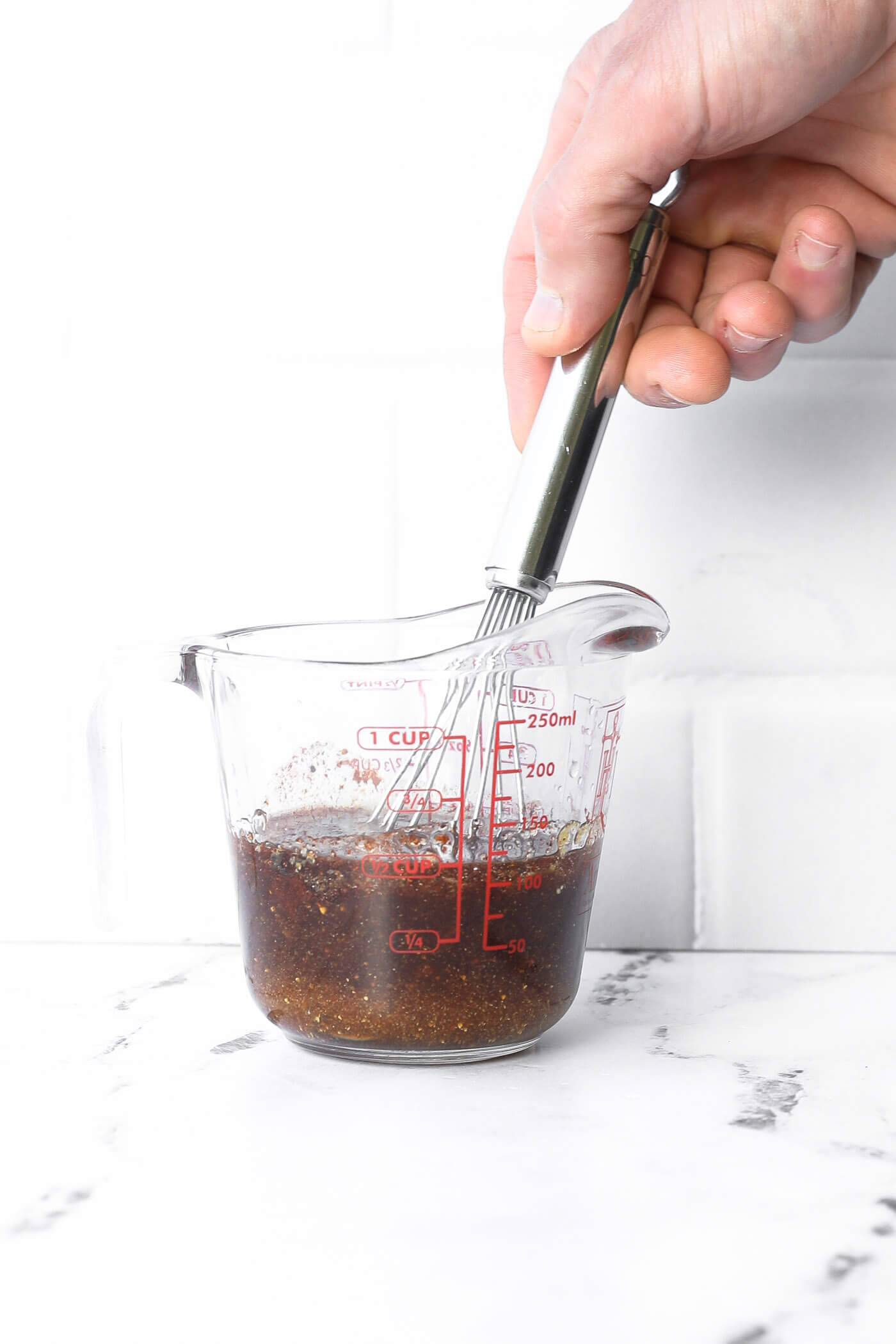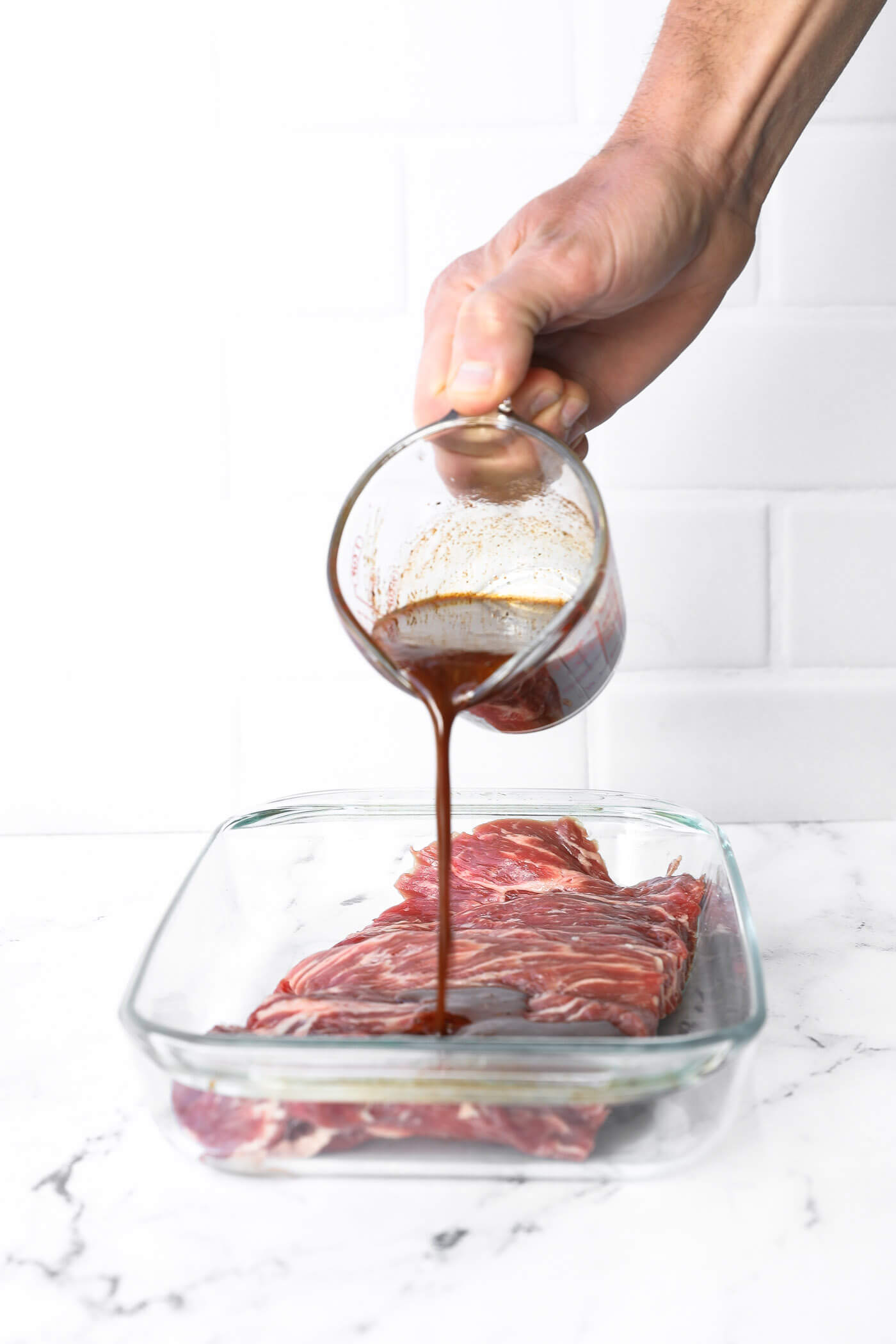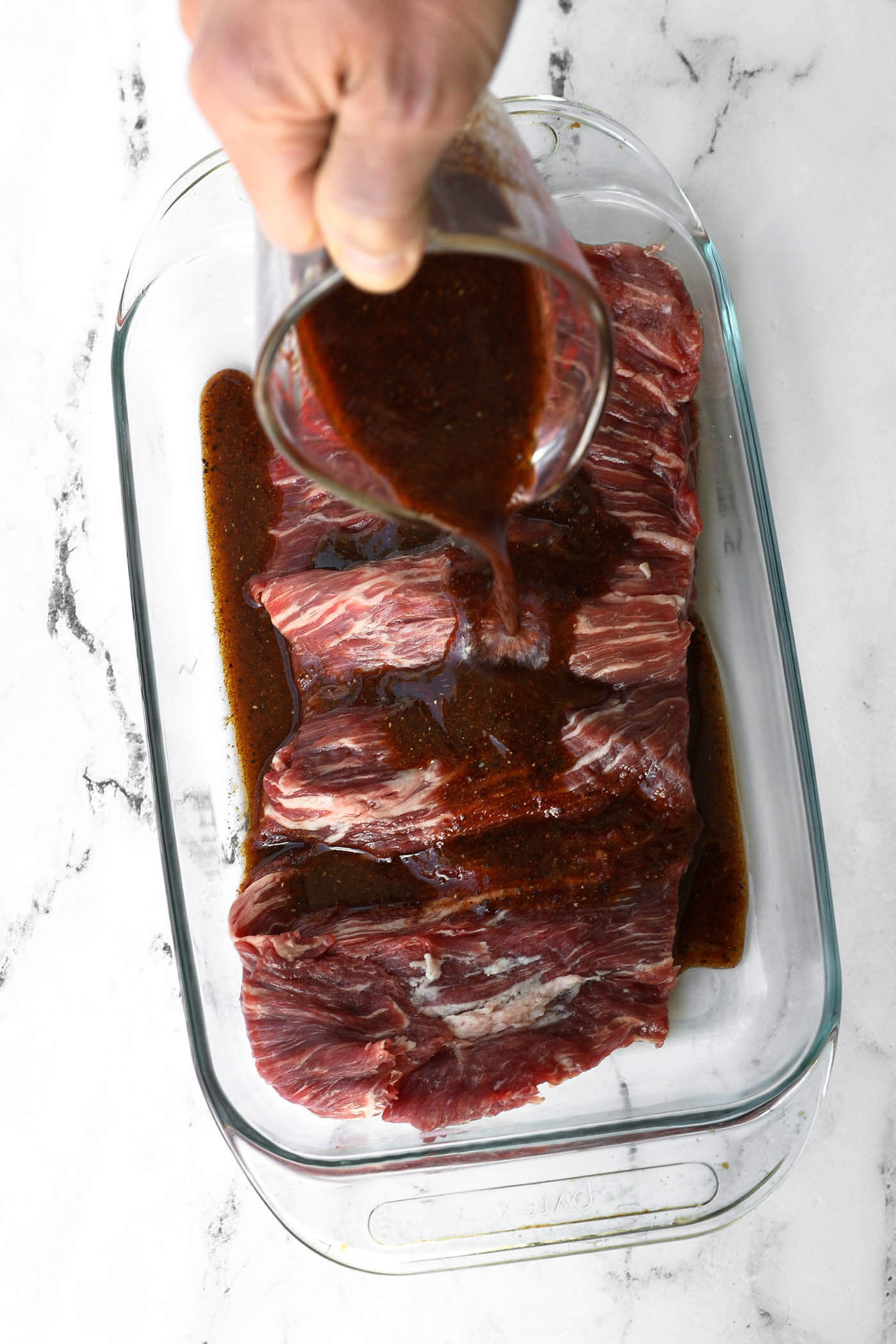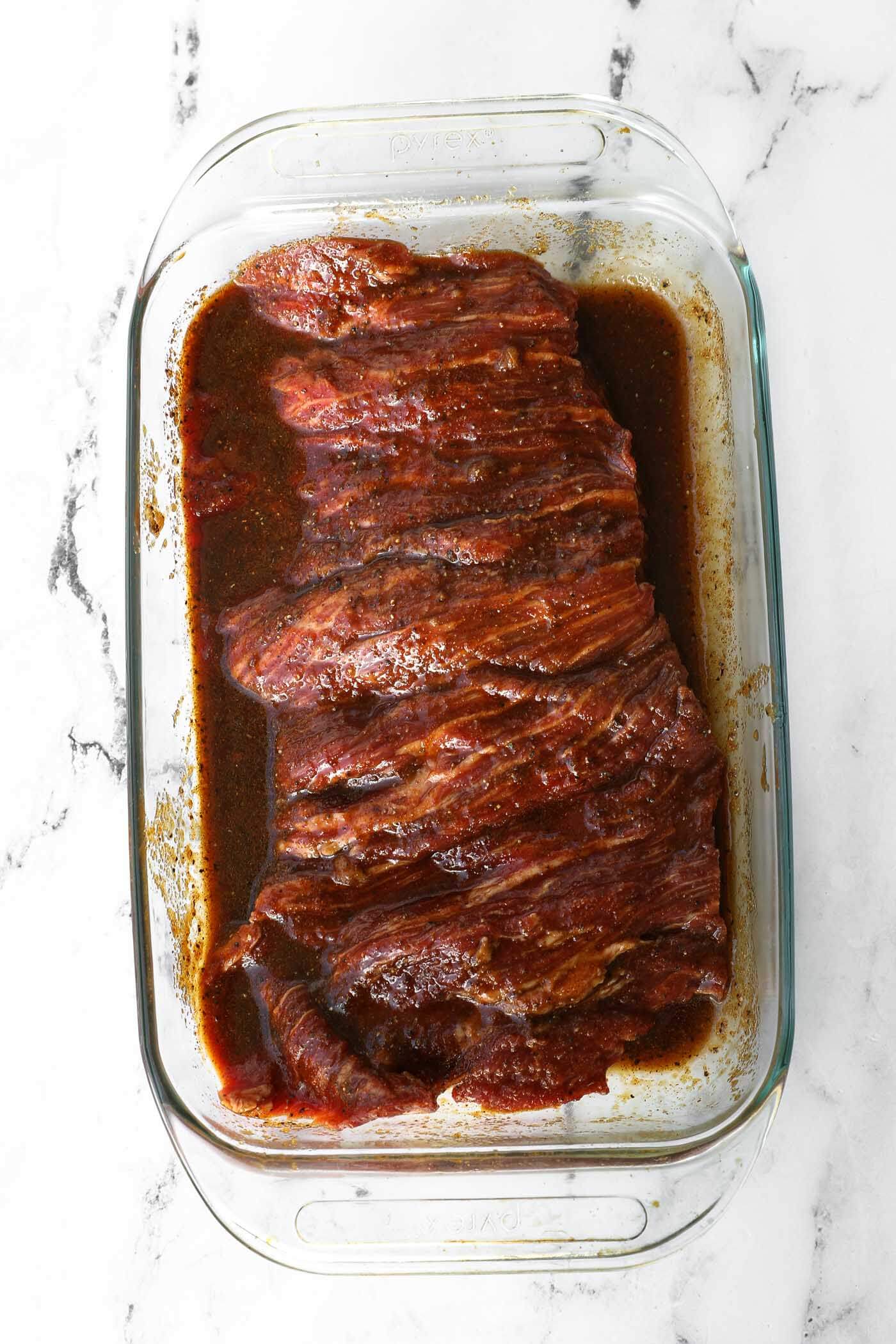 What cut of steak will this marinade work for?
We use a version of this marinade to flavor a lot of our tougher cuts of steak. It works great for:
Flank steak
Skirt steak hanger and
Flatiron
Hanger steak
These are perfect cuts for a marinade because they are a little tougher and need some extra flavor. They also happen to absorb the marinade really well because they are a thinly cut steak – not to mention they are cheaper!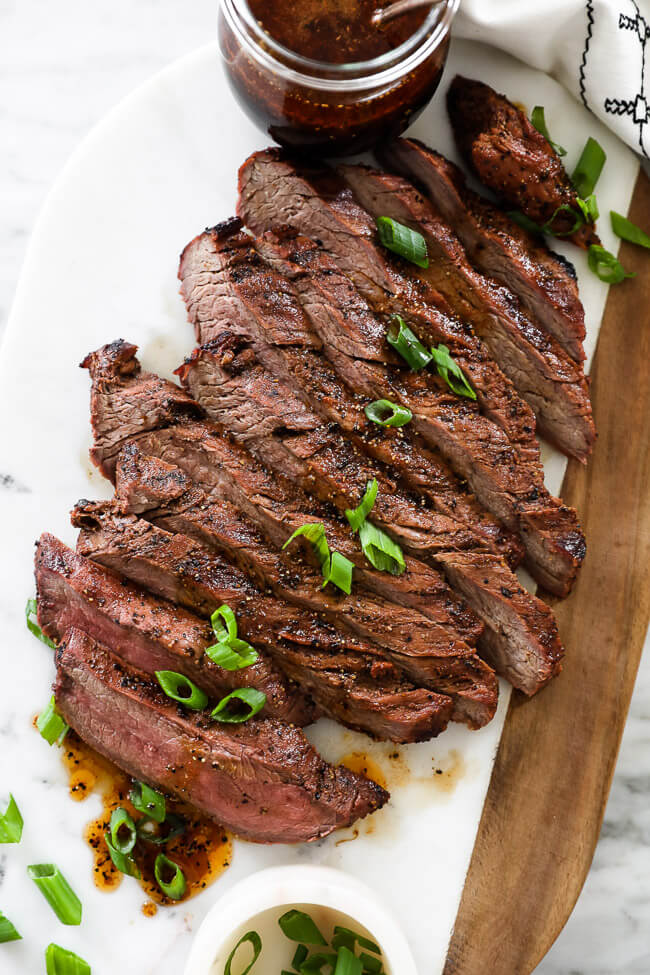 Tips from an expert home chef
Marinating time – The longer you marinate your meat, the more flavor the marinade will impart. However, you can marinate your steak for as little as only 20 minutes and get great results with this marinade.
Ingredients – If you don't have apple cider vinegar you can substitute another vinegar or lemon juice. If you don't have coconut aminos, you can use soy sauce or our coconut aminos substitute recipe.
Other proteins – This marinade will work for a cut of steak up to two pounds and can also be used on chicken, pork, bison or fish.
Related –> 5 Easy & Healthy Homemade Marinades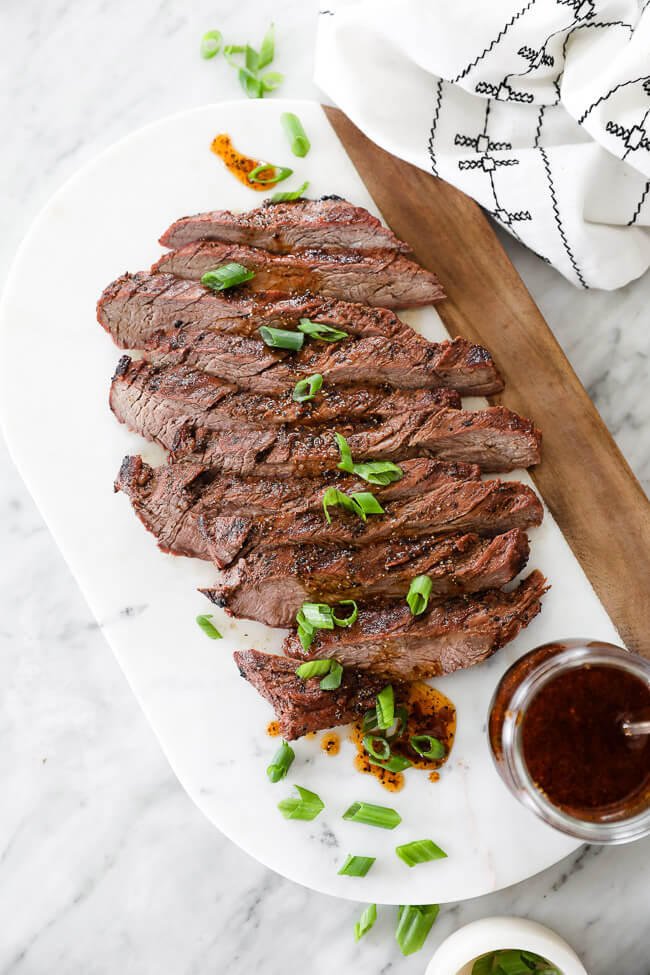 More steak recipes
We hope you love this recipe as much as we do!
Don't forget to leave a quick star rating and review below, we read every comment and truly appreciate your feedback. Also, be sure to browse the rest of our grilling recipes to find some other favorites too!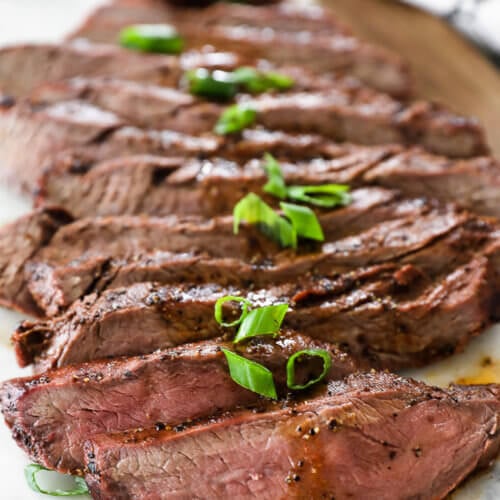 Get the Recipe:
Easy Homemade Steak Marinade (Keto, Gluten-Free)
Made with coconut aminos and only 8 total ingredients, this easy steak marinade takes about 5 minutes to put together and is a basic, flavorful marinade that you can use over and over. It fits about any diet too – keto, paleo, whole30 and gluten-free! Use it for flank steak, flat iron and skirt steak.
Instructions
Combine all of the ingredients in a small container or jar and mix well.

Place steak in a shallow dish or zip-top bag. Pour the marinade all over the steak and flip it around to coat the steak completely.

Cover and refrigerate for at least 20 minutes and up to 24 hours.

Remove from the container and cook the steak to your liking. You can baste the steak with any leftover marinade while cooking for extra flavor.
Notes
This recipe is made to marinate about 2 lbs of meat. It can easily be halved or doubled if needed.
If you don't have any coconut aminos on hand, you can make your own using our DIY coconut aminos substitute recipe. 
Calories: 60kcal, Carbohydrates: 4g, Fat: 5g, Saturated Fat: 1g, Fiber: 0.4g