Paleo Trader Joe's Must Haves
If you follow the Paleo diet, Trader Joe's is really one of the best stores to shop at if you have one nearby. At TJ's you can find a lot of pantry staple items, organic fruits and veggies, some clean meats, snacks and the occasional speciality item that you'll use in some Paleo recipes. Below are some of our Paleo Trader Joe's must haves. These are products that we buy and use in our recipes (and home cooking) all the time.

Pin these Paleo Trader Joe's Must haves for later
We created the collage above that you can save to Pinterest that shows most of the 50+ Paleo Trader Joe's must haves listed in this post in a visual format. Refer back to this collage for inspiration when you are looking for healthy Paleo options at your local TJ's. We've also included links to some example recipes to use these clean ingredients below in each section.
---
Fresh & Refrigerated Items:
Some organic veggie staples are:
Cherry tomatoes
Spinach
Carrots of many colors
Cremini & button mushrooms
Romaine hearts
Tuscan kale
Bell peppers
Persian cucumbers (not pictured)
Arugula (not pictured)
Broccoli florets (not pictured)
Riced cauliflower (pictured below)
Some clean meats are:
TJ's brand garlic herb chicken sausage
Isernio's hot Italian sausage
Applegate organic uncured beef hot dogs
TJ's brand organic free-range chicken (not pictured)
TJ's brand organic grass-fed ground beef (pictured below)
Some of our favorite recipes using the clean meats listed above are:
FROZEN ITEMS: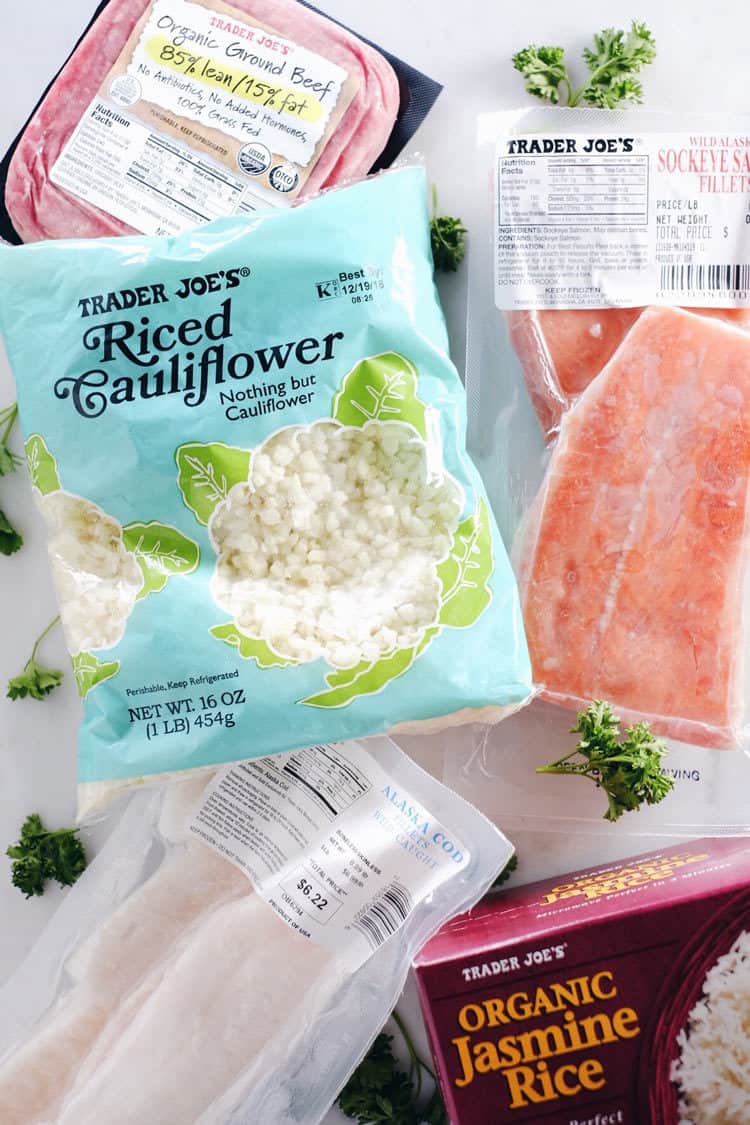 Some frozen staples are:
TJ's brand organic grass-fed ground beef (in the refrigerated section but we freeze it)
TJ's brand wild Alaska Sockeye Salmon
TJ's brand riced cauliflower (in the refrigerated section but we freeze it)
TJ's brand wild-caught Alaska Cod
TJ's brand organic jasmine rice (Not strict Paleo, but we eat it sometimes)
Some of our favorite recipes using the frozen staples listed above are:
PANTRY – NUTS, NUT BUTTERS AND OTHER
Some nut staples are (all TJ"s brand):
Raw pecan halves
Dry roasted pistachio nut meats
Organic dry roasted and salted cashews
In shell pumpkin seeds
Raw walnut halves and pieces
Raw almonds
Some nut butters and other are (all TJ"s brand):
Creamy salted cashew butter
Crunchy salted almond butter
Roasted plantain chips
Organic dried mango
Medjool dates
Some of our favorite recipes using the nuts, nut butters and other listed above are:
PANTRY BASICS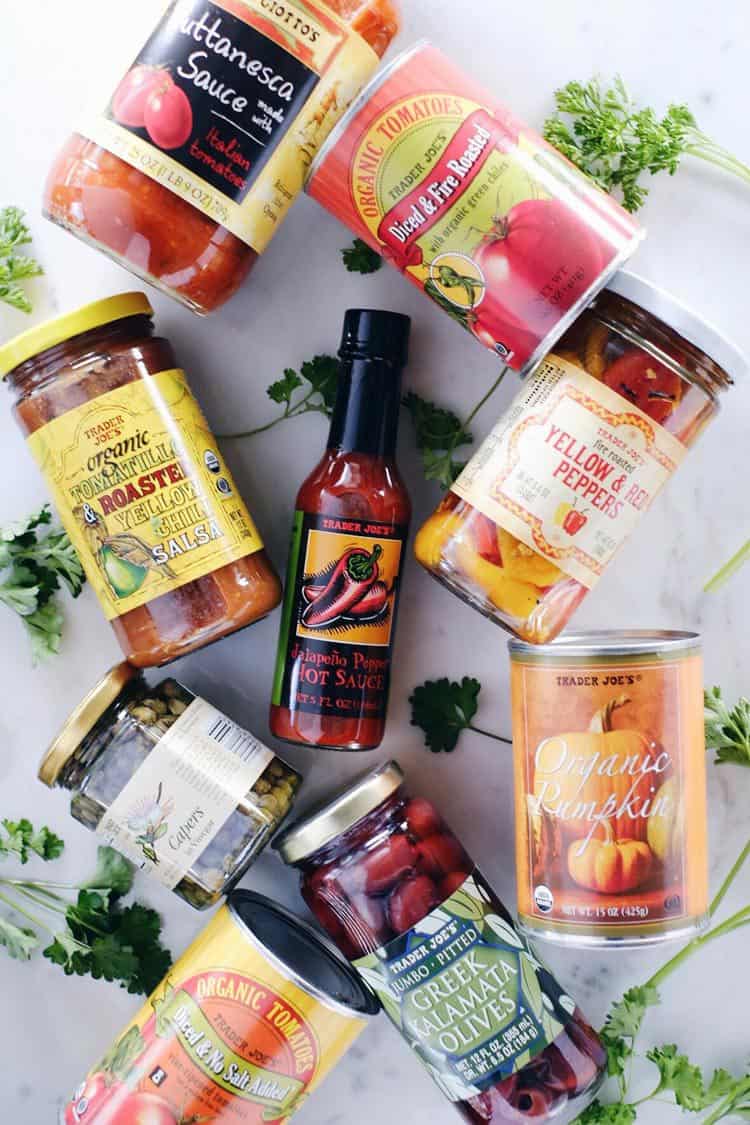 Jarred goods (all TJ"s brand):
Puttanesca pasta sauce
Organic tomatillo roasted yellow chili salsa
Jalapeno pepper hot sauce
Fire roasted yellow and red peppers
Capers in vinegar
Greek kalamata olives
Canned goods (all TJ"s brand):
Organic canned tomatoes (diced and fire roasted)
Organic Pumpkin
Artichoke hearts (not pictured)
Some of our favorite recipes using the pantry basics listed above are:
OILS AND VINEGAR
Oils and ghee (all TJ's brand):
Organic extra virgin olive oil
Organic extra virgin coconut oil
Toasted sesame oil
Clarified butter (ghee)
Vinegar and butter:
TJ'S brand organic apple cider vinegar
Kerrygold butter (not Paleo but we eat grass-fed butter)
Some of our favorite recipes using the oils and vinegar listed above are:
BAKING
Flour (all TJ's brand):
Organic coconut flour
Blanched almond flour
Almond meal (not pictured)
Sweeteners (all TJ's brand):
Organic coconut sugar
Raw honey (not pictured)
Pure maple syrup
Some of our favorite recipes using the baking items listed above are:
---