Weekend breakfasts just inherently mean stacks of Paleo waffles and pancakes, right? These Paleo waffles are pretty exciting because they are Gluten-Free, Egg-Free, Dairy-Free and Refined Sugar-Free. And…you can make these flourless waffles savory or sweet depending on what your favorite toppings are!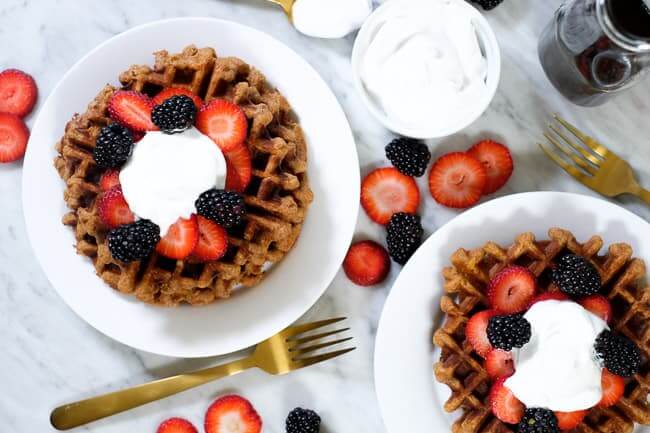 Just 5 Ingredients
My first go at making egg-free Paleo waffles was a little ornate and not quite our style. They turned out ok, but nothing we were super excited about. So, I decided to go back to the basics and start again with a simpler approach, and these my friends are some Paleo waffles to get excited about! We love that they have only 5 ingredients – which you probably have on hand – and are super easy to whip up!
Crispy Around The Edges
You know what I'm talking about, right? Doesn't everyone want their waffles crispy around the edges and light and fluffy on the inside? That is exactly what these Paleo waffles are! The crispy outside makes these flourless waffles the perfect vessel for all your favorite toppings! Grass-fed butter, coconut butter or a runny egg yolk catches in all the nooks and crannies without getting soggy.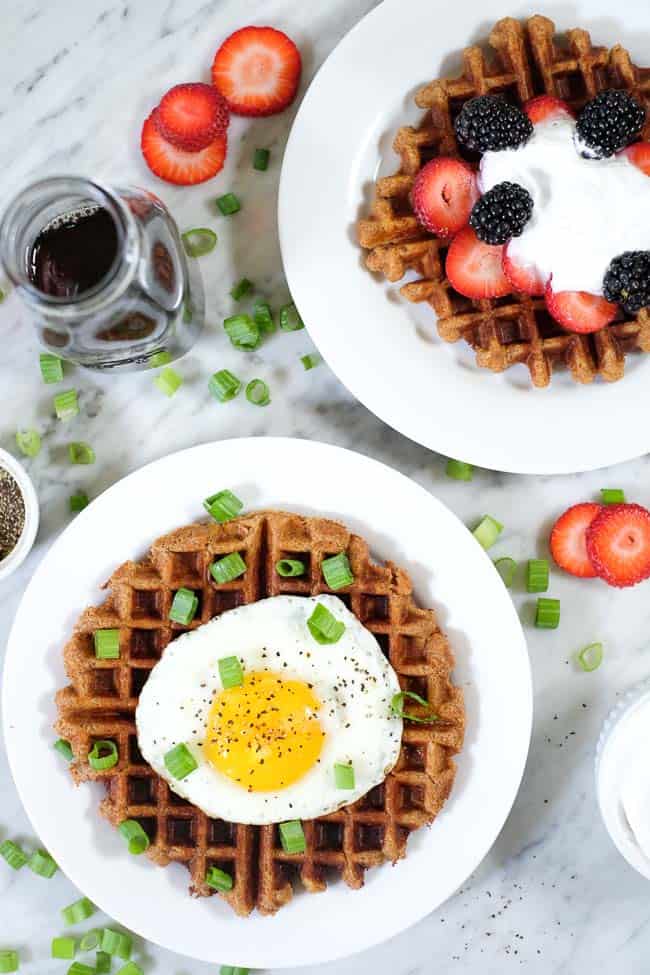 Savory Or Sweet
You really can't go wrong! And these Paleo waffles are easy enough to make that you can change your mind often. Today sweet sounds good, with all the berries and some coconut whipped cream but tomorrow a runny egg and bacon might be just the thing. What kinds of toppings will you choose for these Paleo waffles? We left some suggestions in the recipe below in case you need them. 😉
Some Other Weekend Breakfasts To Try
Your Turn To Try Our Paleo Waffles
The weekend is just around the corner, and these Paleo waffles would be the perfect way to kick it off! Make a batch and tell us what your favorite toppings are. Leave a comment below and take a picture to tag us in on Instagram @realsimplegood! If you don't already follow us on Instagram, make sure to give us a follow so we can stay connected!
LIKE THIS RECIPE? SHARE IT NOW OR PIN IT FOR LATER!
---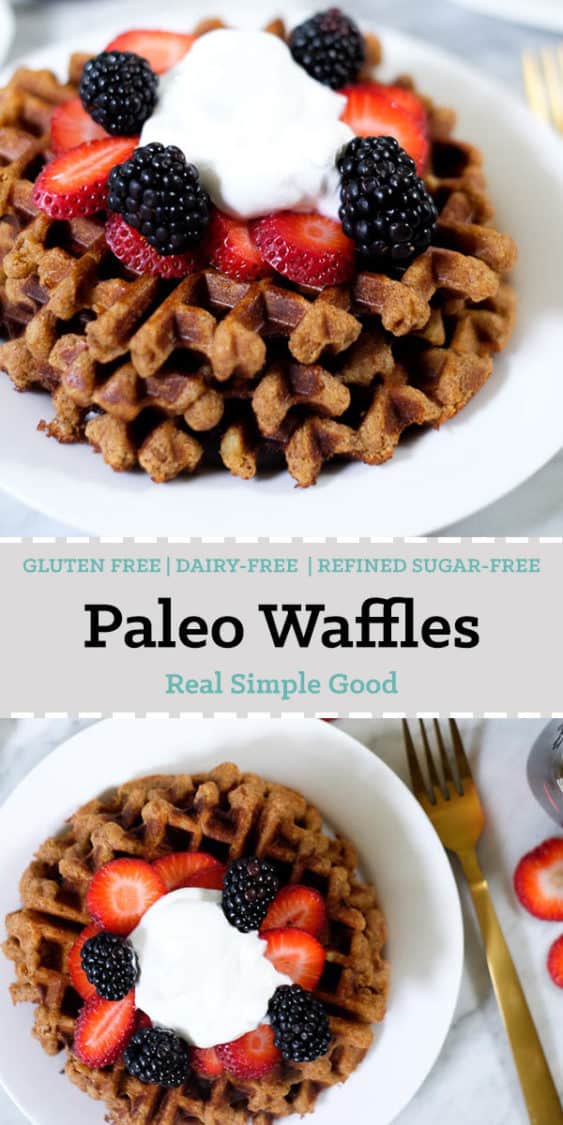 ---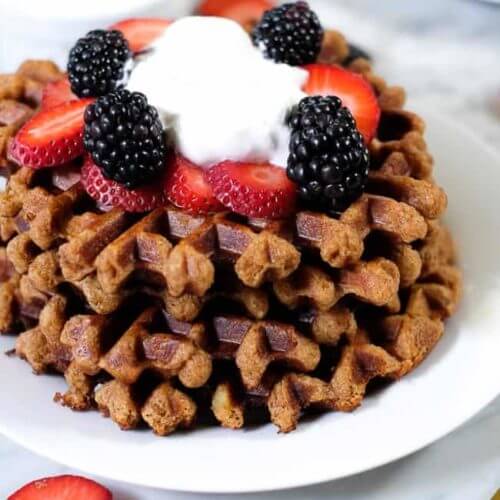 Get the Recipe:
Paleo Waffles (GF, Egg-Free, Dairy-Free + Refined Sugar-Free)
Weekend breakfasts mean stacks of Paleo waffles and pancakes! These Paleo waffles are Gluten-Free, Egg-Free, Dairy-Free and Refined Sugar-Free.
Ingredients
2 bananas, mashed
1 cup creamy almond butter
1/4 cup coconut milk, (or sub with nut milk of choice)
2 tbsp flax meal
6 tbsp warm water
Fat of choice to grease waffle iron
Instructions
Preheat waffle iron per manufacturer's instructions and grease with fat of choice.

In a smaller bowl or mug, whisk together the flax meal and warm water. Set aside to thicken. You want it to get to an egg-like consistency.

In a medium mixing bowl, combine mashed bananas, almond butter and coconut milk.

Once the flax mixture has thickened up, add it to the other ingredients and mix everything up.

Follow your waffle iron's instructions for the amount of batter to add and for how long to cook. Once done, remove from waffle iron and place on a plate. Keep plate in the oven on the "keep warm" setting while you finish cooking the rest of the waffles.

Once all of the waffles are done, add all your favorite toppings and serve! Enjoy!