It is the summer of beverages! I want to try something new just about every day, and with all the fresh summer fruits in season, it is easy to find inspiration everywhere I turn. This peach berry pina colada smoothie is packed full of summer flavors, and the pineapple makes you feel like you are on vacation! So get to it…blend up one of these summer inspired smoothies, and get to sipping and daydreaming of being on vacation!
Summer fruits
I love peaches and have been enjoying using them this summer in all kinds of ways, from peach salsa to cobbler to ice cream to smoothies. Yes, I have a bit of a sweet tooth sometimes! I love that this smoothie has a really balanced flavor though, and it is super creamy, too. This peach berry pina colada smoothie is also pretty darn dreamy looking. The little pineapple on the rim of the glass is catching the light just right, and it is begging you to pick up a straw and get to sipping.
Blending up this peach berry pina colada smoothie
Gather your peaches, raspberries, pineapple, and banana, and toss them all in a blender. You can use fresh or frozen fruit. I like to make sure at least my banana is frozen because I love the texture you get with a frozen banana. For the milk and creamy goodness, you can use coconut milk or your favorite nut milk.
Your smoothie is just a couple minutes away. Go ahead…blend one up and get to sipping it away in the summer sun. It's ok…you can imagine you are on a beach soaking up some rays and getting that sun kissed glow! I'm already there!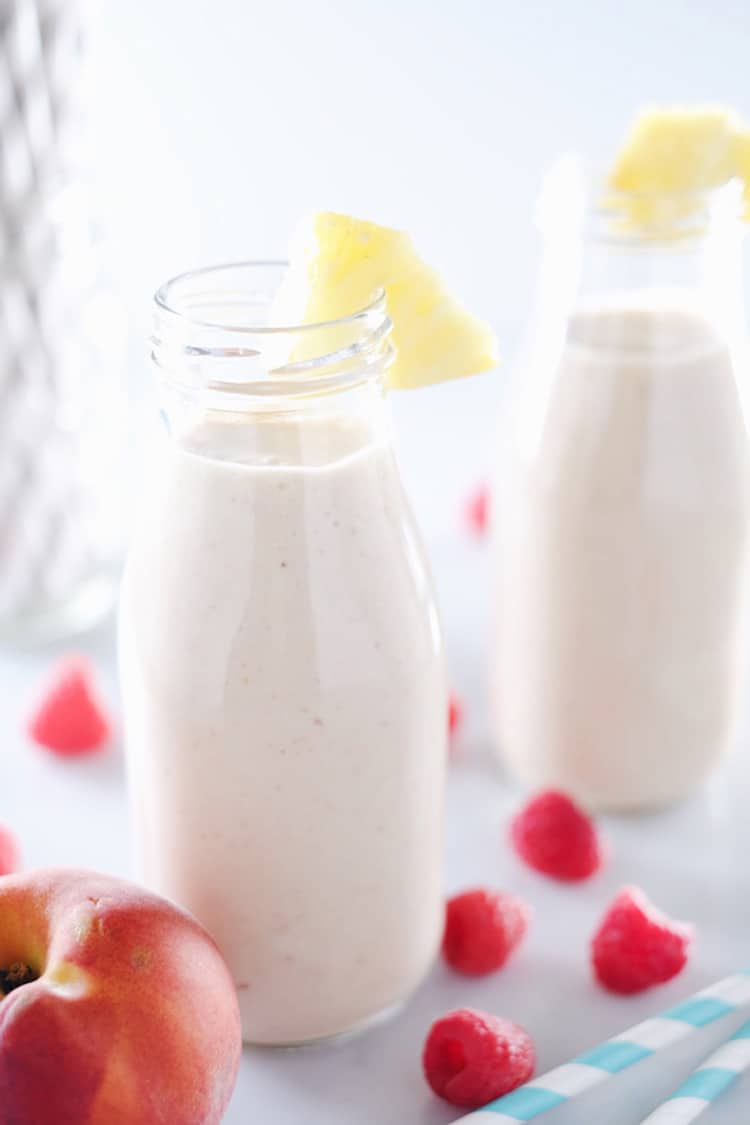 Blend up this peach berry pina colada smoothie, and enjoy the flavors of summer! Let us know how it goes by leaving a comment below. Also, snap a photo and tag us on Instagram @realsimplegood so we can check it out!
---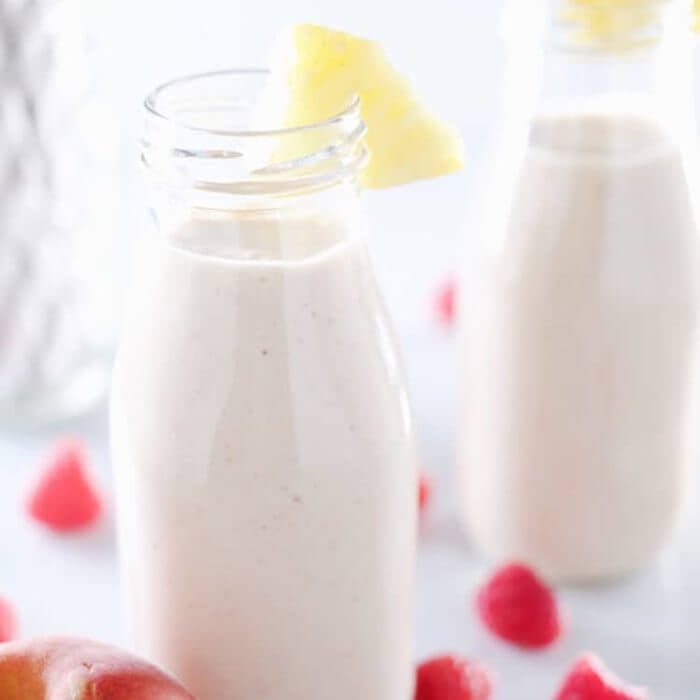 Get the Recipe:
Peach Berry Pina Colada Smoothie (Paleo + Refined Sugar-Free)
Ingredients
1 cup coconut milk, or nut milk of your choice
1/2 cup filtered water
1 peach, - pit removed and diced
1/2 cup raspberries
1/2 cup pineapple chunks
1/2 banana, - frozen
1 tbsp grassfed collagen or gelatin, - optional
Instructions
Place all of the ingredients in your blender in the order listed above. You can use grassfed collagen or gelatin for added protein and gut health.

Blend on high for about one minute, or until your smoothie is creamy and velvety in texture.

Pour into your favorite glasses and enjoy!