Crispy roasted potatoes tossed in the perfect Mexican seasoning, these potatoes are an easy side dish for any protein. All you need is a sheet pan and 10 minutes of active prep time for this easy and healthy roasted potato recipe!
How to make this mexican potato recipe
Set your oven to preheat and get going, here's what you'll do:
Line a sheet pan with parchment paper for easy cleanup. You'll need a 12×17 pan or larger.
Clean your potatoes and chop them into small cubes.
Coat the potatoes with some avocado oil.
Make the Mexican seasoning and toss it with the potatoes to coat.
Roast in the oven for 30-40 minutes.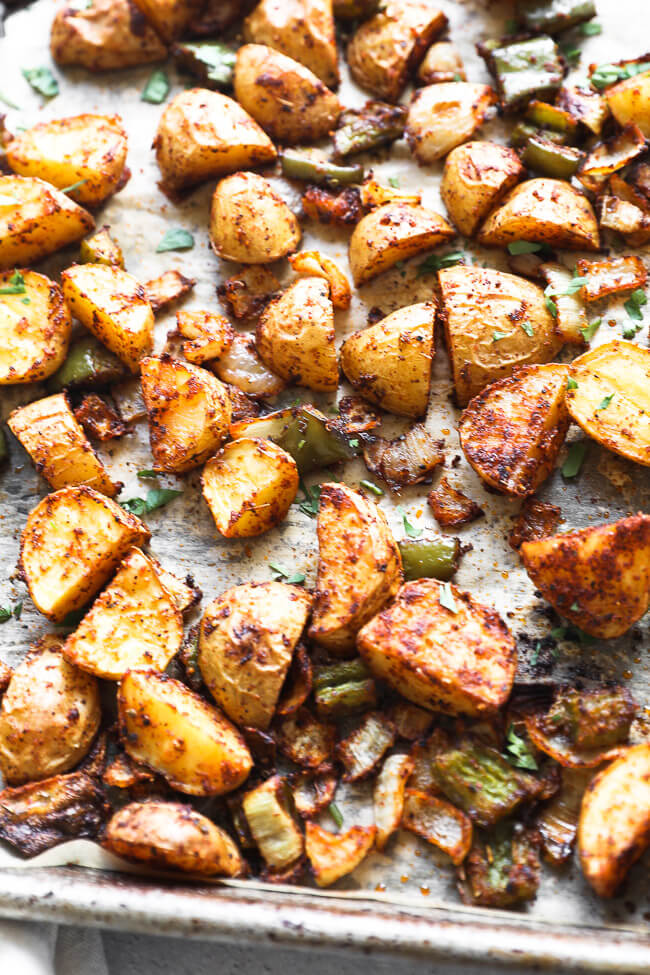 An easy Mexican spice mix
We make our own seasoning mixes at home all the time, and these 10 DIY spice blends are some of our favorites.
For this mix, I came up with a classic taco/Mexican seasoning that goes perfectly with crispy roasted potatoes. You can make it in just a few minutes with simple seasonings that most people have in their cupboard.
You'll be amazed at how easily you can add taco flavor to just about anything with this easy homemade spice blend.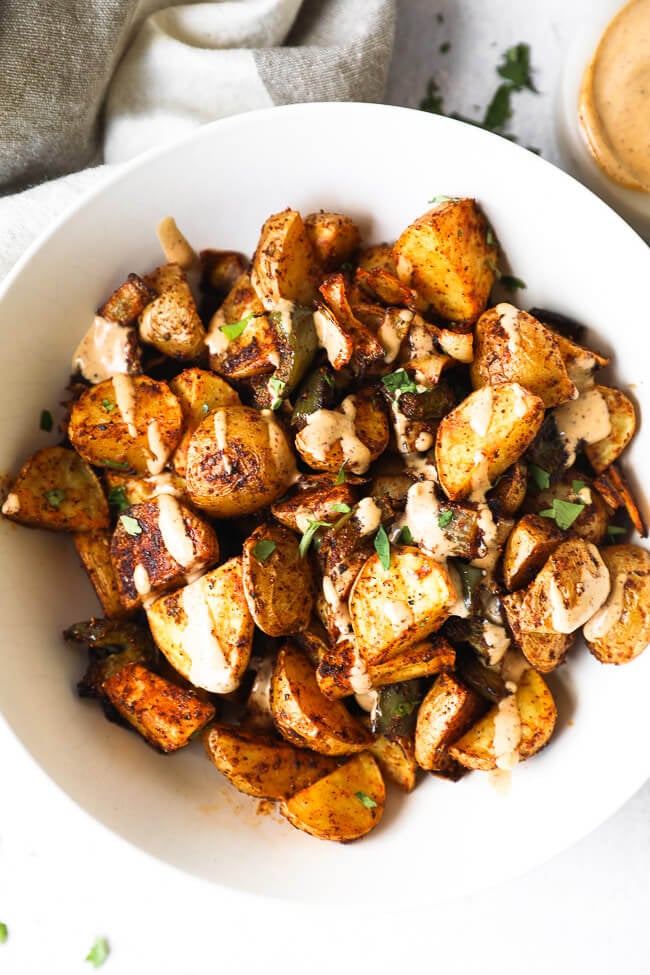 Is there a Mexican sauce to go with these potatoes?
Yes in fact, there is! Our go-to sauce for just about everything is this Chipotle Aioli.
It's the perfect creamy, tangy sauce to drizzle over these potatoes. You could easily make it in 5 minutes while the potatoes are cooking. As a bonus, a few of the ingredients overlap so just make everything all at once and you're all set!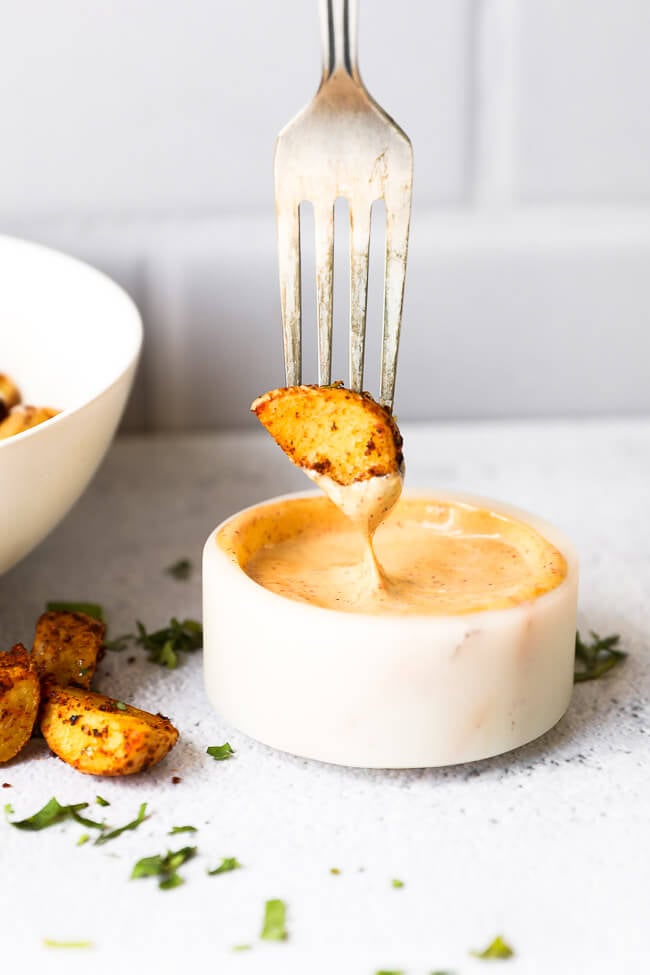 Looking for more? Check out all of our healthy appetizer recipes!
Serving ideas for these sheet pan potatoes
Here are some ways to serve up these Mexican potatoes: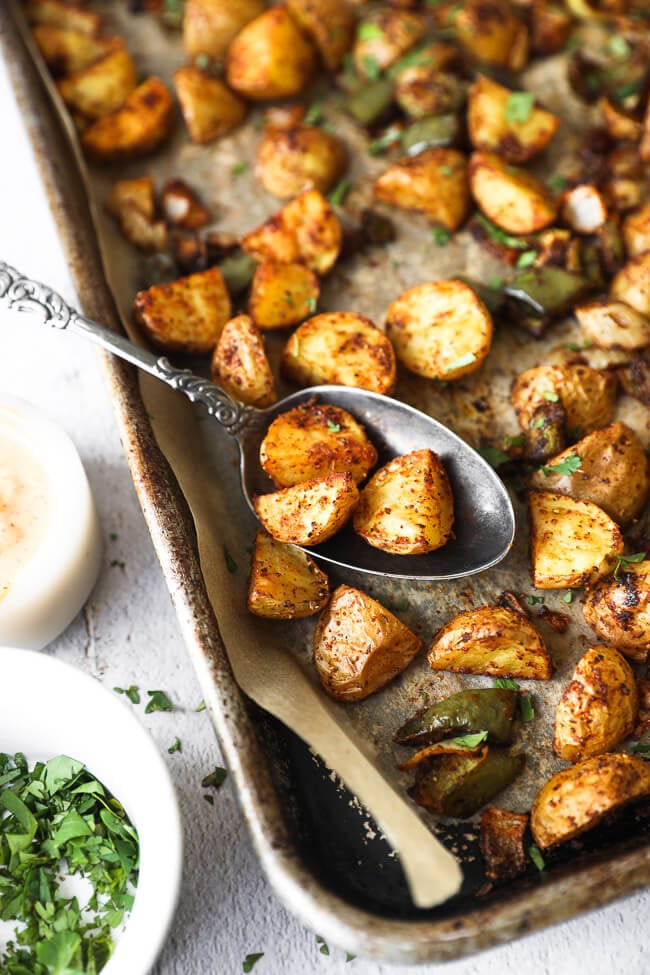 Your turn to try these easy Mexican potatoes
Go ahead and whip up this easy crispy potato side dish to serve for breakfast or with your favorite protein. Leave a comment below to let us know how it goes. Also, take a pic and tag us @realsimplegood, we love to see what you are cooking!
---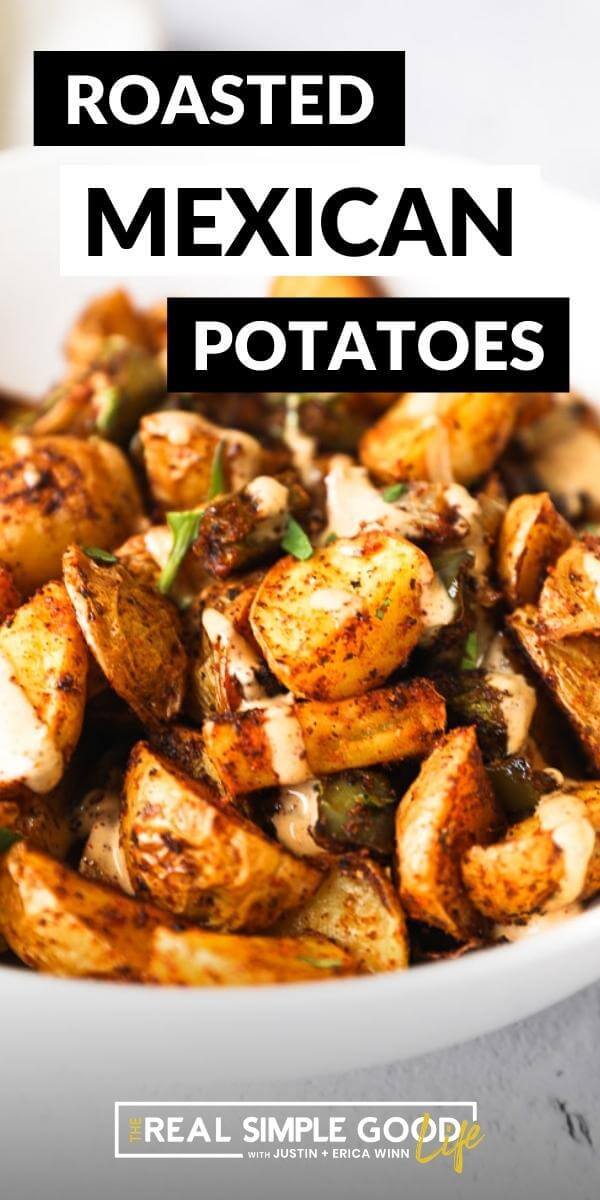 ---
Like this Recipe?
SHARE IT NOW OR PIN IT FOR LATER!
---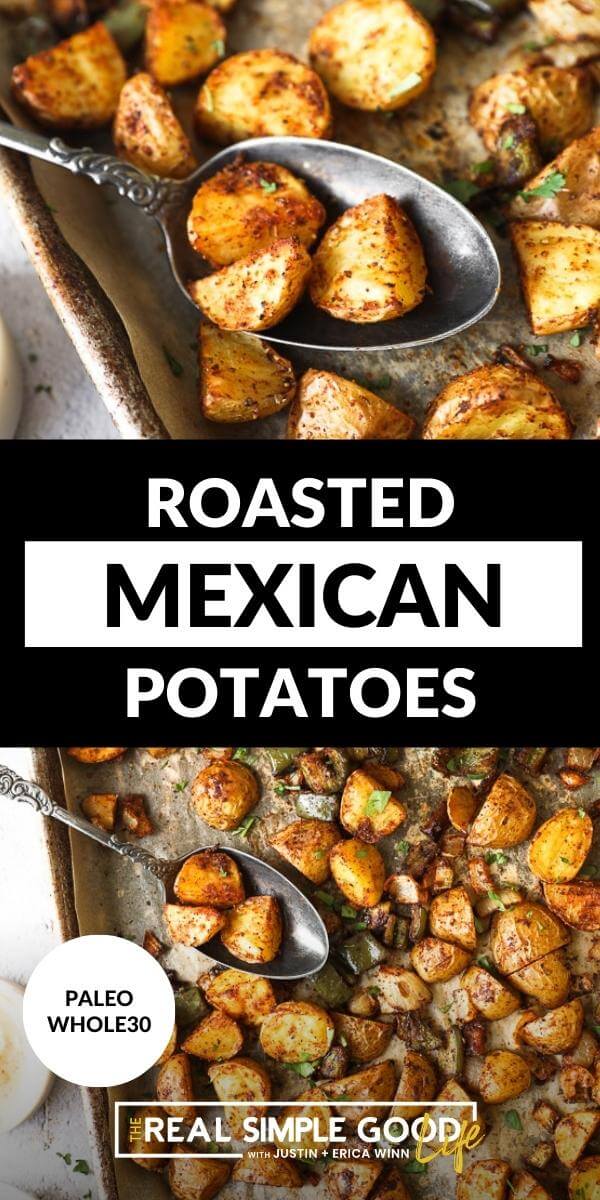 ---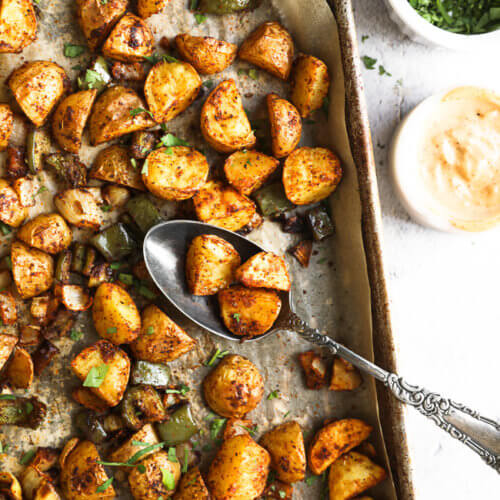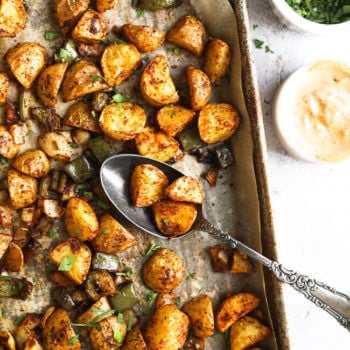 Get the Recipe:
Easy, Crispy Oven Baked Mexican Potatoes
Crispy roasted potatoes tossed in the perfect Mexican seasoning, these potatoes are an easy and healthy one pan side dish for any protein.
Ingredients
2 lbs potatoes, cut into even sized cubes
1 onion, diced, (optional)
2 bell pepper, diced, (optional)
3 tbsp avocado oil
For the Mexican Seasoning
1 tbsp chili powder
2 tsp cumin
1 tsp oregano
1/2 tsp garlic powder
1/2 tsp onion powder
1/2 tsp paprika
1/2 tsp sea salt
1/2 tsp pepper
Instructions
Preheat oven to 400° Fahrenheit and line a large sheet pan with parchment paper.

Mix together the Mexican seasoning ingredients in a small bowl or ramekin.

Wash and dry potatoes. Chop potatoes into small cubes and place them in a bowl. Chop onion and bell pepper as noted (if using) and add to the bowl.

Drizzle avocado oil over the potatoes and toss to coat. Sprinkle the seasoning mixture over the potatoes and toss again to coat evenly with the seasoning.

Spread the potatoes out evenly on the sheet pan. Place in the oven to bake for 30-40 minutes, or until the potatoes are soft when pierced with a fork.

Remove from the oven and serve.