Featuring an easy to make, dairy-free pesto sauce and only 3 other main ingredients, this pesto potato salad is a delicious summer side dish. It's mayo-free so it's much lighter and fresh tasting than other potato salad recipes. Clean ingredients make it Paleo + Whole30 friendly too!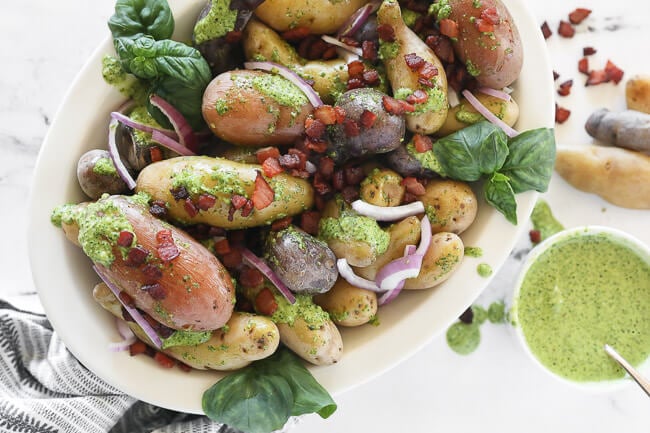 Why a mayo-free potato salad?
Don't get me wrong, I love a classic potato salad. In fact, I have another potato salad recipe that I dearly love and make frequently. However, I wanted to make a different, lighter version of potato salad with fewer ingredients. This pesto potato salad is:
Light, fresh and herby
Easy to make
Unique and fun
Creamy with a little crunch
A healthy potato salad
If you're looking for a lighter, healthy version of potato salad – look no further. Since it's mayo-free, it's much more vibrant and herby tasting than a traditional potato salad. With that said, it's still full of creamy goodness from the pesto sauce with a little salty crunch from the bacon.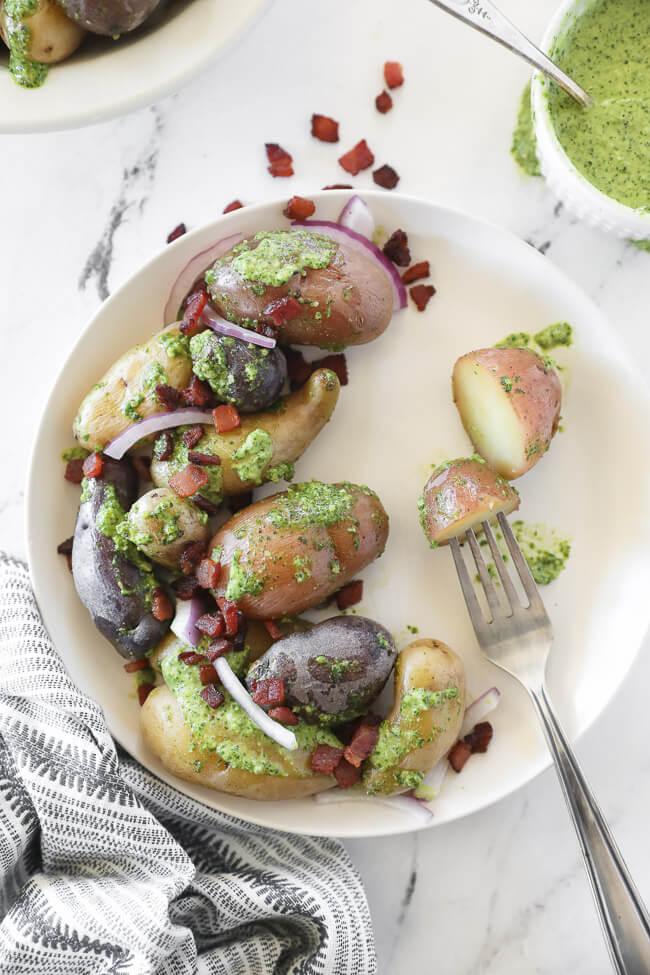 Optional – A warm potato salad
I've never been big on the idea of a warm potato salad. However, this pesto potato salad is excellent when served warm. Warm potatoes, bacon and some crunchy red onions are the perfect texture to pair with a warm and creamy pesto sauce.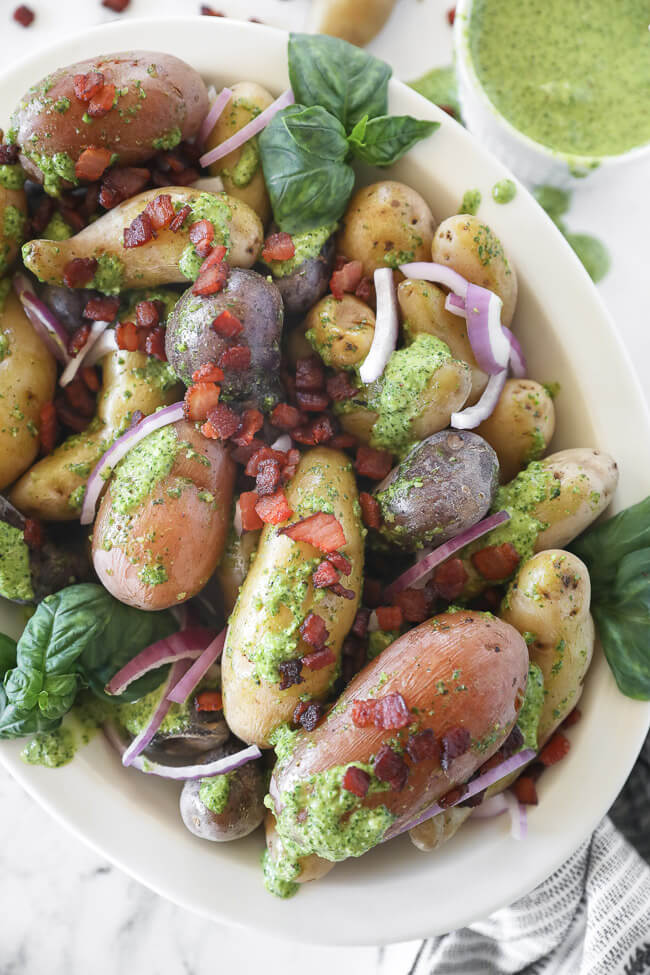 Some other healthy potato recipes
Your turn to try this pesto potato salad
Ready for a different kind of potato salad? Whip up some dairy-free pesto and enjoy this creamy and herby side dish! If you try it, please leave a comment below and let us know how it goes. Also, take a pic to share on Instagram and tag us @realsimplegood, we love to see what you are cooking!
---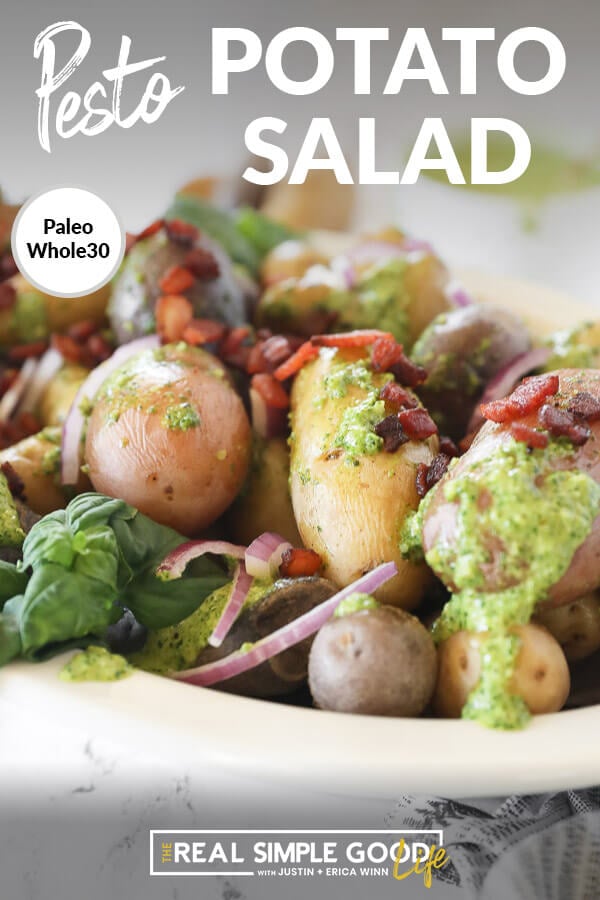 ---
Like this Recipe?
SHARE IT NOW OR PIN IT FOR LATER!
---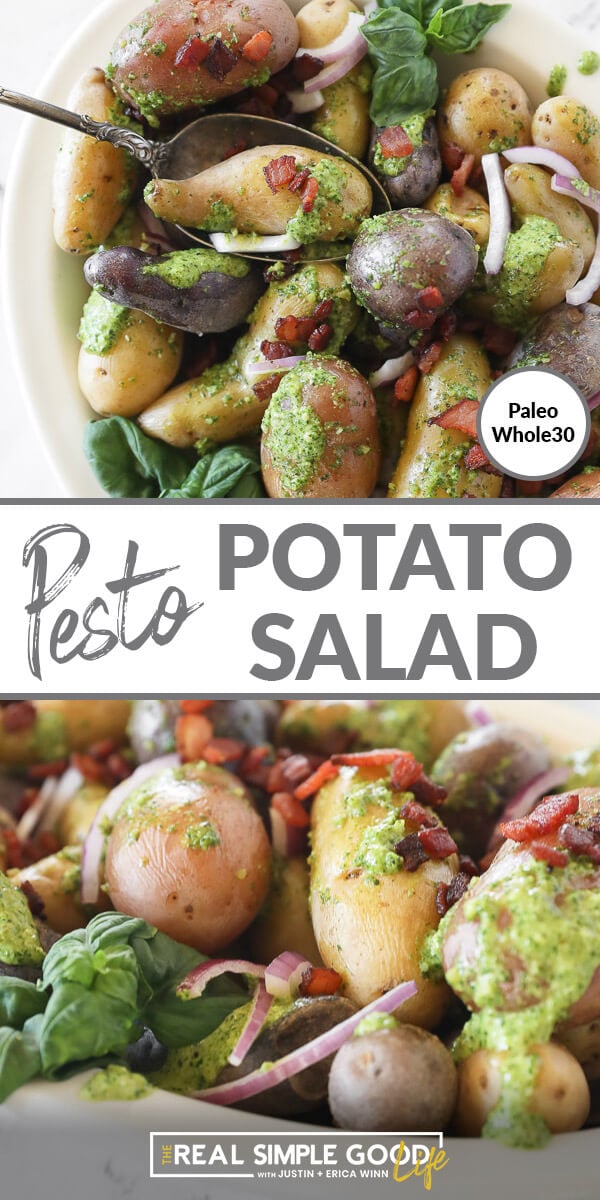 ---
Get the Recipe:
Pesto Potato Salad
Featuring an easy dairy-free pesto sauce and only 3 other main ingredients, this pesto potato salad is a flavorful side dish that can be served warm or cold.
Ingredients
For the pesto:
1/2 cup raw unsalted sunflower seeds
3 cloves garlic, peeled
1 lemon, juice of
1 cup fresh basil, packed
2 cups arugula, packed, (can sub spinach)
2 tbsp nutritional yeast
1/2 cup olive oil or avocado oil
Salt and pepper
For the rest:
2 lbs fingerling potatoes, (or any potatoes, cut into even chunks)
8 pieces bacon
1/4 red onion, diced
Instructions
Cut potatoes into even sizes if needed and place them in a pot. Cover with water and add a few pinches of salt to the water and turn the heat to high. Bring to a boil and boil for 20-25 minutes, until the potatoes are tender when pierced with a fork. Drain water and allow the potatoes to dry.

While the potatoes are cooking, heat a pan over medium heat and cook the bacon. Cook until bacon is just getting crispy, about 7-8 minutes. Remove and place on a paper towel lined plate.

Chop onion as noted and set aside. When the bacon has cooled, chop it into small bits.

To prepare the pesto, place all of the pesto ingredients except the olive oil, salt and pepper in a food processor and blend until everything is combined. Then, while the food processor is running, stream in olive oil until smooth and creamy. Stop the food processor and season with salt and pepper, to taste.

Now, prepare the potato salad by placing the potatoes, bacon and onion in a bowl. Add in as much pesto as you want and mix to coat. Any remaining pesto can be refrigerated for 3-4 days.
Notes
This recipe can be made in advance and refrigerated for several days. It is best when served within 1-2 days.
This potato salad can be served warm. Just drain the potatoes and mix them with the pesto, bacon and onions. Serve immediately.