This plantain casserole is a great introduction to plantains if you're not used to cooking with them! They're a tasty resistant starch that pairs especially well with pork and beef. This casserole will make a large amount of food and will definitely be the leftovers you look forward to!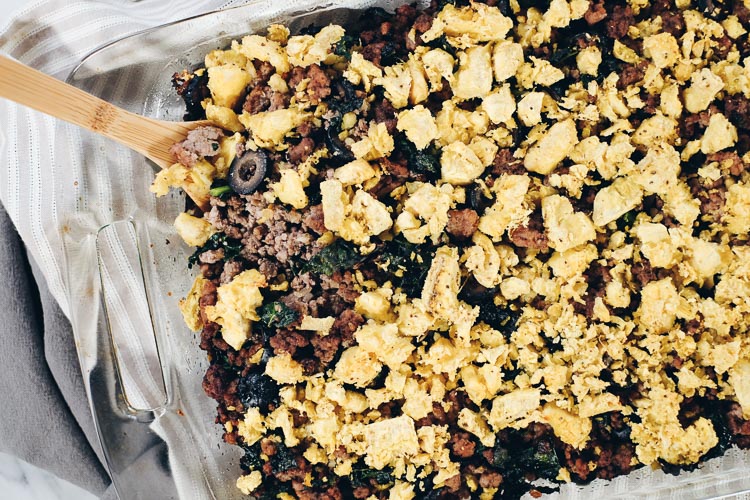 Plantains
Have you tried plantains before? Do you use them in casseroles, eat them with breakfast, or as a side dish? They can be on the sweeter side or the more starchy side, depending on how ripe they are. Green plantains will be much more starchy. However, the sweeter ones, which are yellow or browned, turn out well, too. They just pack a little different flavor punch. We like riper plantains for this plantain casserole. They are a little easier to mash up. If you are not super familiar with them, next time you're at the store look for the oversized bananas – those are plantains!
Make Ahead – Meal Prep
We usually try to make a larger meal, like a casserole, on Sunday so we have some built-in leftovers in the fridge. It makes it easy to be flexible as needed during the week without sacrificing eating well. It's really pretty incredible how a little investment of time over the weekend can really make the work week so much easier and less stressful.
There are some days where it feels like just getting out of bed and accomplishing anything is rough – you know what I mean, right?! I mean, we all do it. We get up, get going, get out the door, do our jobs and then get home and have that moment of oh crap – but what's for dinner?? Leftover casserole made over the weekend to the rescue! Crisis averted. Phew!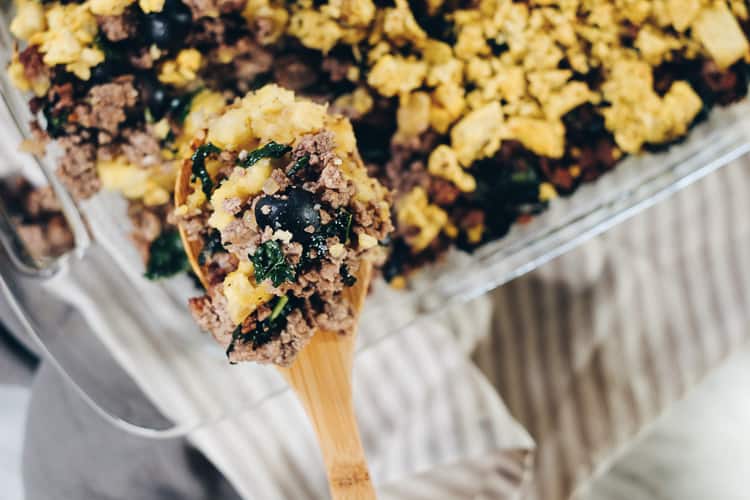 Mashing The Plantains
For this recipe we decided to mash the plantains to make a crust layer, and then crumble the rest of the plantains on top. To get the plantains soft enough to be able to be mashed, we boiled them and then used a potato masher. You will notice that plantains do not mash like potatoes. They get more crumbly than anything. That is totally ok! You will love the combo of flavors with the plantains, pork and beef!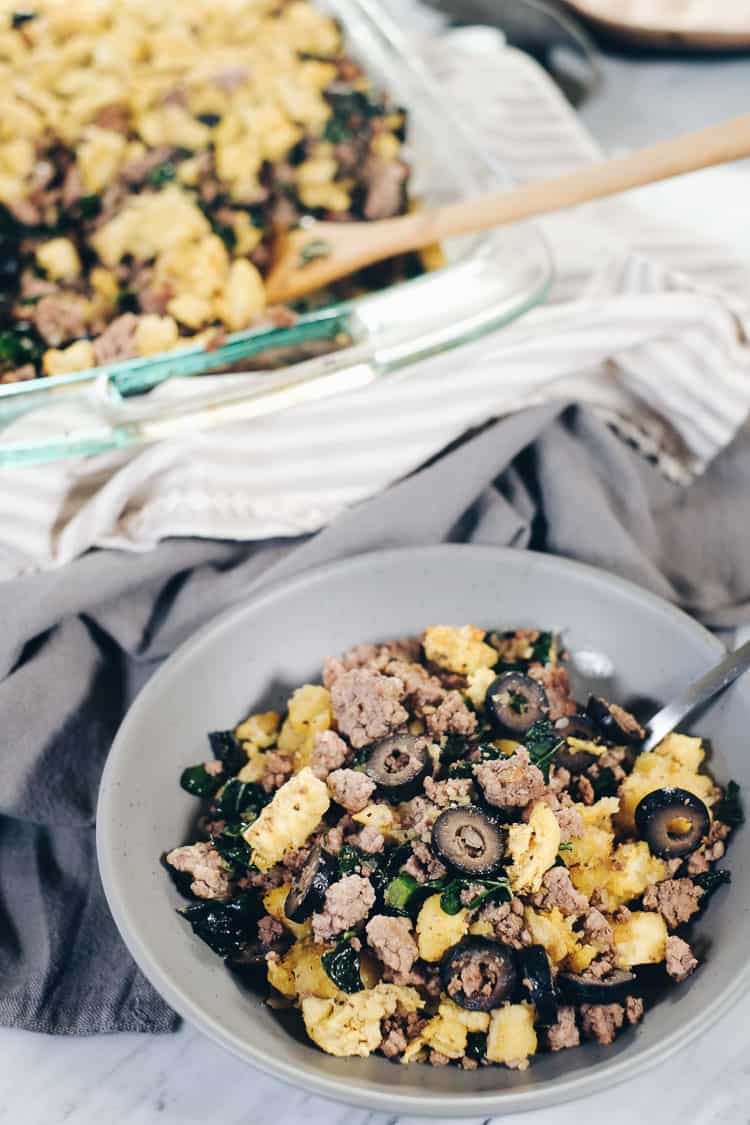 Other Plantain Recipes To Try
Your Turn To Try Our Plantain Casserole
Make this plantain casserole over the weekend, and enjoy the reduced stress having the leftovers in your fridge during the week. You can use them for lunch or dinner, whatever helps you to eliminate unnecessary stress during the busy work week. Let us know how it goes by leaving a comment below. Also, take a photo and tag us on Instagram @realsimplegood, so we can check it out!
---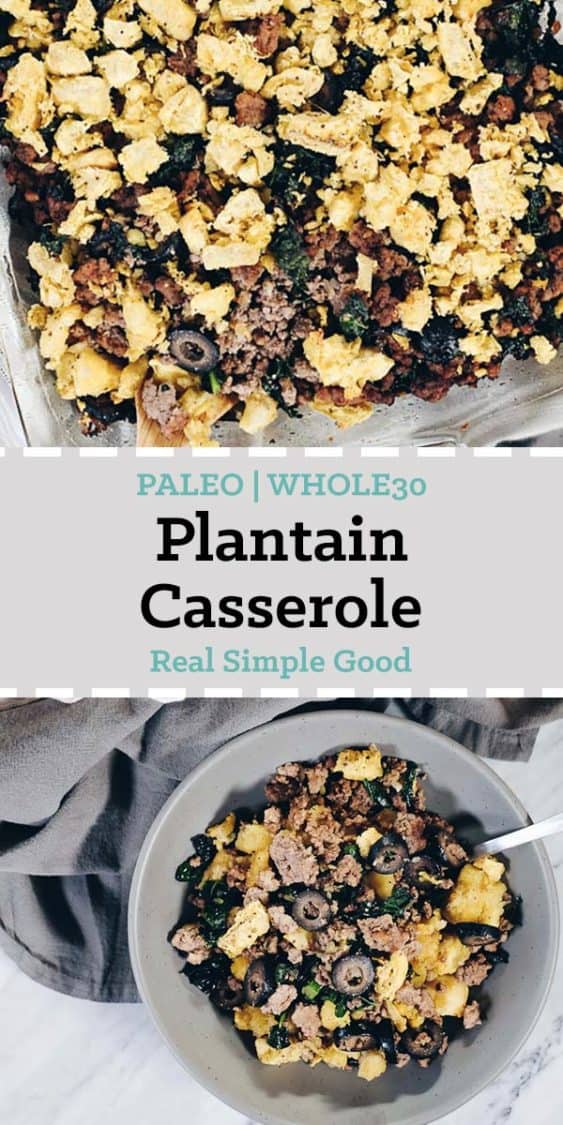 ---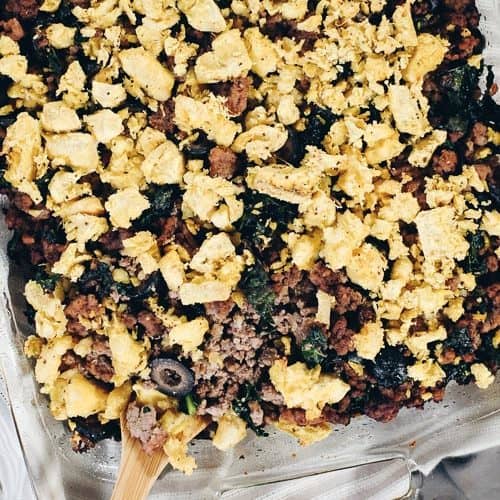 Get the Recipe:
Plantain Casserole Recipe
This Paleo and Whole30 Plantain Casserole will make a large amount of food and will definitely be the leftovers you look forward to! It's got a savory combo of plantains, pork, beef and kale with some spices.
Ingredients
4 yellow plantains
1 shallot, diced
4 cloves garlic, minced
1 tbsp avocado oil
1 lb ground beef
1 lb ground pork
1 can olives, sliced, (14.5oz) save the juice for the sauce
5 cups kale, finely chopped
Salt and pepper
1 tbsp grass-fed butter or ghee, (or coconut oil for dairy free)
Instructions
Trim ends off the plantains and place them in a large pot filled with salted boiling water. Cover and boil for 20 minutes.

After 20 minutes, carefully remove the plantains using tongs and place them on a plate to cool.

While the plantains are cooking, chop shallot and garlic as noted.

To make the sauce, whisk coconut aminos, olive juice, vinegar and fish sauce together in a small bowl. Set aside.

Heat a large skillet over medium high heat and add in avocado oil. Once hot, add in shallot and garlic. Saute for 2 minutes, stirring frequently.

Next, add in beef and pork. Break the meat into small bits and cook, stirring occasionally, until the meat is browned and developing some crispy bits on the edges, about 10-12 minutes.

When the meat is cooking, chop kale as noted.

When the meat is finished, stir in the sauce, olives and kale. Cook for 1-2 minutes, until kale wilts slightly, then remove from heat.

Preheat oven to 375° Fahrenheit and lightly grease a 9x13 baking dish with butter or ghee.

When the plantains have cooled so that they can safely be handled with bare hands, remove the peels and discard.

Place plantains in a bowl. Mash plantains with a potato masher, until they crumble into small pieces. Season with salt and pepper (about 1 tsp each).

Now, assemble the casserole. Place a layer of plantains at the bottom of the baking dish, using about 2/3 of the plantains and smoothing them out with a spoon. Then, top with the meat mixture. Top with remaining 1/3 of the plantains.

Place in the oven and bake uncovered for 30 minutes.

Remove and allow to cool at least 5 minutes before serving.