I love a good spicy chai, and I totally forgot how much I enjoyed chai lattes until I met up with a friend and her sweet little family visiting one weekend. We met at a cute little coffee shop here in Bend, called the Looney Bean. It has this great backyard area that is perfect for catching up on a sunny day. Anyway, I ordered an almond milk chai latte, and while it wasn't 100% Paleo, it did give me the idea to create a caffeine-free and Paleo version to enjoy at home this fall and winter! And, since it is pumpkin season after all, why not make it a pumpkin chai latte!
Caffeine Addiction
I love coffee, and Justin does, too. Unfortunately, my body doesn't seem to love caffeine too much these days. The truth is that I have cut coffee out, added it back in, and taken it back out a few times now. Currently, I am not drinking coffee, but I do love it. I love the taste, the smell, the warm beverage in my hand. It's a ritualistic thing, and I suspect at some point I may drink coffee again. However, more recently I started playing with creating other warm beverages to enjoy in place of coffee. Since I'm foregoing caffeine, I opted to make this pumpkin chai latte with no black tea as would traditionally be done, but with the chai spices to mimic the flavor.
It can be challenging skipping coffee because every morning I smell the coffee brewing since Justin still drinks it, and I get to watch him drink it while we have breakfast and work at our computers. He shouldn't have to stop drinking it just because I need to stop, but it sure does make it a little harder some days. Finding some ways to create other warm beverages makes it a little easier, and much more exciting for me.
Pumpkin + Chai Just Makes Sense
Spicy chai pairs well with pumpkin, almost like they were always meant to go with one another. I also love that I can add real food to my drink, making it more filling and more nutritional. Popular pre-made chai mixes are packed with sugar and also have black tea and caffeine, so I have opted for creating my own chai spice mix. I add a date for natural sweetness, and just skip the black tea all together. Once this cup is brewed, it's full of spicy deliciousness with a hint of the pumpkin goodness we all love and crave this time of year.
Collagen
I love adding collagen to my morning beverages and also to smoothies. It adds protein, and the collagen is also great for your gut, skin, hair, and nails. You can read more about the benefits of collagen and gelatin here in a post from Paleo Leap. There are a couple of brands of collagen I'm familiar with. My most recent purchase was for Perfect Supplements Grass-Fed Hydrolyzed Collagen, which is what I used for this pumpkin chai latte. I find that you get a little more for your money with Perfect Supplements, and I have used other products of theirs as well. I also like Vital Proteins.
Making Your Chai Spice Mix
It's so easy. Just combine all of the chai spice mix ingredients in a bowl or unused spice container and thoroughly mix. It will make enough for you to enjoy several chai lattes, so make sure to store it in an airtight container.
Your Turn To Make Our Pumpkin Chai Latte
Get your morning started with this creamy, spicy pumpkin chai latte. Let us know how you like it by leaving a comment below. Also, take a photo and tag us on Instagram @realsimplegood, so we can check it out!

---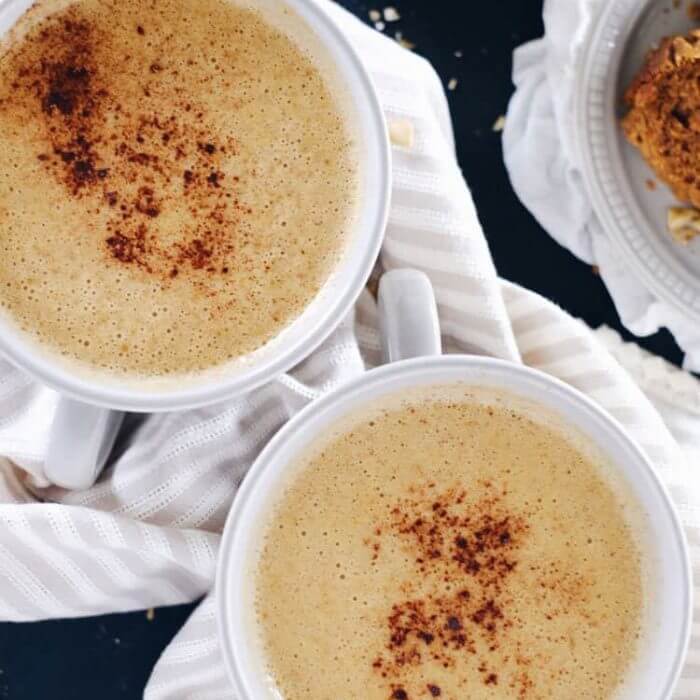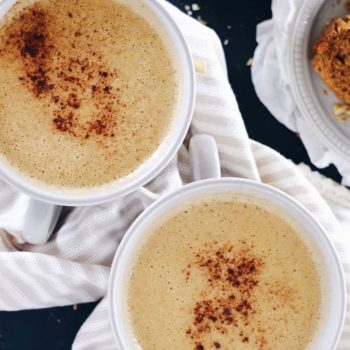 Get the Recipe:
Pumpkin Chai Latte (Caffeine-Free, Dairy-Free + Refined Sugar-Free)
After ending my affair with coffee, I got the idea to create a caffeine-free and paleo friendly pumpkin chai latte to stay cozy this fall and winter!
Ingredients
3/4 cup filtered water
1/2 cup coconut milk
1 tbsp pumpkin puree
1 tbsp collagen
1 tsp chai spice mix, (see below)
1-2 dates, - pitted
Chai spice mix:
3 tsp ginger
2 tsp cinnamon
1 tsp cardamom
1 tsp cloves
1 tsp allspice
1/2 tsp nutmeg
Instructions
Start by making your chai spice mix. Place all of the ingredients in a bowl or unused spice container. Mix thoroughly and store.

Heat your water and milk on the stove over medium heat or in the microwave.

Then, place your heated mixture and the rest of the latte ingredients in the order listed above in a high powered blender. Blend until creamy and smooth.

Pour into your favorite mug, and sip up the spicy goodness.