Pumpkin season isn't over yet! And I'm so very happy about it. To celebrate, I made these pumpkin pie bars in preparation for Thanksgiving. We will be bringing them for dessert and plan to serve them with a little coconut cream whipped cream on top! And maybe a little sprinkle of cinnamon on top of the whipped cream! Yum! Ok, I'm ready for Thanksgiving now! 
These pumpkin pie bars have a slightly nutty, salty-sweet crust with a pumpkin pie filling layer on top. They are essentially fall, all wrapped up into these tasty little bars. You really can't go wrong bringing them for dessert at Thanksgiving or to your holiday gatherings this year.
I love how easy these pumpkin pie bars are to make, and I also love that they come out of the oven and firm up as they cool, so you can cut them into bars easily without a mess.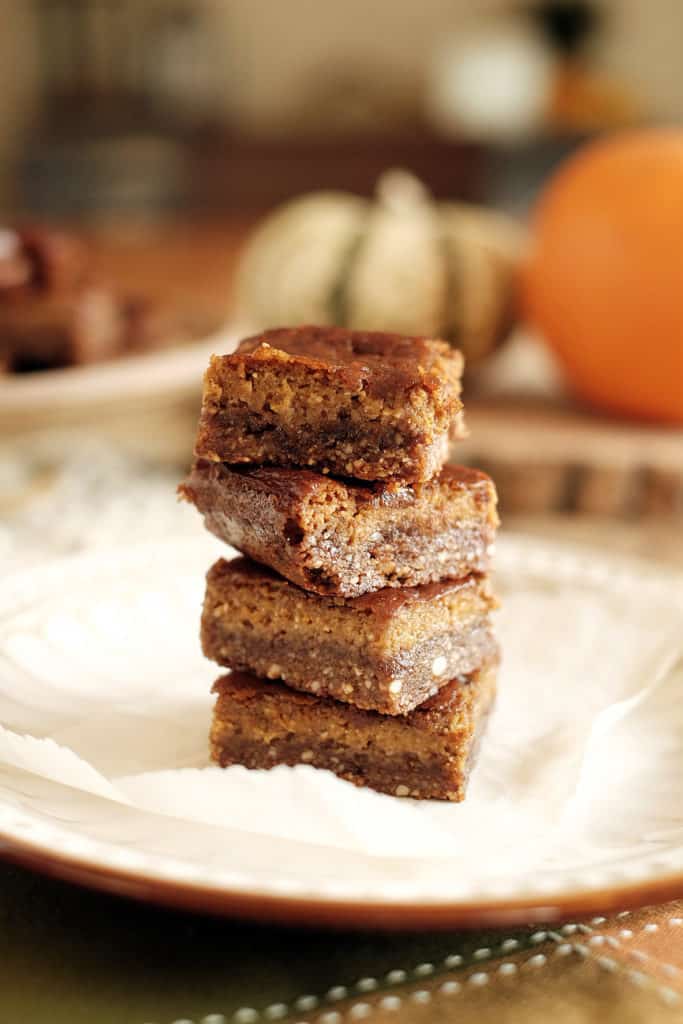 You'll have to give these a try for the holidays this year, and let us know how it goes! If you try this recipe, we'd love to know what you think. Leave a comment below and add a rating. Also, take a picture and tag it on Instagram #realsimplegood so we can check it out!

---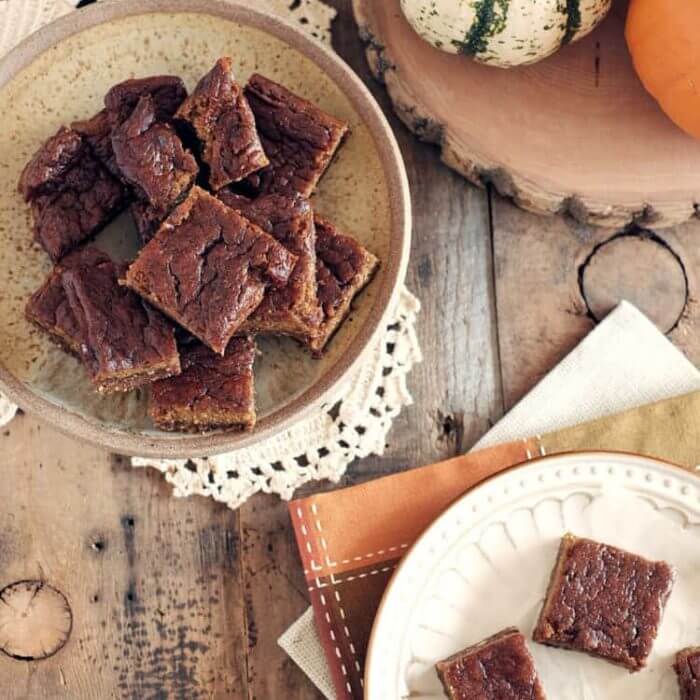 Get the Recipe:
Pumpkin Pie Bars
These pumpkin pie bars have a nutty and salty-sweet crust with a pumpkin pie filling. They are essentially fall all wrapped up into tasty little bars.
Ingredients
For the crust:
1-1/2 cups nuts, (I used 1 cup of pecans and then a half cup of cashews)
1/2 cup almond flour
2 tbsp grass-fed butter or ghee, (or coconut oil for dairy free)
2 tbsp honey
1 tbsp molasses
1/2 tsp vanilla
pinch of salt
For the pumpkin pie filling:
Instructions
Preheat your oven to 350° Fahrenheit and line a baking dish with parchment paper. I used an 8x8 inch glass dish.

Place your nuts and almond flour in your food processor and pulse until the nuts are fine in texture, similar to the almond flour. You don't want any chunks of nuts, but be cautious of over-pulsing as you will start to turn the nuts into nut butter.

Next, place the nuts in a mixing bowl and combine the rest of the crust ingredients. Mix everything together until the ingredients are fully incorporated.

Pour the crust into your parchment lined baking dish and use your hands or the back of a spoon to spread the crust out evenly. You'll want to press it down and pack the crust a bit. Set the crust aside for a few and prepare your pumpkin pie filling.

Place your almond flour and spices (leave out the baking soda for now) in a small mixing bowl and whisk them together.

Next, whisk your egg in a separate mixing bowl and then add the rest of the wet ingredients (except for the apple cider vinegar - you'll use it in the last step of making the filling). Continue whisking until all of the wet ingredients are smooth and combined.

Slowly add the bowl of dry ingredients, whisking as you do until the flour and spice mixture is evenly incorporated into the wet ingredients.

Next, add your baking soda and apple cider vinegar. It will get fizzy and then you'll stir it into the batter.

Pour the pumpkin pie filling right over your crust.

Place your soon-to-be pumpkin pie bars in the oven and bake at 350 degrees for about 45 minutes, or until a toothpick comes out clean. Remove your pumpkin pie bars from the oven and let them cool completely. They will firm up a bit as they cool. I like to put them in the fridge once they've cooled mostly and let them firm up even more before cutting them into bars.

Once they are cooled and you are ready to serve your bars, pull the parchment paper from your pan and place your lovely pumpkin pie bars on a cutting board.

Cut your pan-sized treat into squares and serve them up! You can store them in an airtight container in the fridge for about a week, or freeze them for longer.