Why you'll love this quick carne asada marinade and recipe
A handful of spices and some fresh squeezed lime and orange juice make an easy marinade without any specialized ingredients.
You only need to marinate the steak for about 20-minutes to get a bunch of flavor.
It's perfect grilled or on the stovetop using either skirt steak or flank steak for the best results.
Slice it up and make some tacos, salads, fajitas or rice bowls.
How to make this easy carne asada (step-by-step)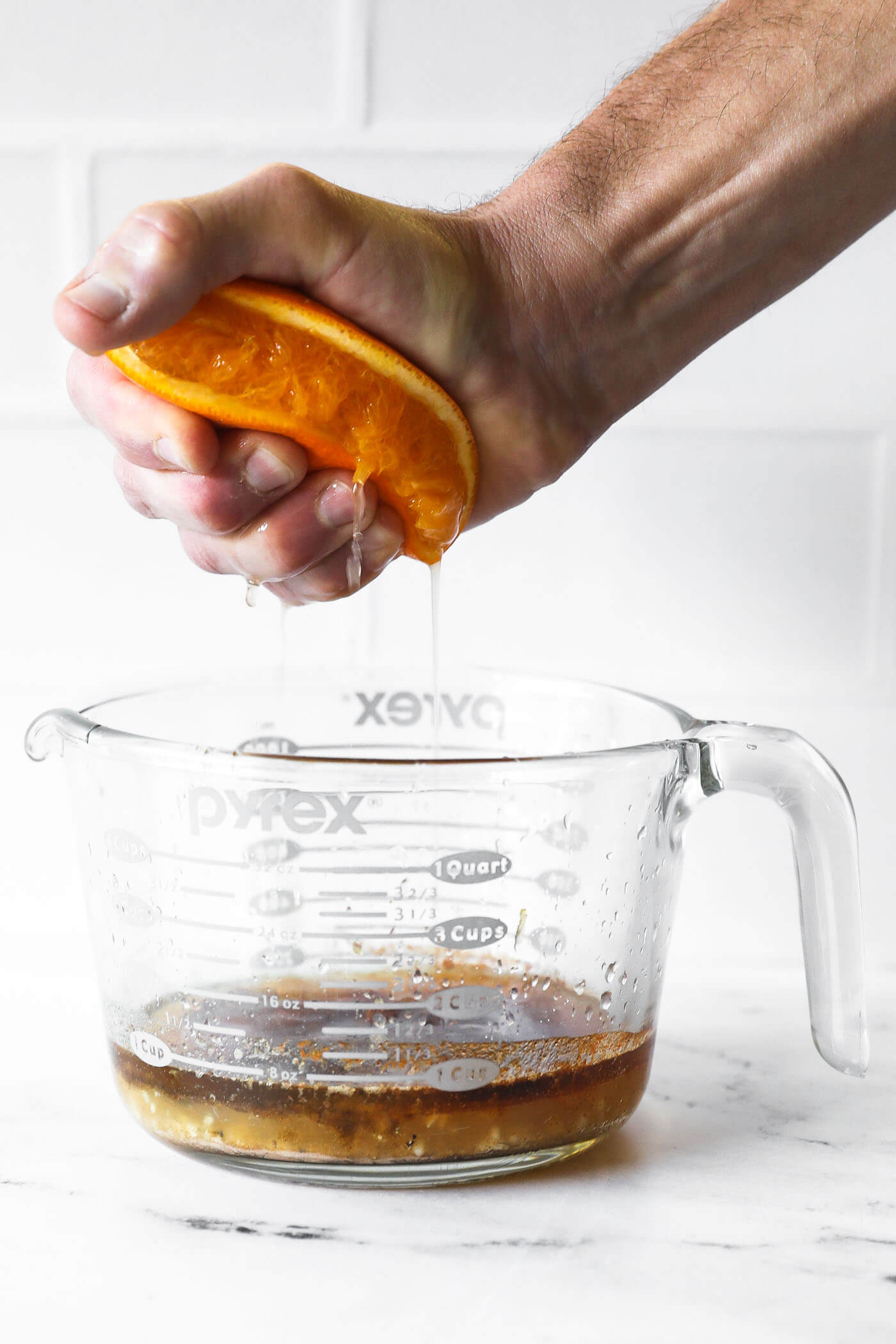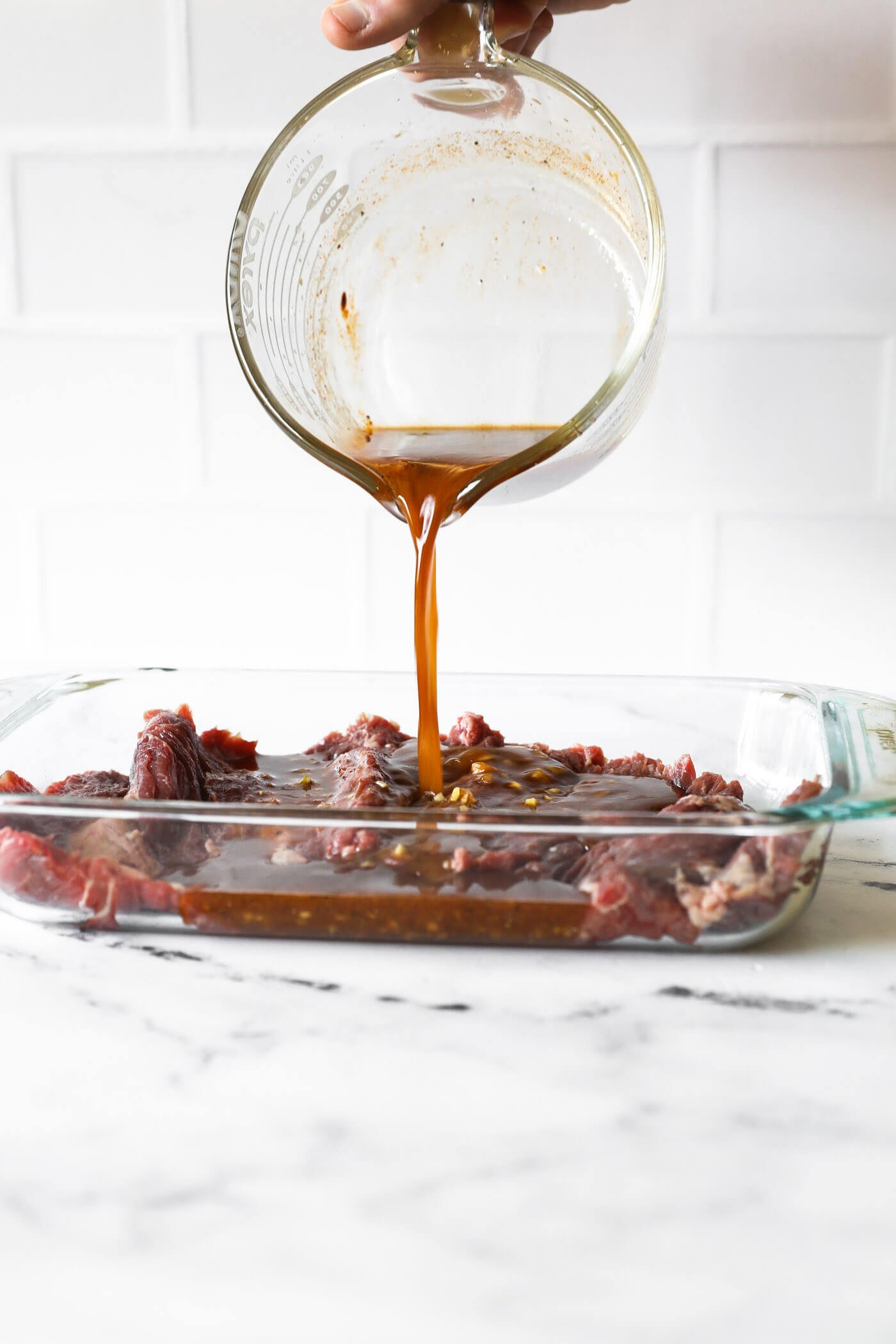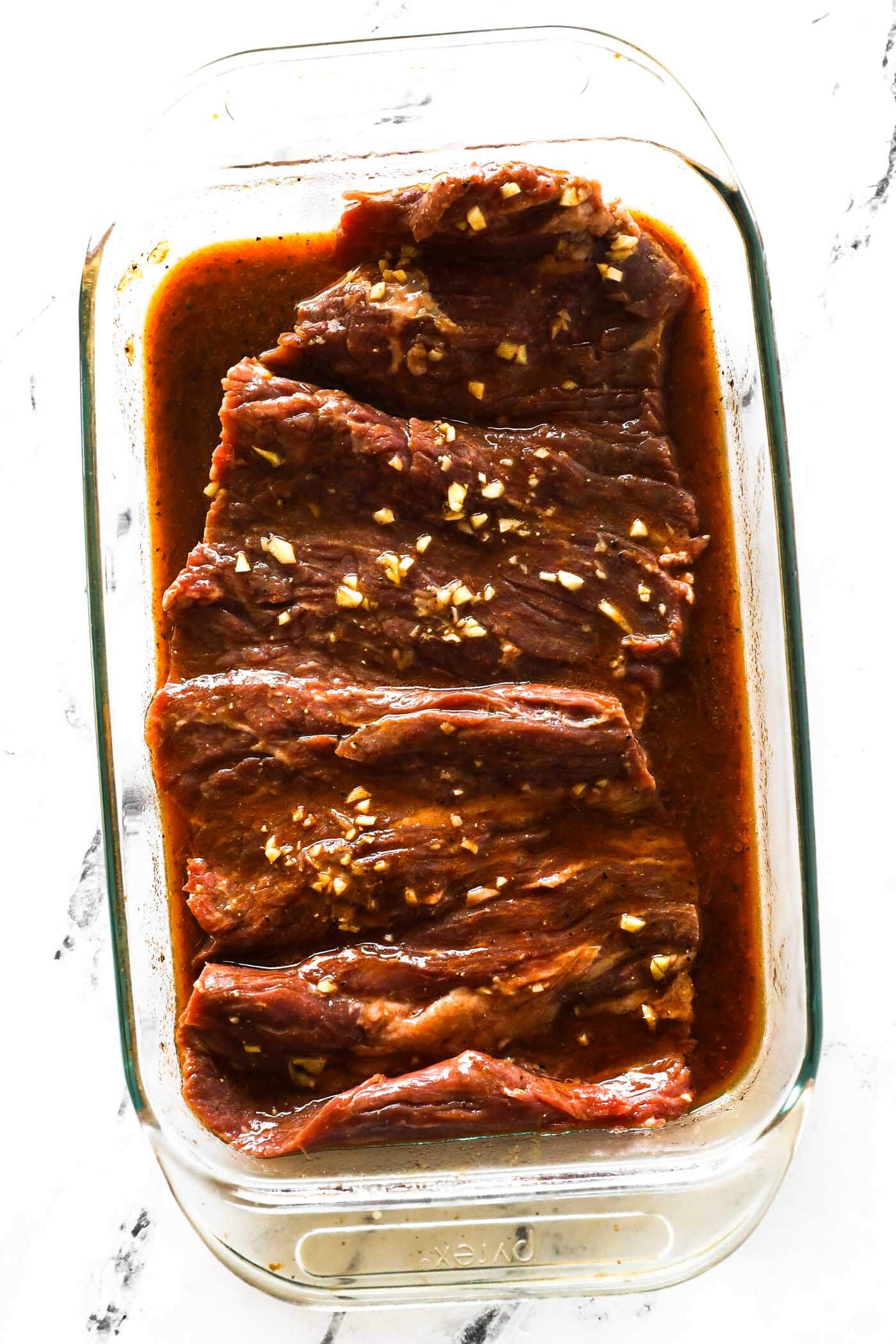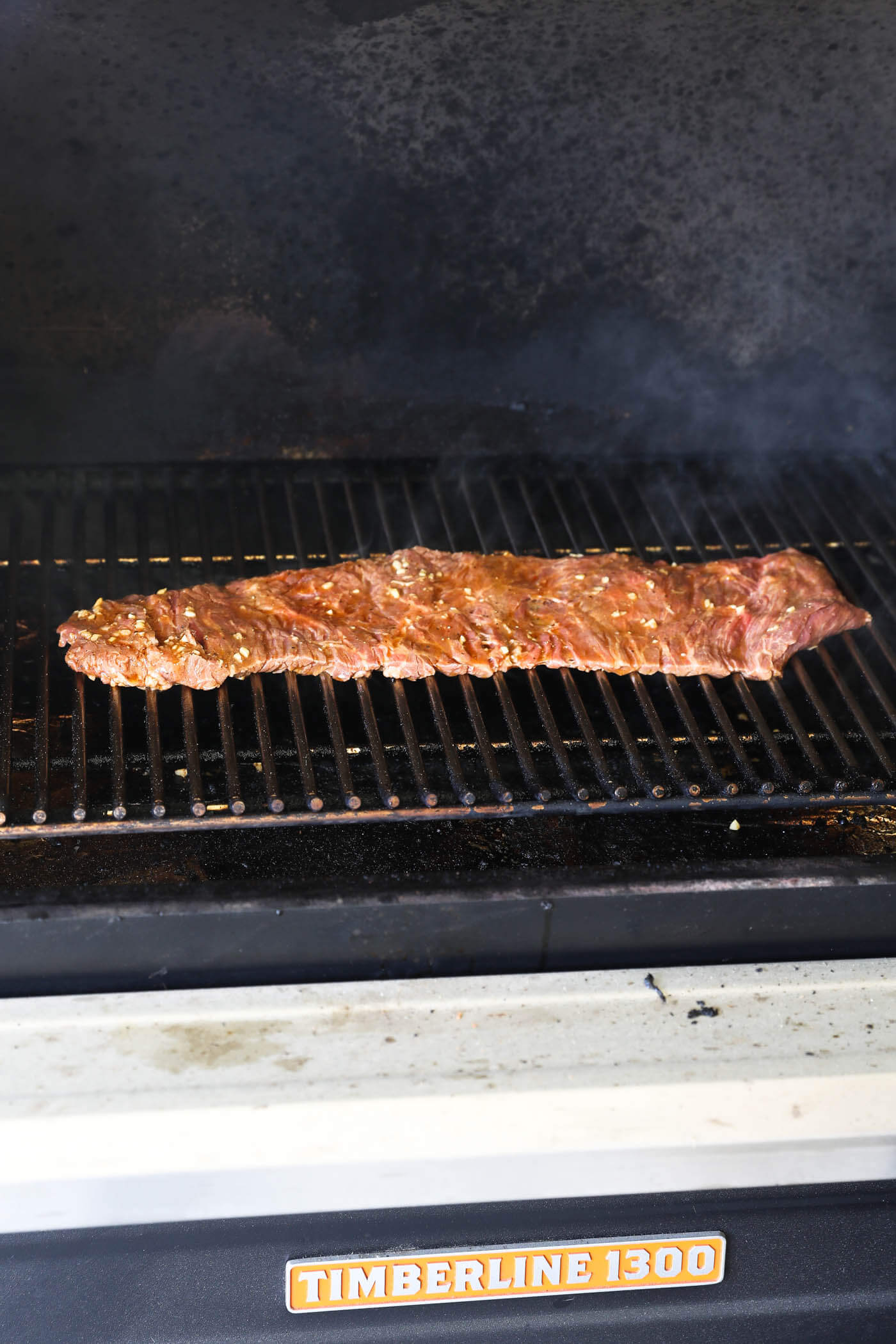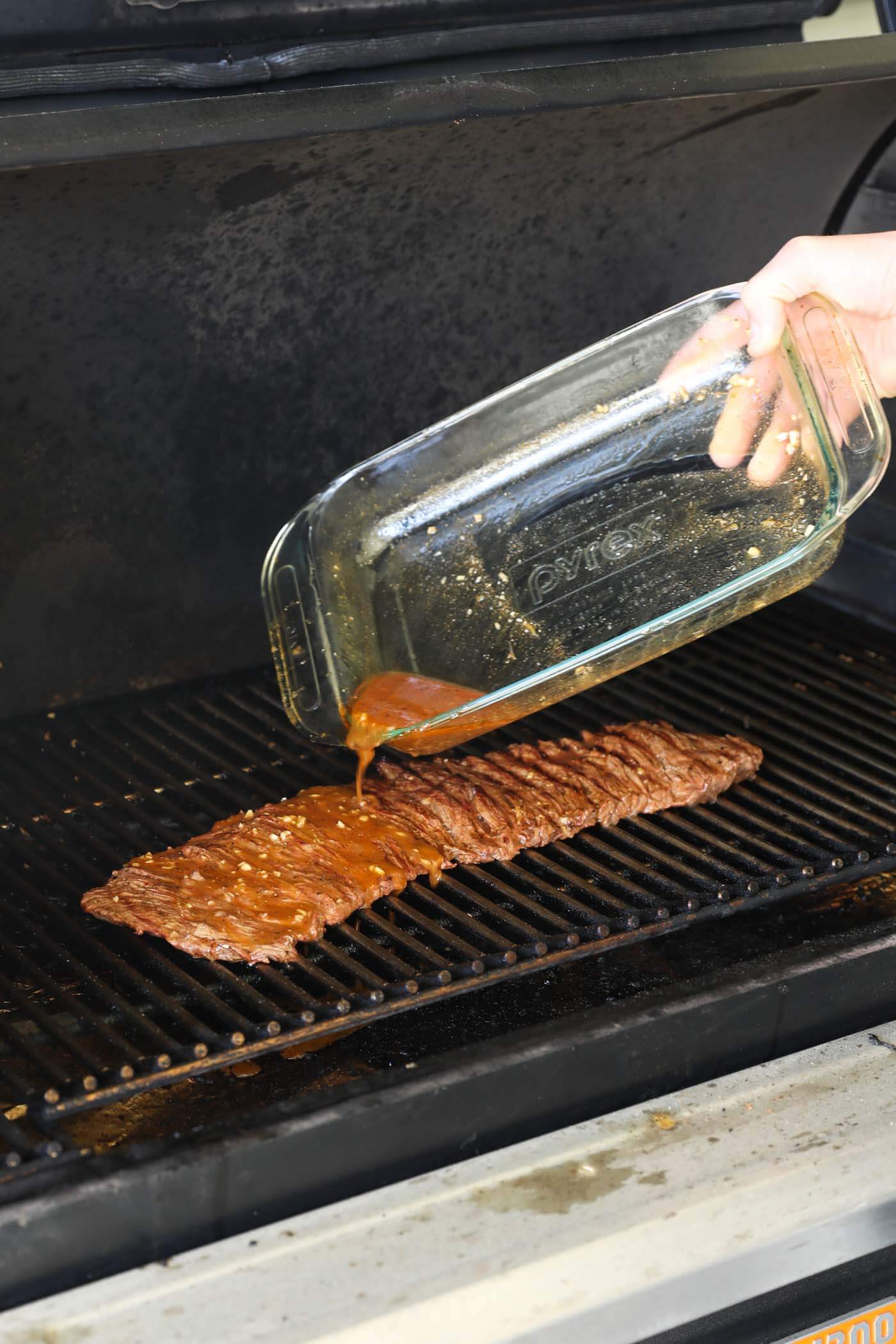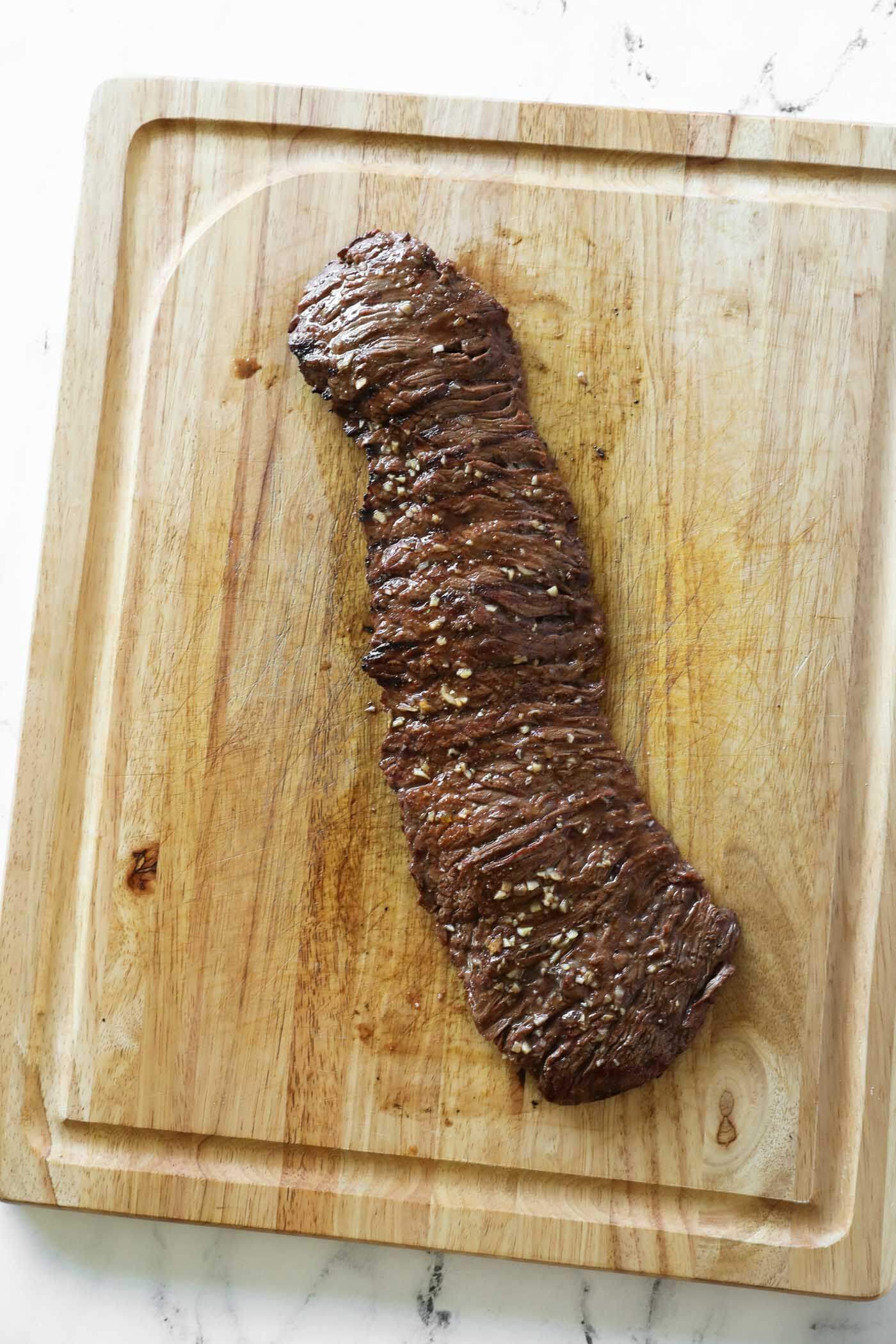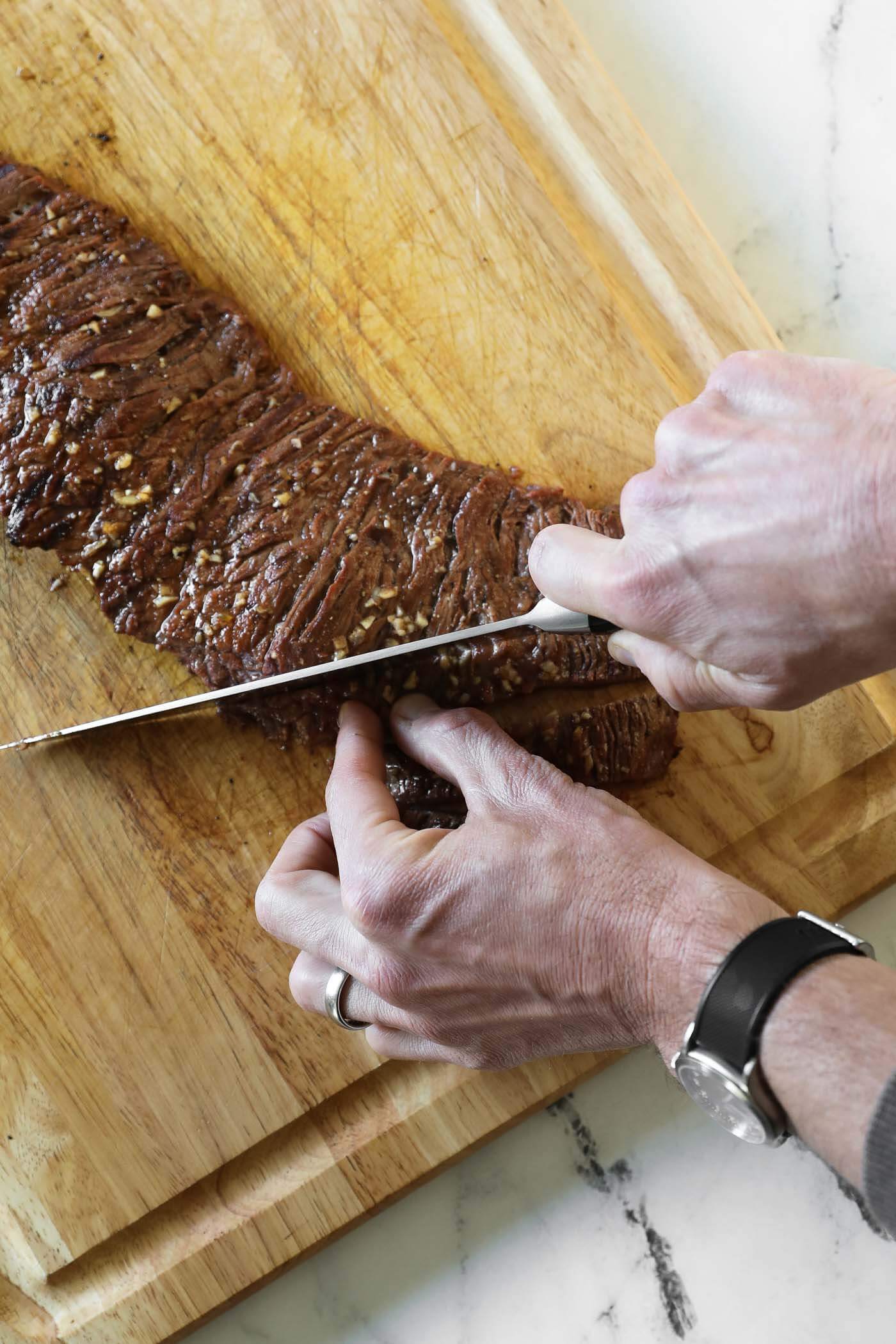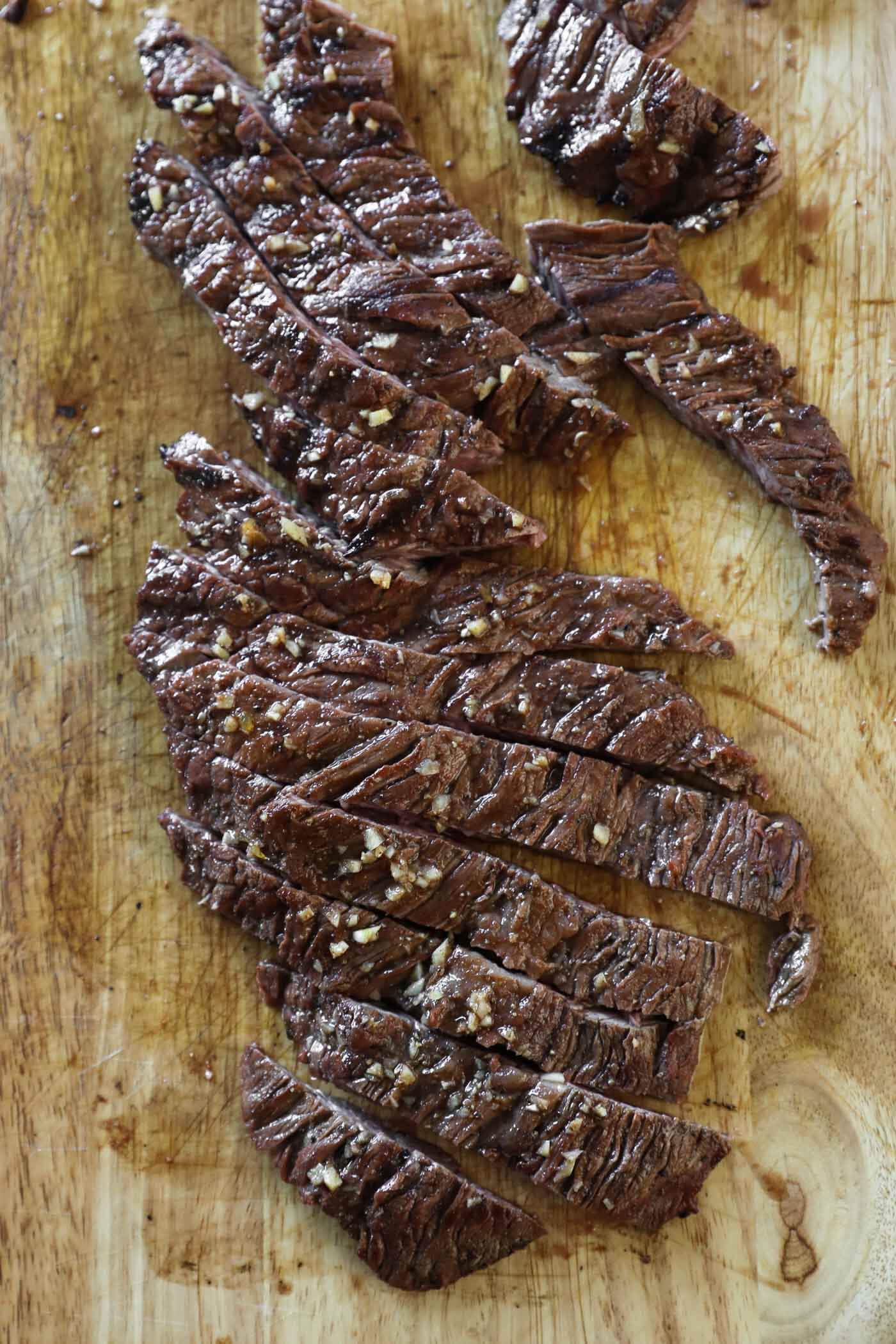 Tips for the simple carne asada marinade
Using fresh ingredients for the marinade is the key to getting the most flavor into your carne asada. You'll want to use fresh lime and orange juice, just squeeze it right out with your hands or use a manual juicer.
Here are some other marinade tips:
You can marinate the steak for up to 4 hours. The citrus in the marinade will help to tenderize the steak.
Keep the steak covered in the refrigerator. If you don't it will dry out (even in the marinade).
Once you place the steak on the grill, baste or pour the remaining marinade on the steak while cooking. This will add extra flavor that gets cooked into the steak.
How to cook carne asada
In my opinion, grilling is the only way to go with carne asada. With the grill, you'll get that extra smoky flavor and some charred bits around the edges – perfection! However, if you don't have a grill, you can easily cook it in a pan (we prefer cast iron) on the stove.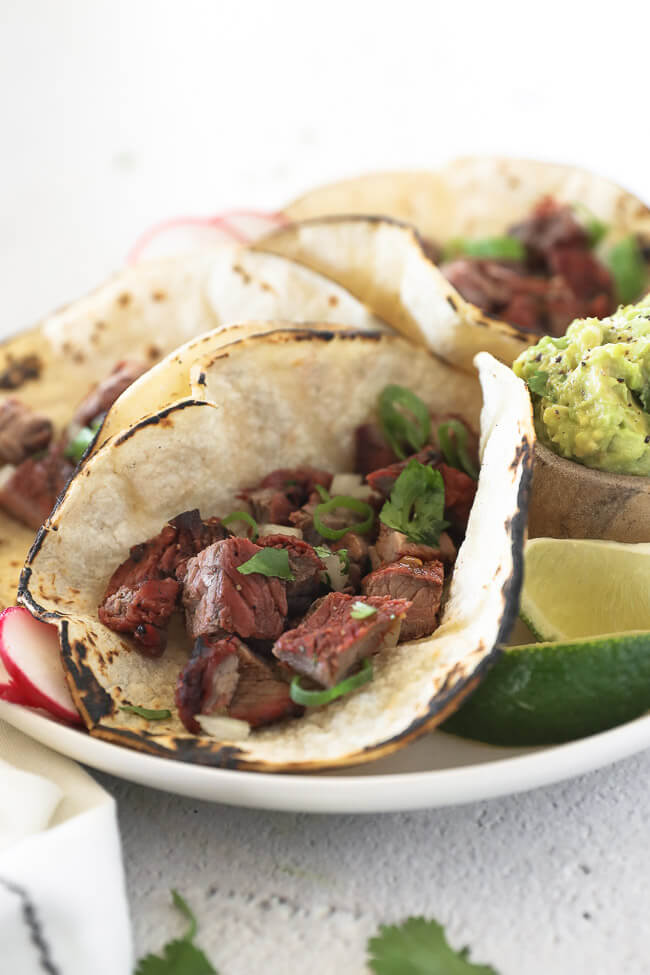 Grilling carne asada
Here are some other tips for grilling carne asada:
Use a hot grill – Skirt steak is a thin cut of meat, so you want to cook it hot and fast. Just 4-5 minutes per side over a hot grill will give you a charred steak that's still a little pink inside.
Don't overcook it – Overcooked skirt or flank steak will get tough and chewy.
Let it rest – Allow the steak to rest on a cutting board for 10 minutes after cooking. If you cut into it too soon, you will lose all the tasty juices.
Cut against the grain – For the most tender pieces, cut the steak against the grain. If desired, you can then cut the steak again into small chunks.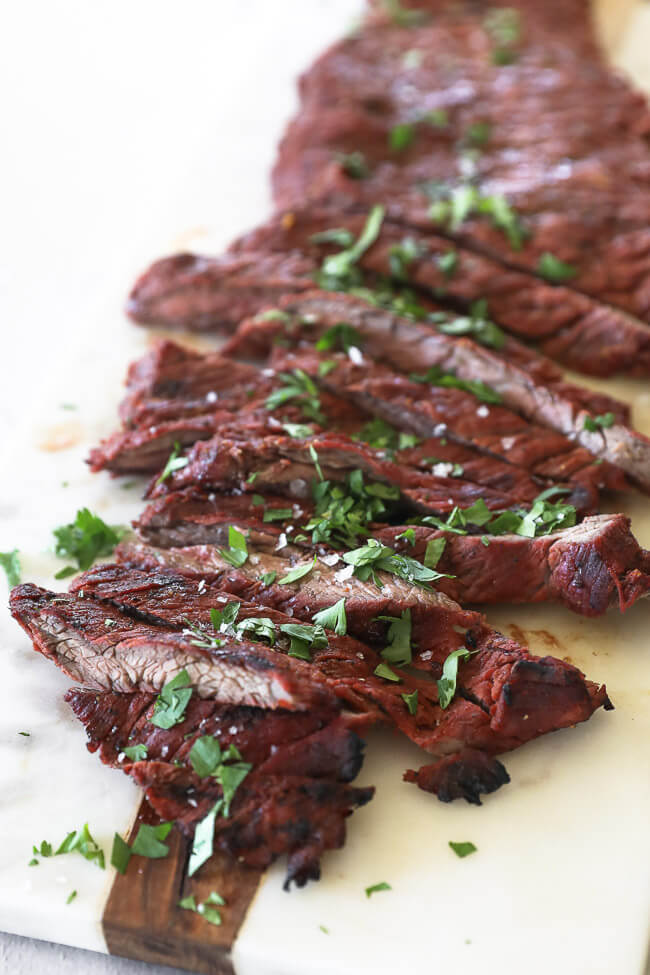 Some other easy Mexican-inspired recipes
We hope you love this recipe as much as we do!
Don't forget to leave a quick star rating and review below, we read every comment and truly appreciate your feedback. Also, be sure to browse the rest of our grilling recipes to find some other favorites too!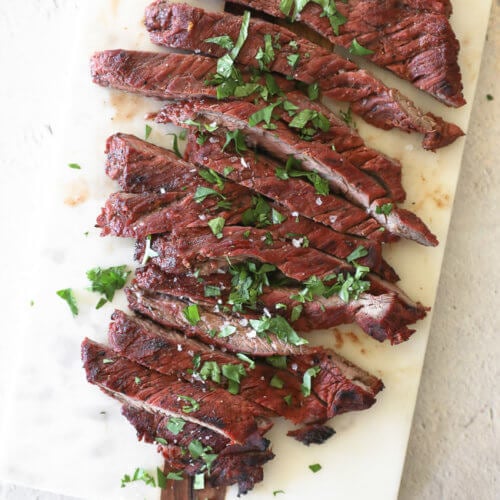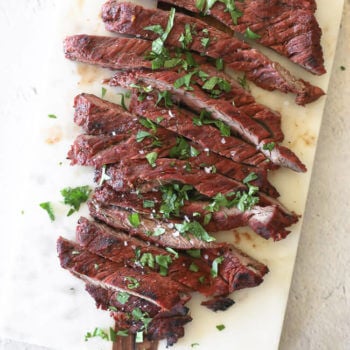 Get the Recipe:
Quick (20 Minute Marinade!) Carne Asada Recipe
A simple marinade makes this quick and easy carne asada recipe as authentic tasting as it gets! You'll love the smoky citrus notes from the fresh marinade.
Ingredients
2 pounds skirt steak, (can use flank, flap or flatiron steak)
For the carne asada marinade:
1/4 cup avocado oil
2 limes, juice of
1 orange, juice of
3 cloves garlic, minced, (can sub 1 tsp garlic oil)
2 tsp cumin
2 tsp chili powder
1 teaspoon sea salt
1/2 teaspoon black pepper
Instructions
Prepare marinade by mixing marinade ingredients in a bowl or jar.

Place steak in a shallow dish or zip-top bag. Pour marinade over the steak to coat on both sides. Allow the steak to marinate while your grill heats up, at least 20 minutes. Or, you can marinate it covered in the refrigerator for up to 4 hours. (See recipe notes)

Heat a grill to medium-high heat. Once the grill is hot, place the steak on the grill to cook for 4-5 minutes on each side, or until cooked to your liking. While cooking, baste the steak with any remaining marinade using a brush or by simply pouring the marinade over the steak.

When the steak is cooked, remove it from the grill and place on a cutting board to rest for 5-10 minutes.

Slice the steak into thin strips against the grain. Serve and enjoy.
Notes
If marinating the steak longer than 20 minutes, cover it and place it in the refrigerator. Marinate the steak for up to 4 hours. 
I prefer the grill for carne asada, but if you don't have one this can be made on the stovetop using a skillet or grill pan. Just follow the same instructions and cooking time.
For serving, we love lettuce wraps or corn or grain-free tortillas. Alternatively, you can serve over greens and rice in a bowl. Don't forget the guacamole!
Nutrition facts are an estimate provided for those following a Ketogenic or low-carb diet and do not include any topping/serving items for this recipe. See our full nutrition information disclosure here. 
Calories: 484kcal, Carbohydrates: 3g, Protein: 50g, Fat: 31g, Saturated Fat: 8g, Fiber: 1g