Do you ever look at a head of cabbage and wonder – "what should I make with this"? If so, we have some delicious cabbage recipes for you to try.
From crunchy coleslaw to skillets and warm and cozy soups, cabbage it the perfect ingredient for many different flavors and recipes. Jump around this post to check out some of our top recipes with cabbage!
Some of Our Favorite Cabbage Recipes
We love to showcase cabbage in a variety of ways. Just follow one of the easy recipes in this post to make the most of this delicious vegetable! You'll love it:
Shredded in a crunchy coleslaw
Baked in a casserole
Sautéed in a stir-fry
Slowly simmered in a soup
As a topping for tacos
Trust me, it's perfect in so many ways.
Cabbage Soup Recipes
Cabbage is the perfect ingredient for a delicious soup. It's hearty enough that it can stand beside any protein and it can be simmered down to a softer texture.
1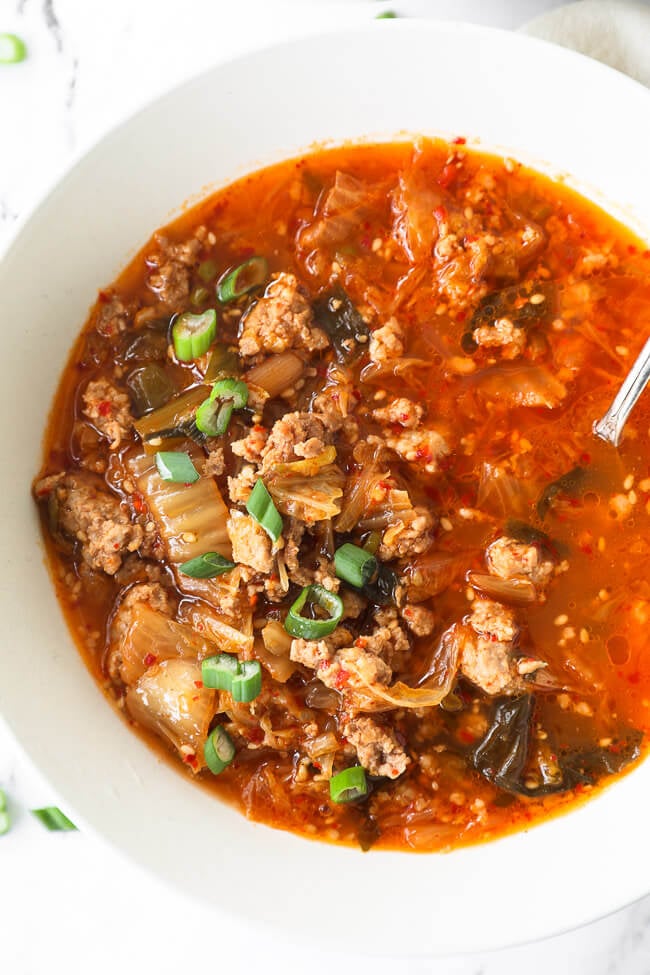 25 Minute Kimchi Soup (Keto Friendly)
This quick and easy kimchi soup recipe uses only 7 healthy ingredients and is packed full of satisfying flavors.
Get the recipe
2
Healthy Ramen Noodles In A Jar (Paleo + Whole30)
Meal prep never tasted so good! This Paleo + Whole30 ramen noodles in a jar recipe is the perfect way to prep healthy lunches for the work or school week!
Cabbage Coleslaw Recipes
The perfect ingredient for any kind of crunchy coleslaw, here are two different options. One is more traditional – a rich and creamy coleslaw and another is a lighter coleslaw with a tangy dressing and no mayo.
3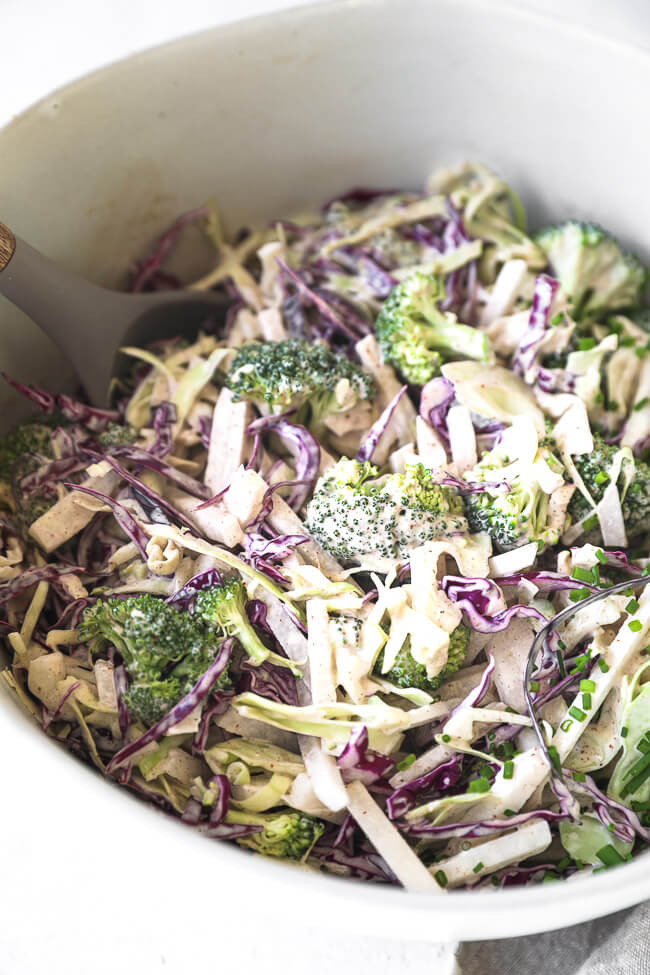 Rich and Creamy Keto Coleslaw
A creamy low carb coleslaw with only 7 ingredients! A simple homemade keto coleslaw dressing pairs with crunchy cabbage, broccoli and jicama.
Get the recipe
4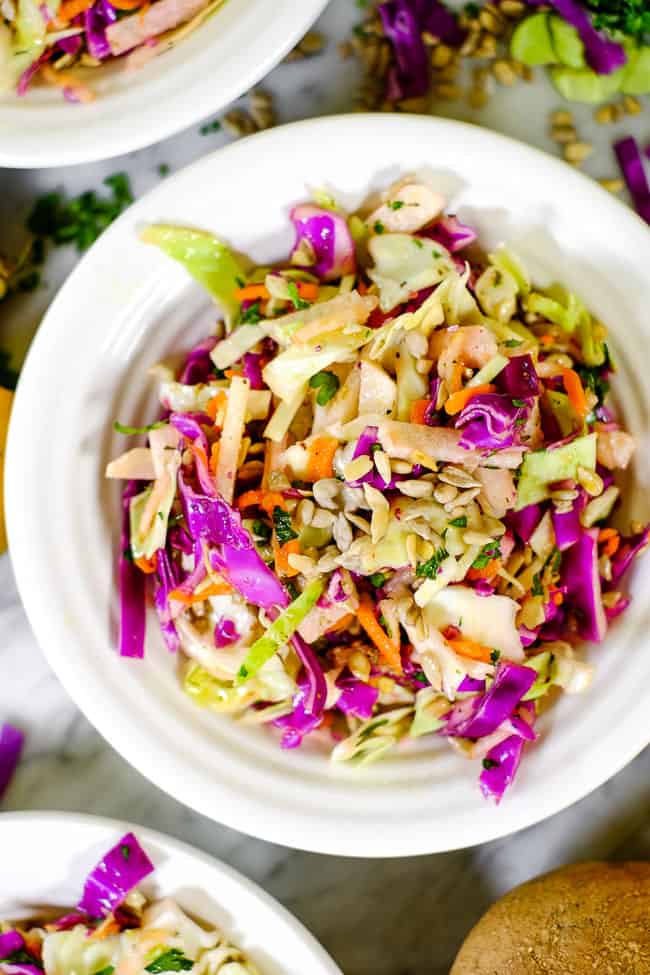 Healthy Coleslaw Recipe (Paleo + Whole30) No Mayo
This Paleo + Whole30 healthy coleslaw has no mayo, is a great make ahead salad for lunches during the work week and pairs well with any protein.
Get the recipe
Cabbage Skillet Recipes
This is one of our favorite ways to enjoy cabbage! Throw together a bunch of fresh ingredients, a little protein and some sauce/seasonings in a skillet and you're all set for a quick and easy meal.
5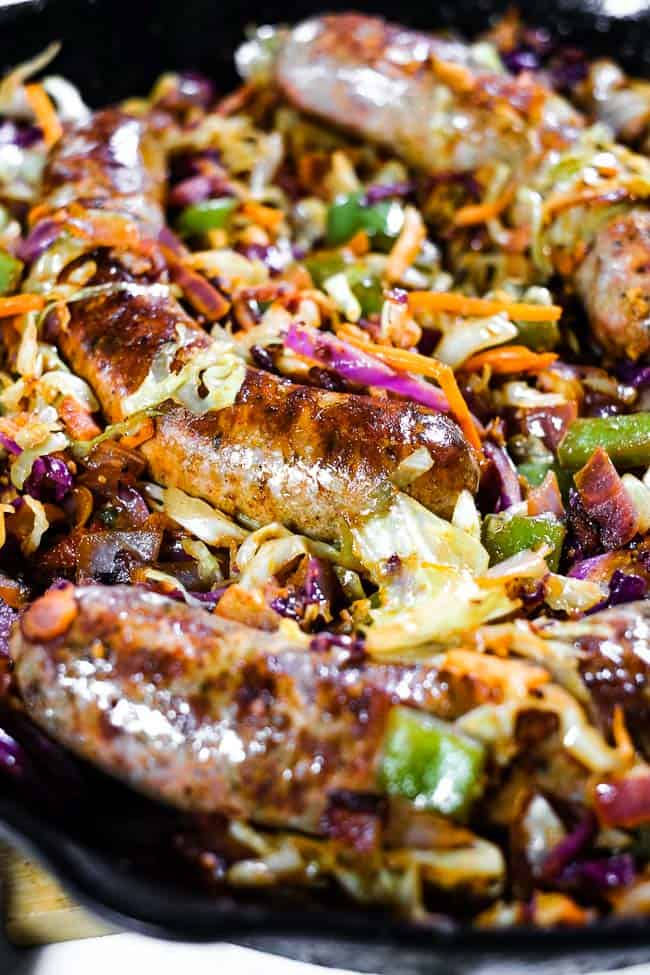 Sausage and Cabbage Skillet (Paleo, Whole30 + Keto)
Quick, easy + satisfying! This Paleo, Whole30 + Keto sausage and cabbage skillet is a great meal prep recipe or weeknight dinner! One pan option too!
6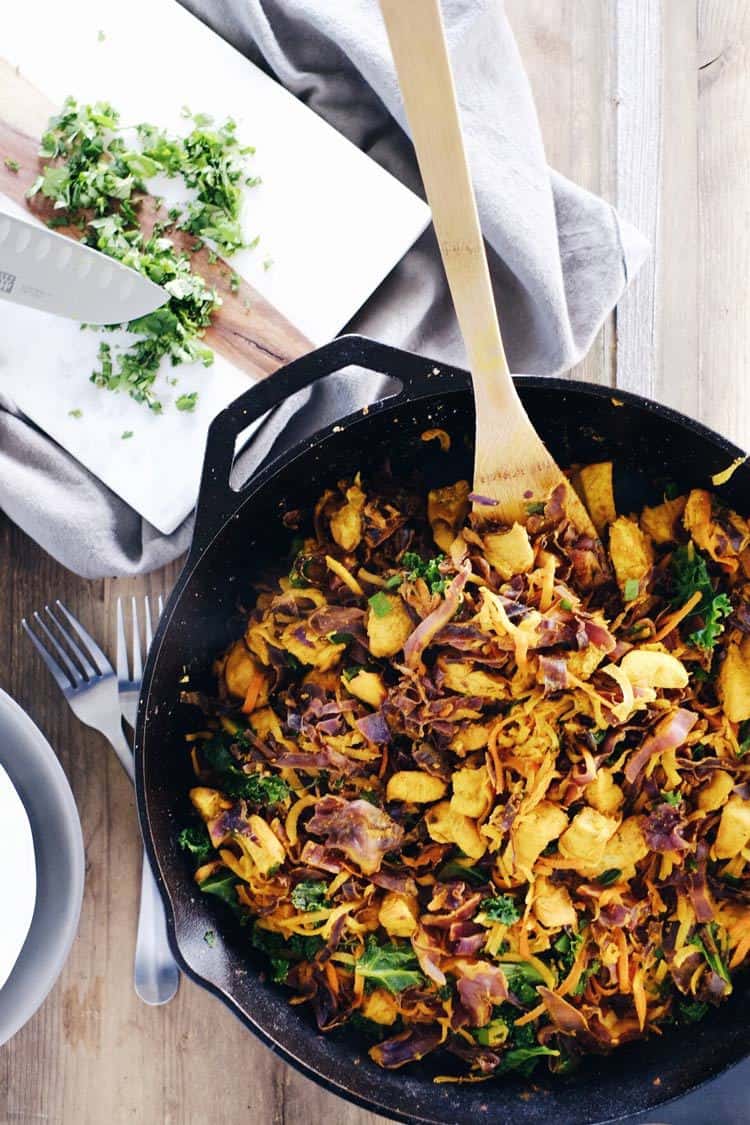 One Pan Turmeric Chicken Skillet
This one pan turmeric chicken skillet has a unique blend of flavors and is a Paleo + Whole30 way to enjoy chicken with powerful anti-inflammatory benefits.
Get the recipe
7
Spaghetti Squash Chicken Chow Mein (Paleo + GF)
Do you ever want the flavors of take out, but way healthier?! This spaghetti squash chicken chow mein is legit with all the flavor and none of the nonsense!
Get the recipe
Cabbage Salad Recipes
At the end of a long summer when cabbage is just hitting it's peak freshness, it's a great option to mix in with other seasonal veggies for a fresh and flavorful salad.
8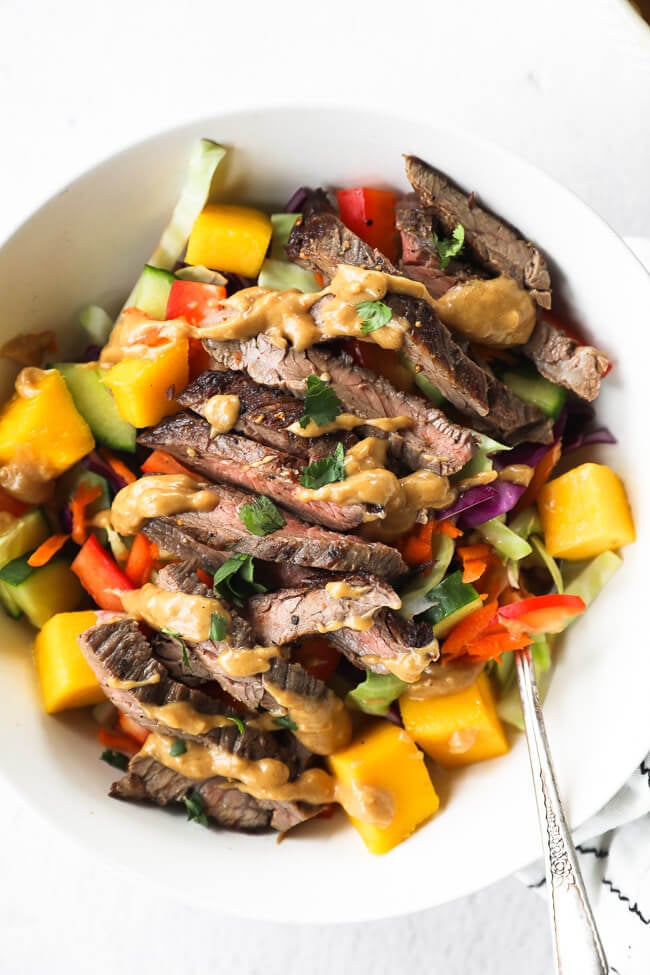 Easy Thai Beef Salad
A colorful veggie packed meal, this easy-to-make Thai beef salad will be a new favorite! It's made with skirt steak, but flank steak will work great too, fresh veggies and cashew butter based sauce.
Get the recipe
9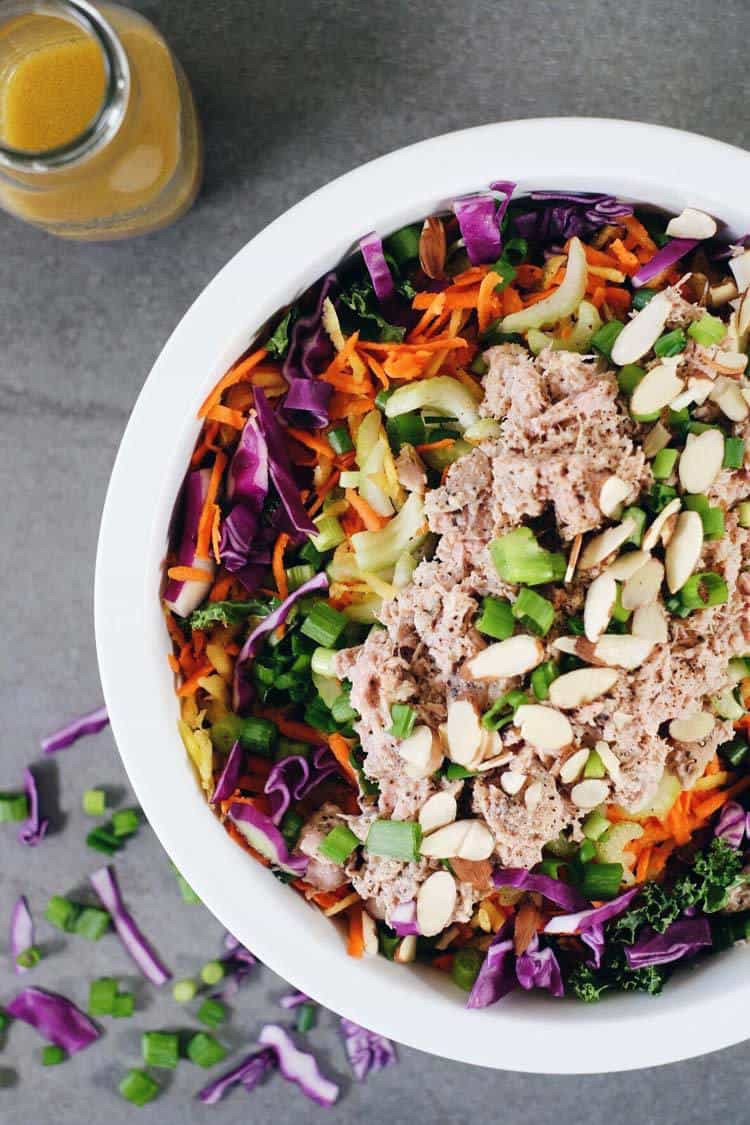 Paleo Chinese Chicken Salad
This crunchy Whole30 and Paleo Chinese Chicken Salad is packed with veggies and textures.
Get the recipe
Cabbage Bowl Recipes
We love bowl recipes, so we decided to include these bowl meals with cabbage for a unique way to use cabbage for dinner. We hope you enjoy them as much as we do!
10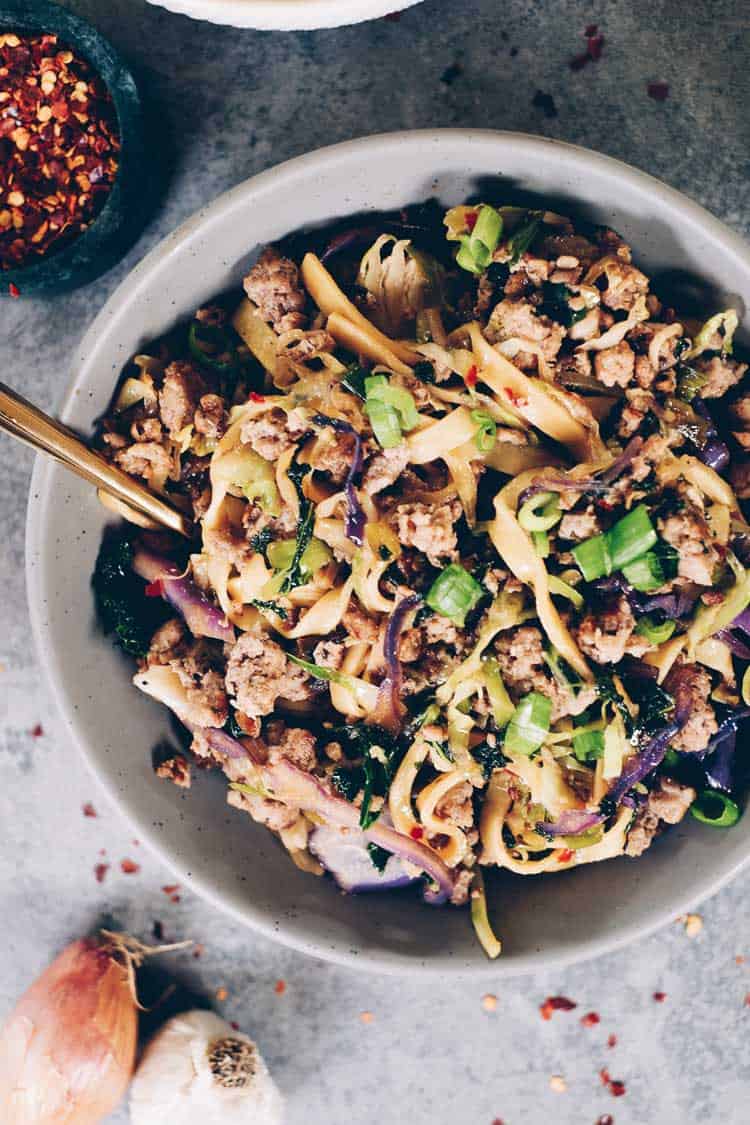 Paleo Potsticker Noodle Bowls Recipe (GF, Dairy-Free + Soy-Free)
These Paleo potsticker noodle bowls are filled with cruciferous veggies, grain-free pasta and deliciously seasoned ground pork!
Get the recipe
11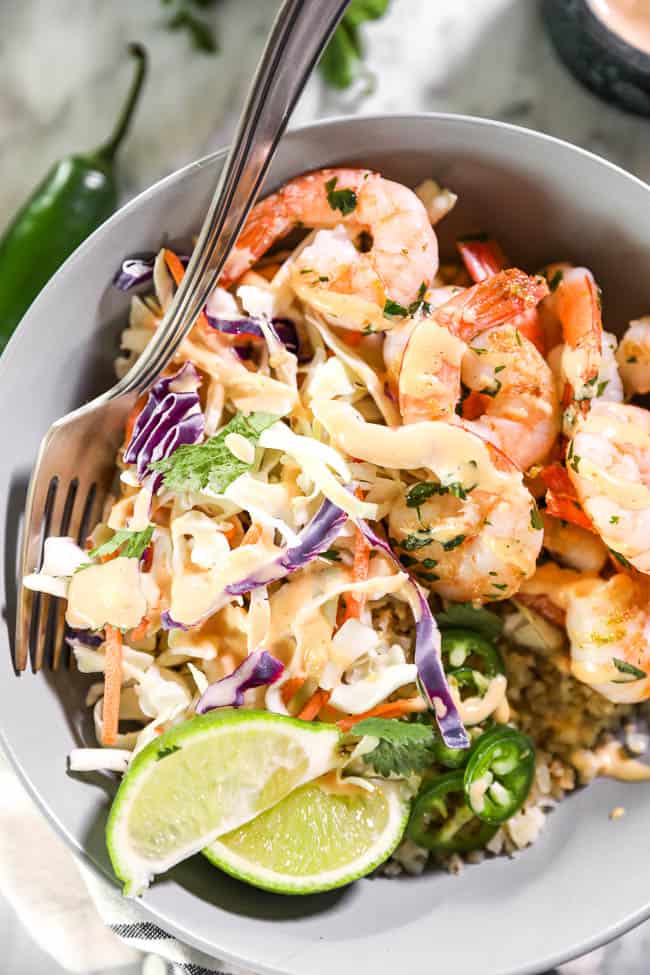 Cilantro Lime Shrimp Bowls (Paleo, Whole30 + Keto)
Make these Paleo, Whole30 + Keto cilantro lime shrimp bowls in under 30 minutes. It's an easy shrimp recipe, perfect for a healthy weeknight dinner!
Recipes with Cabbage as a Crunchy Topping
Another favorite way to use cabbage is to mix up a simple slaw with it and use it as a topping. It's great on any kind of tacos and, shredded meats or even a sandwich.
12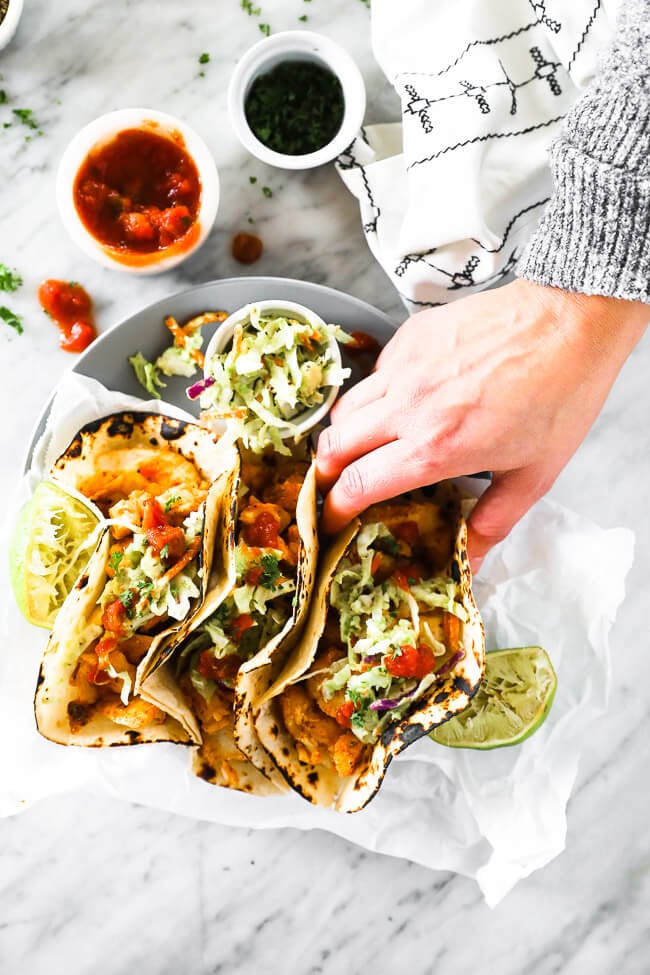 Paleo Fish Tacos and Coleslaw
Our paleo fish tacos and coleslaw are made with a simple blend of spices creating a masterful flavor punch and topped with slaw that is light and zesty.
Get the recipe
13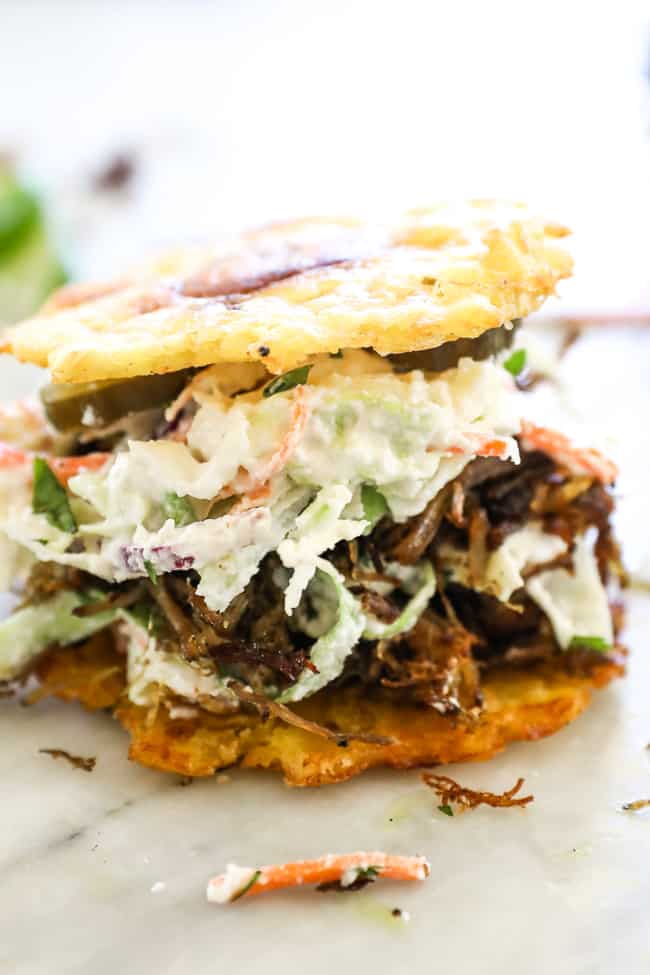 Jibarito Recipe (Paleo + Whole30)
Put plantains and a burger together, and you get a jibarito. This Paleo + Whole30 jibarito recipe has a mayo-free slaw and will be a new favorite recipe!
Get the recipe
---
Like this Post?
SHARE IT NOW OR PIN IT FOR LATER!
---
---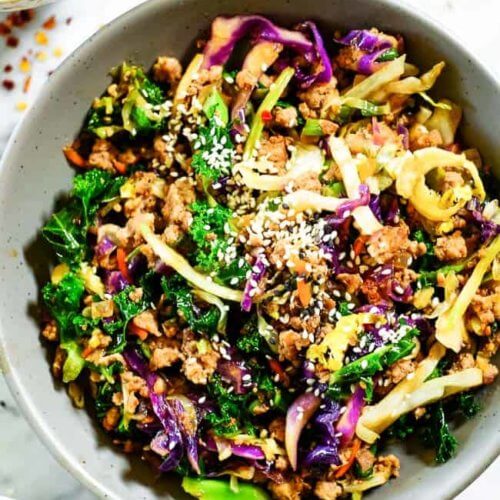 Get the Recipe:
10+ Cabbage Recipes: Egg Roll in a Bowl
This bright, cheerful low carb egg roll in a bowl is easy to make and delicious. Plus, we've rounded up some other delicious and healthy cabbage recipes for you!
Ingredients
For the bowl:
1 shallot, diced
3 cloves garlic, minced
8 cups coleslaw mix + cruciferous salad mix, (shredded cabbage & carrots – can use a 14oz pre-shredded bag or shred your own. We also added some of the cruciferous mix from Trader Joe's as well.)
4 green onions, chopped
1 tbsp sesame oil
1 lb ground pork, (can sub ground chicken, beef, or turkey)
Salt and pepper
Sesame seeds, (optional topping)
Instructions
Prepare the sauce by mixing all of the sauce ingredients together in a bowl. Set aside.

Chop shallot, garlic, and green onions as noted.

Heat a large skillet or wok over medium high heat and add in sesame oil. Once hot, add in shallot and garlic. Saute for 2 minutes, stirring frequently.

Add in ground pork. Break the pork into bits and season lightly with salt and pepper. Cook, stirring occasionally, until the pork is cooked and has formed some brown crispy bits on the pieces.

Once the pork is cooked, add in the coleslaw and/or cruciferous veggie mix and green onions. Cook for 5-6 minutes, stirring occasionally, until the veggies begin to soften. Turn heat to low.

Add in the sauce to the skillet. Mix everything together well and cook for a few minutes or until the cabbage is cooked to your liking. Remove from heat and serve. Top with optional sesame seeds.
Notes
Nutrition facts are per serving and an estimate provided for those following a Ketogenic or low-carb diet. See our full nutrition information disclosure here. 
Calories: 395kcal, Carbohydrates: 14g, Protein: 21g, Fat: 27g, Saturated Fat: 9g, Fiber: 4g