This quick and easy lemonade cocktail is made with vodka, pomegranate juice, sparkling water, and freshly squeezed lemon juice. It's so refreshing! It's also refined-sugar free and doesn't require a cocktail shaker to make.
Making This Vodka Lemonade Recipe
You only need 5 simple ingredients for this tasty drink! Here's what you'll need:
Vodka – Your preferred brand. Omit for a mocktail option, the drink is still great.
Pomegranate juice – Gives the drink the pink color. You can sub cranberry juice if that's preferred.
Sparkling water – We prefer sugar-free. You can use plain sparkling or lemon flavored.
Pure lemon juice – Santa Cruz brand has bottled lemon juice or just squeeze 1/2 of a lemon into the drink.
Lemon wedge – An optional garnish just for looks :).
Just fill a cup with ice, add all of the ingredients and stir to mix. You'll be sipping on your cocktail in no time.
If you like this drink, be sure to check out our homemade honey lavender lemonade and our lemon and rosemary cocktail!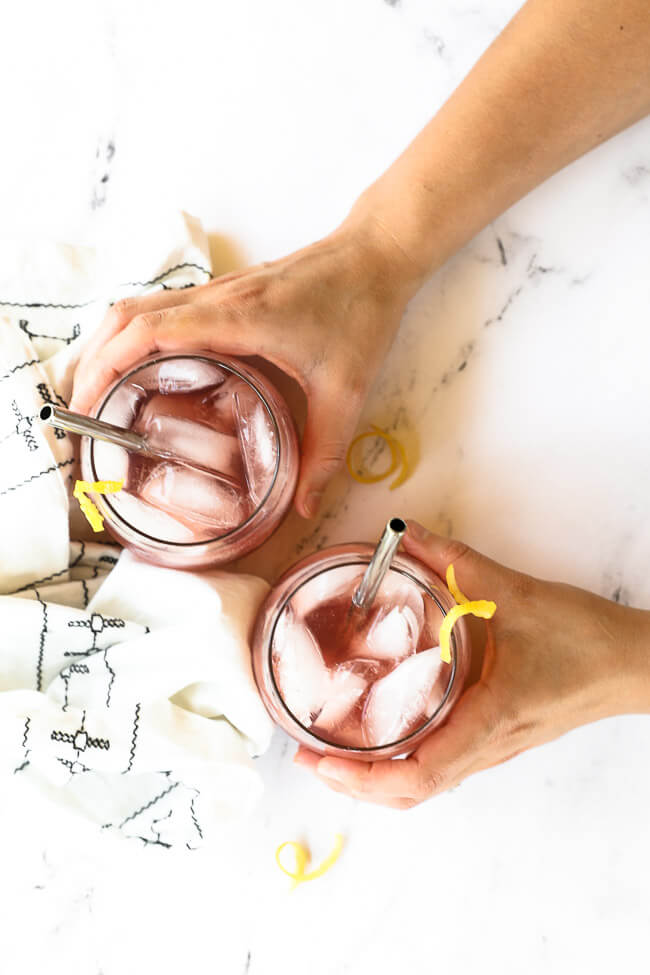 What Alcohol Goes Best With Lemonade?
Obviously vodka is great for this drink, but here is our list of top options for this pairing:
Vodka – With a neutral flavor, vodka pairs great with tangy lemonade.
Gin – Citrusy lemonade is a great combination of the fresh and tart juniper flavors in gin.
Rum – Since it's a little sweeter, rum is a good option if you like drinks on the sweet side.
Tequila – It's not for everyone, but if you like tequila it's a good match with lemonade.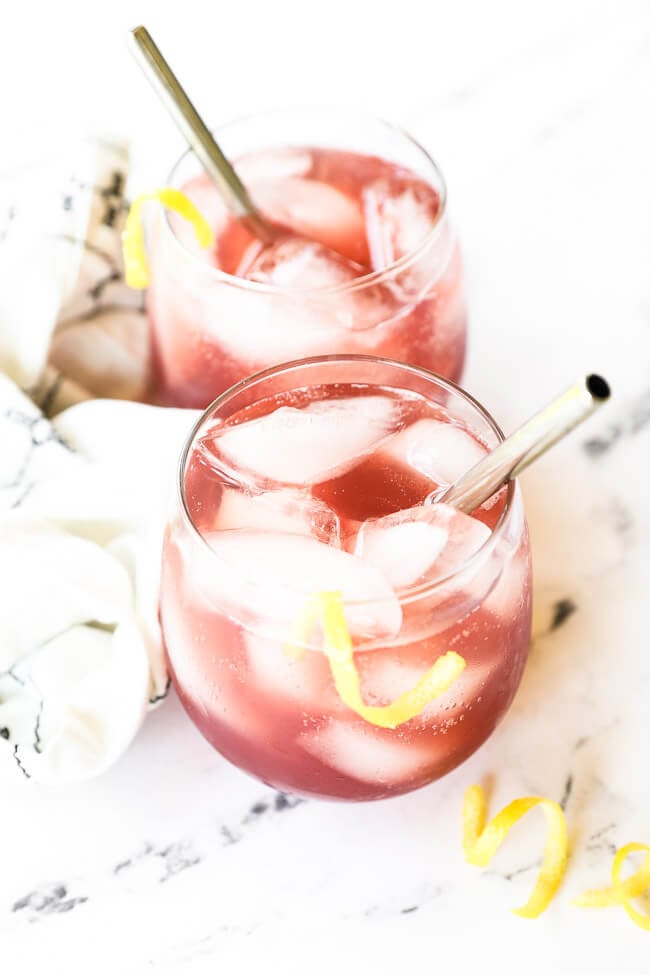 Other Flavor Options
Because this is such a simple drink, it's easy to mix things up and try different types of ingredients to suit your taste.
Some options:
Try lime juice for a different flavor profile.
Grapefruit juice is an option for a different juice flavor.
Add some salt or sugar on the rim if that's your thing.
Whatever combination you choose, just follow the base recipe amounts below to start and then adjust to suit your taste.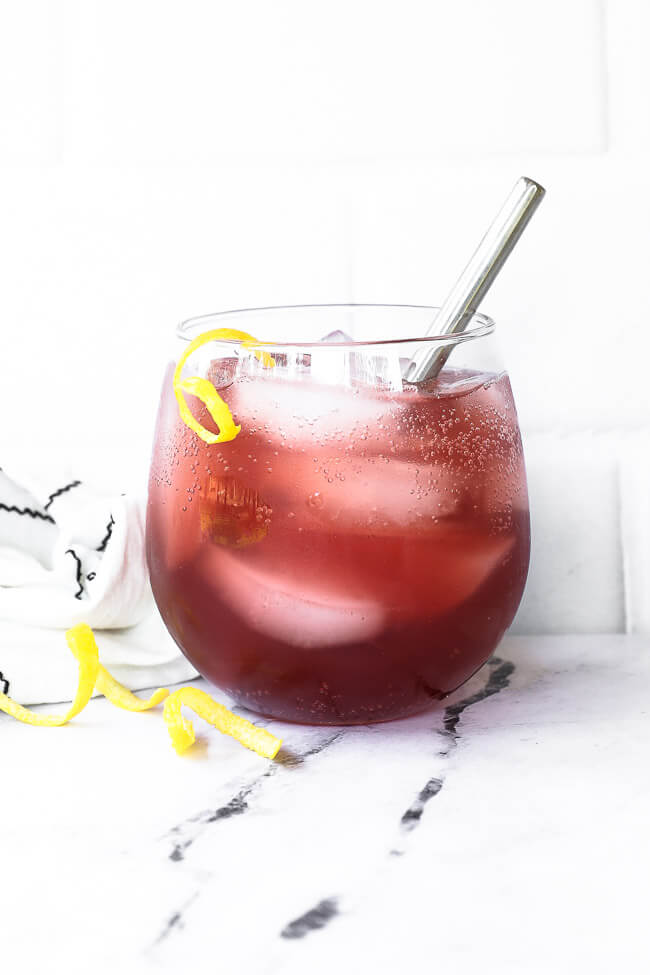 More refreshing drink ideas
We don't have a lot of cocktails in our post library, but here are a few mocktail options you could always add your favorite booze to.
Your turn to try this pink vodka drink
Gather a few ingredients, grab a few friends and make a few of these pink vodka lemonade cocktails! Enjoy the fresh lemon flavors in this fancy looking drink.
Leave a rating and review below to let us know how it goes. And tag us in a pic on Instagram @realsimplegood, so we can check it out. We love to see what you're making!
---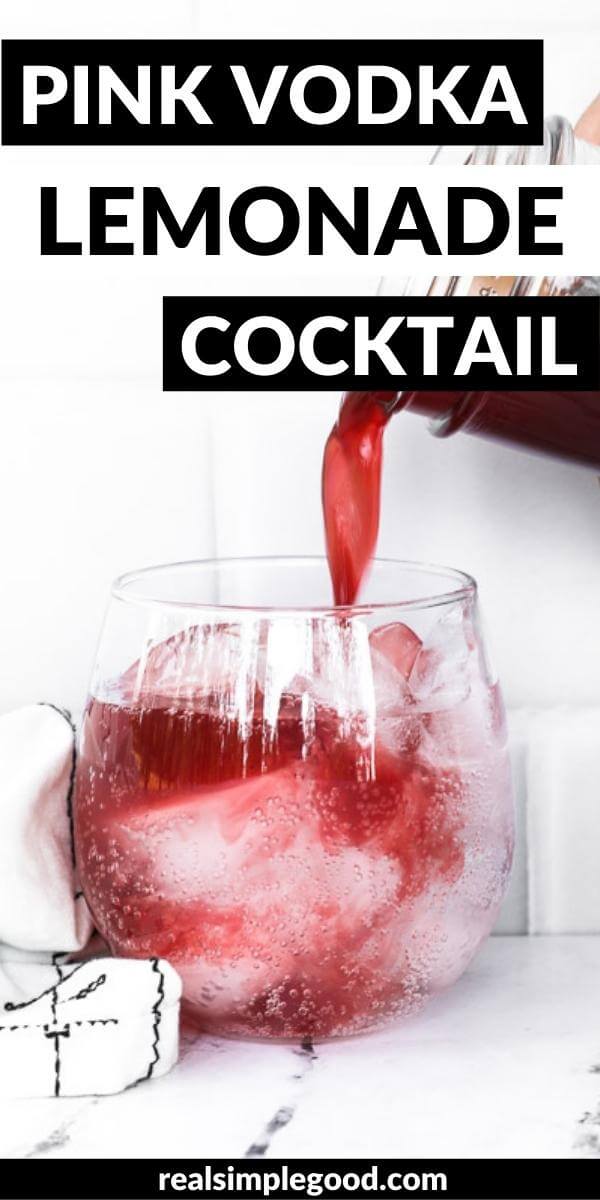 ---
Like this Recipe?
SHARE IT NOW OR PIN IT FOR LATER!
---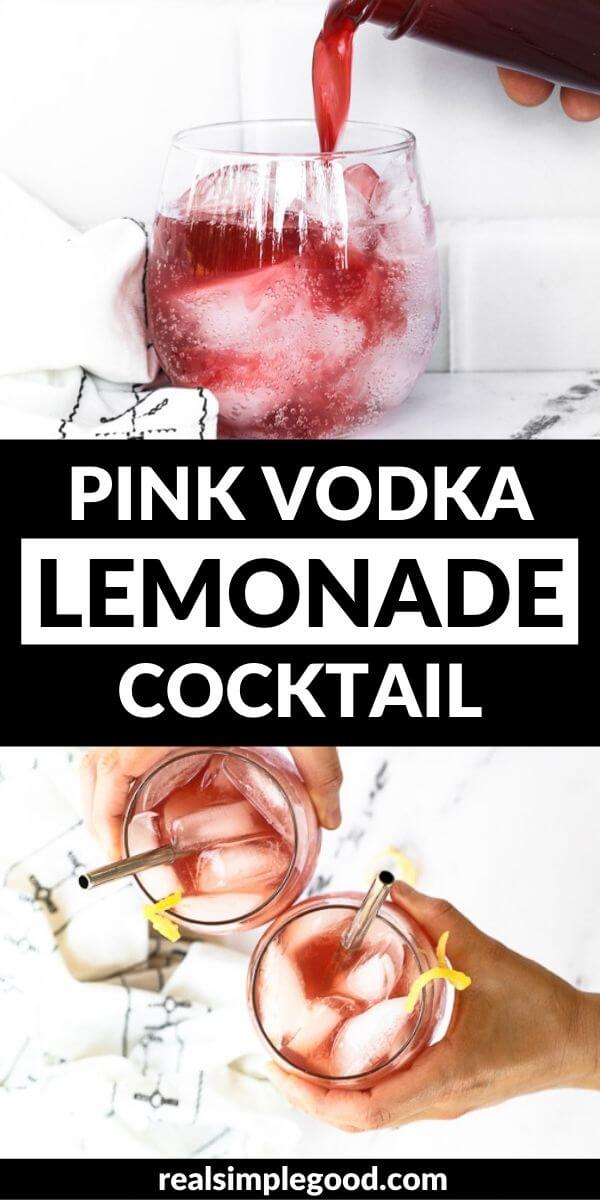 ---
Get the Recipe:
5-Minute Pink Vodka Lemonade Cocktail
The perfect refreshing cocktail, this pink vodka lemonade is a drink everyone will love and it looks as good as it tastes!
Ingredients
2 oz vodka
2 oz pomegranate or cranberry juice, (more for a darker pink drink, less for lighter pink)
1 tbsp pure lemon juice, (can use the juice of 1/2 lemon – lime works too)
4 oz sparkling water, (1/2 cup)
1 lemon wedge, (for garnish)
Instructions
To make your cocktail, fill a 12 or 16 oz cup with ice. Add in 2 oz of vodka first and then the remaining ingredients. Give the drink a quick stir with a spoon or cocktail mixer. Garnish with the lemon wedge if desired. Enjoy!
Notes
We used unsweetened juice and sparkling water for this recipe. If the drink is too tart for your taste, you can add in a little sweetener of your choice to balance it out.