Looking for a new, Fall-inspired salad to add to your holiday festivities this year? Try this roasted sweet potato salad with cranberry vinaigrette. It's full of Fall flavors and all the textures and colors, too!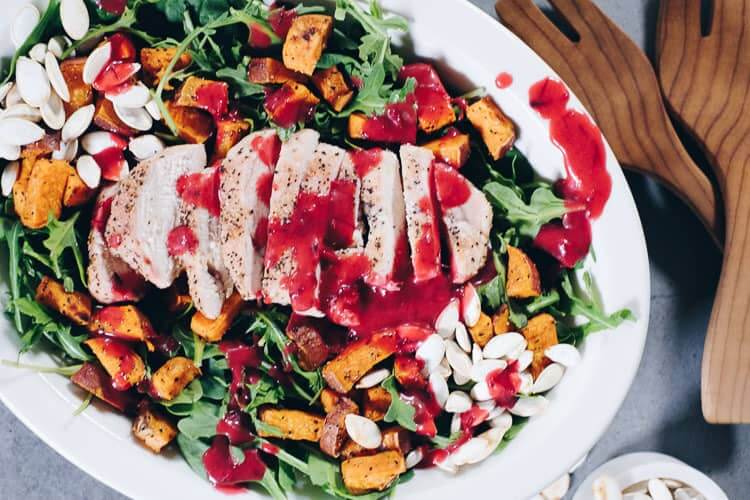 Sweet Potatoes OR Winter Squash
At our house one of us does not currently eat potatoes (that's me – Erica), but I SOOOO miss them. I just generally miss having that comforting component with some of my meals, so Fall is the perfect time to take advantage of the squash in season. We have tried making this roasted sweet potato salad both ways, and you can make it just as delicious with either sweet potatoes or winter squash. We love delicata squash, but butternut squash would be a great option too!
The Greens
You can really use whatever greens you like best. The day we made this roasted sweet potato salad to take photos, we happened to have arugula on hand, so we did a combination of spinach and arugula. You could also do all spinach, baby kale or any combination of greens you enjoy. Personalize this to make it as hearty and flavorful as you'd like.
The Cranberry Vinaigrette
If you are looking for a unique and festive dressing this year, the vinaigrette we made to go with this roasted sweet potato salad is the one! The combo of cranberry and orange will remind you of cranberry sauce, but it's just the right consistency to drizzle over your salad. We also ditched the refined sugar and sweetened it with just a little pure maple syrup. Plus, there are no other strange added ingredients, making it much healthier than most store bought dressings.
Some Other Holiday Season Ideas
Your Turn To Try Our Roasted Sweet Potato Salad With Cranberry Vinaigrette
Add this roasted sweet potato salad to your holiday festivities this year! It is a great way to enjoy the flavors of the season. Let us know how it goes by leaving a comment below. Also, take a photo and tag us on Instagram @realsimplegood, so we can check it out!
LIKE THIS RECIPE? PIN IT NOW AND TRY IT LATER!
---
---
Ingredients
For the salad:
2 sweet potatoes, cut into small cubes, (or sub equivalent amount of squash)
1.5 lbs boneless, skinless chicken breasts
1 tbsp avocado oil
1 tsp sea salt
1 tsp ground pepper
1 tsp garlic powder
6 cups spinach, (or sub arugula or baby kale)
1/4 cup roasted pumpkin seeds
Instructions
Preheat oven to 400° Fahrenheit and line 2 baking sheets with parchment paper. Mix salt, pepper and garlic powder together in a small bowl.

Prepare sweet potatoes as noted and spread them out on a baking sheet. Drizzle with avocado oil and toss to coat.

Place chicken on the other baking sheet. Season the potatoes and the chicken on both sides with the seasoning mixture. Place chicken and potatoes in the oven to roast until the chicken is cooked through and the potatoes are browned around the edges, approximately 30 minutes. Once finished, remove and set aside to cool.


Heat a small saucepan over medium heat and add cranberries and 1/4 cup of water. Cook, stirring occasionally, until the cranberries start to soften and break down and most of the water has evaporated, about 5-6 minutes.

Carefully transfer cranberries to a blender and add the orange juice, apple cider vinegar, olive oil, maple syrup, water and a pinch of salt. Blend until smooth. If the dressing is too thick, add water, a teaspoon at a time, blending in between additions, until it reaches your preferred consistency.

Chop the cooked chicken breasts into small pieces.

Now, prepare the salad. In a large bowl add spinach, roasted sweet potatoes and chicken. Toss to mix. Serve salad topped with some roasted pumpkin seeds and dressing.