When it comes to wanting to eat a nourishing breakfast and the desire and time to actually make something in the morning, well, sometimes the desire or the time to make it are lacking, so we love making a big breakfast over the weekend to have in the fridge to re-heat during the week. This rosemary, sausage and sweet potato hash is a great make-ahead breakfast!
Simple Ingredients
There is really nothing fancy in this recipe. Just some basic fresh ingredients and then spices you probably already have in your pantry. The combination of fresh rosemary with oregano, smoked paprika and garlic give this dish tons of flavor, even though the ingredients are pretty simple!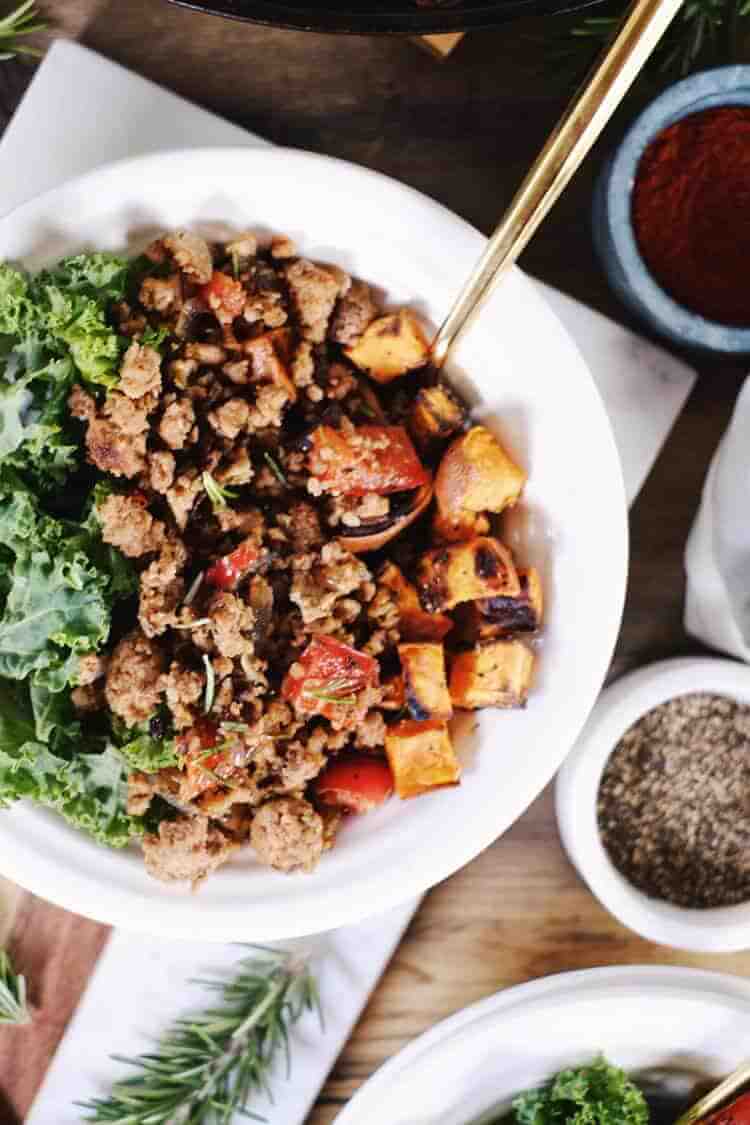 Make Ahead + Re-Heat
We love this type of breakfast because it still tastes great re-heated! Sometimes you make something in advance, and then heat it back up the next day or a couple days later, and it just isn't as good re-heated. Not this one! It tastes just as yummy re-heated, which makes life much easier. Just make this rosemary, sausage and sweet potato hash over the weekend, and then enjoy it throughout the following work week.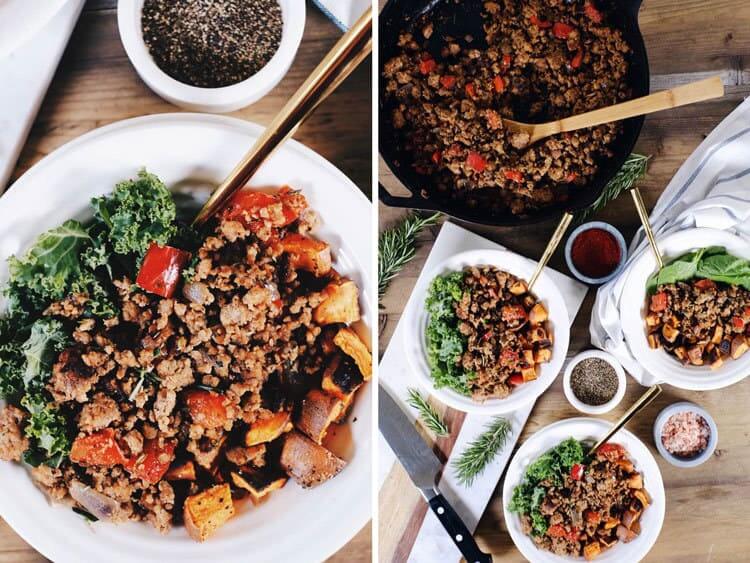 Just Put An Egg On It
The even better part is that you can easily fry up an egg to go on top if you have time! I mean why not put an egg on it!? Just imagine a runny yolk cascading over the sweet potato and sausage mixture. Pretty much perfection, am I right?!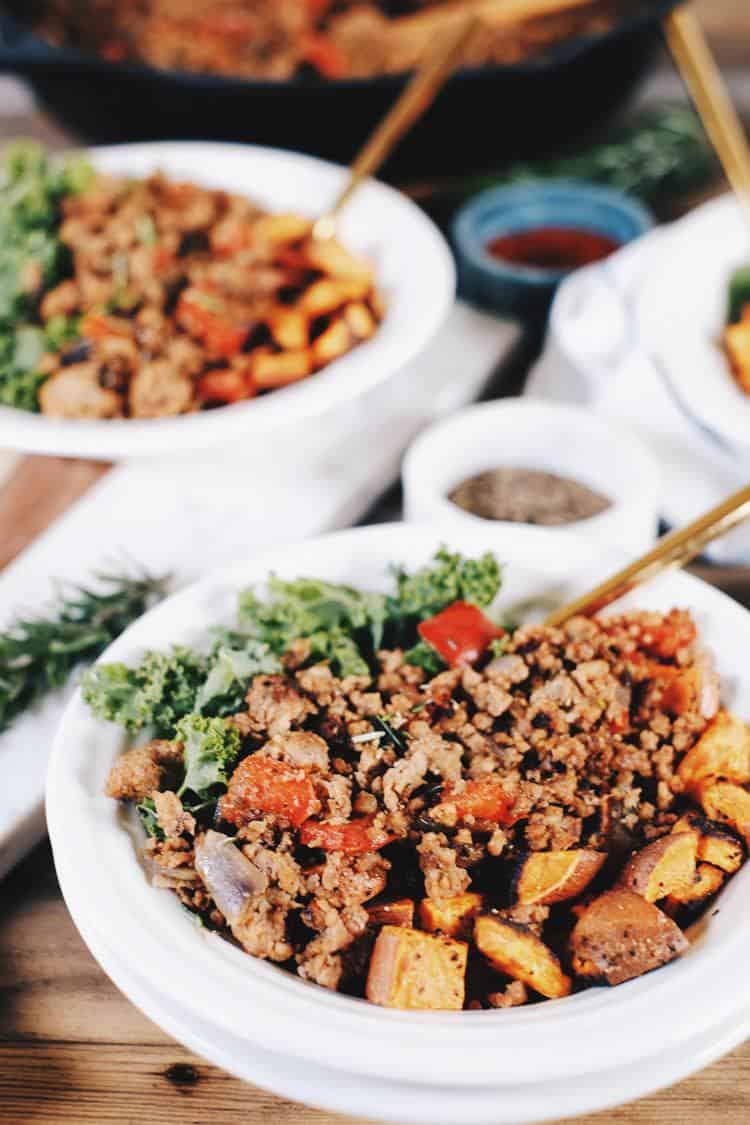 Your Turn To Make Our Rosemary, Sausage And Sweet Potato Hash
Get on board with the make-ahead breakfast movement, and make this rosemary, sausage and sweet potato hash! Then, if you have a couple extra minutes in the morning, fry up an egg to throw on top! Boom! Breakfast done right. Let us know how it goes by leaving a comment below. Also, take a photo and tag us on Instagram @realsimplegood, so we can check it out!

---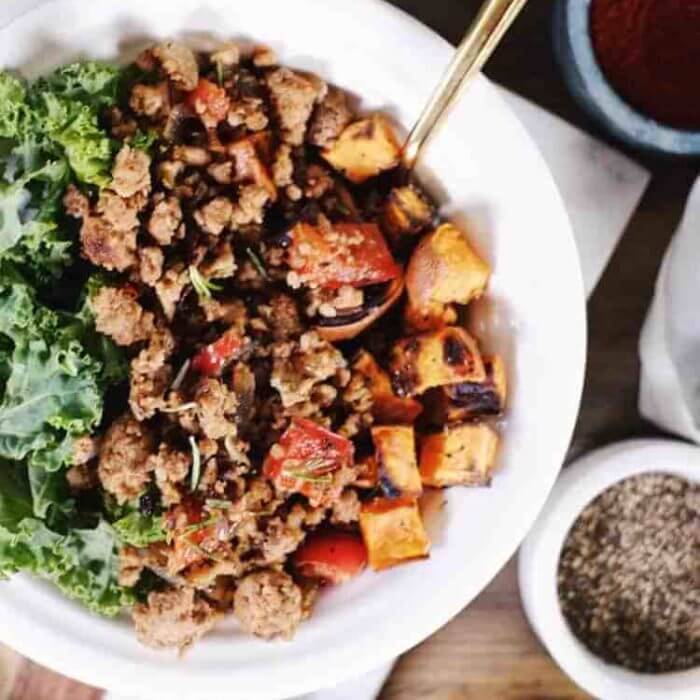 Get the Recipe:
Rosemary Sausage and Sweet Potato Hash (Paleo, GF + Dairy-Free)
This rosemary, sausage and sweet potato hash is a versatile make-ahead breakfast, full of flavor and a nourishing way to start the day!
Ingredients
2 sweet potatoes, cubed into bite size pieces, (or sub regular potatoes)
2 tbsp avocado oil, divided
1 onion, roughly chopped
1 bell pepper, roughly chopped
2 lbs ground pork
1 tbsp fresh rosemary, finely chopped
2 tsp oregano
1 tsp garlic powder
1 tsp smoked paprika
salt and pepper, to taste
8 cups greens, (spinach, arugula, kale, etc.)
8 eggs, (optional)
Instructions
Preheat oven to 425 degrees Fahrenheit and line a baking sheet with parchment paper

Cut sweet potatoes as noted and spread out cubes on the baking sheet. Drizzle with 1 tbsp avocado oil and sprinkle with salt and pepper. Mix to coat and spread the potato cubes out in an even layer. Place in the oven to bake for 30 minutes.

While the potatoes are cooking, cut up onion and bell pepper as noted.

Heat a large skillet over medium heat and add 1 tbsp avocado oil, onion and bell pepper. Cook until onions soften, about 4-5 minutes.

Add ground pork to the pan and cook until the pork is no longer pink, stirring occasionally, about 10-12 minutes.

While the pork cooks, prep rosemary as noted.

Once the pork is browned, add oregano, garlic powder, smoked paprika and rosemary to the pan. Mix with the pork, taste and season with salt and pepper as desired. Turn heat down to low and simmer.

Once the potatoes are finished, add them in with the pork mixture and mix to incorporate.

Serve over greens and optional egg on top, cooked to your liking.