What is better than brownies you ask? Salted caramel double chocolate brownies, of course! Check these out. They are fudgy, cakey, and drizzled with salted caramel on top. Does it get any better?! I doubt it.
We are in the process of making a big move and most of our stuff is packed in boxes and being stored in our garage until we make our final move to our end destination in Bend, Oregon. We cannot wait! We will have to share pictures of the renovation and decorating we've done at our house once we are settled. It is going to be beautiful, warm, and cozy. Plus, it has a great kitchen for creating lots and lots of recipes to share with you.
The reason I complain about much of our stuff being in boxes is because my handy dandy square pan, that I use for so much of my baking, is packed away in some box, probably at the very back of the garage. I know, poor planning on my part, but it means I made a double batch of these salted caramel double chocolate brownies since the only baking dish available for the time being is a standard 9″ x 13″ pan. Wah wah wah…I don't think Justin is complaining. 😉 If you happen to only have a large pan on hand, you can double the recipe below to create a big old batch like the one pictured. They do take a little longer to cook though, so plan for about 18-22 minutes.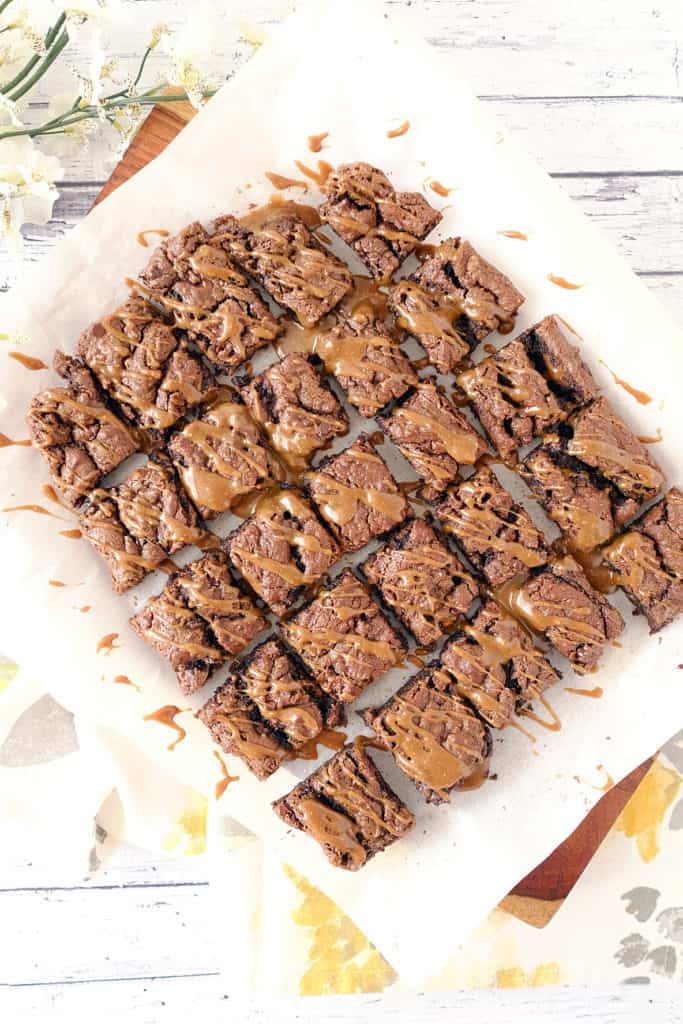 Check out the close up of their gooey inside and the caramel topping. Don't you just want to dive right in?! Go make a batch! Your kiddos and families won't even know they are paleo!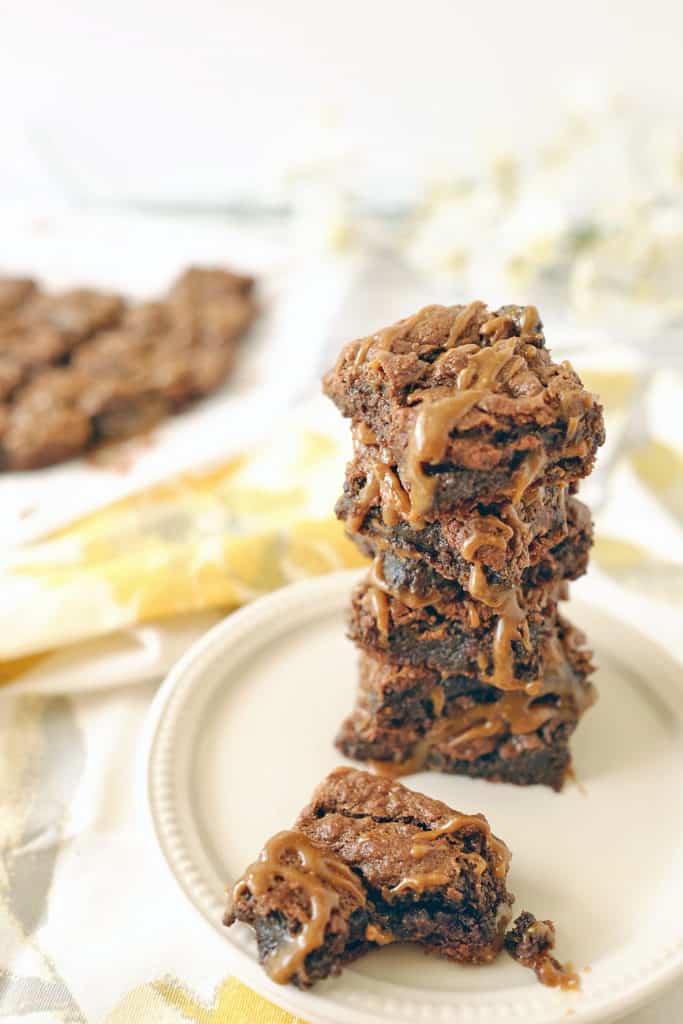 Give these salted caramel double chocolate brownies a try, and let us know how it goes by leaving a comment and rating below. Tag us on Instagram @realsimplegood so we can check it out!
---
Get the Recipe:
Salted Caramel Double Chocolate Brownies
Ingredients
1 cup nut butter, (I use sunflower butter or a combination of sunflower and almond butters)
1 cup coconut sugar, (maple sugar would work too and will make the mixing easier since it is finer)
1 egg
1/4 cup cacao powder
1/4 cup chocolate chips, (we love Enjoy Life mini chips)
1 tsp vanilla
1 tsp baking soda
1/8 tsp salt
1 batch of salted caramel sauce, (linked to in post above and instructions below)
Instructions
Preheat your oven to 350 degrees and line a 9"x9" glass pan with parchment paper. Set aside.

In a large mixing bowl combine your nut butter and coconut sugar (or maple sugar).

Whisk your egg in a separate bowl and then add it to the mixture and combine.

Next, and your cacao powder. It's easiest if you do it a little at a time as it gets harder and harder to combine.

Add the rest of the ingredients (chocolate chips, vanilla, baking soda, and salt). Mix up until it's all incorporated. Depending on how firm or oily your nut butter is you may have to pull your sleeves up and use your hands to finish combining all of the ingredients.

Dump your mixture into your parchment lined pan and spread out with your hands. I sprinkled a little salt on top, but that's optional.

Cook your brownies in the oven at 350 degrees for 14-16 minutes. The brownies will rise a bit in the oven and they'll be just a little squishy when they're ready, slightly underdone looking. That's what you want! Allow them to fully cool (THIS IS IMPORTANT) or they won't stay together for you.

While the brownies are baking in the oven, make your

caramel sauce

. It will only take about 5 minutes, so you can even wait until your brownies are done and make it while they cool.

Once your brownies have cooled, drizzle your caramel sauce right on top, as lightly or as liberally as you'd like.

Cut into squares and serve.

Pair these salted caramel double chocolate brownies with our

paleo vanilla ice cream

for a yummy dessert. I'd probably even drizzle more caramel sauce on top, and maybe add some sliced bananas. Just sayin!