Quick, easy and satisfying! This Paleo, Whole30 + Keto sausage and cabbage skillet is a great meal prep recipe or weeknight dinner! We even have time saving tips, plus a tip for making it a one pan meal, too!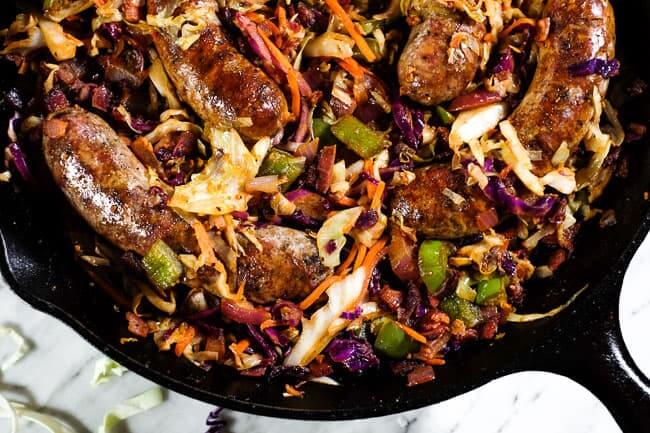 Even Easier Prep
Justin's mom brought us a huge head of cabbage from her garden, and we made this sausage and cabbage skillet with it the first time we made it. Of course, fresh cabbage from the garden is pretty great, so it was worth the extra time and effort to chop up the cabbage. To save time if needed though, you can buy pre-shredded cabbage or coleslaw mix. It's nice because it adds a little extra color if there are green and purple cabbage and carrots in the mix.
Make It A One Pan Meal
We used uncooked sausage links for this sausage and cabbage skillet, but it does require an extra step of boiling the links before adding them to the skillet. It's one more pot to clean and adds a little bit of time. So, for all of you out there looking for one pan meals, we give you instructions for making this dish with pre-cooked sausages as well!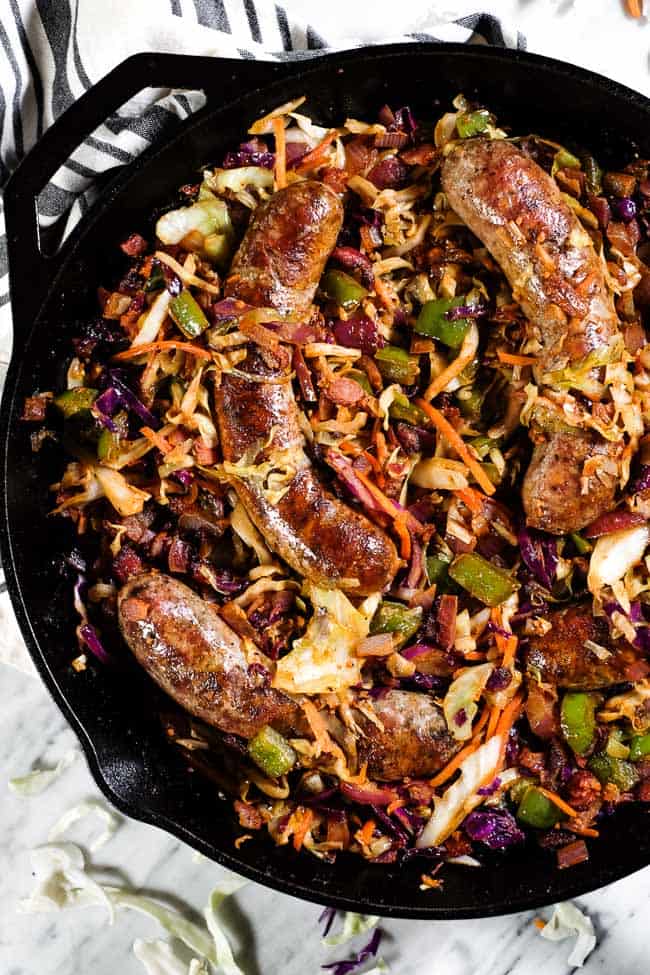 All The Flavors
You're going to love that the ingredients for this sausage and cabbage skillet are simple – you might even have everything on hand! And then, you'll be pleasantly surprised by the unique flavor combo of the seasonings we used and how they pair with the veggies, bacon and sausage. It's a dish you can make on Sunday for dinner and then toss the leftovers in containers for lunch during the work week and feel like you're all set for a great start to the week!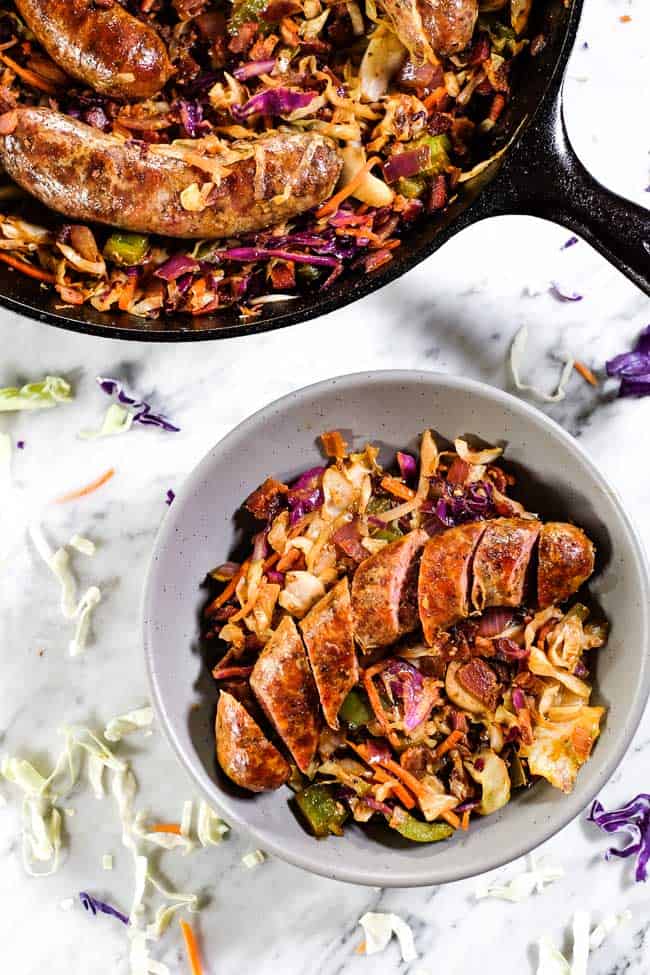 Some Other One Pan Meals To Try
Your Turn To Try Our Sausage And Cabbage Skillet
Whether you're looking for a simple, delicious meal for the upcoming week or just want to try something new, make this sausage and cabbage skillet! Leave a comment below to let us know how it goes. Also, take a pic to share on Instagram! Tag us @realsimplegood so we can see, and then give us a follow if you don't already! We'd love to stay connected!
Like this Recipe?
SHARE IT NOW OR PIN IT FOR LATER!
---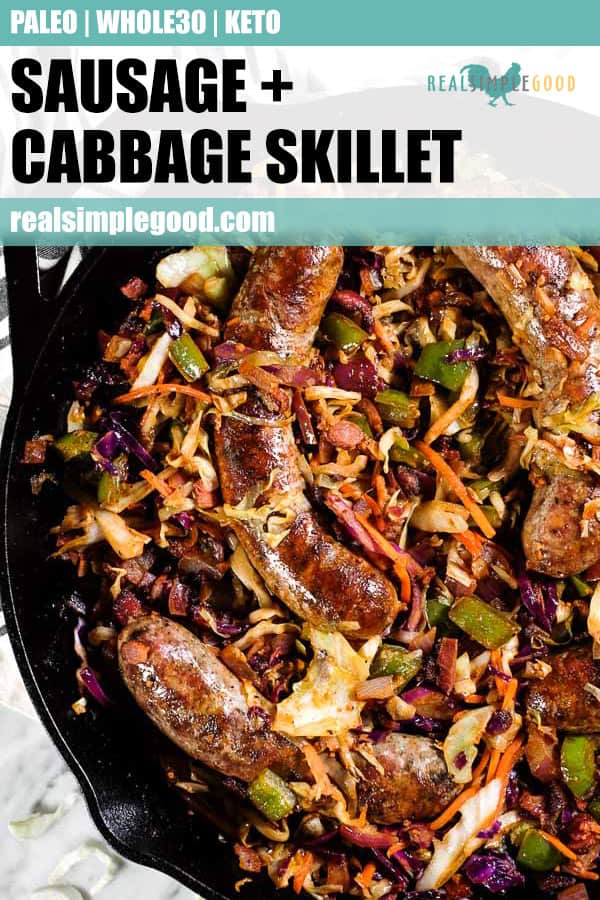 ---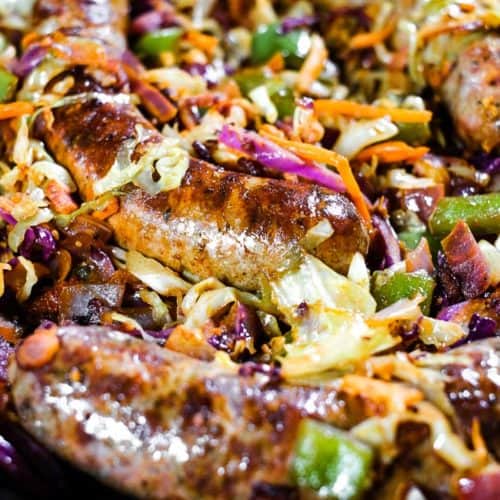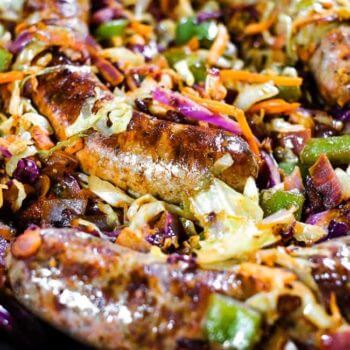 Get the Recipe:
Sausage and Cabbage Skillet (Paleo, Whole30 + Keto)
Quick, easy + satisfying! This Paleo, Whole30 + Keto sausage and cabbage skillet is a great meal prep recipe or weeknight dinner! One pan option too!
Ingredients
4 large sausage links or bratwurst, uncooked, (check ingredients for Paleo/Whole30 compliance. Can sub pre-cooked cooked sausage, see instructions)
8 pieces bacon, diced
1 onion, diced
1 bell pepper, diced
4 cloves garlic, minced
8 cups shredded cabbage, (pre-bagged mix with carrots, etc. is ok)
2 tbsp apple cider vinegar
2 tbsp spicy brown mustard
1 tsp smoked paprika
1/2 tsp sea salt
1/2 tsp ground pepper
Instructions
Add enough water to submerge the sausages to a medium pot. Bring the water to a boil and then turn it down to a gentle simmer. Add sausages to the water and boil for 15 minutes. (Skip this step if you are using pre-cooked sausages)

While the sausages are boiling, prep the bacon, onion, bell pepper, garlic and cabbage as noted.

In the pan over medium heat add the bacon to cook. Cook, stirring occasionally until the bacon is just getting crispy, about 7-8 minutes. Remove bacon and set aside on a plate.

When the sausages are done, remove the sausages and pat them dry with a paper towel.

In the same pan as you cooked the bacon in over medium heat, add in the sausages. Cook sausages to brown on the sides, 3-4 minutes per side. Remove sausages and place on the plate with the bacon.

Add in the onion, bell pepper and garlic to the same pan. Scrape up any brown bits from the bottom of the pan and cook for 4-5 minutes, stirring frequently, until the onions and peppers start to soften.

Add the shredded cabbage/slaw mix to the pan. Cook and stir frequently, until everything is combined and slaw is wilted, about 3-4 minutes. Turn down heat to low.

Add in the mustard, apple cider vinegar, paprika, salt and pepper. Stir to mix.

Finally, add the sausages and bacon back to the pan, stirring everything to mix. Serve and enjoy.
Notes
Nutrition facts are an estimate provided for those following a Ketogenic or low-carb diet. See our full nutrition information disclosure here. 
Calories: 417kcal, Carbohydrates: 15g, Protein: 15g, Fat: 32g, Saturated Fat: 11g, Fiber: 5g