A hearty breakfast can be essential to starting your day off on the right foot. When I think of breakfast I want a meal that not only tastes delicious but something that is filling and sticks with me for the long run. That's exactly what you are getting in this filling and delicious sausage and sweet potato frittata!

A Versatile Dish
This frittata is the best because it can pull double duty. You could make it for a brunch or a large breakfast gathering, or you could make it for meal prep on the weekend so you can simply reheat it throughout the week! That's how we have enjoyed this sweet potato breakfast frittata. We just heat it up in the morning, top it with a little avocado and we are good to go for our morning meal.
Simple And Delicious
We love this recipe because it is so simple and is made with only 6 main ingredients. It really doesn't take much time to put it all together and half of the recipe cooking time is just waiting for the frittata to cook in the oven. Sometimes simple recipes are just better.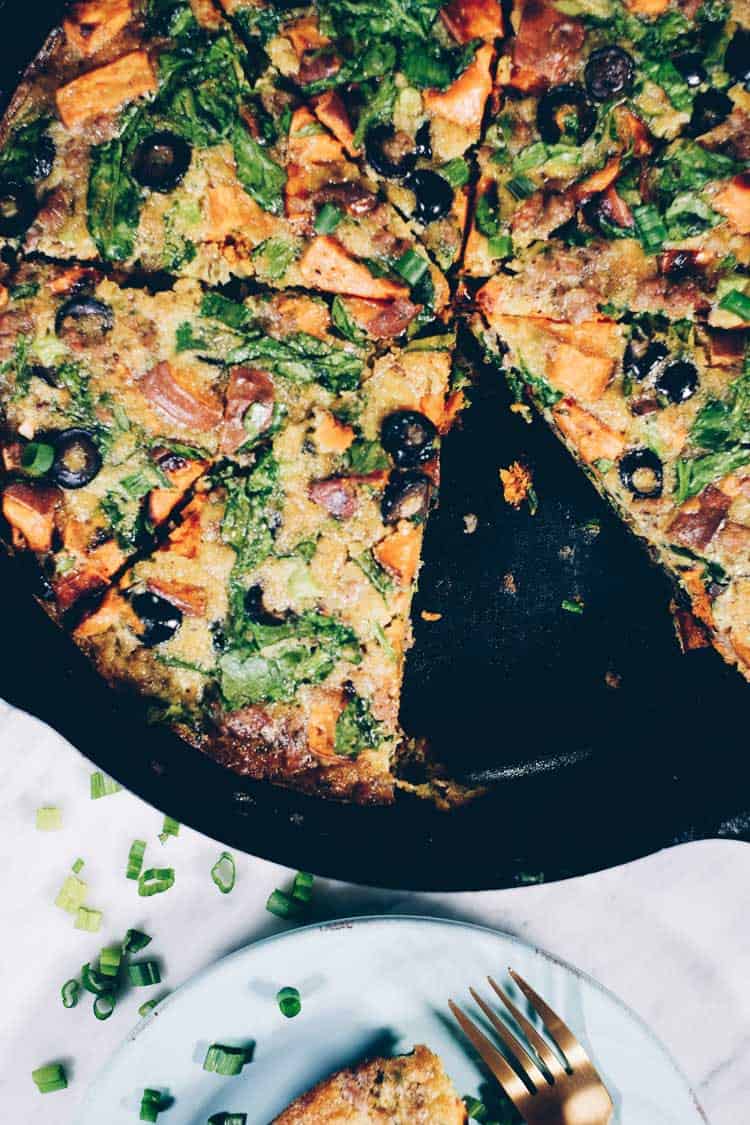 A Balanced Meal
I love this recipe because it makes such a balanced meal. You get some protein and healthy fat from the sausage, eggs and olives, some veggies with the spinach and some resistant starch with the potatoes. This sausage and sweet potato frittata truly is a game changer!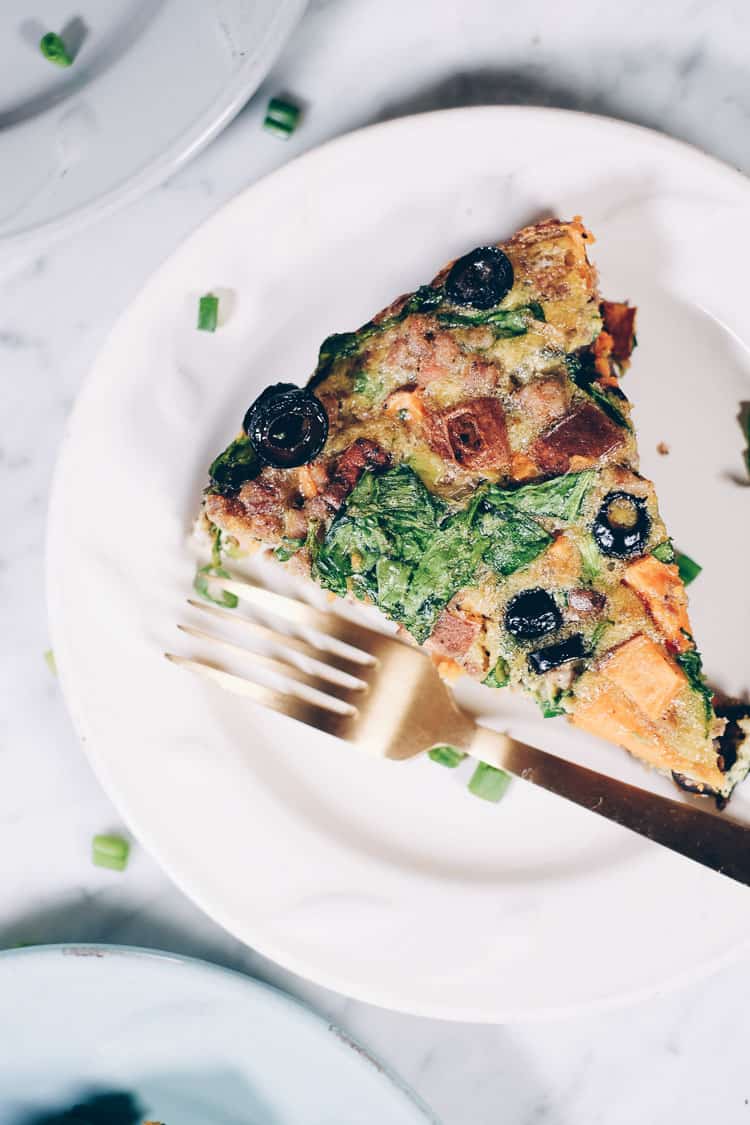 Some Other Whole30 Breakfasts To Try
YOUR TURN TO MAKE THIS SAUSAGE AND SWEET POTATO FRITTATA
Go ahead and try this delicious sausage and sweet potato frittata for a well balanced breakfast! Serve it to all of your friends and family or keep it all to yourself and just reheat it in the morning for a filling and easy breakfast. Let us know how it goes by leaving a comment below. Also, take a photo and tag us on Instagram @realsimplegood, so we can check it out!
---
---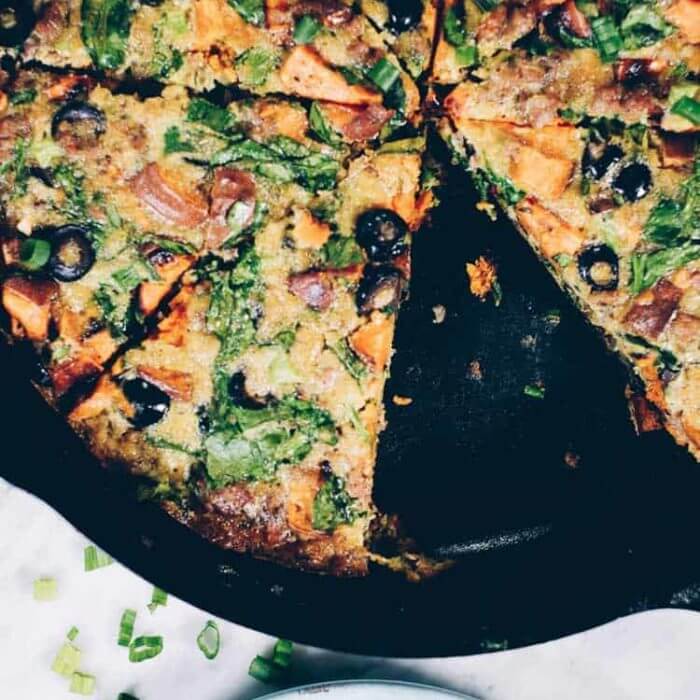 Get the Recipe:
Sausage and Sweet Potato Frittata (Paleo + Whole30)
This Paleo + Whole30 breakfast frittata is filling and full of the delicious flavors of sausage, sweet potatoes, olives and green onions. It will keep you going all morning!
Ingredients
2 sweet potatoes, cut into small cubes
1 tbsp avocado oil
3 cups spinach, roughly chopped, (or sub other greens)
4 green onions, diced
1 can olives, sliced
12 eggs
2 tsp sea salt, divided
1 tsp ground pepper
Instructions
Preheat oven to 400° Fahrenheit and line 1 large or 2 medium baking sheets with parchment paper.

Cut sweet potato into small cubes and spread them out on baking sheet. Drizzle with oil and season with about 1 tsp sea salt. Mix to coat and place in the oven to bake for 25-30 minutes, or until potatoes are tender.

While potatoes are cooking, heat a large oven safe skillet over medium heat (use a large skillet, you will add all ingredients in the skillet later to cook in the oven). Add sausage and break it into small bits. Cook until browned, about 7-8 minutes. Remove and place on a plate. Reserve enough fat in the bottom of the pan to coat.

Chop spinach, green onions and olives.

Whisk eggs together in a large bowl. Add in spinach, green onions, olives, cooked sausage and 1 tsp each of salt and pepper.

When the potatoes are finished, remove them from the oven and turn the oven down to 375° Fahrenheit.

Place potatoes in the bowl and mix everything together.

Now, heat the skillet you cooked the bacon in over medium heat and pour the egg mixture in. Let it cook for 2-3 minutes, until bottom has cooked slightly.

Transfer to the oven and cook for an additional 20-25 minutes, or until the eggs are cooked through. Cooking time will depend on the size of the skillet, so check it after 15 minutes and remove once the eggs are set in the middle.

Remove from the oven, cut into pieces and serve.