We're always looking for new ways to add more seafood and healthy fats to our diet. This Paleo + Whole30 seafood stir fry is a flavorful, quick and easy meal. It's the perfect healthy stir fry for a weeknight dinner.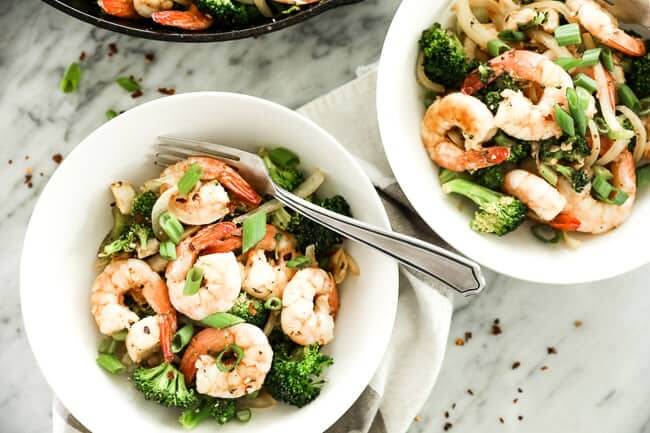 Stir Fry Veggies
We opted for onion, broccoli and celery for this seafood stir fry, but you could really use just about any veggies you love and have on hand. We like that the broccoli and celery add a bit of crunch to the dish, but other options like bell pepper and zucchini would be great, too.
Seafood Options
We used shrimp and halibut because that's what was readily available in our freezer. But you could use shrimp and any flaky white fish, like snapper or cod. We love the seafood delivery company Fish Fixe. They help keep our freezer stocked with perfectly premium seafood.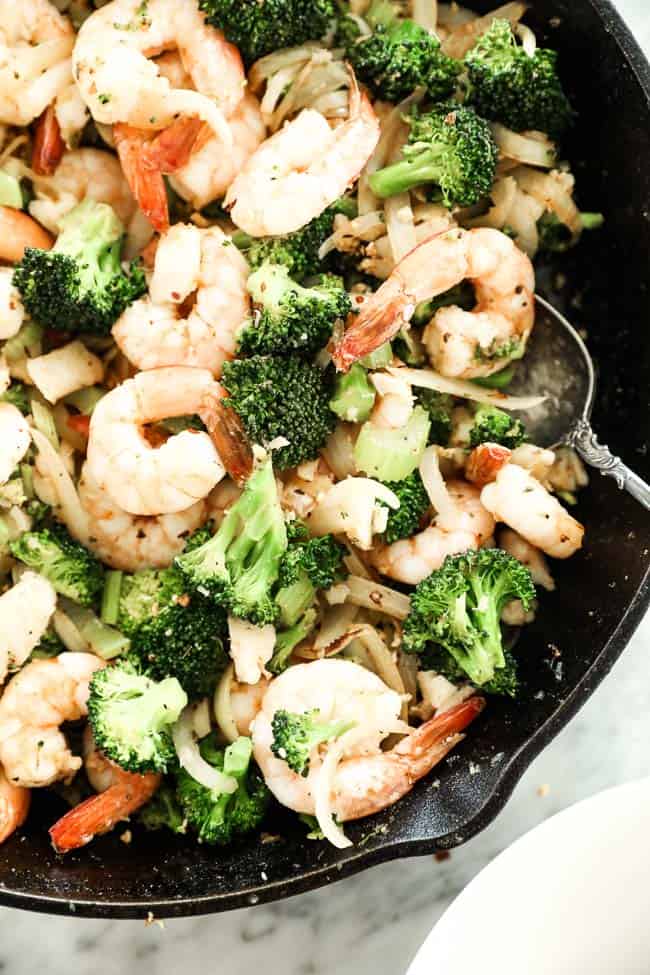 We love Fish Fixe for many reasons, but mostly because they deliver seafood that has No Antibiotics, No GMO's, No Chemicals, and is Sustainably Sourced. It comes in perfectly portioned packaging that has a ziplock pouch to tuck everything into afterward so there's no fishy smell. And to top it all off, they have really amazing customer service! They're just good people, like the kind you'd want to be friends with and invite to your own table! Save $10 off your first box with the code REALSIMPLEGOOD at checkout!
Some Other Seafood Recipes
Your Turn To Try Our Seafood Stir Fry
Make this seafood stir fry when you're looking for a fresh way to enjoy the health benefits of seafood. It's a quick and easy weeknight dinner! Leave a comment below and let us know how it goes. Also, take a pic to share on Instagram. Tag us @realsimplegood and give us a follow if you don't already. We'd love to stay connected.
---
---
Like this Recipe?
SHARE IT NOW OR PIN IT FOR LATER!
---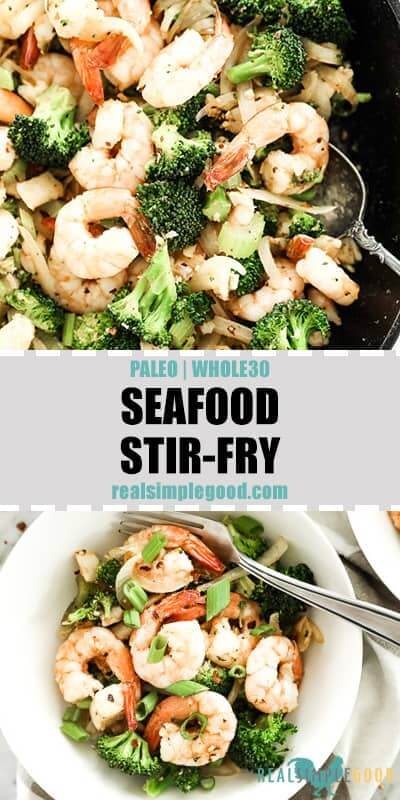 ---
Get the Recipe:
Seafood Stir Fry (Paleo + Whole30)
This Paleo + Whole30 seafood stir fry is a flavorful, quick and easy meal. It's perfect for a weeknight dinner or anytime you want to eat more seafood!
Ingredients
2 tbsp ghee, (or grass-fed butter if not Whole30 or coconut oil for dairy free)
1 pound shrimp, peeled and deveined
1 pound white fish, cut into bite-sized cubed, (cod, snapper, etc)
1 onion, sliced into thin strips
4 cups broccoli florets
6 ribs celery, thinly-sliced on a diagonal
4 cloves garlic, minced
2 tbsp clam juice, (can sub 1 tbsp fish sauce)
1 tbsp coconut aminos
1 batch Cajun seasoning, (see recipe below for homemade seasoning blend)
1 tsp arrowroot starch
Optional toppings:
green onions, sliced
red pepper flakes
Cajun seasoning:
1 tsp sea salt
1 tsp garlic powder
1 tsp smoked paprika
1 tsp dried thyme
1/2 tsp oregano
1/2 tsp onion powder
1/4 tsp ground pepper
1/4 tsp cayenne
Instructions
Prep fish and shrimp as noted. Prep onion, broccoli, celery and garlic as noted, and make sauce.

Whisk clam juice, coconut aminos, cajun seasoning and arrowroot starch. Set aside.

Heat a large skillet over medium heat and add ghee. Once the ghee is melted, add shrimp and fish to the skillet. Cook for 3-4 minutes until the seafood is cooked. Remove and place on a plate.

Now, add the onion, broccoli and celery to the skillet. Cook 3-4 minutes, stirring frequently, until the vegetables soften a bit.

Add garlic and stir for 1 minute.

Add sauce and stir to mix.

Add seafood back into the skillet and toss to mix.

Serve topped with optional items.