So basically all we've done this Fall is make casseroles, soups and sheet pan meals. And when I say it out loud (or write it I guess), it actually sounds like we are doing it exactly as you should when the weather gets chilly. This sheet pan crispy vegetable noodles and pork recipe makes for a super flavorful dish and delicious leftovers you will look forward to.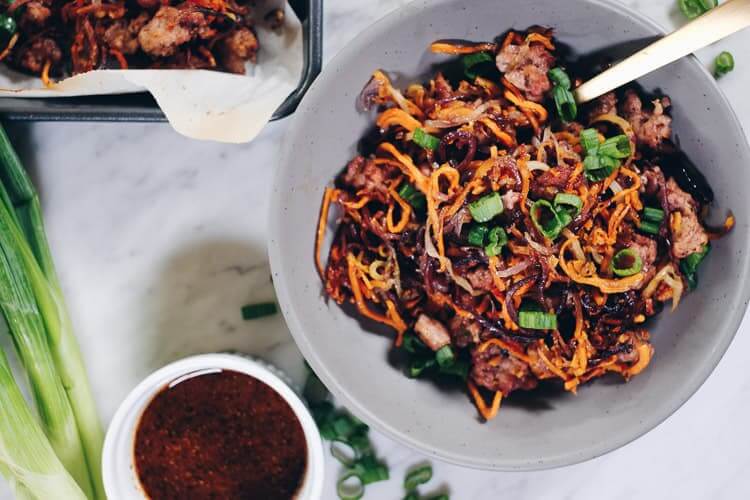 Get Your Spiralizer Out
I'm just going to get this out of the way…if you don't own a spiralizer yet, you should definitely consider investing in one! They aren't too expensive and don't take up much space either.  It's a different way to enjoy veggies. In this sheet pan crispy vegetables and pork recipe, the veggies get spiralized to turn them into "noodles".
Spiralizing is quite easy really, but some veggies are easier than others. We find that carrots are a little trickier, so try to use the biggest ones you can find for this recipe. The greater the square footage of the veggie makes it easier to turn them into noodles. You will be so glad you invested in a spiralizer when you enjoy this sheet pan crispy vegetable noodles and pork recipe! It's so nice to have a new way to enjoy vegetables, and turning them into noodles makes it easy to get them crispy, which you can't really accomplish with regular roasted veggies.
It's All Down Hill After The Spiralizer
Once the veggies are spiralized, it is seriously a breeze to throw the rest of this meal together. All the veggies get put on a big sheet pan and tossed in avocado oil and sea salt. Then, you just break up the ground pork with your hands and sprinkle it all over the veggies. And, in the oven everything goes! Once the spiralizing is finished you will feel like a champ and the rest of the preparation is a breeze.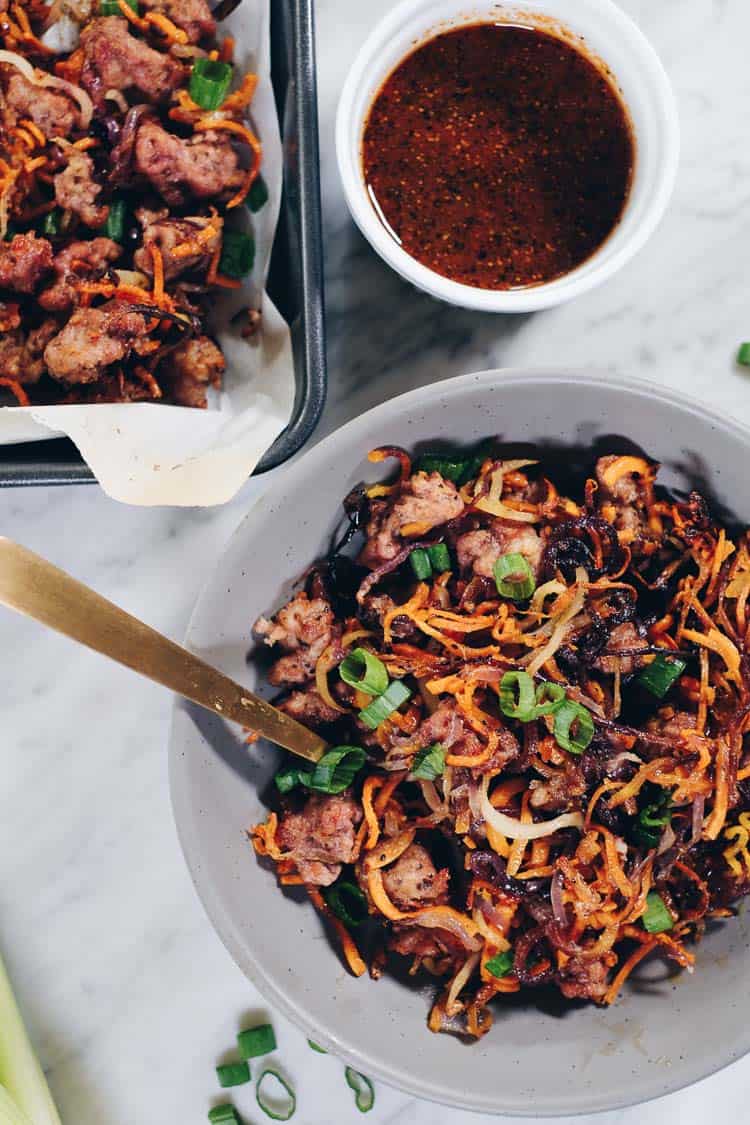 While The Sheet Pan Is Cooking
While your vegetable noodles and pork are cooking, make a quick sauce. You just whisk everything together in a small bowl or jar and then set it aside while the sheet pan finishes cooking. Go put your feet up and relax while you wait for dinner to finish cooking.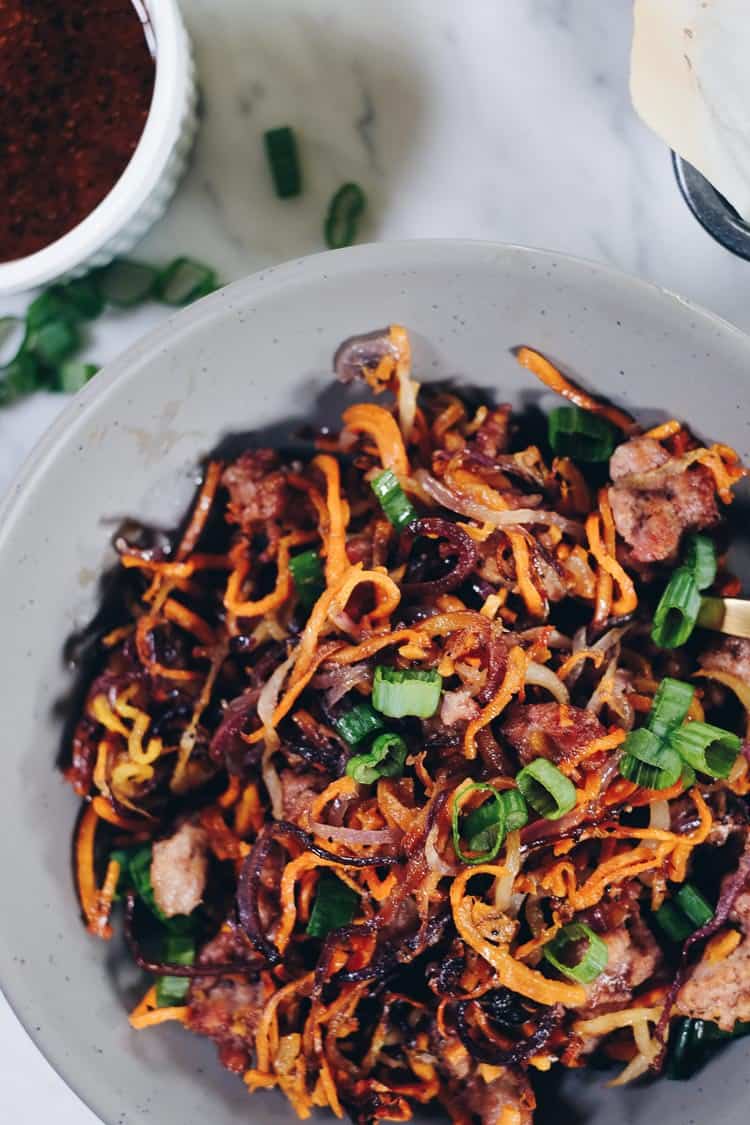 Some Other Recipes With Spiralized Vegetables
Your Turn To Try Our Sheet Pan Crispy Vegetable Noodles and Pork
Get ready for the delicious flavors and textures of this sheet pan crispy vegetable noodles and pork recipe! You will crave the leftovers and enjoy a fresh way to eat your veggies. Let us know how it goes by leaving a comment below. Also, take a photo and tag us on Instagram @realsimplegood, so we can check it out!
---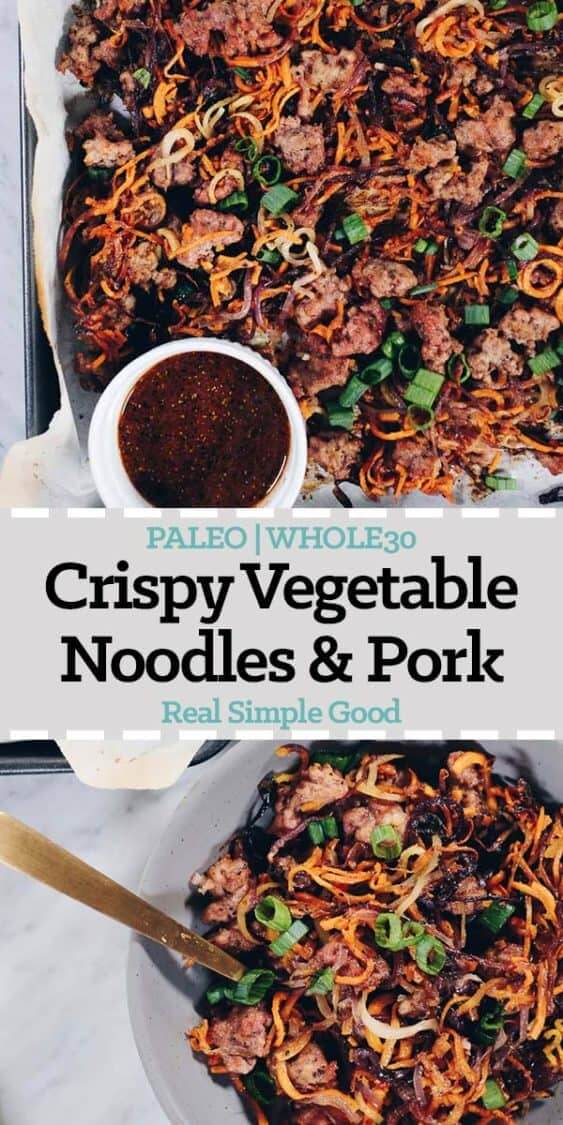 ---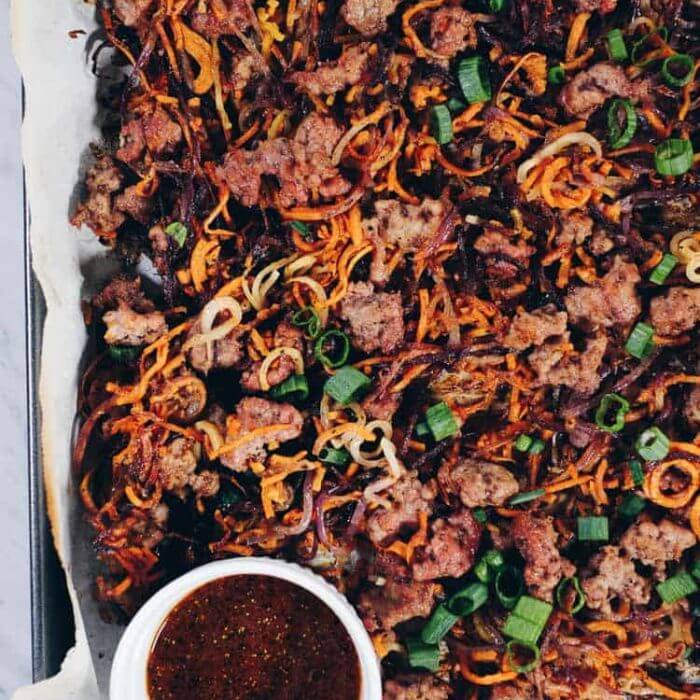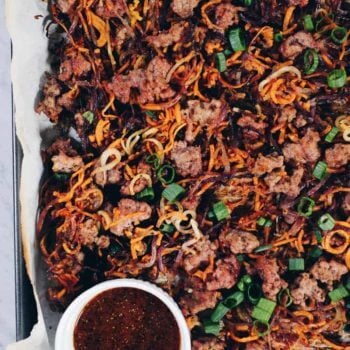 Get the Recipe:
Crispy Vegetable Noodles and Pork Recipe (Paleo + Whole30)
Enjoy the delicious flavors and textures of this Paleo and Whole30 Sheet Pan Crispy Vegetable Noodles and Pork recipe! You will crave the leftovers!
Ingredients
2 sweet potatoes, spiralized
3 large carrots, spiralized
1 onion, peeled and spiralized
2 tbsp avocado oil
1.5 lbs ground pork
3 green onions, diced
Salt and pepper
Instructions
Preheat oven to 400° Fahrenheit and line 1 large or 2 medium sheet pans with parchment paper.

Spiralize

the sweet potatoes, carrots and onion. Place them on the sheet pan. Mix them up and spread them out. If the strands are too long, cut them with scissors.

Toss the vegetable noodles with avocado oil and salt and pepper (about 1 tsp each).

Next, break the ground pork into small pieces with your hands and nestle the pieces of pork evenly among the noodles.

Place the sheet pan into the oven and roast for a total of 35 to 45 minutes, stirring every 10-15 minutes to make sure the veggies cook evenly.

The veggie noodles are done when they are tender and have crispy bits all over. Watch them closely in the last 10 minutes to ensure that they don't burn.

While the noodles and pork are cooking, prepare the sauce by placing all of the sauce ingredients into a bowl or jar and whisking well. Chop green onions as noted.

Once the noodles and pork are done, remove from the oven. Sprinkle the green onion over everything and toss to mix.

Spoon some sauce onto each serving of the crispy noodles and pork and mix to coat. Enjoy.