Sizzling steak fajitas in just 30 minutes anyone? These sheet pan fajitas are such a simple recipe but packed with tons of Mexican flavor! Get out your large sheet pan for this one, you'll need it to fit all these goodies in one pan. Serve em' up in lettuce wraps or your favorite tortilla, but either way, crank up the oven and give this easy Whole30 recipe a try!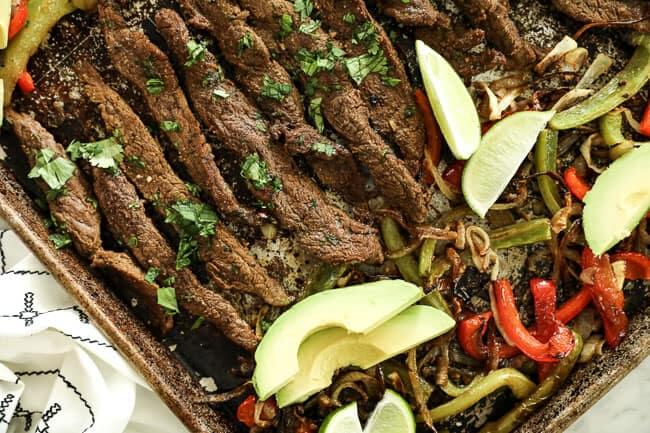 Simple with fresh flavors
When we do sheet pan meals we are looking for a quick and easy meal with minimal clean up. Sometimes that can equal boring, but it doesn't have to! These sheet pan fajitas are filled with flavor from some simple seasonings, coconut aminos and lime juice. The savory steak strips combined with the traditional fajita mixture of onion and peppers makes for a mouthful of fresh and juicy flavors in each bite.
How do you eat your fajitas?
We are big fans of Siete grain free tortillas and the majority of the time when we are craving a "true" taco style meal at home we use those. We also occasionally eat corn tortillas as we both seem to be ok eating small amounts of corn on occasion (although it's not Paleo or Whole30). However, these sheet pan fajitas are just as good in some lettuce cups. Something crunchy like cabbage, romaine or iceberg lettuce are our favorites. How do you plan on eating your steak fajitas?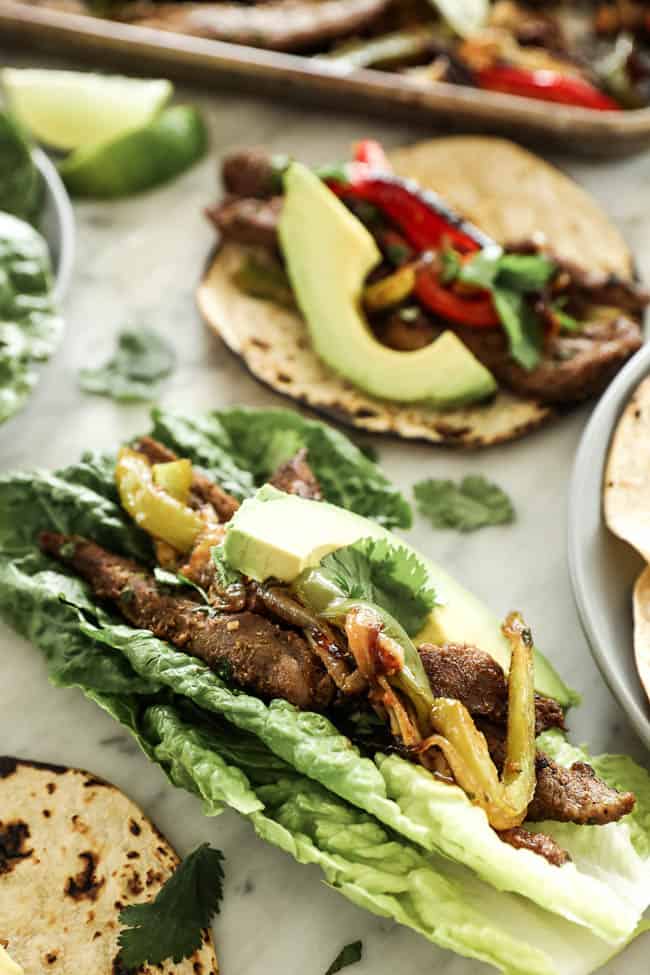 The best steak for fajitas
A thin cut of steak works best for fajitas. The recommended cuts are flank steak, skirt steak, flat iron steak or hanger steak. Typically flank steak and skirt steak are the easiest to find at most stores and either will work great for this sheet pan fajita recipe. Just be sure to follow the recipe and watch the steak carefully to avoid overcooking. Since it's a thin cut and cut into strips, it will cook quickly under high heat.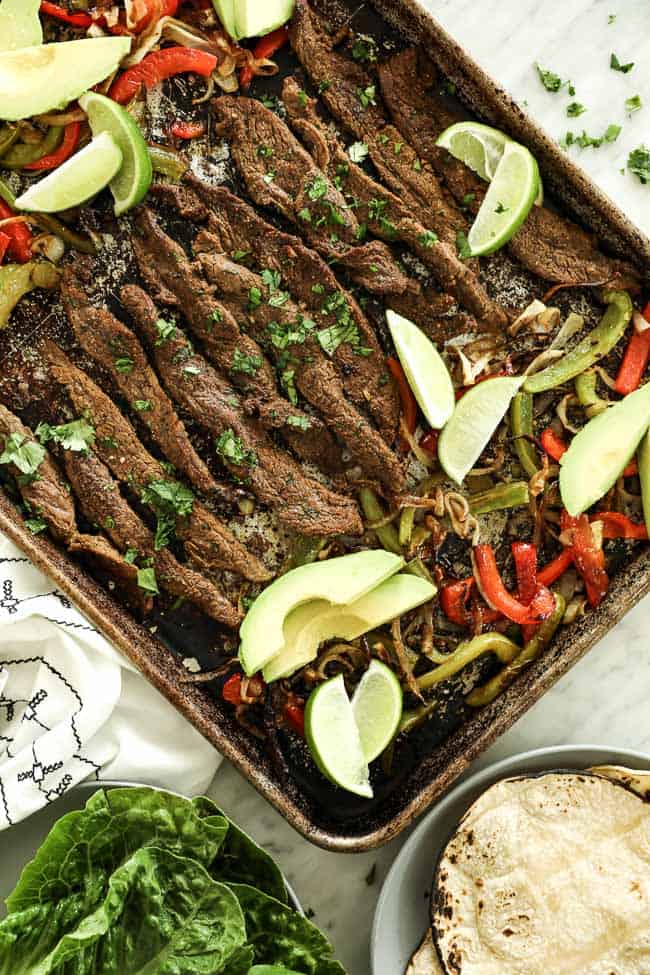 Some other Mexican inspired meals
Your turn to try these sheet pan fajitas
If you're ready for a flavorful, yet simple and quick meal give these sheet pan fajitas a try! These simple steak fajitas are sure to be a hit for the whole family and you'll appreciate the minimal effort and cleanup required! Let us know how it goes by leaving a comment below. Also, take a photo and tag us on Instagram @realsimplegood, so we can check it out! If you're not already following us on Instagram, make sure to give us a follow so we can stay connected!
---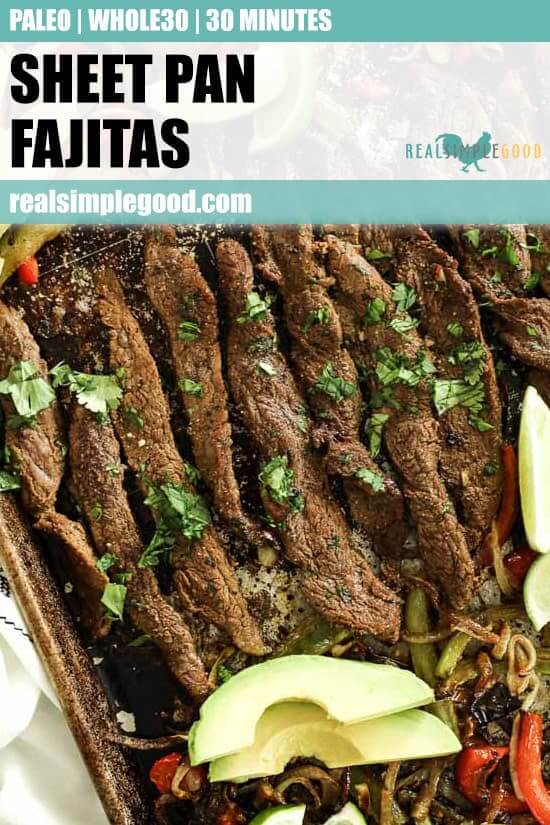 ---
Like this Recipe?
SHARE IT NOW OR PIN IT FOR LATER!
---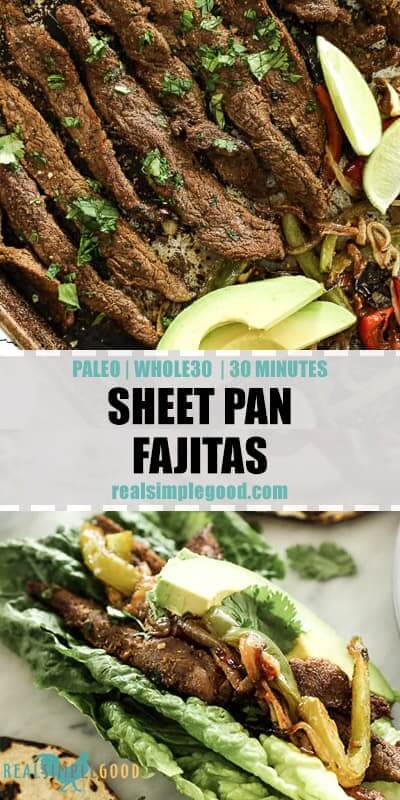 ---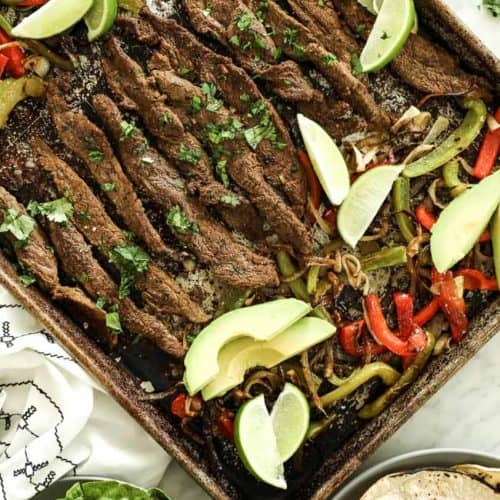 Get the Recipe:
Sheet Pan Fajitas (Paleo + Whole30)
Sizzling steak fajitas in just 30 minutes anyone? These Paleo + Whole30 sheet pan fajitas are such a simple recipe but packed with tons of Mexican flavor!
Ingredients
For the marinade:
1/4 cup coconut aminos
1 lime, juice of
1/4 cup cilantro, chopped
1.5 tsp cumin
1.5 tsp garlic powder
1.5 tsp chili powder
1.5 tsp ground pepper
For the fajitas:
1 lb flank steak, cut into thin strips , (can sub skirt steak)
1 onion, sliced into thin strips
2 bell peppers, sliced into thin strips
3 cloves garlic, minced
2 tbsp avocado oil, divided
Salt and pepper
For shells and toppings:
1 avocado sliced
1/4 cup cilantro chopped
Broad leaf greens or tortillas of choice
Instructions
Preheat oven to 400° Fahrenheit.

Prepare the marinade by mixing all of the marinade ingredients together in a bowl or shallow dish.

Slice up the steak into 1/2 by 1 inch strips. Place the steak in the bowl/dish with the marinade. Mix well so that all of the strips are covered with the marinade. Set aside to marinate while you prepare the rest of the ingredients.

Chop the onion, bell peppers and garlic as noted.

Lightly grease a large sheet pan with 1 tbsp avocado oil. Spread the onion and bell pepper out on the sheet pan. Drizzle with 1 tbsp avocado oil and lightly sprinkle garlic, salt and pepper over everything. Toss to coat.

Place in the oven to cook for 10 minutes.

Remove sheet pan from oven and turn the oven to broil.

Mix and push the vegetables to the sides of the pan. Add steak strips to the pan in a single layer, spreading them out as much as possible. Broil on high for 3-4 minutes or until steak is cooked to your liking. You may need to flip the steak pieces to cook on all sides.

Once the fajitas are cooked, remove from oven and allow to cool for a few minutes. Prepare toppings and shells/tortillas as desired.

To serve, spoon fajita mixture into shells/tortillas, top with avocado and cilantro and enjoy.