What readers are saying about these fajitas
This recipe is so easy to make- worked perfectly to throw together really quick after work. So big on flavor! This is a recipe that we will come back to again and again- so good.

Korey
5 reasons you'll love this recipe
It's a true sheet pan meal. Just throw everything in the pan and toss it in the oven!
The easy homemade cilantro-lime shrimp marinade coats everything with some delicious and tangy fajita flavor.
Make this healthy low-carb dinner for taco Tuesday, it's perfect for the whole family! Everyone can use whatever tortilla shells or wraps they want.
If you like meal prep recipes, this is a great one! You can easily double it and the leftovers keep well in the fridge.
These fajitas are perfect for any diet – gluten-free, dairy-free paleo, whole30 and keto!
Related: Browse all of our quick + easy keto dinner ideas!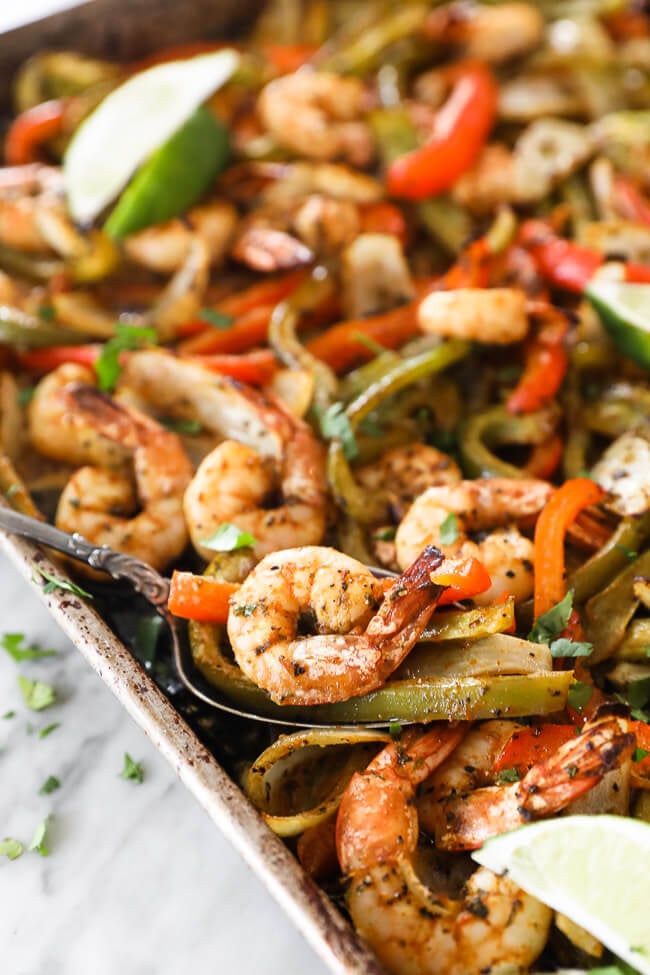 Tips from an expert home chef
The cilantro lime marinade will be kind of thick. That's ok! You want it to coat and stick to the shrimp and fajita veggies as much as possible.
Use whatever tortilla shells you want. Use lettuce wraps or keto tortillas for low-carb or you can use corn or larger fajita tortillas if desired.
Make it a fajita bowl. You could even skip the shells entirely and serve it in a bowl with cauliflower or regular rice and/or some other greens or veggies.
Clean, peel and remove the tail from the shrimp before cooking. This will save you the hassle of taking the tails off the hot cooked shrimp :).
Don't forget the toppings! We love a good dollop of our homemade chipotle aioli sauce. Or some chopped fresh cilantro and avocado are great options too.
Other easy one pan low carb recipes
We hope you love this recipe as much as we do!
Don't forget to leave a quick star rating and review below, we read every comment and truly appreciate your feedback. Also, be sure to browse the rest of our delicious keto diet friendly recipes to find some other favorites too!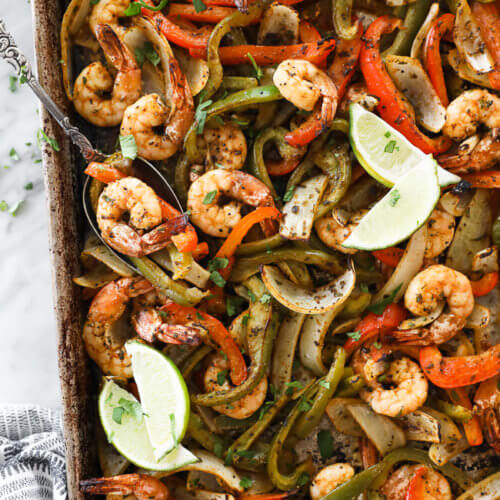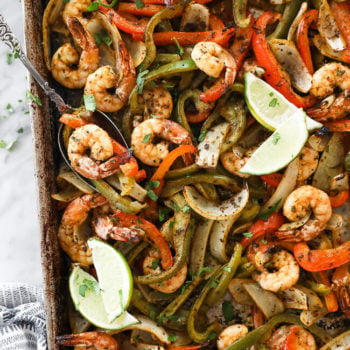 Get the Recipe:
Easy (30-Minute!) Keto Fajitas with Shrimp
Following the Keto diet? These low-carb shrimp fajitas are a fast and easy keto-friendly dinner option. The cilantro-lime shrimp marinade is the secret sauce — literally! To serve, spoon the fajita mixture into lettuce leaves (or tortillas), and top with your favorite toppings and enjoy!
Ingredients
For the cilantro-lime sauce:
2 limes, juice of
1/4 cup avocado oil
1/4 cup cilantro, chopped
1 tbsp cumin
1 tbsp garlic powder
1 tbsp chili powder
2 tsp ground pepper
1 tsp sea salt
For the Fajitas:
1.5 lbs jumbo shrimp, peeled and deveined
3 bell peppers, sliced into strips
1 onion, sliced into strips
For serving:
1 avocado, sliced
Salsa
Chopped cilantro
2 bunches broad leaf greens (bibb, romaine, chard, etc.) , (or use corn or Siete tortillas – but greens only for Whole30)
Instructions
Preheat oven to 400° Fahrenheit and line a large sheet pan with parchment paper.

Prepare the lime sauce by mixing all of the sauce ingredients together in a large bowl. You'll add the shrimp, bell peppers and onion to this bowl, so use a large enough bowl for that. Alternatively, you can mix the sauce up in a small bowl and just toss with the other ingredients on the sheet pan.

Slice bell peppers and onion as noted and add them to the bowl.

Add the shrimp to the bowl and toss/mix to coat everything with the lime sauce.

Spread the shrimp and veggies out on the sheet pan. Place in the oven to bake for 10-15 minutes. Watch carefully after 10 minutes and remove when the shrimp and veggies are cooked to your liking. If you want a little char on the top, you can switch the oven to broil for the last few minutes.

While the fajitas are cooking, prepare lettuce leaves for shells and toppings as desired.

To serve, spoon fajita mixture into lettuce leaves (or tortillas), top with your favorite toppings and enjoy.
Notes
Nutrition amounts noted are per serving and an estimate provided for those following a Ketogenic or low-carb diet and do not include serving/topping items for this recipe. See our full nutrition information disclosure here.  

Remove shrimp tails prior to cooking for easier serving.
Calories: 344kcal, Carbohydrates: 12g, Protein: 37g, Fat: 17g, Saturated Fat: 2g, Fiber: 3g