Alright, who doesn't love sweet potato fries?! These simple sweet potato fries are yet another sweet and salty combo, which basically means you really can't go wrong. When you bake them in the oven they make your house smell all hearty with a hint of sweet. I can hardly wait for them to finish so we can gobble them up with our favorite sauces because they make great dippers, too. 
We make our simple sweet potato fries in wedges, but you'll see below that some turn out more like regular julienne fries due to hand cutting them, and that's ok. You want to get them roughly the same size so they cook as evenly as possible, but really, we kind of prefer some a little more crispy and others on the softer side.
Some of our favorite dishes to enjoy our simple sweet potato fries with are our buttery dill fried halibut, baked chicken tenders, and lemon thyme chicken. Don't you just want to dive in and start dipping? I love them dipped in Dijon or yellow mustard and ranch is pretty good too.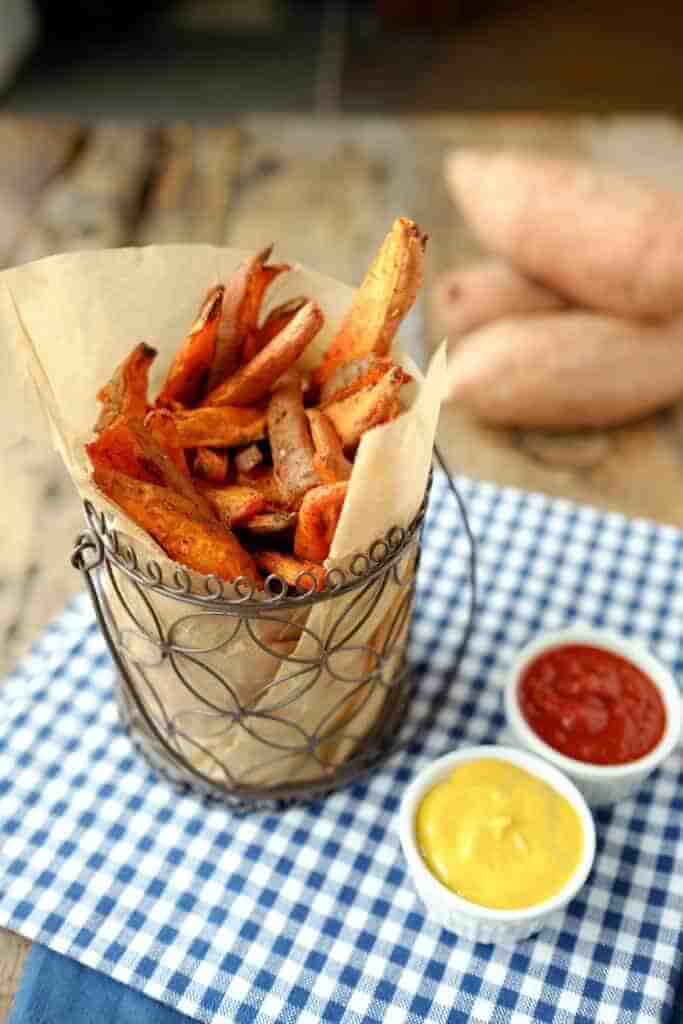 Hurry! Go make some so you can get to dipping! Let us know how you like our simple sweet potato fries by leaving a comment below. Also, take a picture and tag it on Instagram @realsimplegood so we can check it out!
---
Simple Sweet Potato Fries (Paleo + Whole30)
Print Recipe
Rate Recipe
Ingredients
1-2

sweet potatoes, cut into wedges

1

tsp

paprika (we used smoked paprika)

salt and pepper to taste
Instructions
Preheat your oven to 400 degrees fahrenheit and line a cookie sheet with parchment paper.

Cut your sweet potatoes into wedges, and place them in a mixing bowl.

Pour your avocado oil in and toss to coat.

Next add your paprika, salt and pepper and toss to coat again.

Place your fries on the parchment lined cookie sheet in an even layer.

Bake for 15 minutes. Remove from the oven and toss the fries around.

Place your fries back in the oven and continue baking for another 10-15 minutes until they reach your desired level of crispiness.

Remove from the oven and serve! They're best while they're still warm.

Get to dipping!