5 reasons you'll love this recipe
Everyone loves taco night! These delicious fajita tacos come together in one pan in about 30 minutes. Perfect for a busy weeknight dinner the whole family will love.
The chicken and veggies are cooked in a simple fajita sauce that flavors everything and keeps the chicken extra-juicy and delicious.
This healthy recipe can fit any diet, so use whatever tortilla shells you want. Keep things whole30 or low-carb with some lettuce shells.
You can customize your fajita tacos with any toppings you want! Add on some guac, salsa, cheese, sour cream – whatever works for you!
Serve these fajitas up sizzling in the skillet for an extra fun, restaurant-style fajita experience!
Ingredient notes
Chicken – You can use either chicken thighs or breasts for these fajitas. The cooking time will be about the same because you are cutting them into bite-sized pieces.
Coconut aminos – These are a salty-sweet replacement for soy sauce, but without as much salt. See recipe notes for substitution options.
Veggies – You want the veggies to be crisp-tender so you get a little crunch in each taco bite. Don't overcook the fajita veggies or they will become mushy.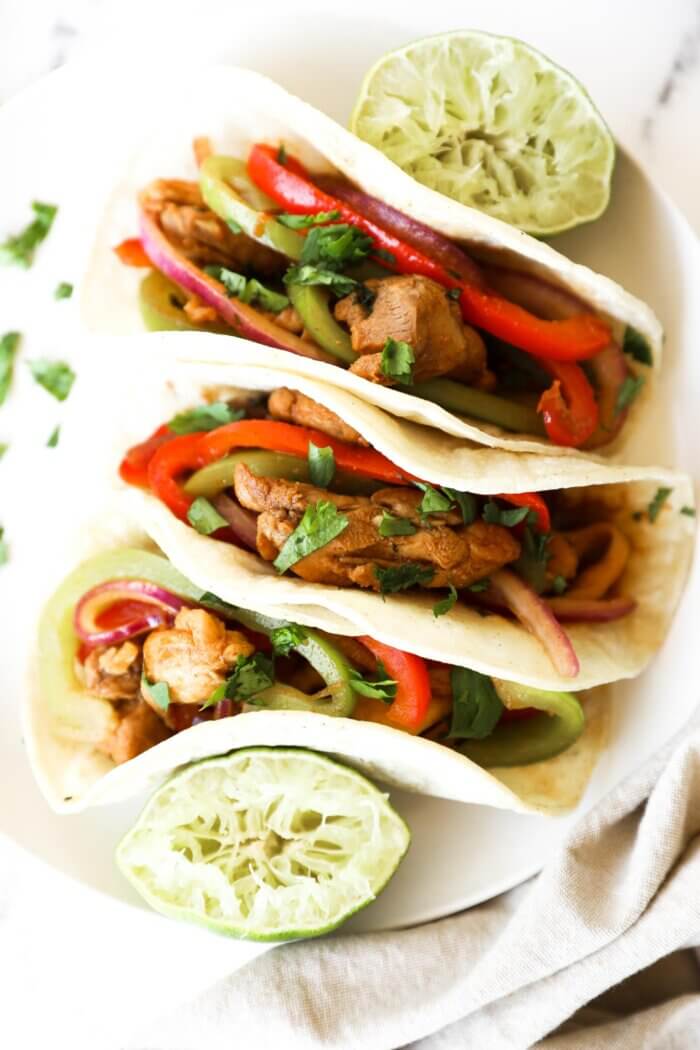 Tips from an expert home chef
If you are a meal prepper, these are a great make ahead option! Simply make the fajitas and store them in the fridge. You just have to warm them up on the stovetop for a few minutes for serving.
Be careful not to overcook anything. Follow the cook times noted in the recipe carefully to avoid dry chicken or mushy fajita veggies.
These fajitas can easily be made into a bowl or salad. Serve them over some greens, rice or cauliflower rice for a tortilla free fajita meal.
You could easily make these with beef. Use a flank steak, sirloin or skirt steak cut into bite-sized strips. Follow the recipe as noted, but only cook the beef for a few minutes (unless you like it well done).
Other Mexican-inspired recipes you'll love
If you try this recipe, please share some love!
Don't forget to leave a quick star rating and review below, we read every comment and truly appreciate your feedback. Also, be sure to browse the rest of our easy chicken dinner recipes to find some other favorites too!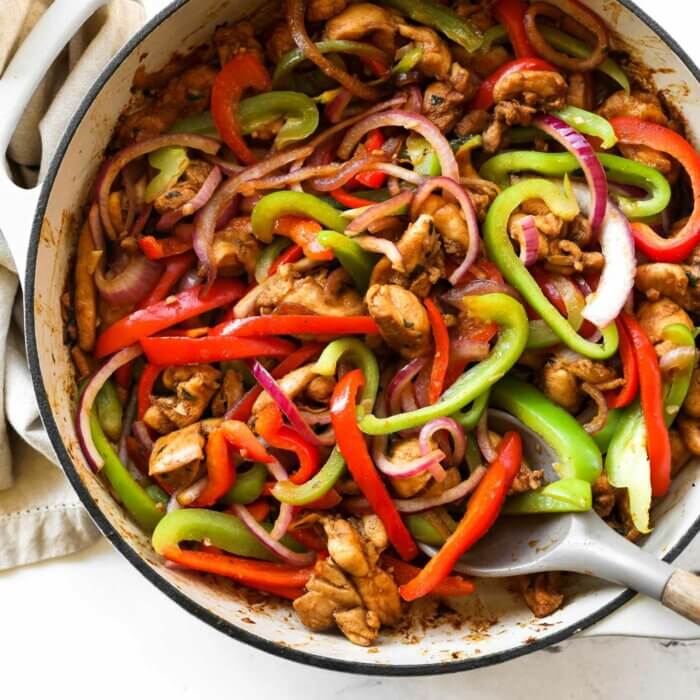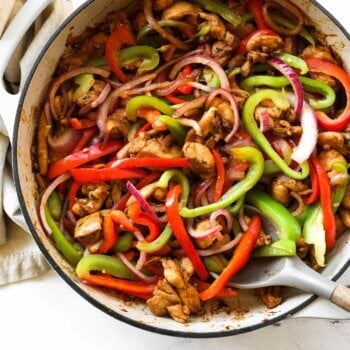 Get the Recipe:
Sizzling Skillet Chicken Fajita Tacos
These sizzling skillet chicken fajita tacos are extra juicy and delicious! Serve them in the skillet at the table and have everyone scoop them into tortillas to make their own fajita tacos. You'll love the amazing fajita sauce and crispy fajita veggies with the chicken.
Ingredients
For the fajita sauce:
1/4 cup coconut aminos, (see recipe notes)
1 lime, juice of
1/2 cup cilantro, chopped
1 tbsp cumin
1 tbsp garlic powder
1 tbsp chili powder
1 tbsp ground pepper
For the fajitas:
2 lbs boneless skinless chicken thighs, (can sub chicken breasts)
1 red onion, sliced into thin strips
2 bell peppers, sliced into thin strips
3 cloves garlic, minced
1 tbsp avocado oil
For serving and topping:
corn tortillas, (sub lettuce shells for low carb or whole30)
avocado or guacamole, (optional)
Instructions
Prepare the fajita sauce by mixing all of the ingredients together in a bowl or shallow dish. You'll add the chicken to this bowl/dish so use an appropriate size for that.

Slice up the chicken into 1/2 by 1 inch strips. Place the chicken in the bowl/dish with the sauce and mix well so that all of the chicken is covered in the fajita sauce. Set aside to marinate while you prepare the rest of the ingredients. NOTE: You can prepare the sauce and chicken in advance and marinate the chicken for up to 24 hours. 

Chop the onion, bell peppers and garlic as noted.

Heat a large skillet over medium-high heat and add in 1 tbsp avocado oil. Once hot, add in the garlic, bell peppers and onions to cook. Cook the vegetables, stirring frequently, until they are just tender, about 5 minutes. Don't overcook, they will cook a little more later. Remove and set aside.

Next, dump the chicken and fajita sauce in the pan to cook. Cook chicken, stirring occasionally, until it is fully cooked, about 5-6 minutes.

Add the fajita vegetables back into the pan with the chicken. Stir to mix everything together and coat with the sauce. Simmer for 1-2 more minutes.

Remove from heat and carefully transfer the sizzling skillet to the table for serving and set it on a trivet or pad. To serve, carefully spoon fajita mixture into tortillas and add any toppings as desired.