Deliciously juicy and smoked to perfection, this smoked chicken breast is a flavorful way to cook chicken breasts. Seasoned with a simple homemade chicken rub, this easy smoker recipe is perfect on the pellet grill.
Steps For Smoking a Chicken Breast
It's really very simple, here's what you'll do:
Heat up your smoker or pellet grill to 225° Fahrenheit
Mix up the homemade chicken spice rub and sprinkle it all over the chicken
Smoke chicken for about 3 hours, brushing with some BBQ sauce in the last half hour
If you like this recipe, check out our smoked pork shoulder and this perfectly smoked beef chuck roast.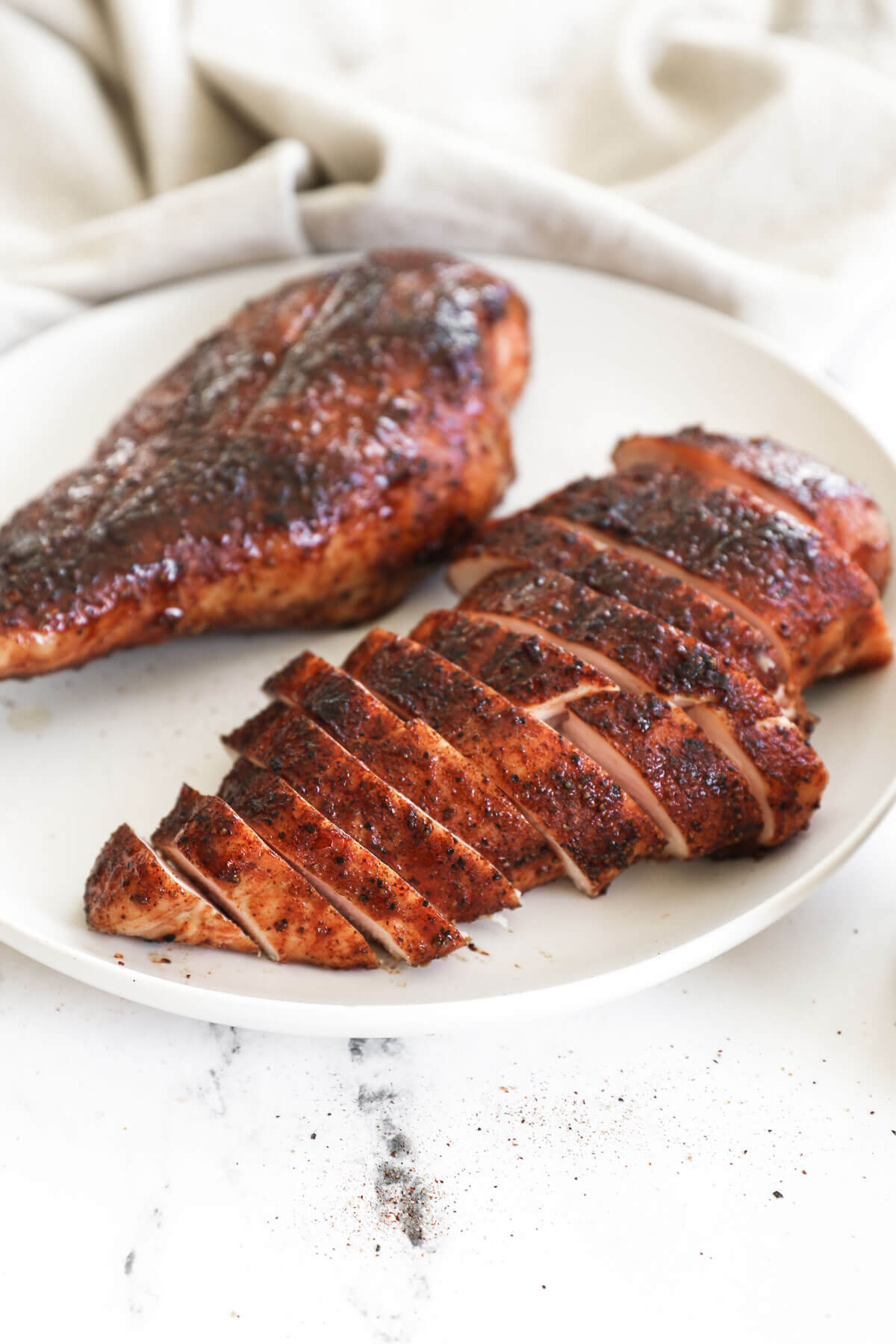 How Long To Smoke Chicken Breasts
Depending on the size of the chicken breasts, it will take about 2-3 hours to smoke them.
You want to smoke chicken low and slow at 225° so the smoke has time to penetrate the chicken and give it that smoky flavor.
Watch the chicken closely during the last hour of smoking. Using an instant read thermometer, you'll be able to to check it quickly to see when it's getting close to the required temperature (see below).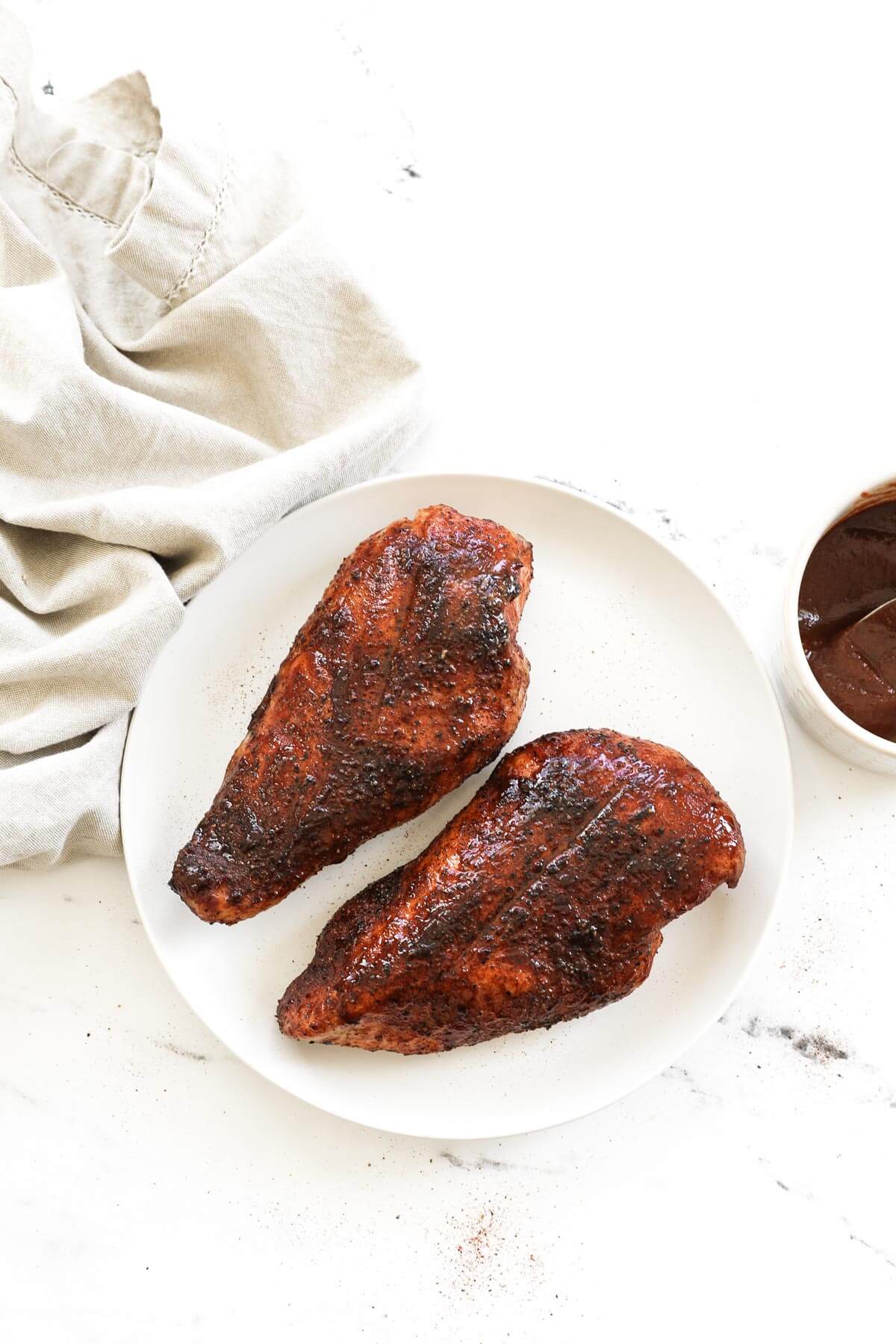 The Best Internal Temperature for Smoked Chicken
For the best tasting, juicy (and fully-cooked safe to eat) chicken, I recommend cooking smoked chicken breast to an internal temperature of 150° Fahrenheit.
I know that every package of chicken states to cook it to an internal temperature of 165°, but that is the temperature that kills all bacteria instantly and is appropriate too use when cooking with high-heat.
If you smoke your chicken breast to this temperature it will be dry and rubbery.
When smoking chicken, it's all about time at temperature. So, if you bring your chicken to an internal temperature of 150° and hold it there for 5 minutes, that is sufficient to kill any bacteria.
This is covered in the USDA's guidance on cooking poultry.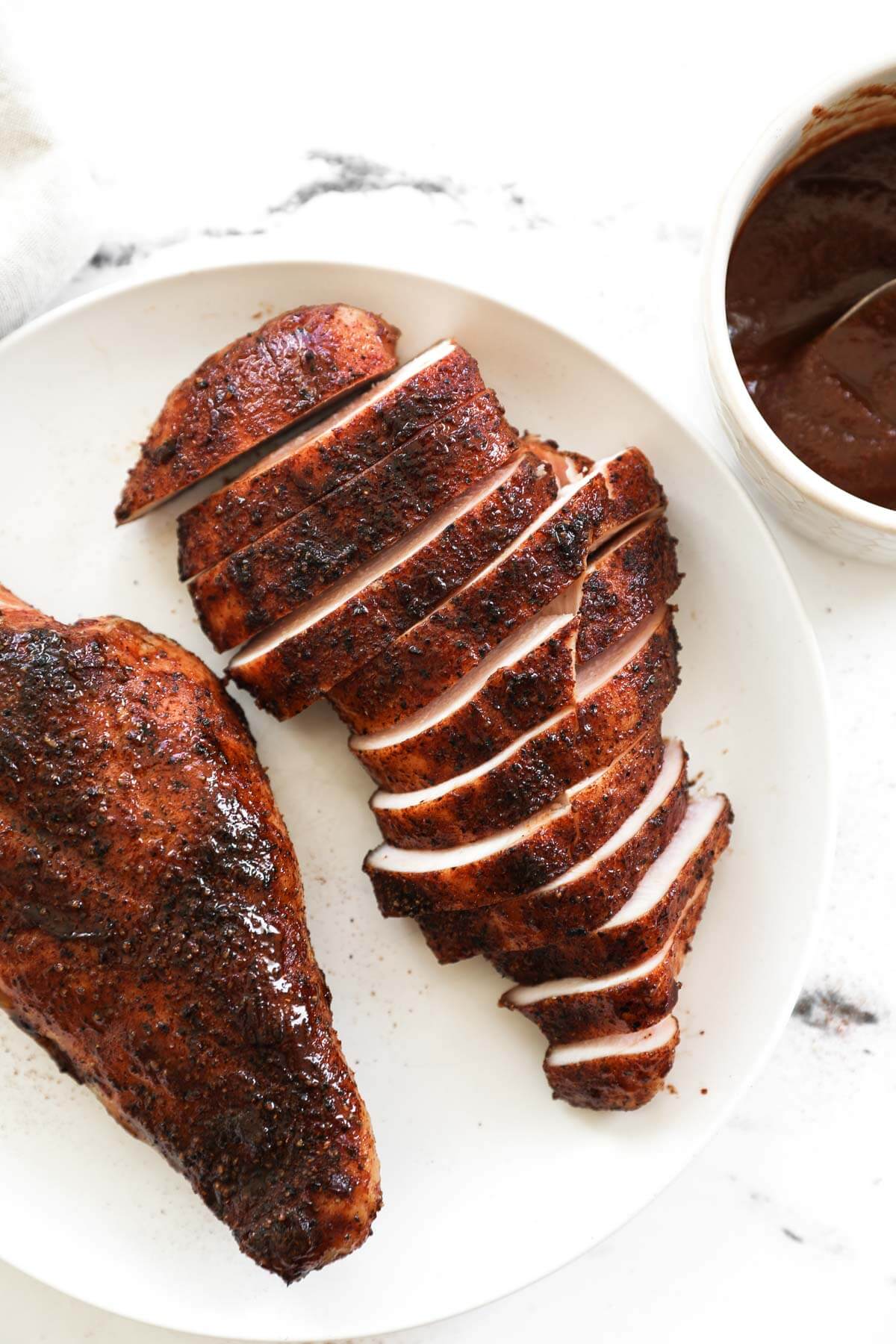 Making a Traeger Chicken Breast
This recipe will work on any pellet grill or smoker. I highly recommend a Traeger pellet grill, it's what I've always used. It's great for both high-heat and smoking and is very easy to use.
For this recipe, if you're using a newer Traeger, just poke the probe into the thickest breast and set it to alert you when it reaches 150° – easy peasy!
What to Serve With Smoker Chicken Breast
Some of our favorites are potato salad or creamy coleslaw, but the possibilities are endless.
Serve this smoky chicken with:
A green salad or roasted veggies
Regular or cauliflower rice
Need more serving ideas? Check out this listing of 10 BBQ side dishes.
Your Turn to Try this Easy Smoked Chicken
Fire up your smoker or pellet grill and give this delicious chicken breast recipe a try. You'll be amazed by the flavor and how easy this recipe is to prep and cook.
If you try it, be sure to leave a rating and comment below and let us know how it goes. Also, take a pic to share on Instagram. Tag us @realsimplegood, we love to see what you're cooking!
---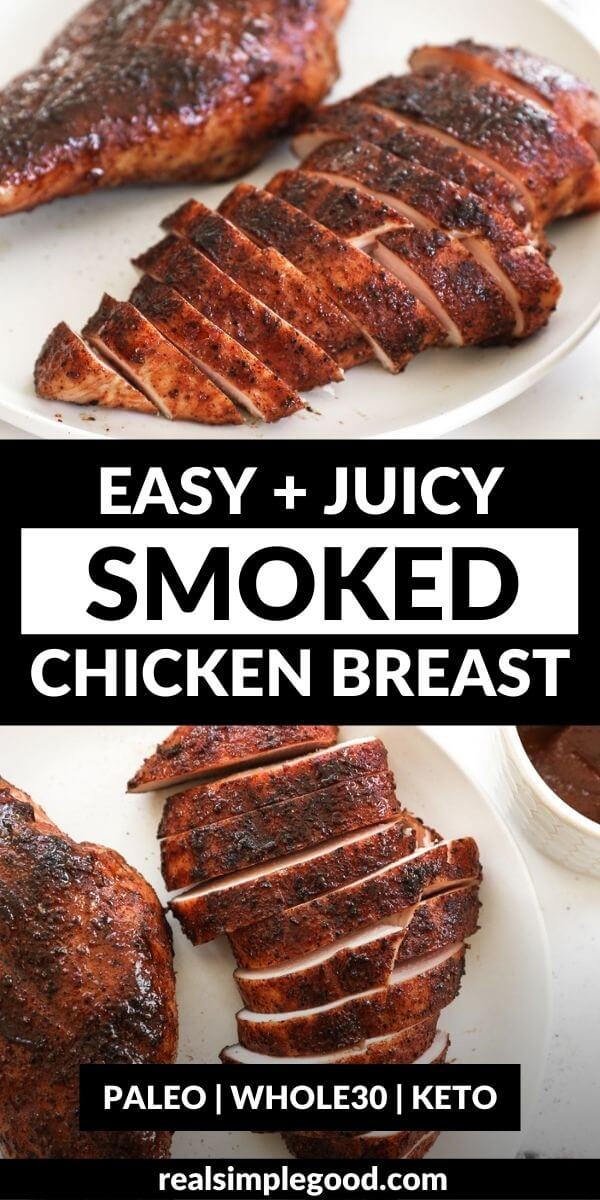 ---
Like this Recipe?
SHARE IT NOW OR PIN IT FOR LATER!
---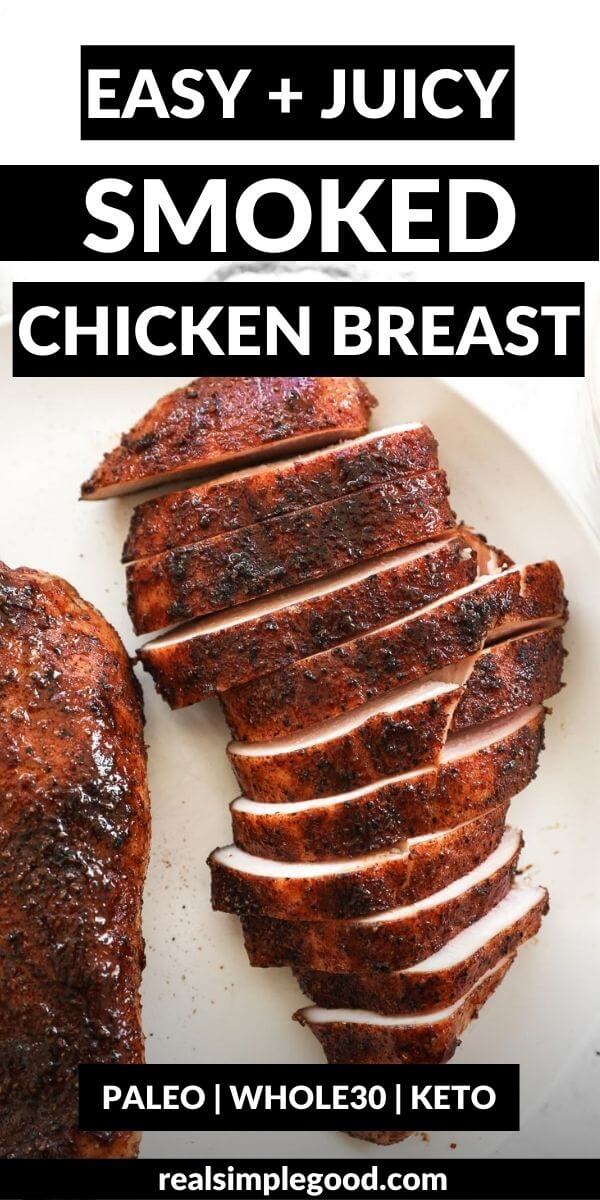 ---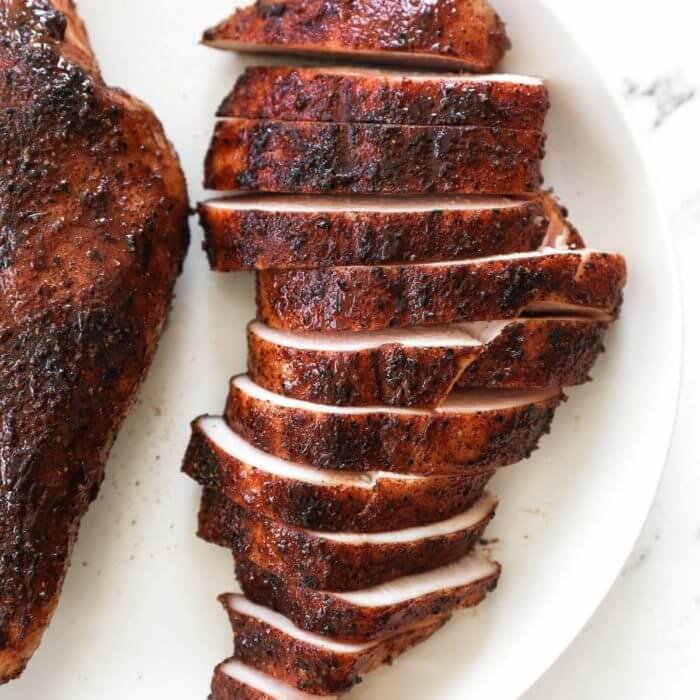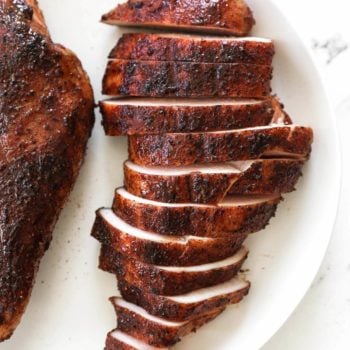 Get the Recipe:
Easy, Juicy Smoked Chicken Breast
Deliciously juicy and seasoned to perfection, this smoked chicken breast is an easy smoker recipe and a flavorful way to cook chicken breasts.
Ingredients
4 chicken breasts, (about 2 lbs)
For the rub:
2 tbsp avocado oil
1 tsp salt
1 tsp pepper
1 tsp garlic powder
1 tsp chili powder
1 tsp onion powder
1 tsp coconut sugar, (or equivalent sweetener of choice, omit for low-carb)
For basting:
1/2 cup BBQ Sauce, (can use any preferred BBQ sauce, omit or use no-sugar sauce for low-carb)
Instructions
Preheat your smoker to 225° Fahrenheit.

Make the rub by combining all of the rub ingredients in a small bowl and mixing.

Brush the chicken breasts on each side with a little oil. Then, season the chicken on both sides with the rub. The chicken should all be completely covered in the seasoning.

Place the chicken in the smoker to cook for 2-3 hours, or until it reaches and holds an internal temp of 150° for 5 minutes.

When the internal temp reaches 140°, brush the chicken on both sides with BBQ sauce.

When the chicken reaches and holds an internal temp of 150° for 5 minutes, remove it from the smoker.

Let the chicken rest for 10 minutes before slicing and serving.
Notes
Nutrition amounts are per serving and an estimate provided for those following a Ketogenic or low-carb diet. The amounts listed do not include coconut sugar or the bbq sauce for this recipe. See our full nutrition information disclosure here. 
Calories: 326kcal, Carbohydrates: 2g, Protein: 48g, Fat: 13g, Saturated Fat: 2g, Fiber: 1g