Why you'll love these smoked chicken thighs on the Traeger or Pellet Grill
They're covered in a simple (but flavorful) chicken dry rub and finished with a reverse sear for that deliciously crispy, charred skin everyone loves.
This is a great beginner smoker recipe that's quick to prep. The thighs only need to smoke for about an hour to get some great smoky flavor.
If you love BBQ sauce, you can slather some on at the very end for some extra saucy chicken.
Related – >> 10 Healthy BBQ Sides
How to make juicy bone-in smoked chicken thighs
It's really easy to get delicious smoked chicken thighs with crispy skin. Here's how:
First, heat up your smoker or pellet grill to 225° Fahrenheit. Then, get the chicken going by following the steps below.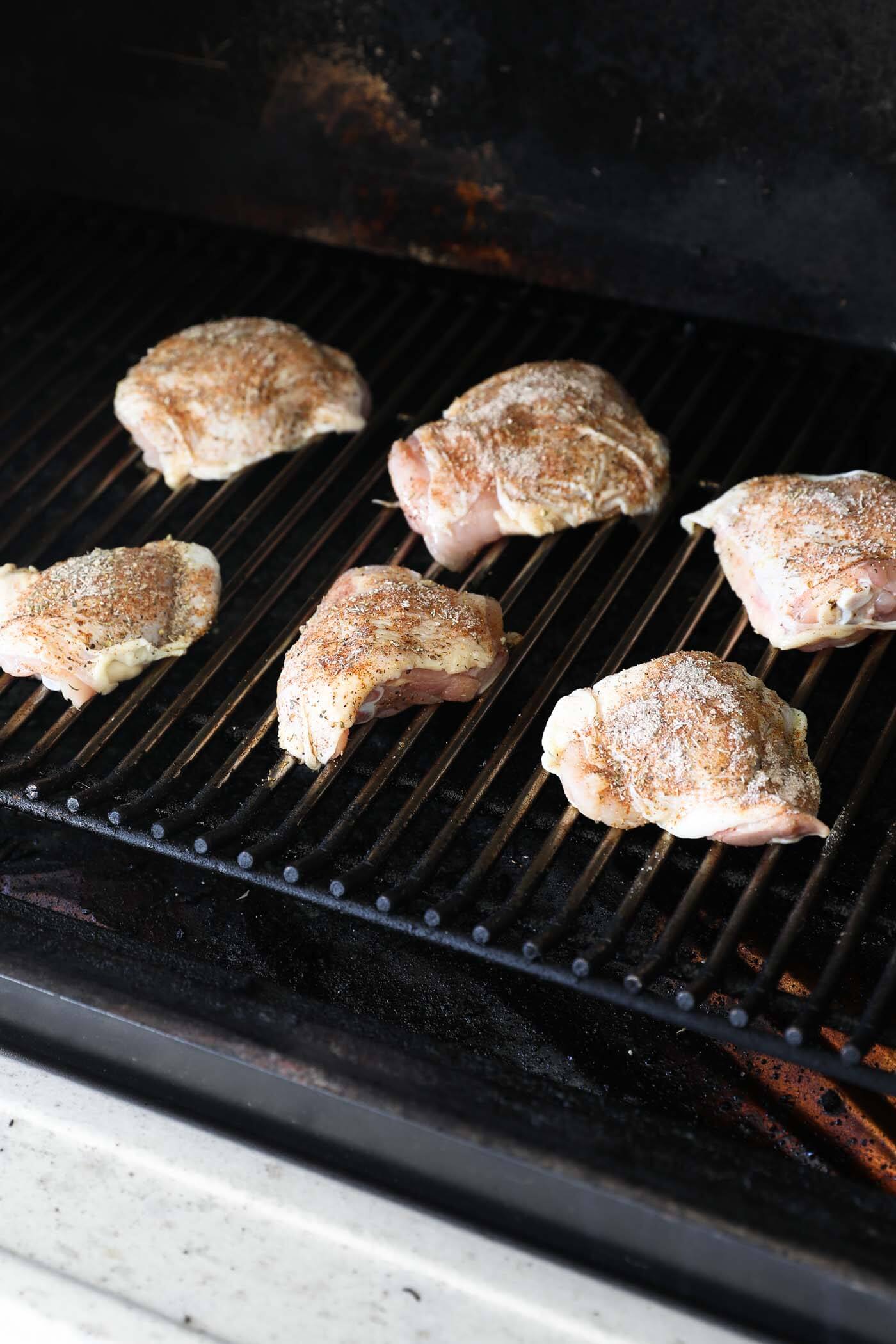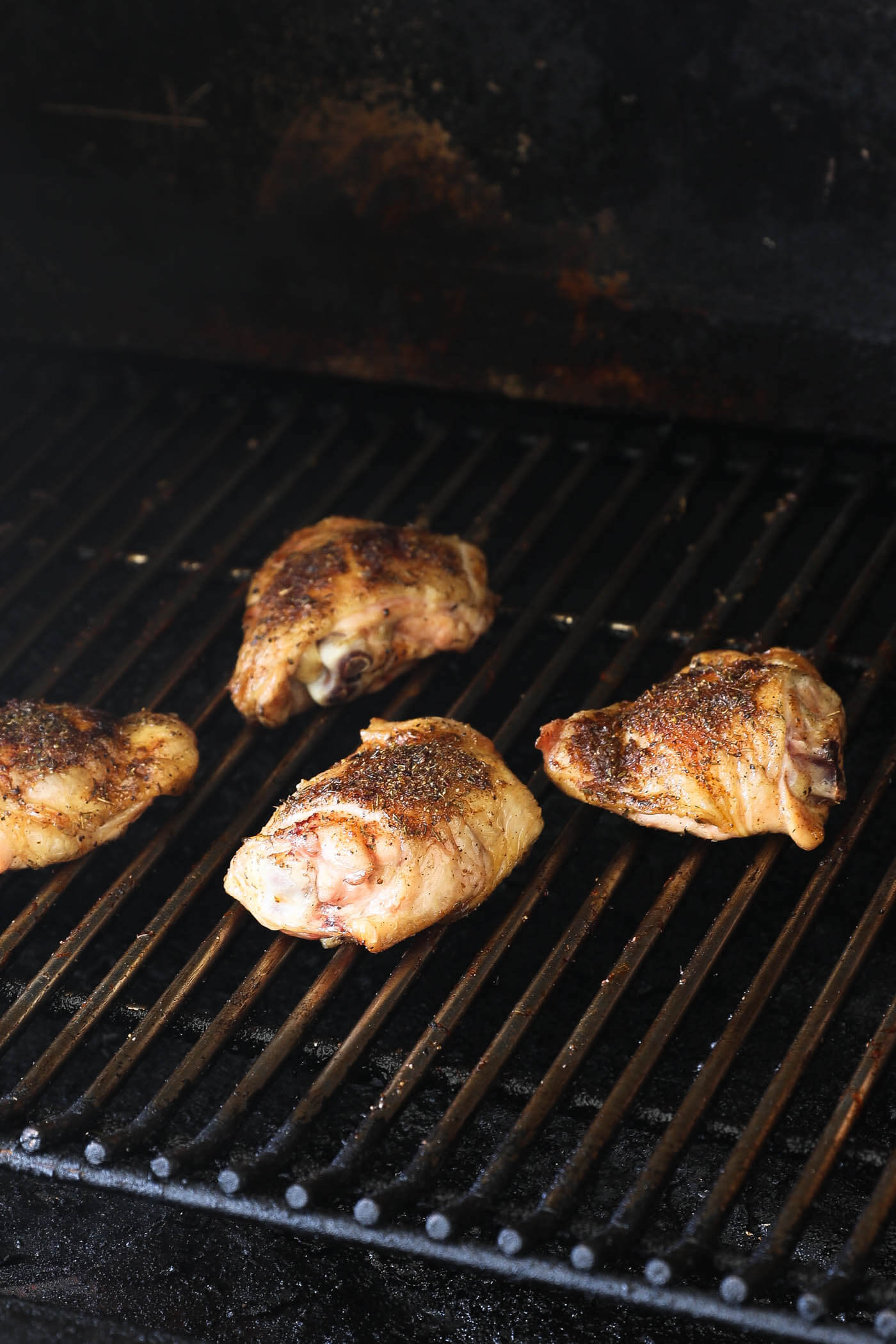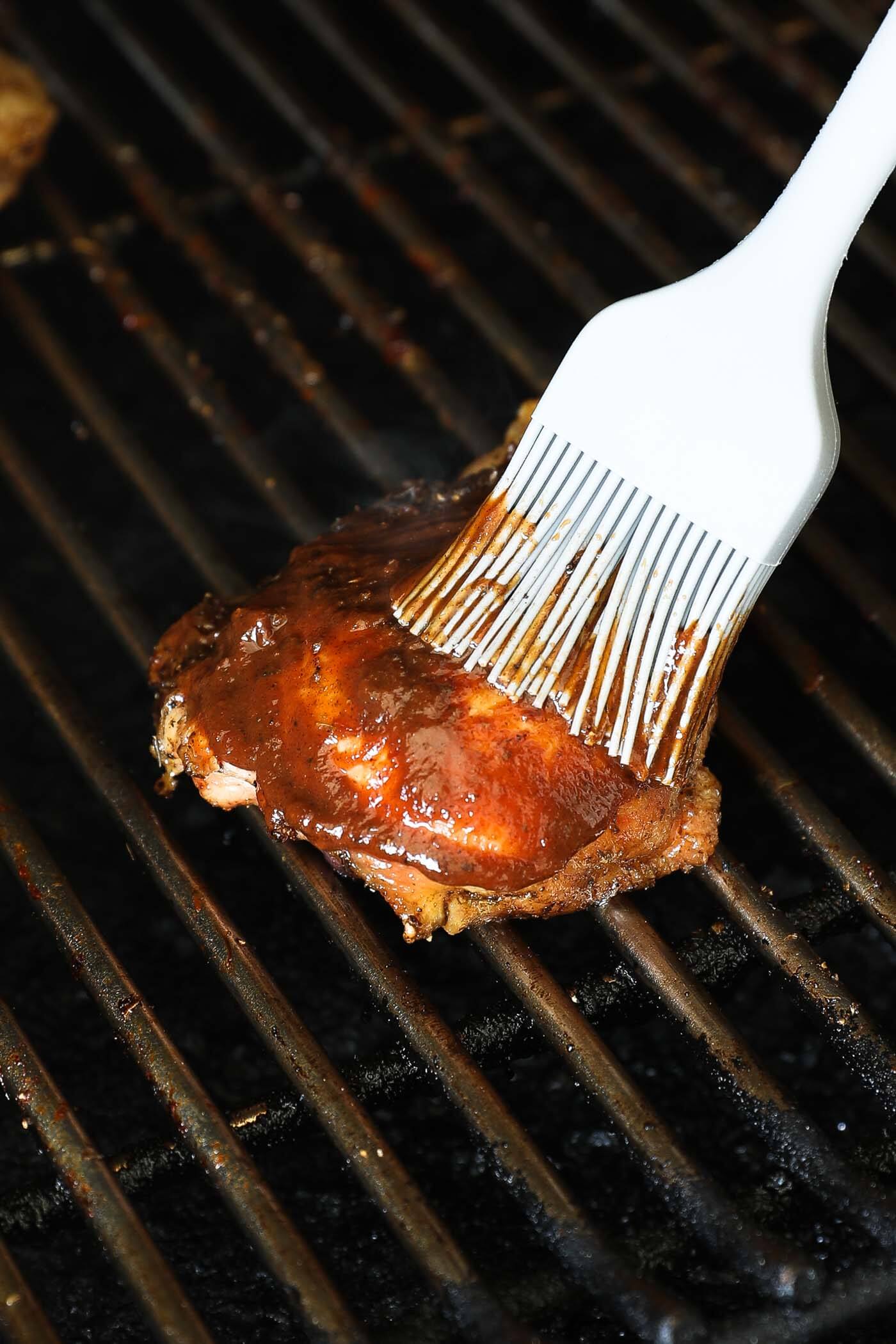 Tips for smoking chicken thighs on a pellet grill
Use an instant-read meat thermometer (or the probe on your Traeger) to ensure the thickest part of the thighs reach 185-190° before pulling them off. Bone-in chicken thighs taste best when cooked to this higher temperature because of the higher fat content.
If you wish, you can use boneless skinless chicken thighs. If so, you'll only want to cook them to about 165°-170°.
If you like to use a BBQ sauce, try our easy sugar-free homemade BBQ sauce (or any sauce you have on hand). Just brush it on the chicken thighs in the last few minutes of cooking.
The reverse-sear is the key step to getting crispy skin. Follow the instructions carefully and flip the chicken frequently to prevent burning at the higher heat.
Any wood (or pellets) will work for this recipe. I like a nice hickory or apple for smoking chicken.
Some other delicious smoked chicken recipes
What to serve with this chicken thigh recipe
Classic – Some classic options for a BBQ side dish are a creamy coleslaw or savory potato salad with bacon.
Unique – Another great option is some grilled cauliflower steaks. These are a great pairing for this recipe because you can cook them right along with the chicken at the end when you are searing the thighs.
Simple – All chicken goes well with rice or cauliflower rice, salad or any other simple veggies like broccoli, green beans or asparagus.
Fresh – Super fresh options are a crunchy cucumber and carrot salad or a creamy burrata caprese salad.
We hope you love this recipe as much as we do!
Don't forget to leave a quick star rating and review below, we read every comment and truly appreciate your feedback. Also, be sure to browse the rest of our delicious chicken recipes to find some other favorites too!
Get the Recipe:
Smoked Chicken Thighs (Crispy Skin, Reverse Sear)
Juicy smoked chicken thighs with seared, crispy skin – what more could you ask for? Seasoned with a deliciously simple chicken dry rub, these chicken thighs are packed with flavor and easy to make.
Ingredients
2 lbs bone-in skin on chicken thighs, (about 4 pieces)
2 tbsp avocado oil, (or oil of your choice)
For the chicken dry rub:
1/2 tsp sea salt
1/2 tsp pepper
1/2 tsp garlic powder
1/2 tsp onion powder
1/2 tsp paprika
1/4 tsp thyme
1/4 tsp oregano
Optional:
Instructions
Remove chicken thighs from the fridge and allow them to warm up while you prepare the smoker or grill.

Preheat smoker or pellet grill to 225° Fahrenheit.

Make the chicken dry rub by combining all of the ingredients in a small bowl or ramekin and mixing well.

Place chicken thighs on a pan and drizzle them with the oil. Coat both sides of the chicken pieces with oil using a brush or your hands.

Sprinkle the chicken seasoning all over both sides of the chicken thighs. You want the chicken completely coated with the seasoning.

Place the chicken directly on the grill or smoker. Smoke for 1 – 1.5 hours, or until the internal temperature reaches 165° Fahrenheit. Smoking time will vary based on the size of your chicken thighs.

After the internal temperature reaches 165°, turn the heat up on the grill to 450°. Flip the thighs and cook for another 15-30 minutes, flipping every 3-4 minutes when the grill gets hot. Flipping helps to cook the thighs evenly and prevent burning. Cook until the internal temperature of the thighs reaches 180°-190°. Note: See notes below for doing this step in a cast iron pan.

If desired, brush some BBQ sauce on both sides of the chicken during the last few minutes of cooking.

Once the chicken reaches temperature, remove it and let it rest for 5-10 minutes before serving.
Notes
You can perform the reverse sear (step #7) in a cast iron pan if desired. Simply heat a cast iron pan over medium heat and add 1-2 tbsp of cooking oil. Once the pan is  hot, place the chicken in the pan to cook. Cook on both sides, flipping every 2 minutes to prevent burning. Cook for about 10 minutes total, until the internal temperature of the thighs reaches 185°-190°. 
Nutrition amounts noted are per serving and an estimate provided for those following a Ketogenic or low-carb diet. The amounts do not include the optional sauce for this recipe. See our full nutrition information disclosure here.
Calories: 397kcal, Carbohydrates: 1g, Protein: 29g, Fat: 30g, Saturated Fat: 7g