Why you'll love this easy smoker recipe
Just drop the links in and let your smoker (or pellet grill) do all the work!
Perfectly juicy, smoky, and cooked to perfection, it's seriously the best-tasting sausage you'll ever have.
Smoked sausage is great for meal prep. You can smoke a bunch to use in other recipes during the week or freeze it to reheat later.
It's a great beginner recipe for the smoker or pellet grill. Just cook the sausages to the recommended temperature and you're all set.
Related ->> Unbelievably Easy Smoked Meatloaf
How to make smoked sausage step-by-step
This really is the easiest smoker recipe, here's what you'll do:
First, preheat your smoker or pellet grill to 250° Fahrenheit. Then: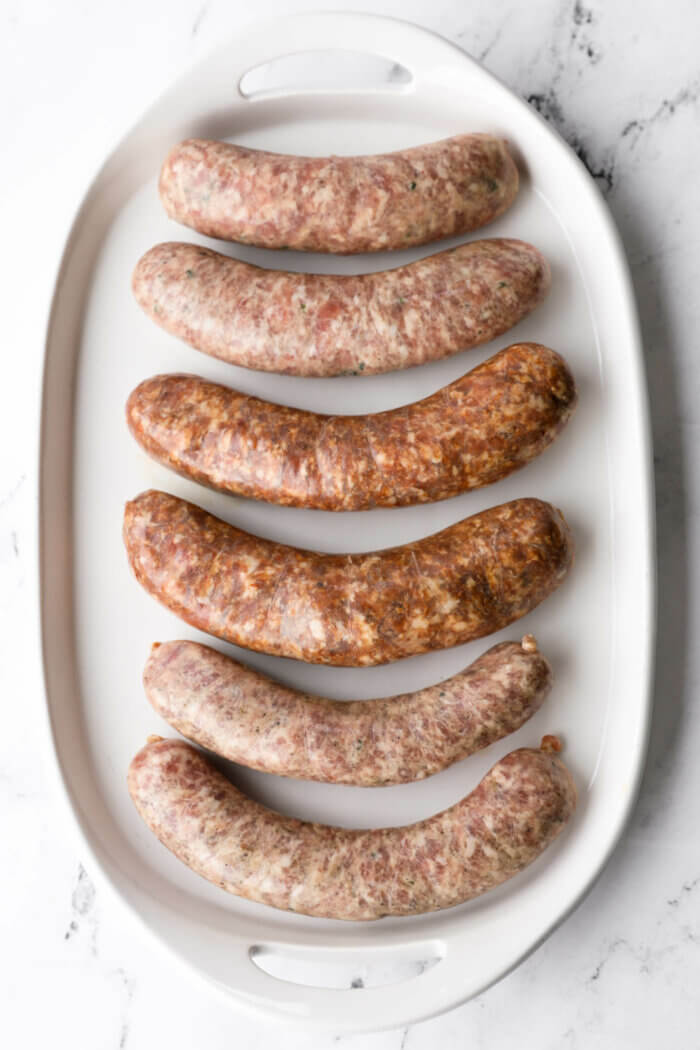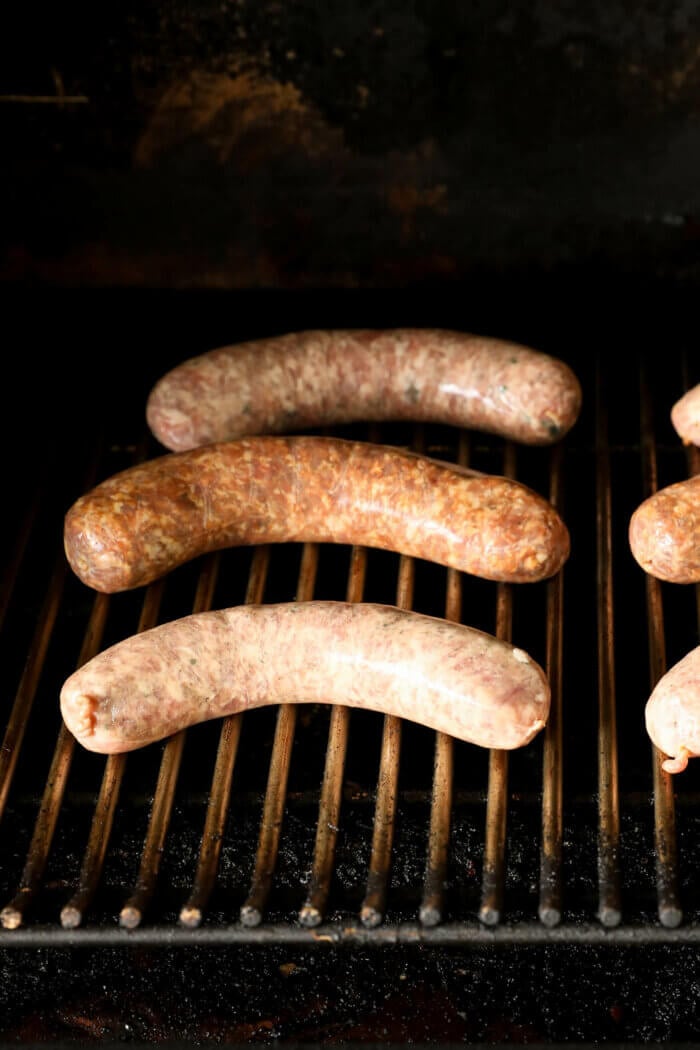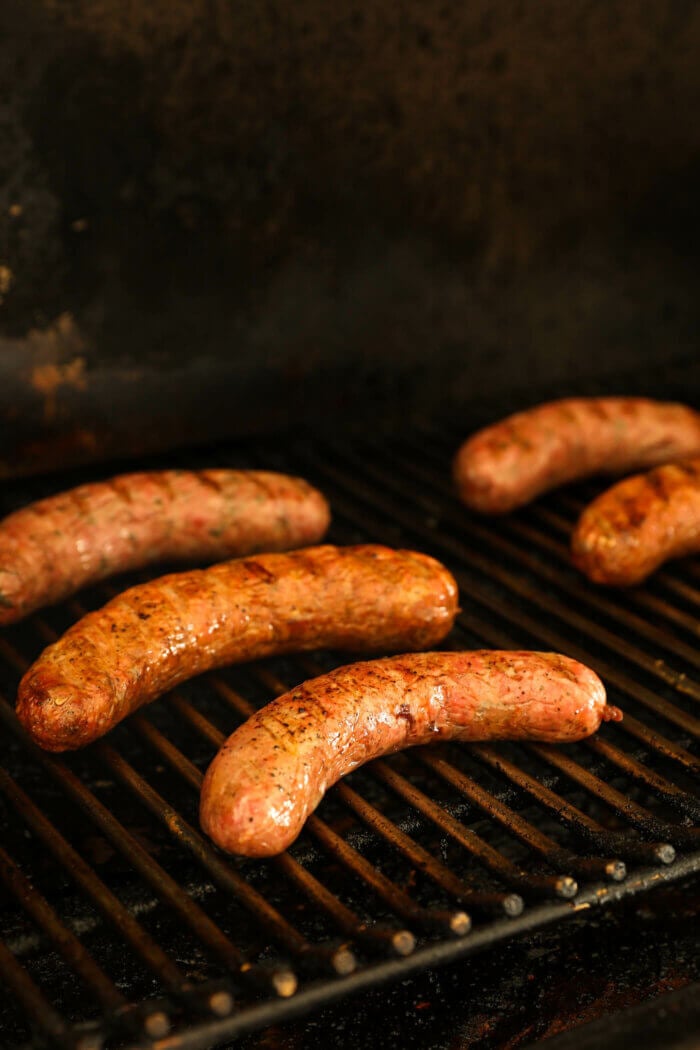 The best types of smoked sausage
For this recipe, you can really use any type of uncooked, large-link sausage. Some of my favorites are:
Bratwurst – Traditionally made with ground pork and seasoned with various spices that generally include white pepper, coriander, cardamom, and caraway seeds.
Italian sausage – The seasonings will vary for this sausage, but generally you'll see some mixture of spices like garlic, rosemary, sage, thyme, or parsley. It is a good middle-of-the-road sausage for flavor.
Chorizo – This is a highly seasoned and generally spicy ground pork sausage that's popular in Spanish and Mexican cuisine. It has a bold, tangy flavor from various ground chiles and vinegar.
Mild or spicy pork sausage – This is your basic seasoned link sausage. It's similar to a breakfast sausage flavor that you'd find in smaller packaged links. A great all-around sausage for eating in a bun or using in a recipe.
You really can't go wrong here. You can even use chicken or turkey sausage if that's what you prefer. Traditionally smoked sausage will be made with ground pork but some is made with ground beef.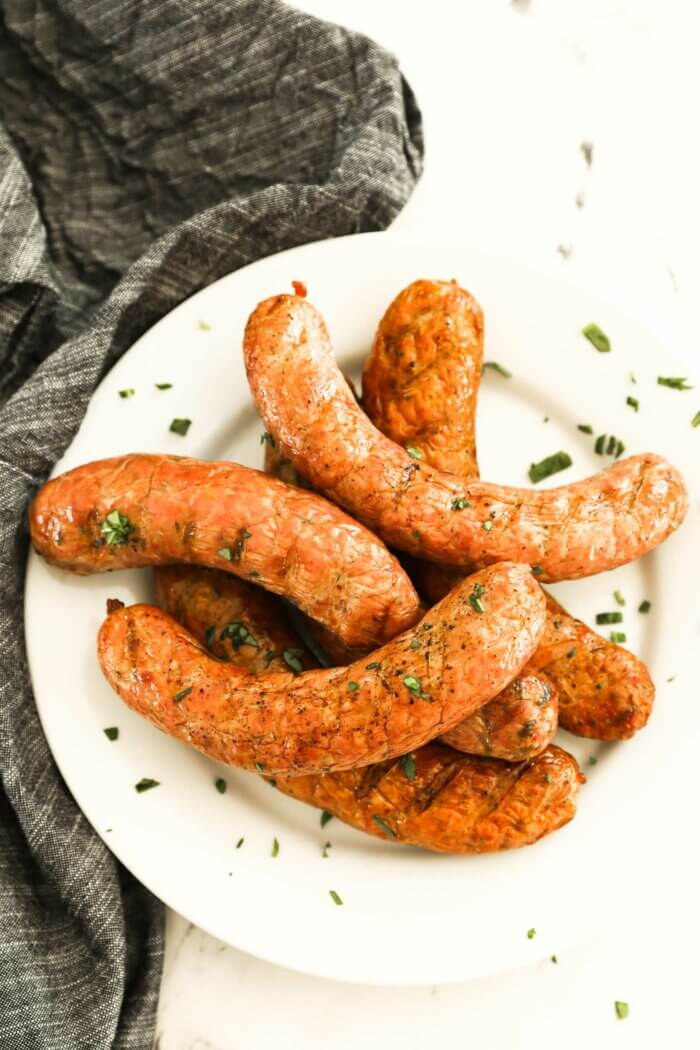 Common questions about smoking sausage
Can you use precooked sausage? You can, but this recipe is for large, uncooked sausage links (like a bratwurst). Precooked sausage won't absorb much smoke and may get tough after smoking it.
How long does it take to smoke sausage? At 250° Fahrenheit, it will only take about 1 to 1.5 hrs to smoke sausage.
Can you smoke chicken sausage? Yes, you can use chicken sausage for this recipe. Always check the temperature and cook the sausage to 165° Fahrenheit.
Can you freeze smoked sausage? It's best served fresh, but you can freeze smoked sausage and easily reheat it on the stovetop.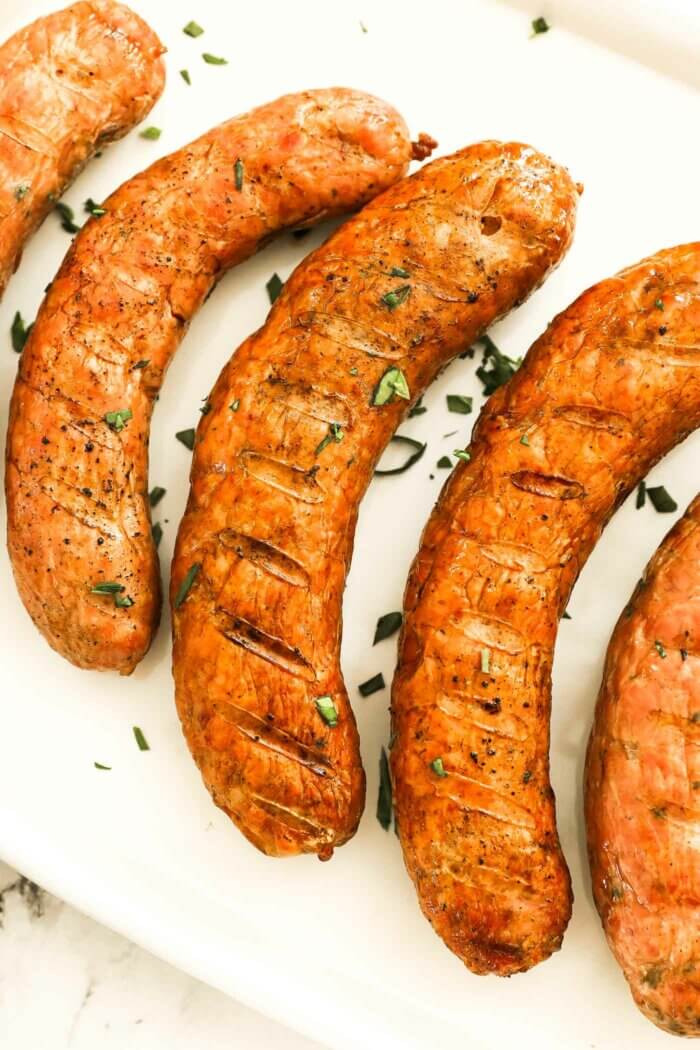 The best type of wood or pellets to use
I'll start with this – Any wood will work for smoking sausage, it will only change the flavor slightly.
I recommend using an all-around wood that gives off a bold flavor, like hickory or oak.
Applewood is another great option, as it will give a slightly sweeter flavor to the smoked sausage.
Also, some pellet grills like Traeger and Pit Boss will have wood blends with different flavor profiles to choose from.
Some recipes to use smoked sausage in
You can use smoked sausage links in any recipe that calls for sausage, just adjust the recipe as needed since the sausage will be cooked.
Here are some options:
We hope you love this recipe as much as we do!
Don't forget to leave a quick star rating and review below, we read every comment and truly appreciate your feedback. Also, be sure to browse the rest of our smoker and grilling recipes to find some other favorites too!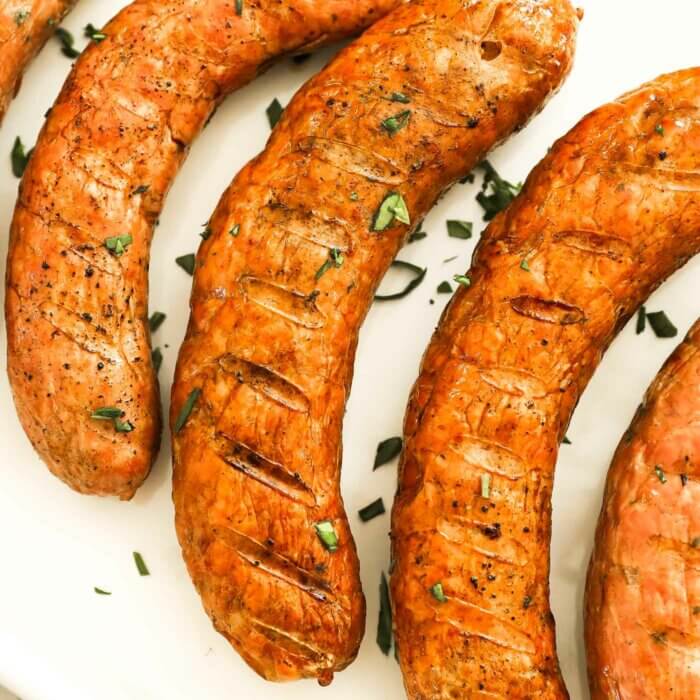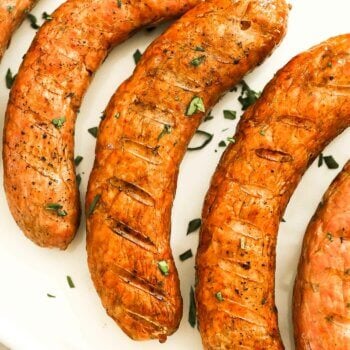 Get the Recipe:
Hassle-Free Smoked Sausage (Pellet Grill or Smoker)
Easy to make and incredibly flavorful, smoked sausage is one of the best things to make in the smoker or pellet grill. Grab your favorite uncooked sausage links and get ready to make the best-tasting sausage you've ever had!
Ingredients
2 lbs Uncooked sausage links, (or cook as much as you want)
Instructions
Remove sausages from the fridge and allow them to warm up while you prepare the smoker or grill.

Preheat smoker or pellet grill to 250° Fahrenheit.

Place sausages in the smoker, leaving space around each sausage link. Smoke for 1-1.5 hours, or until the internal temperature reaches 165° Fahrenheit.Note: Time will vary based on the smoker and the size of the sausages. Use the time provided above as a baseline and always cook to temperature.

Let the sausages rest for a few minutes before serving or store in an airtight container in the refrigerator for later.