5 reasons to love this easy smoker recipe
You'll get a tender and juicy smoked whole chicken with minimal effort!
It's smoked to perfection, and you also get that crispy chicken skin that everyone wants.
The perfect homemade chicken seasoning mix packs the flavor with salt + pepper, chili powder, garlic powder, and onion powder.
Carve it up fresh for dinner or use it for a healthy meal prep recipe.
It's better than any rotisserie chicken you can buy and almost as easy to make it yourself! Make it on a Traeger grill or any other wood or pellet smoker.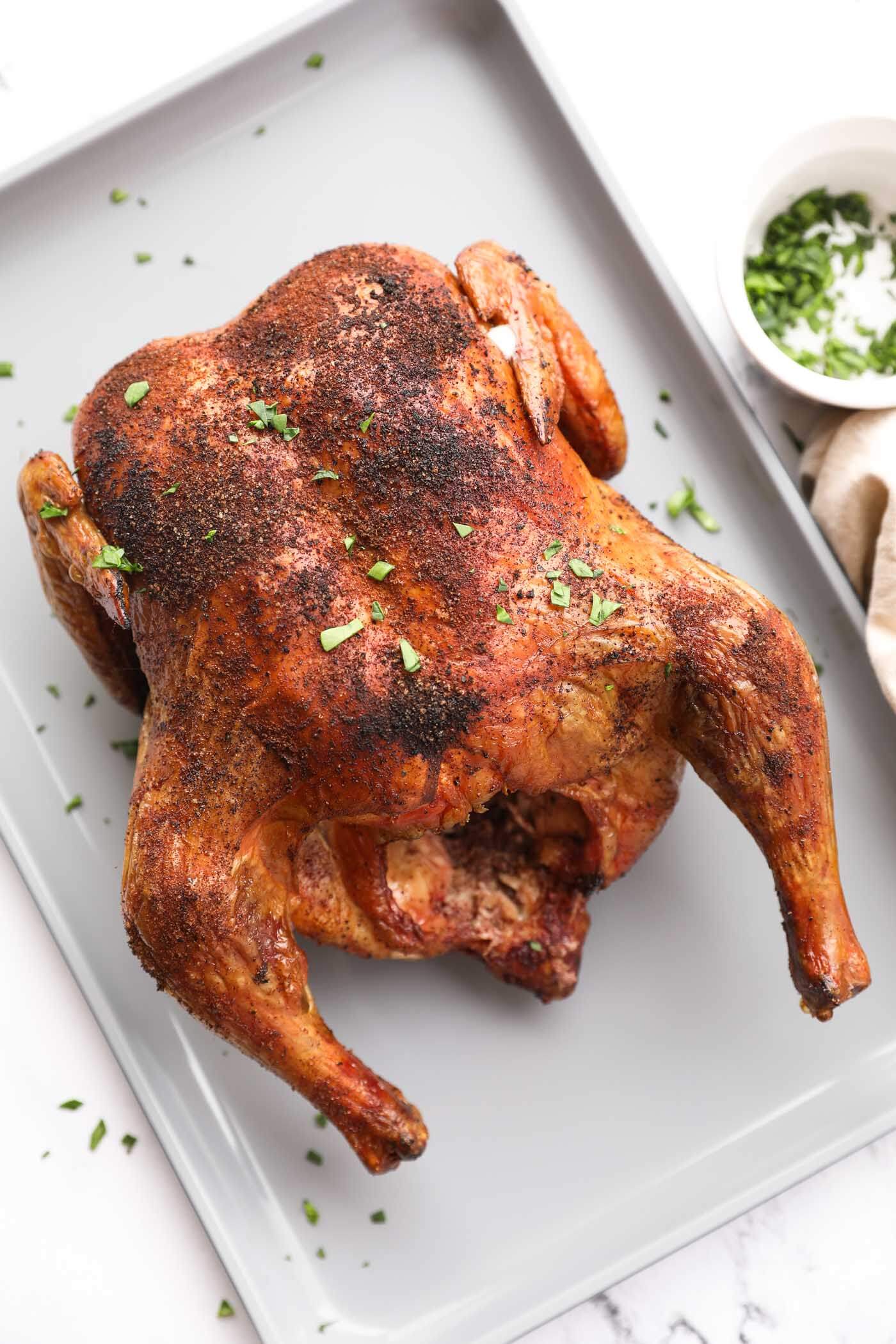 How to make a whole smoked chicken (step-by-step)
Just a few simple steps will give you a delicious smoked whole chicken with crispy skin. Here's how:
First, heat up your smoker or pellet grill to about 250° Fahrenheit. Then, get the chicken going by following the steps below.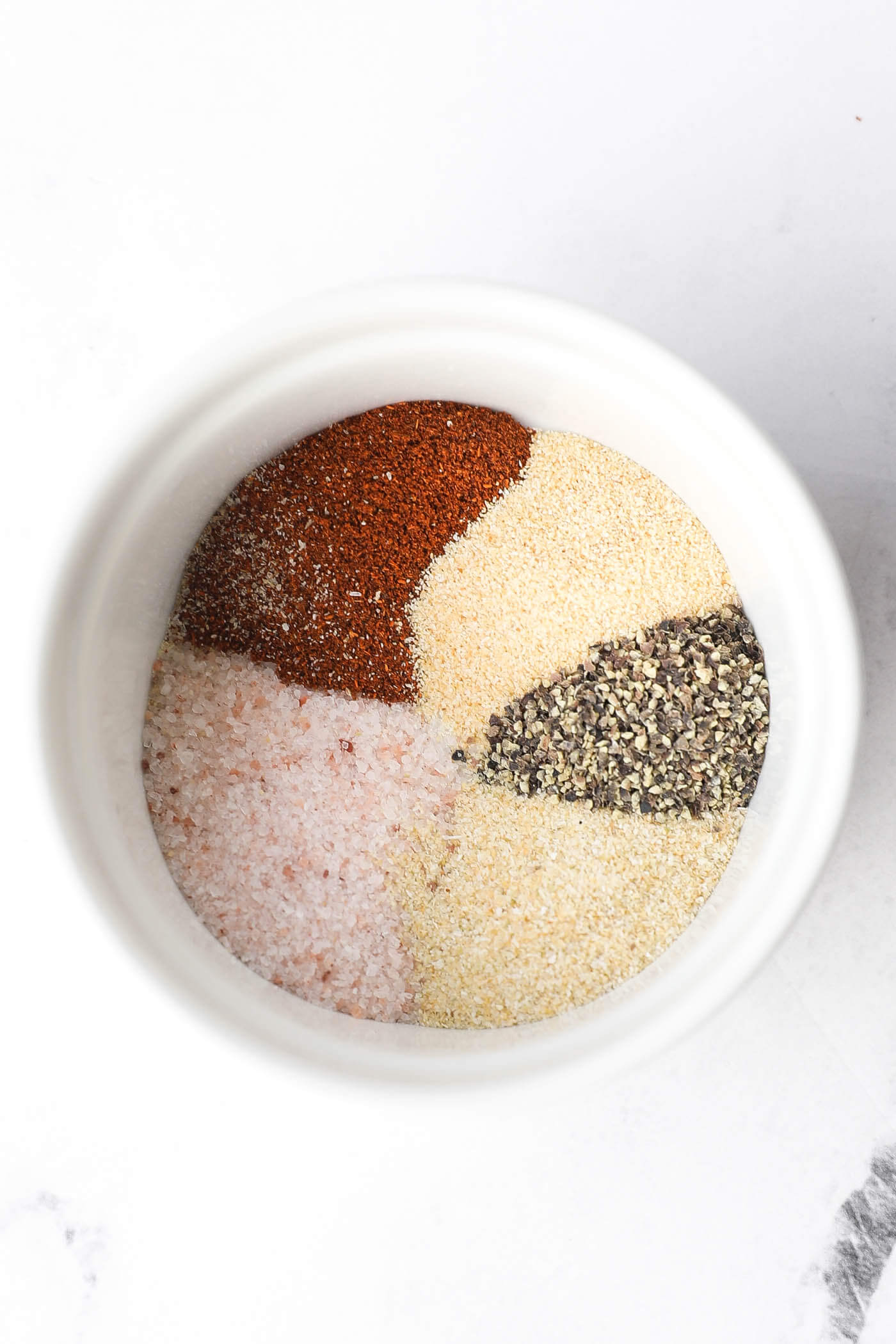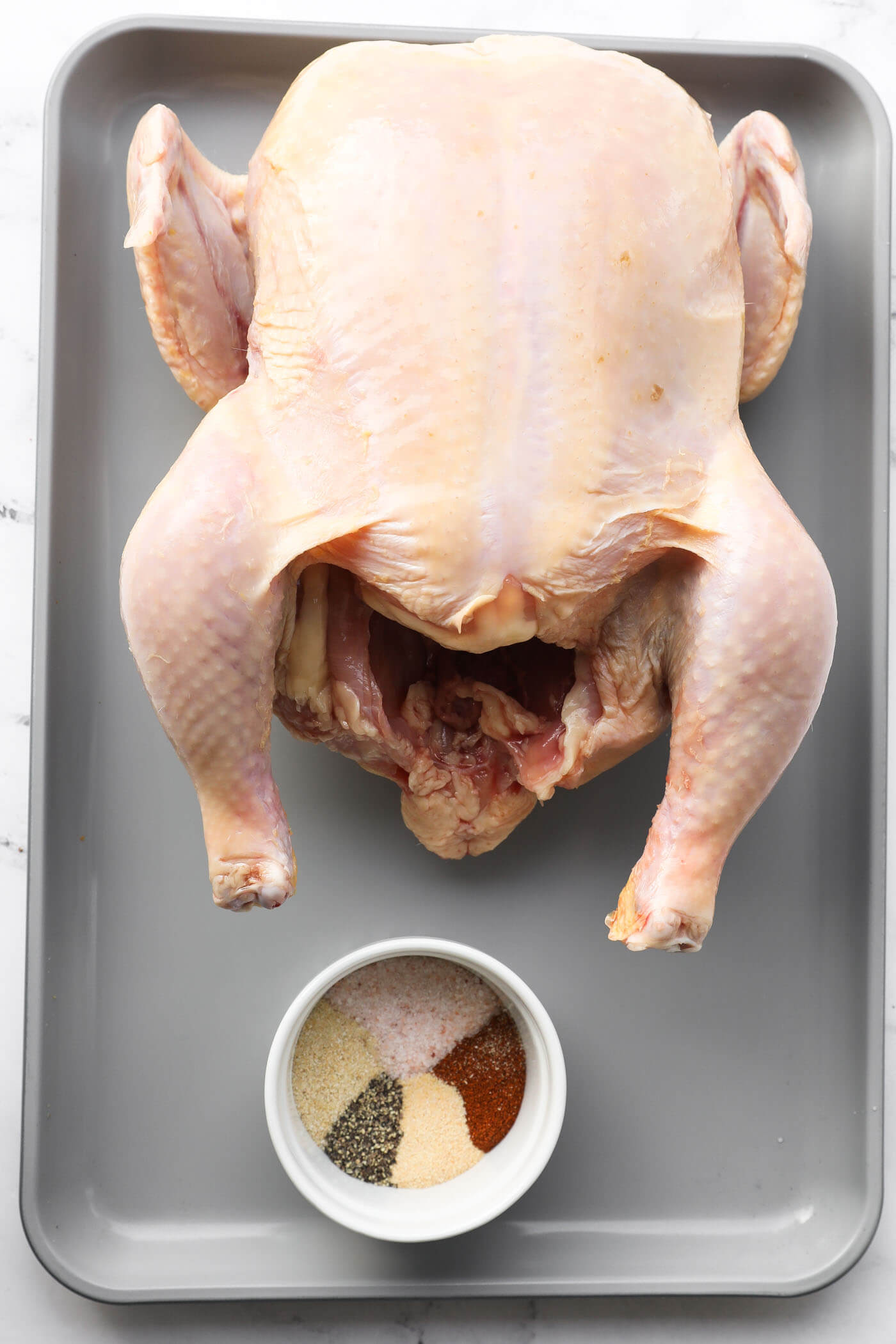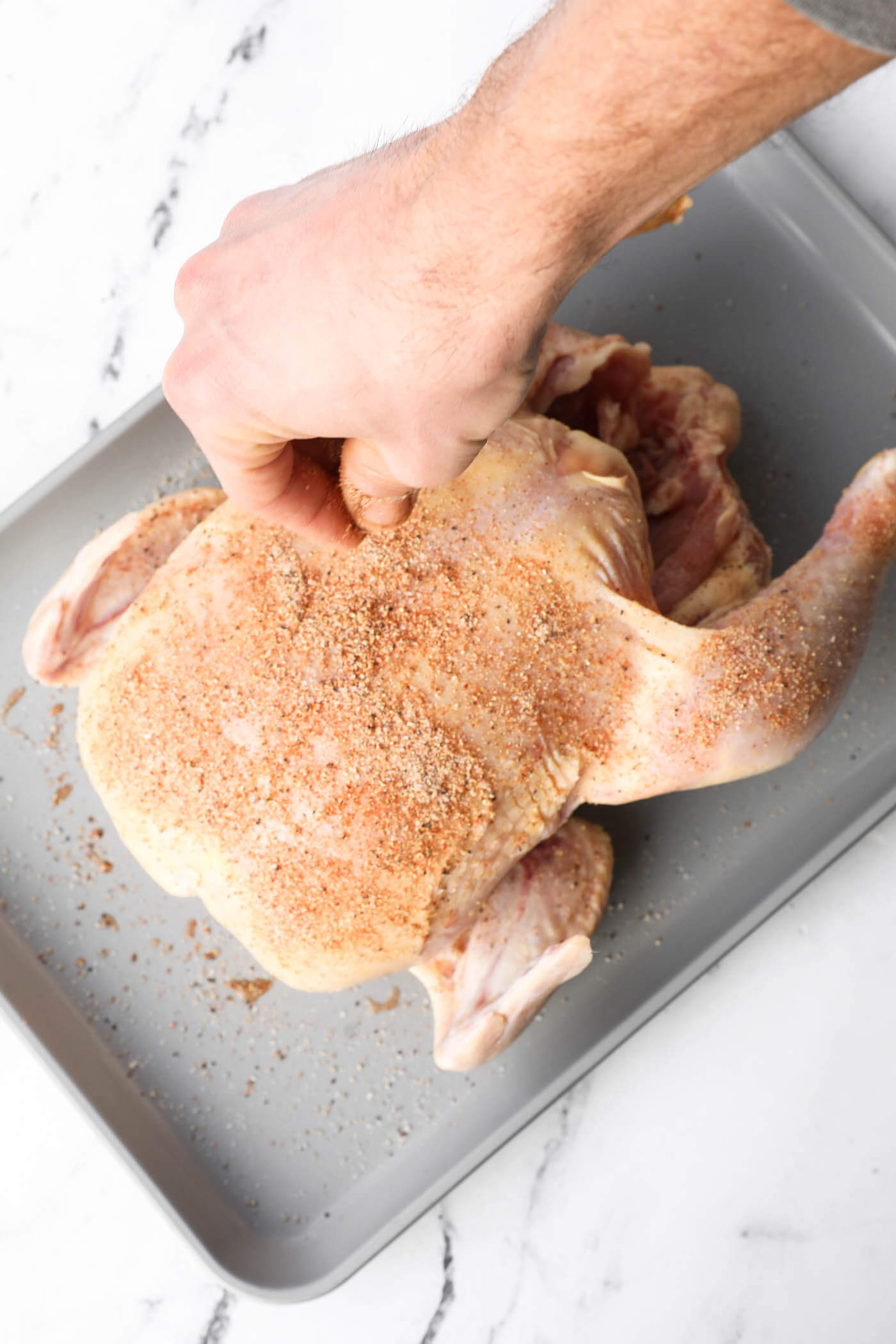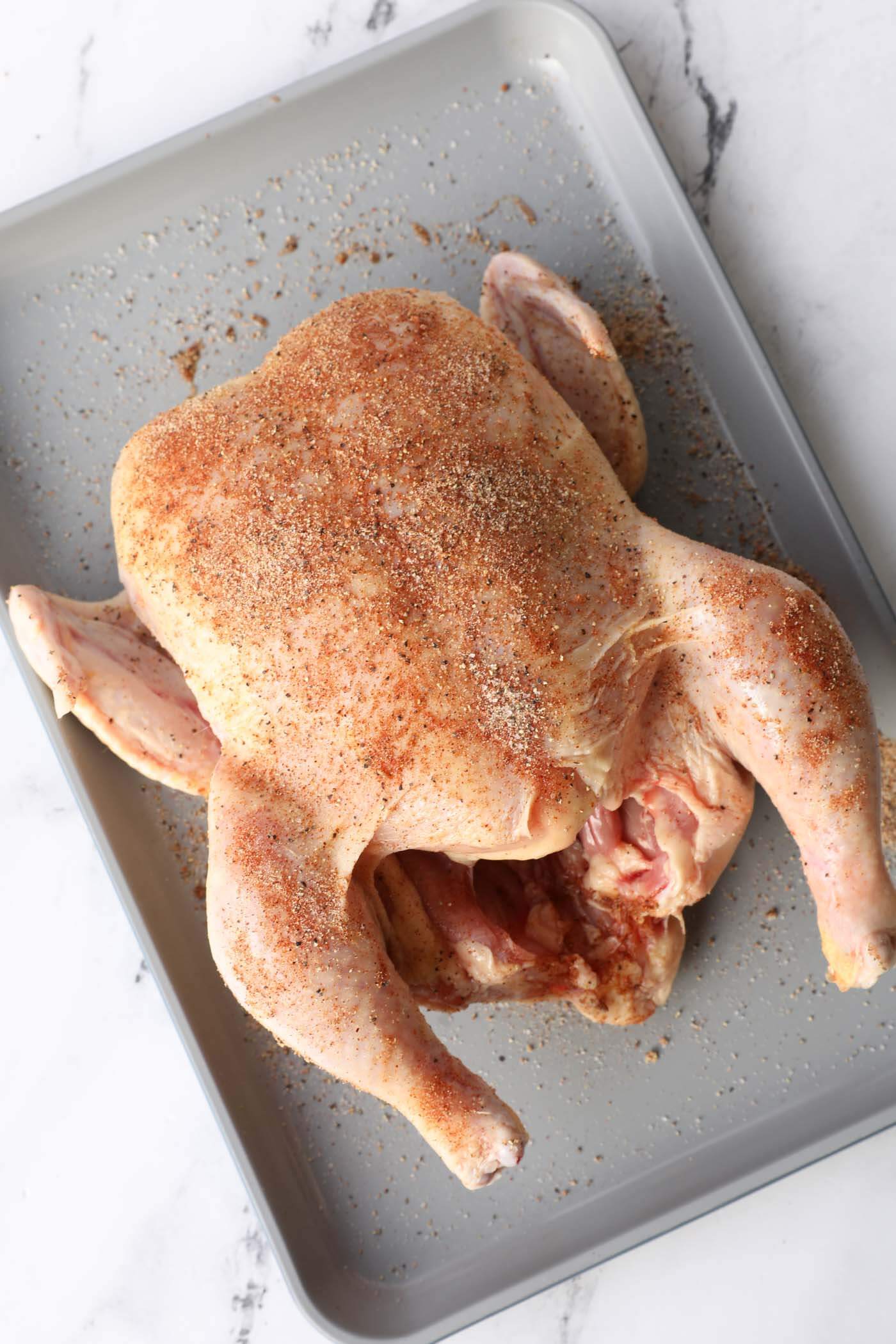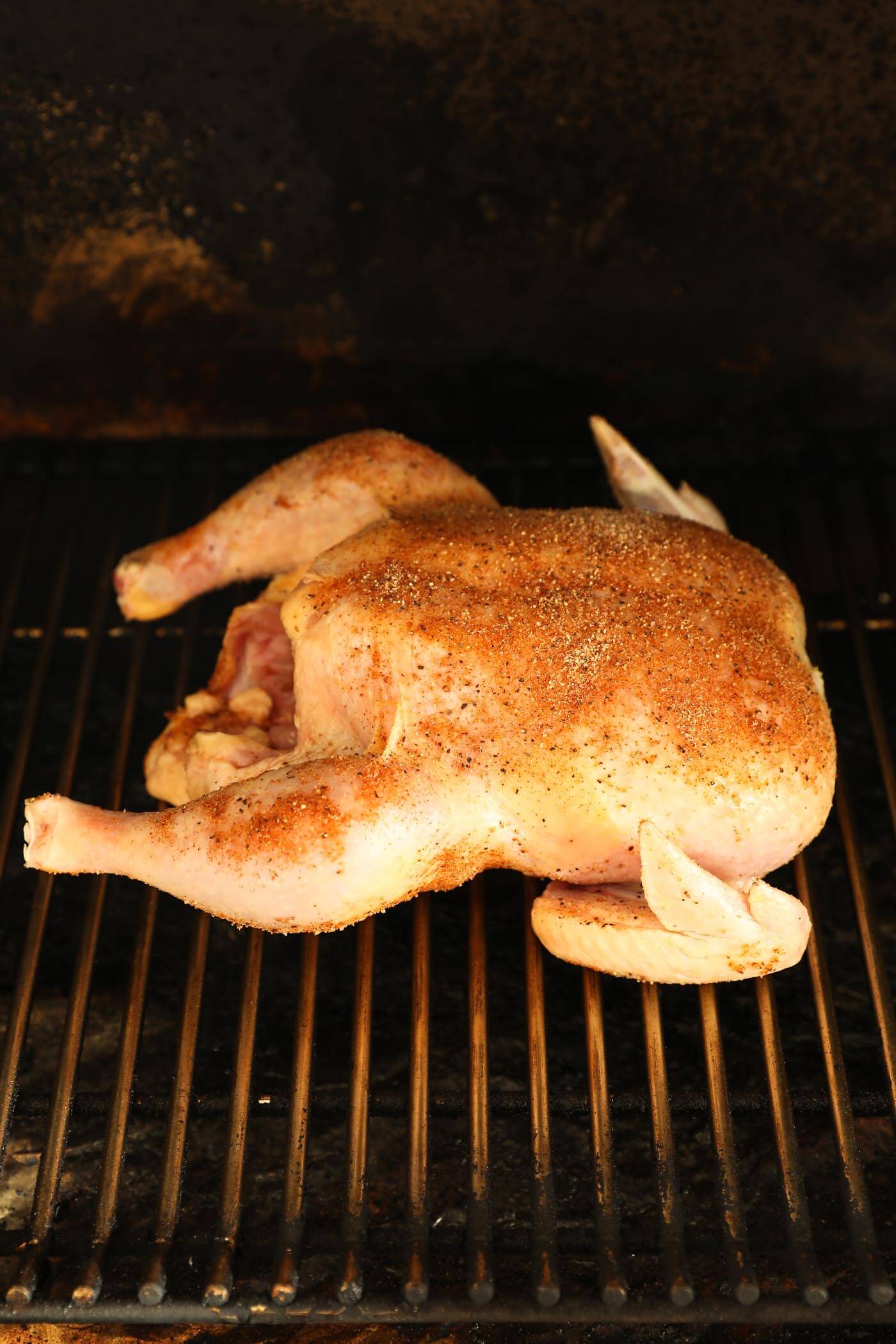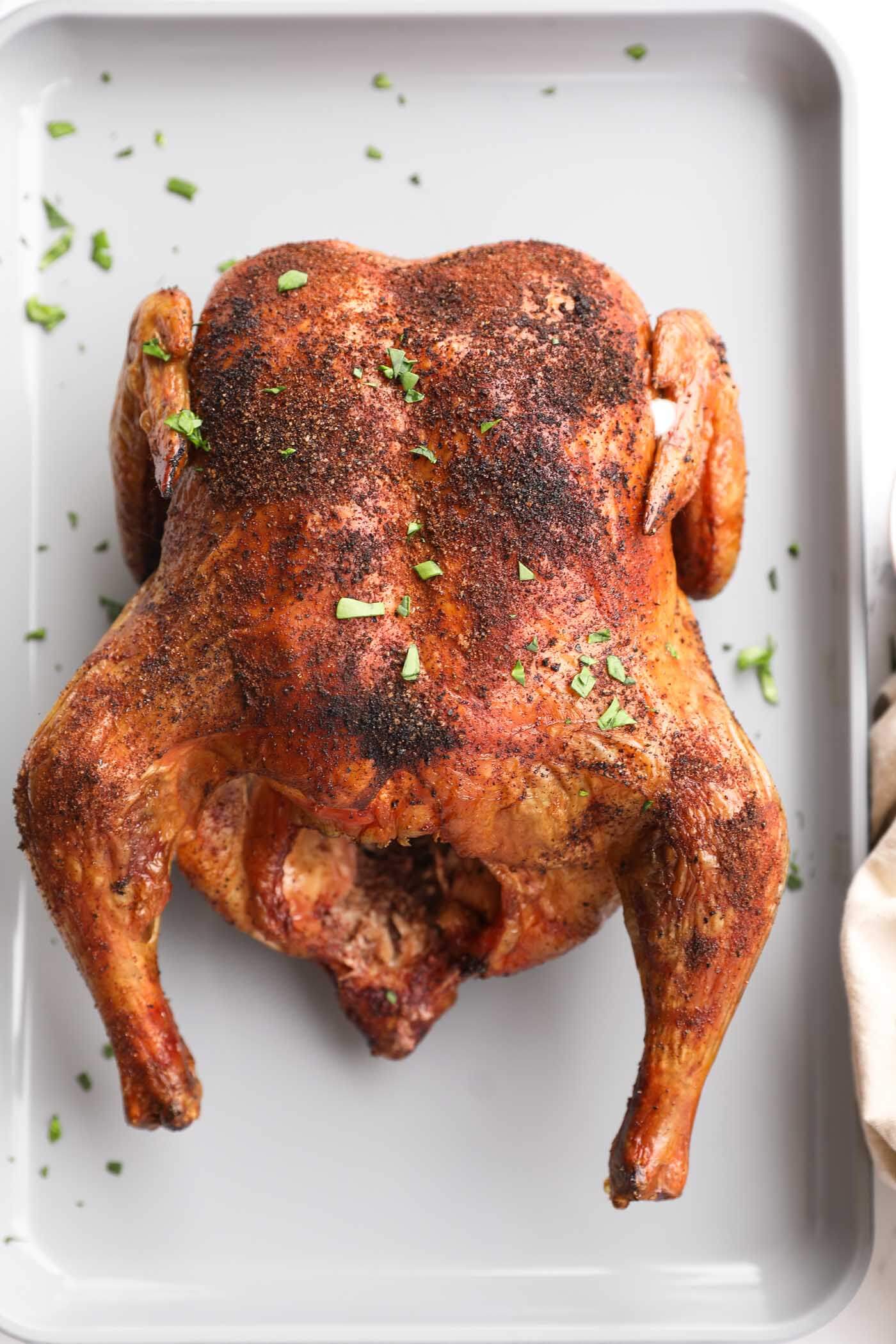 Tips for smoking a whole chicken on a pellet grill
Use an instant-read meat thermometer (or the probe on your Traeger) to ensure the thickest part of the breast reaches 160° before pulling it off. It will continue cooking to 165° while it rests.
If you like to use a BBQ sauce, try our easy sugar-free homemade BBQ sauce (or any sauce you have on hand). Just brush it on the chicken in the last 15-20 minutes of cooking.
You can cook the chicken directly on the grill grate. Another option is using a vertical chicken grilling stand. This can help get that golden-brown, crisp-skin rotisserie look. As a bonus, you can add some liquid to these stands to keep the chicken moist on the inside.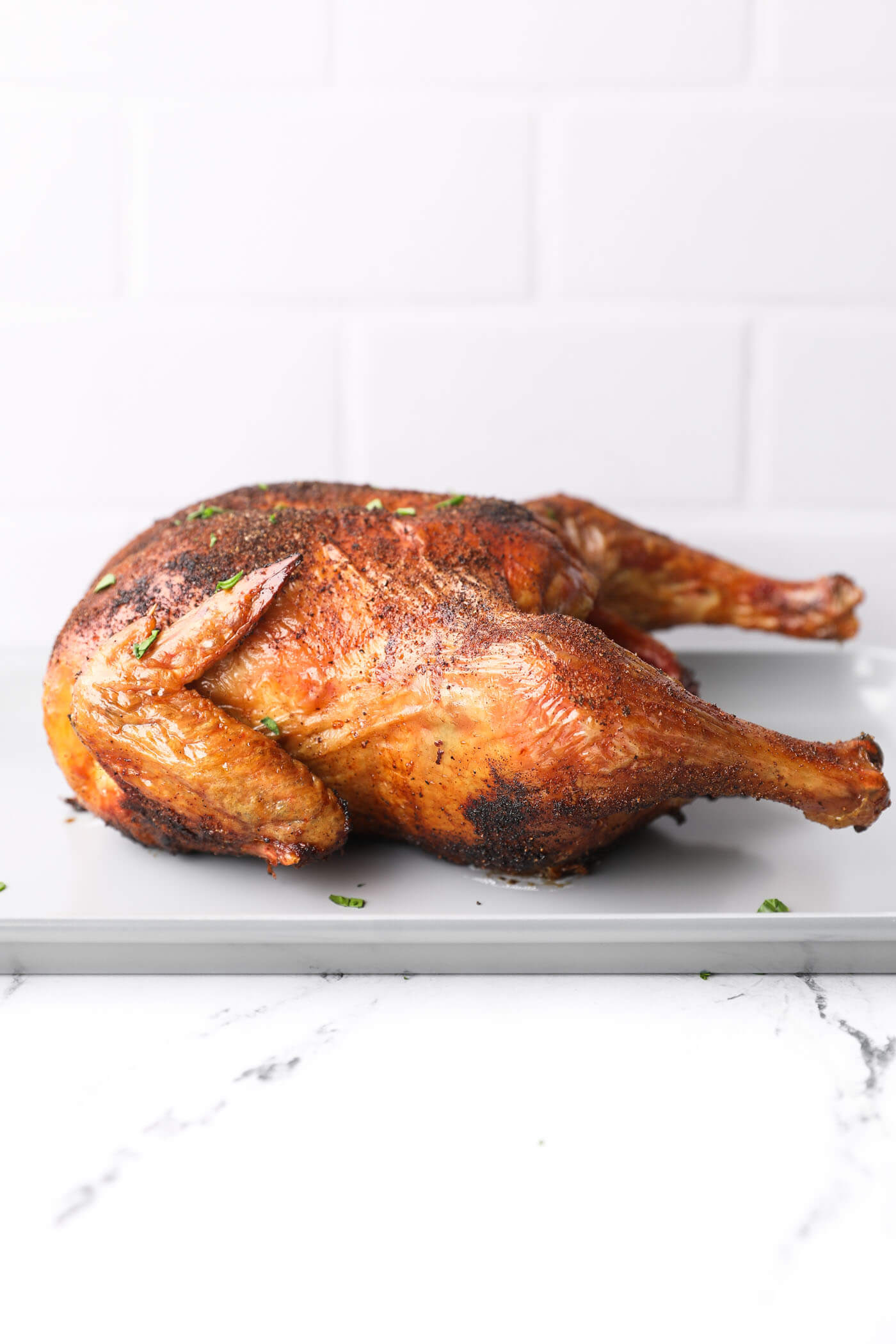 Common questions
How long does a whole chicken take to smoke? Following this recipe, it will take about 2 hours, or about 20-25 minutes per pound. Because this recipe is a hybrid of smoking and cooking at high heat, it's quicker than smoking it at 225° for the entire time, see below.
How long does it take to smoke a whole chicken at 225 degrees per pound? It will take approximately 35-45 minutes per pound to smoke a whole chicken at this temperature.
What is the best temperature to smoke a whole chicken? The best of both worlds is the hybrid method used in this recipe. You'll get smoked flavor fast – with crispy skin. Alternatively, many people smoke chicken at 225° or 250° until fully cooked.
Why did my whole chicken cook faster or slower than noted? Smoking a whole chicken involves many variables. These include the size of your chicken, the consistency of heat, and even the outdoor temperature. Always check the chicken with an instant-read thermometer and cook to temperature, not time.
Related smoker recipes to try
We hope you love this recipe as much as we do!
Don't forget to leave a quick star rating and review below, we read every comment and truly appreciate your feedback. Also, be sure to browse the rest of our delicious, healthy grilling recipes to find some other favorites too!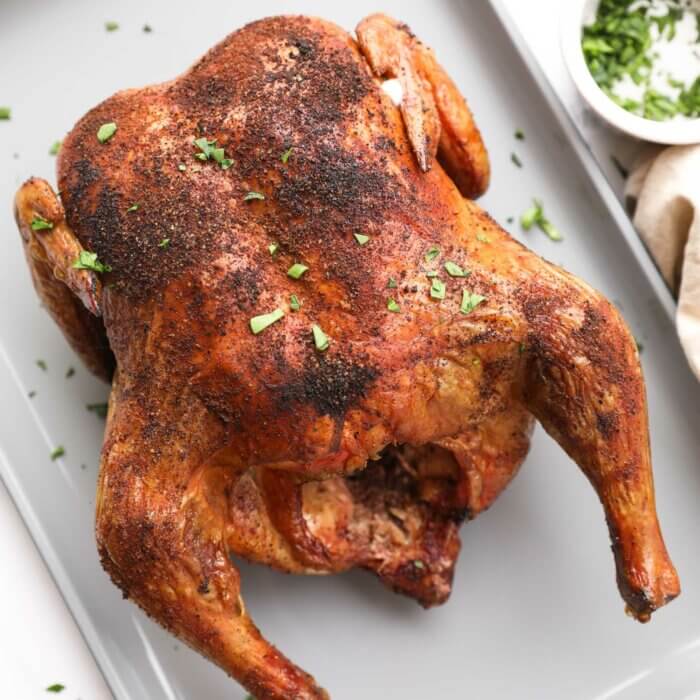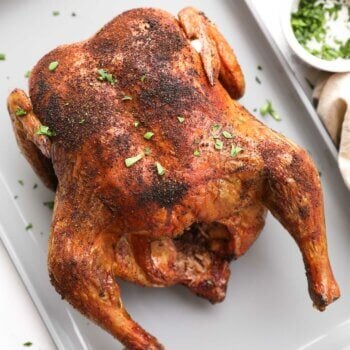 Get the Recipe:
Juicy Smoked Whole Chicken (With Crispy Skin!)
Delicious smoked whole chicken fast! Use this hybrid method of smoking a chicken for one hour and then increasing the heat to get that perfect crispy skin. The recipe includes a delicious homemade chicken seasoning or use any BBQ sauce you want.
Ingredients
For the seasoning:
2 tsp sea salt
1 tsp pepper
1 tsp chili powder
1 tsp garlic powder
1 tsp onion powder
Instructions
Preheat your smoker to 250° Fahrenheit.

Prepare the seasoning mix by adding all of the ingredients to a small bowl or ramekin and mixing well.

Take the whole chicken out of any packaging, remove any giblets from the cavity, and place the chicken on a large plate or pan. Rub the seasoning mix all over the chicken.

Transfer chicken to the smoker and smoke for one hour at 250° Fahrenheit.

Once the hour is up, increase the grill/smoker temperature to high heat, approximately (400°-450°Fahrenheit).

From the time you increase the smoker heat, cook for an additional 45-65 minutes, or until the internal temperature reaches 160° Fahrenheit in the thickest part of the breast.

Remove the chicken from the smoker and let it rest for 15 minutes before cutting and serving. The internal temperature will continue to rise to 165° Fahrenheit while resting.
Notes
Nutrition amounts provided are per serving and an estimate provided for those following a Ketogenic or low-carb diet. See our full nutrition information disclosure here. 
Calories: 395kcal, Carbohydrates: 1g, Protein: 34g, Fat: 27g, Saturated Fat: 8g, Fiber: 0.3g