Spaghetti pizza casserole! Yep this Paleo + Whole30 casserole is about to be a new family favorite! It's easy and perfect for your weekend meal prep. The family will enjoy this hearty and flavorful casserole, and nobody will even miss the actual pasta or cheese!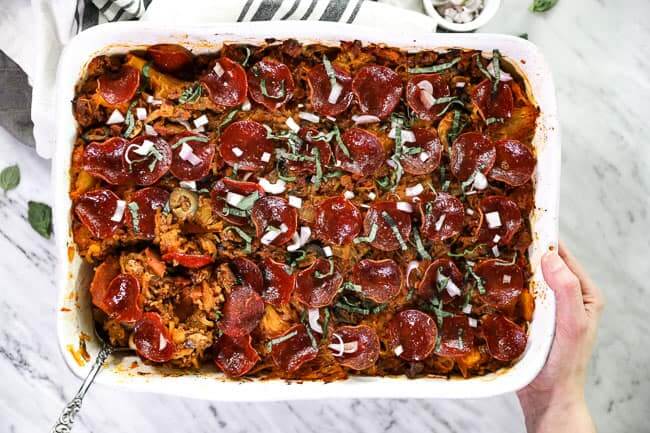 Spaghetti Squash
We love swapping spaghetti squash for pasta in recipes, and especially in this spaghetti pizza casserole! It's a grain-free, lower carb option and really and truly tastes wonderful. The main challenge with spaghetti squash is cutting it in half to roast. So, if you question your knife skills, you can either cook it whole (just takes longer) and then cut it once softer. Or, another option is to have someone working in the produce section of your grocery store cut it for you! It's an easy fix.
Meal Plan + Prep
When we make this spaghetti pizza casserole, we like to make it on Sunday for dinner. It's a great way to end the weekend and does double duty as some meal prep! You will have a casserole in the fridge to eat for leftover lunches or dinner during the busy work week. And you will look forward to the leftovers because they're so dang good!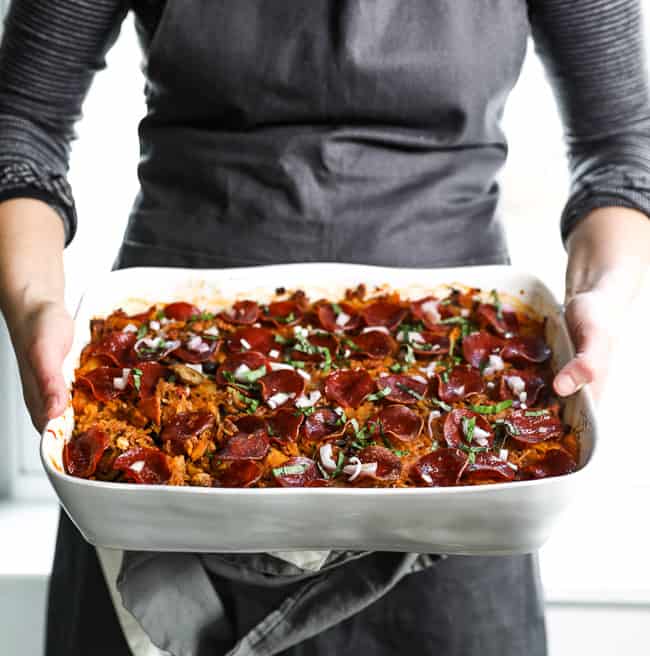 Pepperoni Options
It's true – finding a Whole30 compliant pepperoni is not super easy. So…double check the ingredients and consider making friends with a local butcher who you can work with to have it made without the added sugar or dextrose. Also, you could also try using a compliant sausage instead of pepperoni – like Pederson's Farms Kielbasa or Teton Waters Ranch Polish Kielbasa. Slice it up real thin and use it like a pepperoni.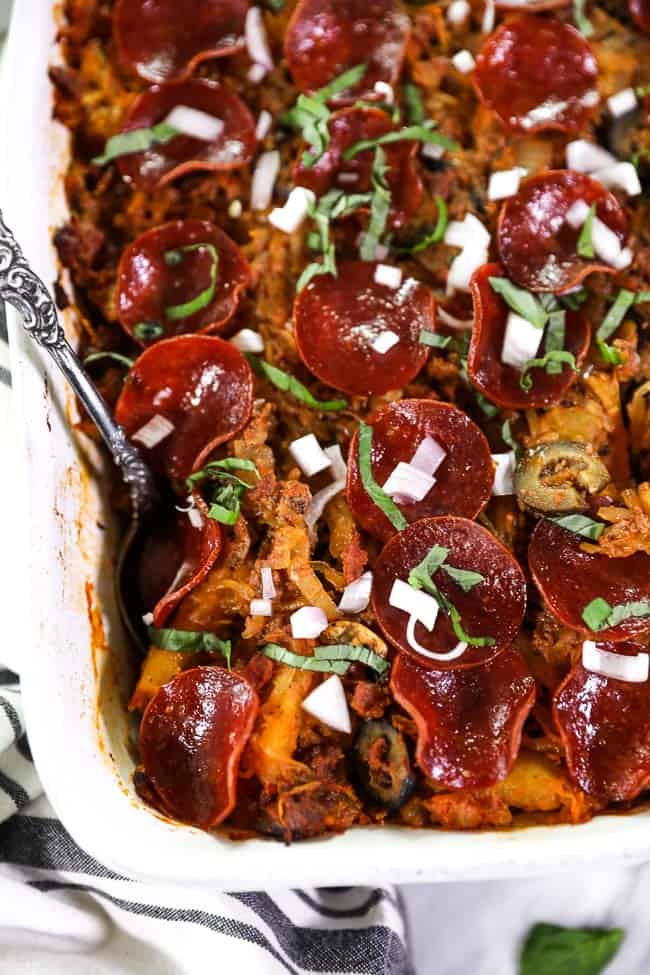 Some Other Casseroles To Try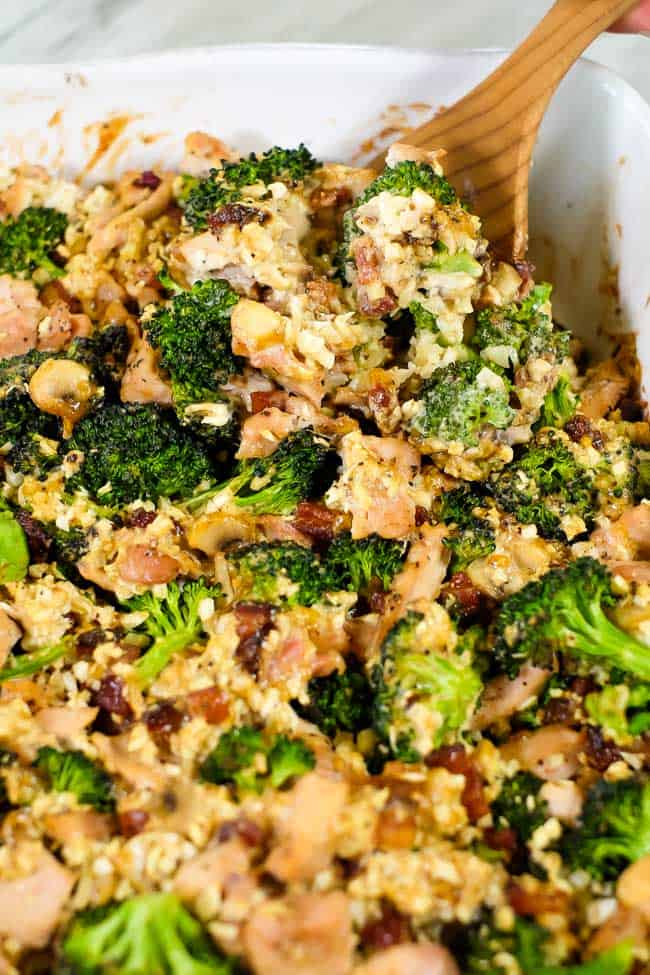 Your Turn To Try Our Spaghetti Pizza Casserole
Meal prepping or just in the mood for comfort food? Make this spaghetti pizza casserole! It's hearty, full or flavor and family-friendly! Leave a comment below and let us know how it goes. Also, snap a photo and share on Instagram. Tag us @realsimplegood, and give us a follow if you don't already! We'd love to stay connected!
Like this Recipe?
SHARE IT NOW OR PIN IT FOR LATER!
---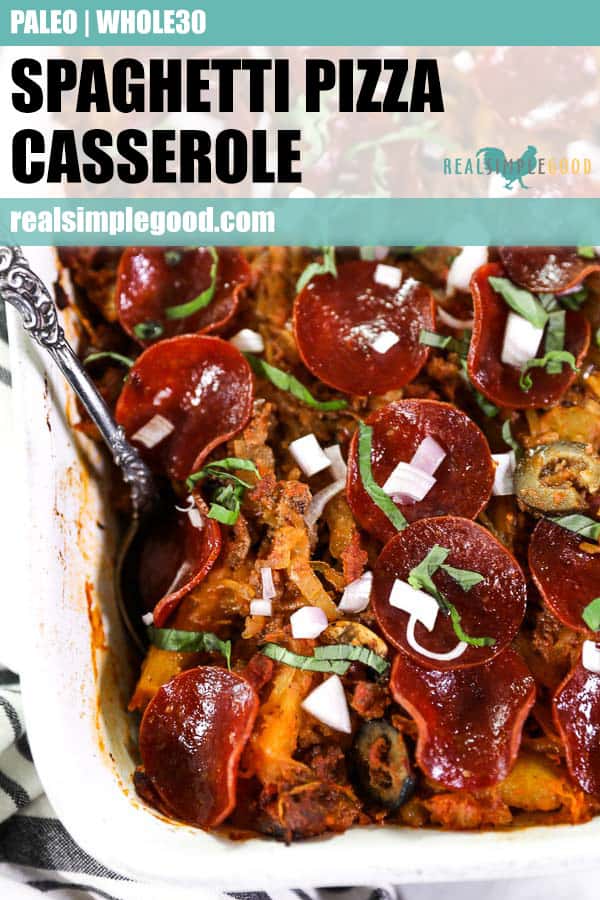 ---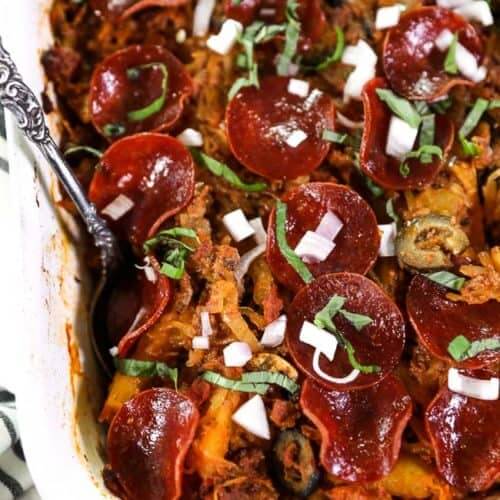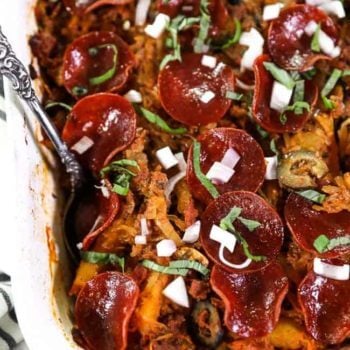 Get the Recipe:
Spaghetti Pizza Casserole (Paleo + Whole30)
This Paleo + Whole30 Spaghetti Pizza Casserole is about to be a new family favorite! It's perfect for your weekend meal prep, and the whole family will enjoy this hearty and flavorful casserole!
Ingredients
1.5 lbs ground beef, (can sub Italian Sausage)
1 tbsp Italian seasoning, (omit if you are using Italian Sausage)
1 onion, diced
6 cloves garlic, minced
2 cups mushrooms, sliced
10 leaves fresh basil, diced
1 can olives, diced, (15 oz)
1 jar spaghetti sauce, (25 oz)
2 eggs, (optional, if you omit the casserole just won't "set" much like a traditional casserole)
5 oz pepperoni slices
Optional toppings:
Chopped red onion
Chopped basil
Instructions
Preheat oven to 425° Fahrenheit.

Slice the spaghetti squash lengthwise and scoop out the seeds. Place the two halves face-down on a baking dish and place in the oven to bake for 25 minutes, or until the squash shreds easily but is not mushy.

While the squash is cooking, chop all of your other ingredients as noted and set aside.

Heat a large skillet over medium heat. Once hot, and add in the ground beef and onion. Cook, stirring occasionally, until the beef is browned. Season with Italian seasoning and mix. Taste and season with salt and pepper as desired and remove from heat.

Once cooked, remove the squash from the oven and lower the oven temperature down to 350° Fahrenheit. Allow the squash to cool for handling, about 5 minutes.

With a fork, scrape out the spaghetti squash "noodles" into a large bowl.

Add the cooked beef, garlic, mushrooms, basil, olives, spaghetti sauce and eggs (optional) to the bowl. Stir everything around to mix it well.

Dump 1/2 of the spaghetti squash mixture into a 9×13 casserole dish. Spread it around to make an even layer on the bottom of the dish. Top with a layer of 1/2 of the pepperoni.

Add on the other half of the spaghetti squash mixture and spread it around again to create an even layer. Top with a layer of the remaining pepperoni.

Place in the oven to cook for 30 minutes.

Remove and top with optional toppings as desired. Allow to cool for a few minutes, slice into pieces and serve.