It's a good day folks! We've got a new healthy comfort food recipe for you guys with this Paleo, Whole30 + Low Carb spaghetti squash carbonara, and you're going to love it! It's dairy-free, creamy and has bacon in it. So, basically it checks all the boxes and makes a great meal prep recipe, too! You'll really look forward to the lunch leftovers!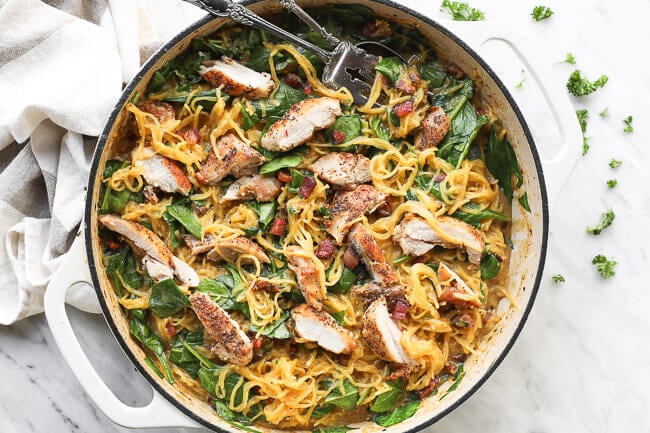 What is carbonara
Carbonara is traditionally an Italian pasta dish made with noodles, pancetta and a sauce made with egg, cheese and heavy cream. It's typically a quick and easy dish to whip up and one that just feels like comfort food. We played with this traditional idea a bit to come up with a Paleo-fied version.
How to make carbonara Paleo
Here's how we modified this traditional dish to make it Paleo and even Whole30 friendly! It's also low carb…although not quite low carb enough to call it Keto for you die hards out there, but scroll down a little further in the post and we give you some tips for cutting extra carbs if needed. But first…how we get to a Paleo version.
Spaghetti Squash – we ditched the pasta noodles for spaghetti squash to get a little extra veggie goodness in the dish. And if you cook it just right, so the squash is more al dente, you will love the texture and feel like you're actually enjoying pasta!
Almond Milk – we opted for using almond milk over heavy cream, and you could also use full fat coconut milk as well. Either way it comes out creamy and delish, but is dairy-free.
Optional Cheese – if you're eating Keto, or just don't adhere to a strict Paleo or Whole30 diet, you can use the cheese. Otherwise, it's just optional and you can skip it all together. This spaghetti squash carbonara turns out great either way!
Chicken and Greens – and because we love adding in extra real foods, we spiced up the traditional take on carbonara by adding some chicken and spinach to the dish.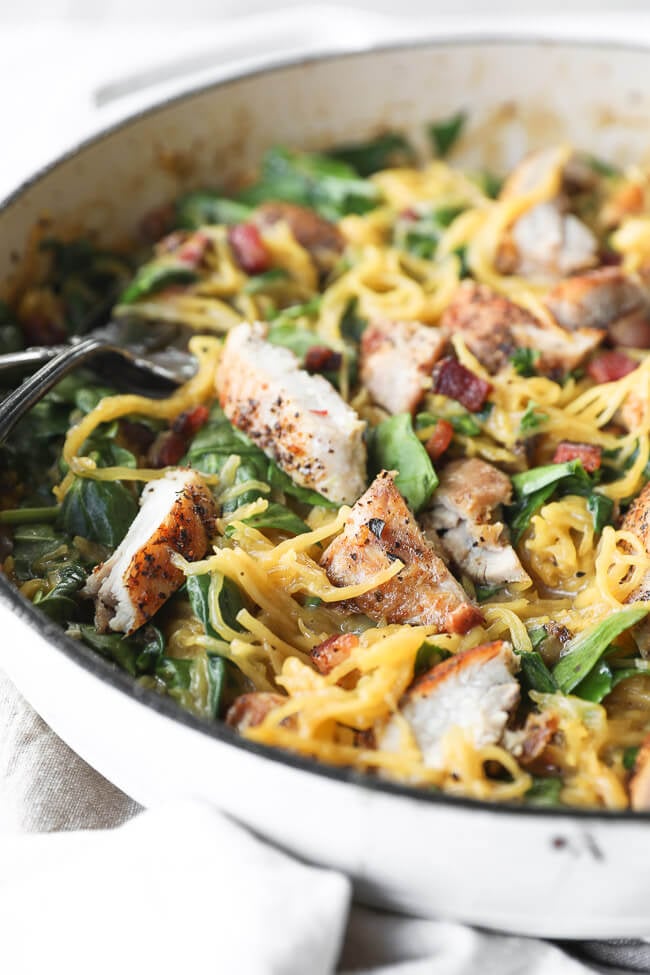 Tips for making this recipe Keto
As is, this spaghetti squash carbonara gets close to being 10 or less net carbs per serving, so we've labeled it as Low Carb versus Keto. But…if you're really aiming for a Keto version, here are some tips for cutting those last few net carbs.
Omit the arrowroot starch – if you omit it all together this will take you into Keto territory. However, note that the sauce will not get so creamy. It will be a runnier sauce, more like extra flavorful creamy, broth.
Omit half the arrowroot starch – you can half the arrowroot starch to cut some carbs and still get some of the extra creaminess. Best of both worlds perhaps.
Omit the spinach – lastly, you could omit the spinach to decrease the net carbs as well. We find eating greens is worth the net carbs, but you do you to get to your own personal goals!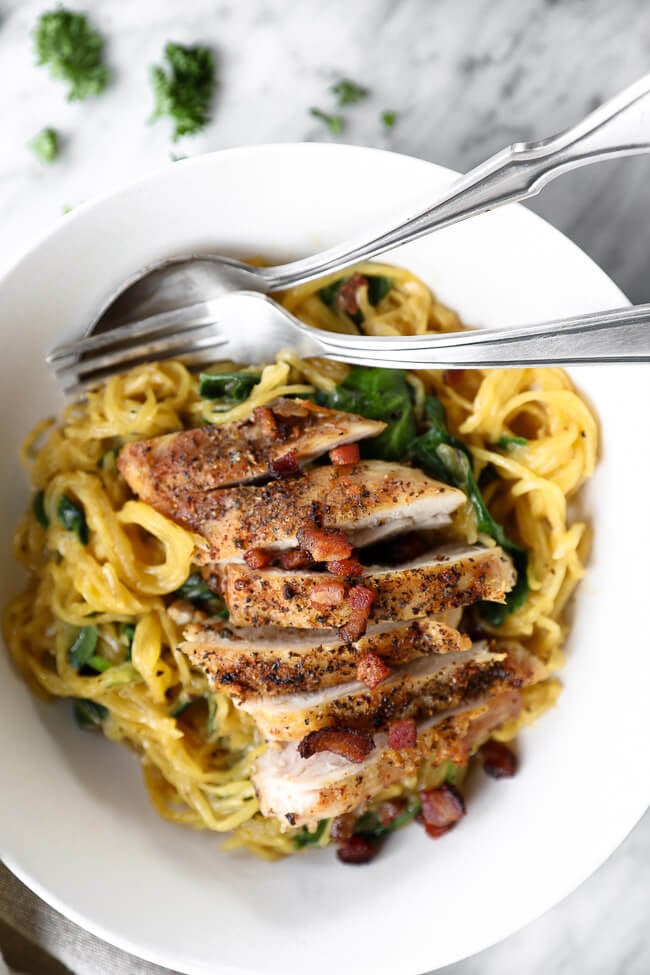 More healthy comfort food to try
Try out this spaghetti squash carbonara
We love to make this spaghetti squash carbonara on Sunday for dinner and then enjoy the leftovers for lunches during the work week! It's great for feeding a crowd or family or perfect for meal prep. Leave a comment below to let us know how it goes. Also, take a pic to share on social media, and tag us @realsimplegood so we can check it out! We LOVE seeing what you guys are cooking up! And if you don't already, make sure to give us a follow – let's stay connected!
---
---
Like this Recipe?
SHARE IT NOW OR PIN IT FOR LATER!
---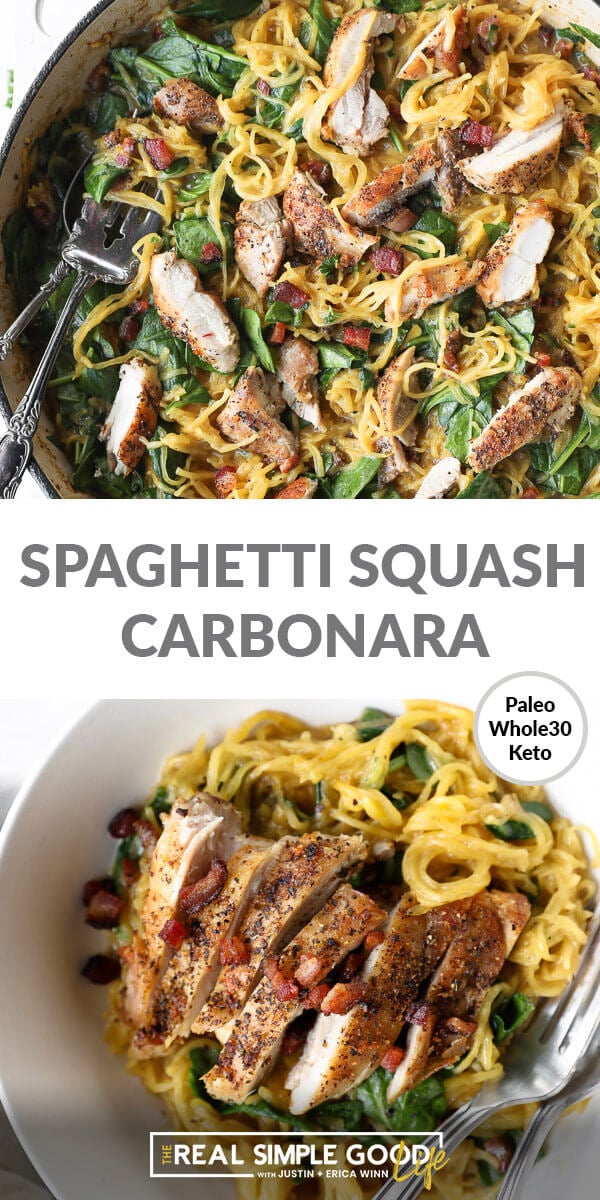 ---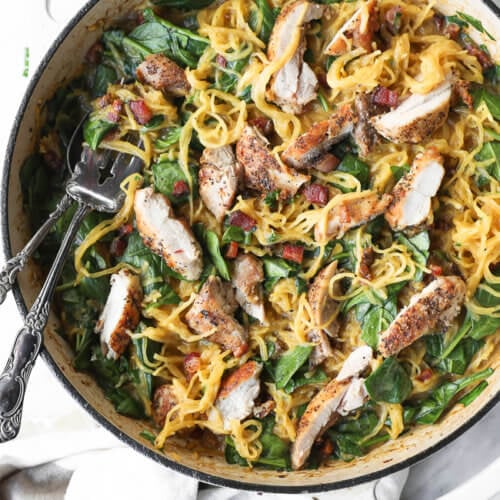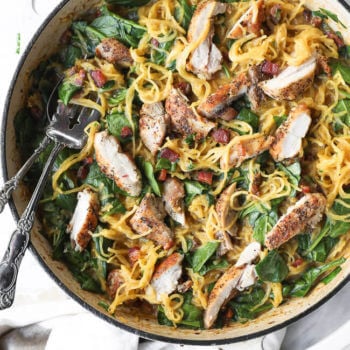 Get the Recipe:
Spaghetti Squash Carbonara (Paleo, Whole30 + Low Carb)
This Paleo, Whole30 + Low Carb spaghetti squash carbonara is dairy-free, creamy and has bacon in it! It checks all the boxes and is great for meal prep!
Ingredients
1 medium spaghetti squash, sliced in half lengthwise and seeds removed
8 pieces bacon, chopped into small pieces
1.5 lbs boneless skinless chicken thighs
1 tbsp Italian seasoning
Sea salt and pepper, (about 1/2 tsp each)
1 cup almond milk, (or full fat coconut milk)
1/2 cup chicken broth
2 tbsp arrowroot starch
1/2 tsp garlic powder, (or sub 1 tbsp garlic oil)
1/2 tsp sea salt
4 cups spinach, chopped
1/2 cup pecorino romano or parmesan cheese, (optional – omit for Whole30 and strict Paleo)
Fresh parsley, chopped
Instructions
Preheat oven to 400° Fahrenheit and line a baking sheet with parchment paper.

Slice spaghetti squash in half lengthwise, scoop out the seeds and place open side down on the lined baking sheet. Place in the oven to bake for about 30 minutes. Once done, remove from the oven and set aside to cool enough to handle.

While the spaghetti squash cooks, chop and place bacon in a large skillet over medium heat. Cook until it just starts to get crispy. Remove and set aside on a paper towel lined plate and reserve bacon grease in the pan.

In the same pan, add chicken thighs to the pan and season with half the Italian seasoning, salt and pepper. Cook for about 6 minutes, until the bottom gets golden brown and then flip. Season with the rest of the Italian seasoning, salt and pepper and cook for another 6 or so minutes, or until chicken is fully cooked. Remove and set on a cutting board. Turn heat off and leave skillet as is. Cut the chicken into thin strips.

Combine almond milk, chicken broth, sea salt garlic powder and arrowroot starch in a bowl and whisk to combine. Set aside.

Once spaghetti squash is done and has cooled just enough to handle, scoop the flesh out with a fork onto the sheet pan you cooked it on. Discard the shells.

Turn the heat on the pan you cooked the chicken in to low. Stir the almond milk mixture again to dissolve the arrowroot starch. Add the sauce mixture to the pan. Increase heat if needed to bring the sauce to a low simmer. Stirring frequently, simmer sauce for 3-4 minutes, or until it thickens.

Add the spaghetti squash noodles to the pan and mix to coat with the sauce. Add spinach to the skillet and mix in. Simmer for 2-3 minutes, until spinach wilts. Add bacon and chicken back to pan. Mix ingredients.

Serve and top with cheese (optional) and chopped parsley. Enjoy!
Notes
Nutrition facts are an estimate provided for those following a Ketogenic or low-carb diet and do not include the topping/serving items for this recipe. See our full nutrition information disclosure here. 
Calories: 330kcal, Carbohydrates: 15g, Protein: 27g, Fat: 18g, Saturated Fat: 5g, Fiber: 3g