The star of these steak fajita bowls is the flavorful marinade on the steak . It takes a little advance planning to mix up and set in but it is worth it. The perfect ratio of ingredients turns it into a paste that clings to every strip of steak. Add in some fresh garlic, onions, and bell peppers on top of some flavorful cauliflower rice and these easy to make bowls can be enjoyed by the whole family. Serve these up sizzling hot, with fresh avocado and cilantro to top them off.
All you have to do is prepare the marinade in advance to give your steak strips a good flavoring before you cook them.
Once everything is ready, just whip up the rice and sauté your steak strips with garlic, onions and some colorful bell peppers.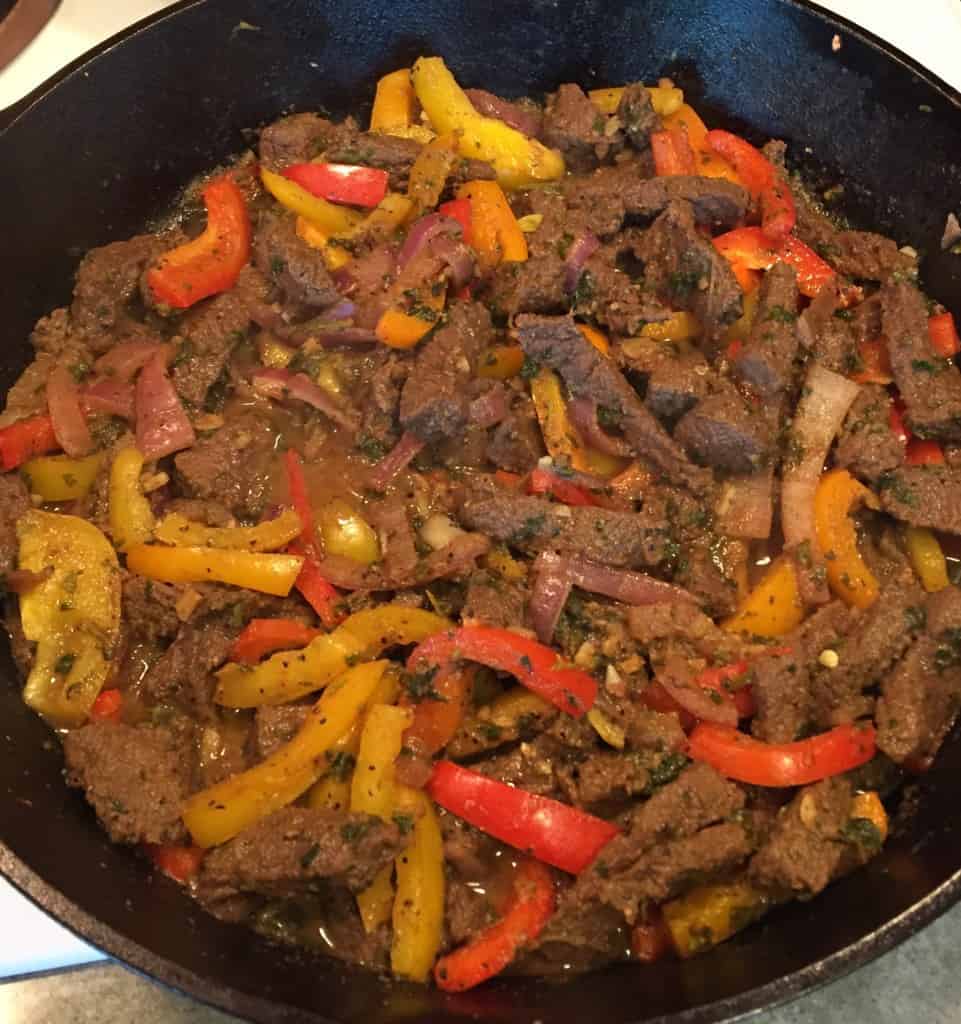 Serve the sizzling steak on top of cauliflower rice for a complete meal in a bowl. The rice and the fajitas take about the same amount of time to cook, so this is an ideal dish to prepare as a couple with each person preparing one piece of the dish.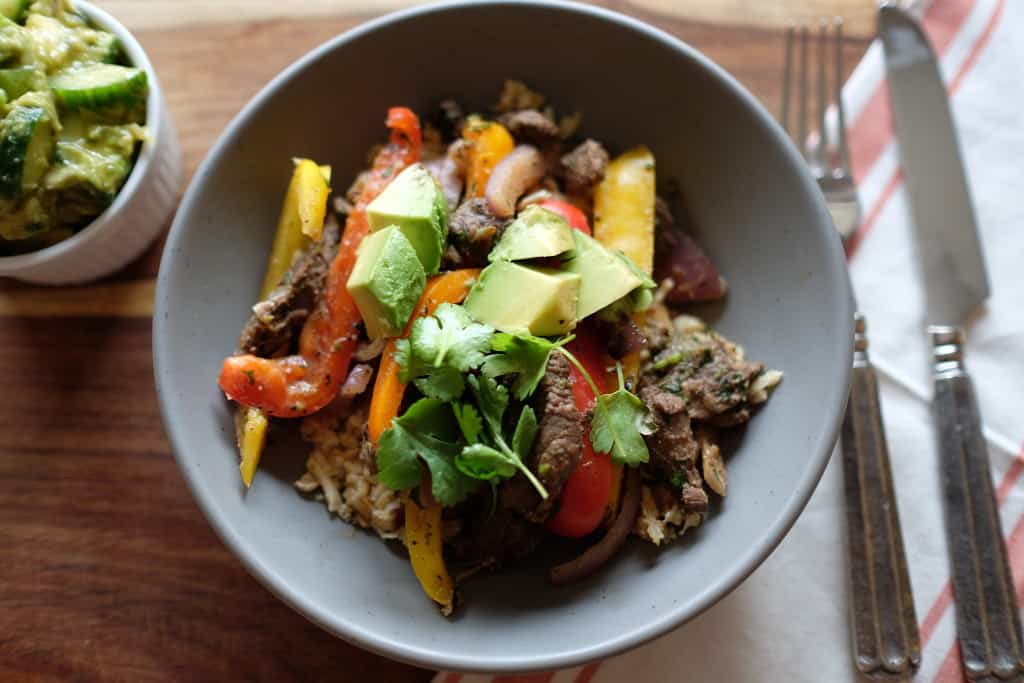 Eat up!
---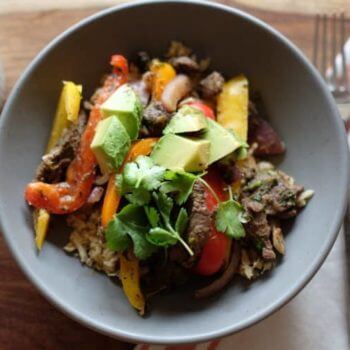 Get the Recipe:
Steak Fajita Bowls
These Paleo steak fajita bowls are so much fun! Served over cauliflower rice, the delicious marinated steak and bell peppers are so EASY to make!
Ingredients
For the marinade:
1/2 cup coconut aminos
2 limes, juice of
1/2 cup cilantro, chopped
1 tbsp cumin
1 tbsp garlic powder
1 tbsp chili powder
1 tbsp ground pepper
For the fajitas:
1-1/2 lb skirt or flank steak, sliced into thin strips
1/2 red onion, chopped
4 cloves garlic, minced
2 bell peppers, sliced into thin strips
1 tbsp avocado oil
For the rice:
1 tbsp avocado oil
5 cups cauliflower, riced, (about 1 medium cauliflower)
1 tbsp cumin
1 tbsp onion powder
1 tbsp garlic powder
1 tsp chili powder
Salt and pepper
For toppings:
1 avocado, sliced
1/4 cup cilantro, chopped
Instructions
You will need to marinate the steak for at least an hour before cooking. Prepare your marinade by mixing all of the ingredients together in a bowl or ziploc bag (it will form almost a paste, that is exactly what you want).

Slice up your steak into strips and cover with the marinade. Mix well so that all of the strips are covered with the paste. Cover/seal and refrigerate for at least one hour or up to 24 hours.

When you are ready to cook your fajitas, cut up onion, garlic and bell peppers. Rice cauliflower in a food processor with a grating attachment or with a hand grater.

Heat a large skillet over medium heat for the cauliflower rice and add 1 tbsp avocado oil. Once hot, add cauliflower and cumin, onion, garlic and chili powder. Stir to mix and cook, stirring occasionally for 5-6 minutes and then turn heat down to simmer. Season with salt and pepper to taste.

Once you get the rice going heat another large skillet over medium heat and add 1 tbsp avocado oil. Once hot, add in the chopped onion to sauté for a few minutes until it just starts to soften.

Next, add in steak strips to cook. Since these are small strips they won't take very long, just a couple of minutes on each side. Don't overcook or the steak will get tough.

At about the same time you flip your steak, add in the garlic and bell peppers. Stir everything in together and cook for a couple of minutes longer until the steak is done.

Serve the fajita mixture over cauliflower rice and top with avocado and cilantro.