Yep! I'm a sucker for lemony treats. I love all things lemon flavored, and this dessert is all about serving up summer on a plate. What could be more refreshing than lemon and strawberries!? Nothing. So, here's a fun twist on a traditional strawberry shortcake. It's great for a family barbecue and was a huge hit with the kiddos because I made mini sized loafs so everyone got their own and that's fun!

This recipe is a refreshing twist on strawberry shortcake. I love lemon muffins and cupcakes, but I wanted a fun and relatively easy dessert for a barbecue we were hosting. It's just a lemon pound cake (I baked them up in mini loafs), with strawberries and coconut whipped cream.
Mmmm…summer on a plate. Check!
And here is the lemony pound cake a week later, in the form of a cupcake. It's just too tasty!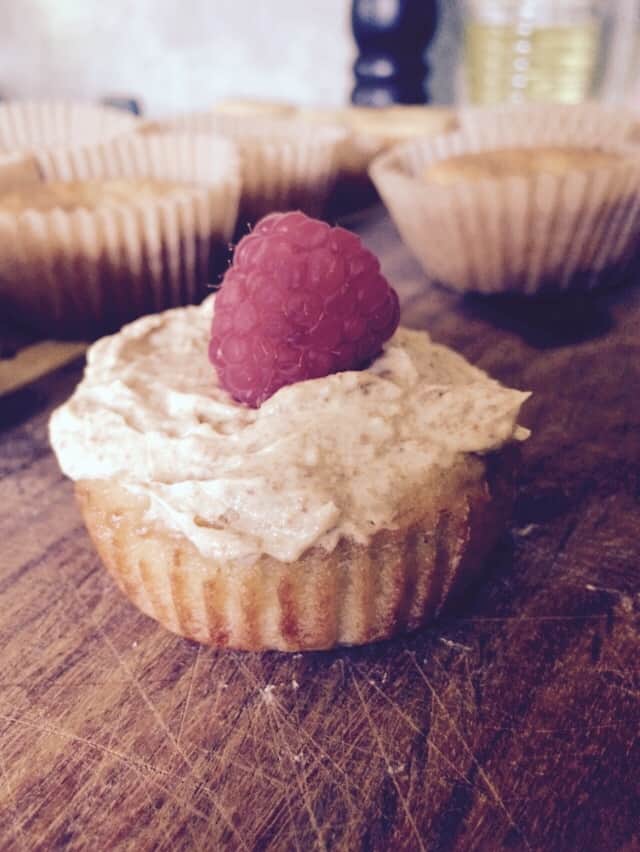 Eat it up! This mini loaf is bursting with flavor!
---
STRAWBERRY LEMON SHORTCAKE
Print Recipe
Rate Recipe
Ingredients
For the strawberry topping:
Instructions
Preheat your oven to 350 degrees. Pour all of your coconut whipped cream ingredients in a stainless steel bowl and place it in the freezer to chill. Note: If you use canned coconut milk and place it in the fridge overnight you can skip this step and just use the coconut cream at the top of the can and discard the water remnants. We use coconut milk regularly and keep it in the fridge in a reusable container so it doesn't really create the coconut cream layer on top.

To make the lemon pound cake, whisk together all of the dry ingredients in a medium mixing bowl.

Next, place all the wet ingredients in another mixing bowl and combine.

Add the dry ingredients slowly into the bowl of wet ingredients and mix until incorporated and a batter has formed.

Grease your pan. I used a mini loaf pan, but really you could use a regular sized loaf pan or you could even use a muffin pan. The cooking time may vary slightly. For the mini loaf pan, which makes 6 cute little loafs, bake for 25-30 minutes or until a toothpick comes out clean.

While the loafs are cooking, slice your strawberries and mix in the tablespoon of coconut sugar to sweeten if desired. Place in the fridge till it's time to serve.

Also, while the loafs are cooking, finish preparing the coconut whipped cream. Take the bowl out of the freezer and whisk the ingredients up...for what will feel like an eternity. If you forearm starts to hurt, you're doing it right. The creamy goodness will begin to thicken up, but it won't seem like it's there yet. That's ok. Once you can take no more, cover the bowl and place it in the fridge until you are ready to serve dessert. We prepared the whipped cream and dessert before our guests arrived for the barbecue and then took it out of the fridge a few hours later. I whisked it up again briefly and it was ready to be plopped on top of the lemon loaf and strawberries.