Why you'll love this delicious mocktail
It looks as good as it tastes! The deep-red grenadine syrup sinks to the bottom for that classic red sunrise look.
With only two ingredients, it's a quick and easy drink that also tastes delicious.
It's the perfect mocktail for parties or gatherings, just grab the ingredients and your guests can make their own.
It's the easiest layered drink to make, just pour the grenadine in and let it sink to the bottom!
Related ->> Try our homemade grenadine syrup in this mocktail!
How to make a virgin sunrise mocktail (step-by-step)
It's really as easy as 1-2-3! Just follow these steps: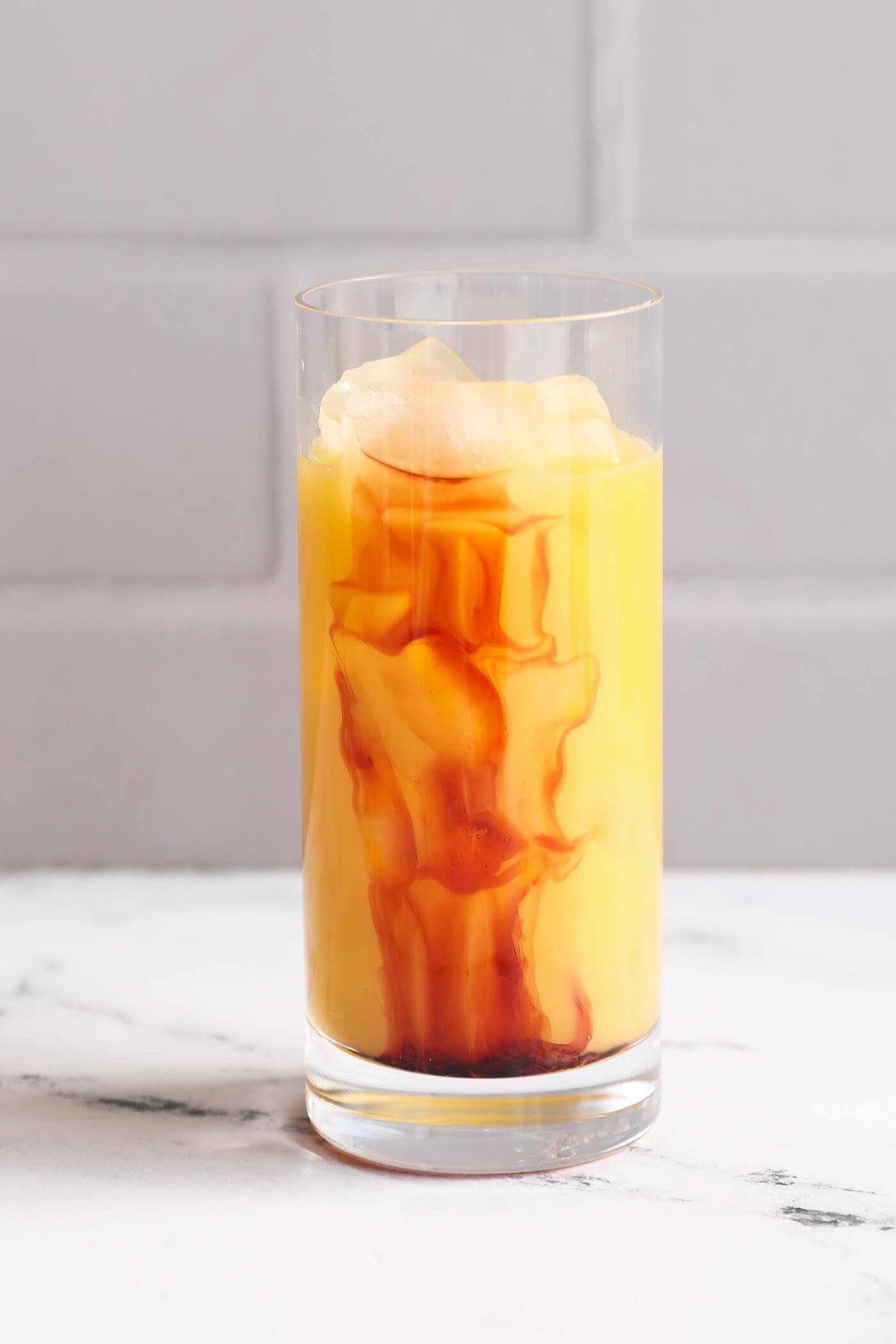 Variations and garnish
Juice – Pineapple or peach juices also work well for this mocktail. Or a mixture with orange juice. Either way, you'll get a similar-looking drink with a different flavor.
Garnish – An orange wedge, orange peel or cherry are popular garnish choices for this drink.
Bubbly – If you like a bubbly drink, you can add some sparkling water or club soda.
Blend it – Add all of the ingredients to a blender if you'd like! The color will turn out kind of pink overall, but it tastes great.
We hope you love this recipe as much as we do!
Don't forget to leave a quick star rating and review below, we read every comment and truly appreciate your feedback. Also, be sure to browse the rest of our healthy drink recipes to find some other favorites too!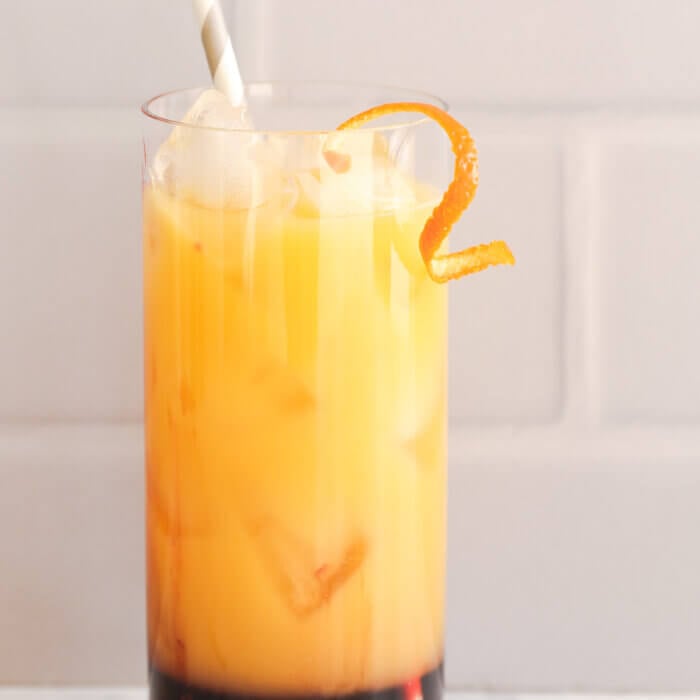 Get the Recipe:
Sunrise Mocktail (2 Ingredients!)
This easy virgin sunrise mocktail is the perfect sweet and tasty drink! Easy to make with only 2 ingredients, your guests will love this beautiful, eye-catching mocktail!
Ingredients
3 oz ice, (optional, if desired)
4 oz orange juice
1 oz grenadine syrup, (approximate, use as little or as much syrup as desired for look/taste)
orange wedge, (optional garnish)
Instructions
If using ice, add the ice to a cup.

First, pour in the orange juice, filling the glass about 3/4 full.

Next, pour in the grenadine. Option 1: For a more layered look, tip the glass and pour the syrup directly down the side of the glass. This will result in a more distinct red "layer" at the bottom. Option 2: Pour the grenadine all over the top of the orange juice and it will gradually sink to the bottom. This will result in a more "mixed" look of orange and red.

Serve immediately with an orange wedge if desired.