And we're back…with a super tasty sweet potato breakfast hash, and an exciting tale about why we've been MIA for a little bit. We haven't posted in a while because we've been making a big move! We have finally made it to our new home in Central Oregon and are getting settled in. Our cute little home is getting more and more homey every day, and we are closer to having all the boxes unpacked. Yikes! Moving is just the worst. Like seriously, especially because once it was all said and done, this was my third time packing/unpacking in the last year or so. I moved in with Justin, and then we moved back to my place after we sold his house. Then we moved to our new home together. So. Much. Moving. That said, we are thrilled to be in our new place and love making our first home together!
Now that we are settled and have our kitchen things unpacked, you can expect to see regular posts again and lots of new recipes and other posts, like an upcoming one on natural deodorants and which ones you should try and which ones aren't worth your time. When we were packing up this last time, I unearthed what I called my natural deodorant graveyard. There were so many brands I tried that just didn't do the trick, but the good news is that I tried so many and found a few keepers just so you guys can skip right to the good stuff! Stay tuned on that.
Back to this sweet potato breakfast hash though. Justin pretty much kills it when it comes to effortlessly whipping up the most delicious breakfasts. Breakfast is his jam. For real. He makes the kind of breakfasts that you can eat for any meal of the day, and he often throws in a little rosemary. I've loved rosemary for a long time and have found that it is such a hearty addition to breakfast.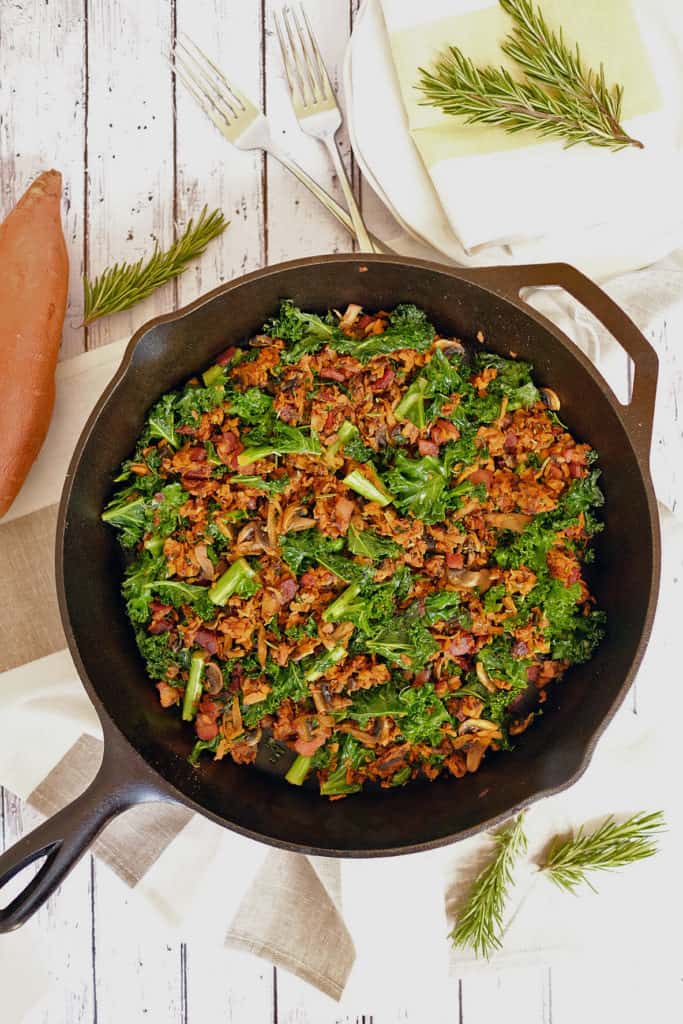 Add this one to your breakfast rotation. You might just keep it on repeat! I'm about ready to request again.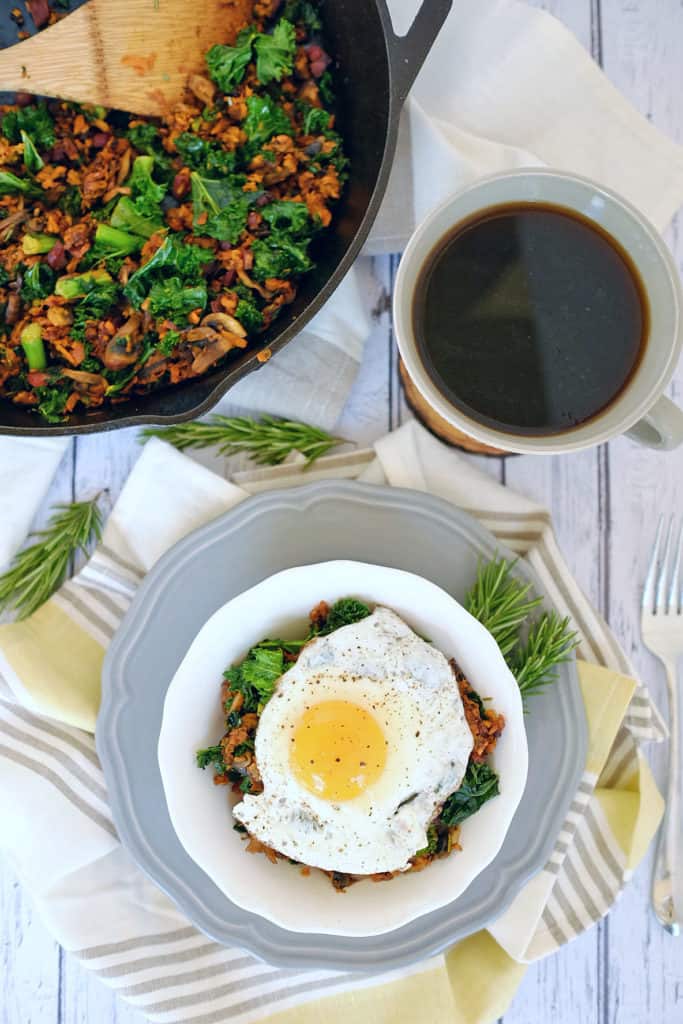 Give this sweet potato breakfast hash a try, and let us know how it goes by leaving a comment and rating below. Tag us on Instagram @realsimplegood so we can check it out!
---
Get the Recipe:
Sweet Potato Breakfast Hash (Paleo, WHole30 + Dairy-Free)
Ingredients
1 sweet potato, - grated
4-6 slices of bacon, - diced
1-1/2 cups mushrooms, - sliced
1/2 tsp garlic powder
1/2 tsp onion powder
1/2 tsp paprika
salt and pepper, to taste
1 tbsp fresh rosemary, - chopped
2 handfuls kale, - chopped
Instructions
Start by grating your sweet potato first to get it out of the way. Use a hand grater or the grating attachment for your food processor. Then just set them aside for a few.

Next, cook your diced bacon in a large skillet over medium heat on the stove. Once the bacon is cooked and your house is filled with the smell of breakfast and the little bits have gotten crispy, set them aside on a paper towel lined plate.

Use the bacon grease in the pan to cook the potatoes. Just toss them right in the pan and continue cooking on medium heat until they start to get a little crispy. It will take about 7 to 8 minutes. You will want to let them brown a little, so don't move them around too much.

Once the potatoes are looking good, add the mushrooms, cooked bacon, kale, and rosemary and other spices to the pan. Cook for about 3 minutes. The kale will start to wilt a bit.

This sweet potato breakfast hash is ready for serving. We like to fry up an egg and put it right on top. It would be good with scrambled or poached eggs, too! Enjoy!