Filled with your favorite mexican flavors and topped with a creamy chipotle lime aioli sauce, this taco stuffed spaghetti squash recipe is a fun one for the whole family. Easy and healthy, you'll love the taco flavors in this Paleo + Whole30 recipe.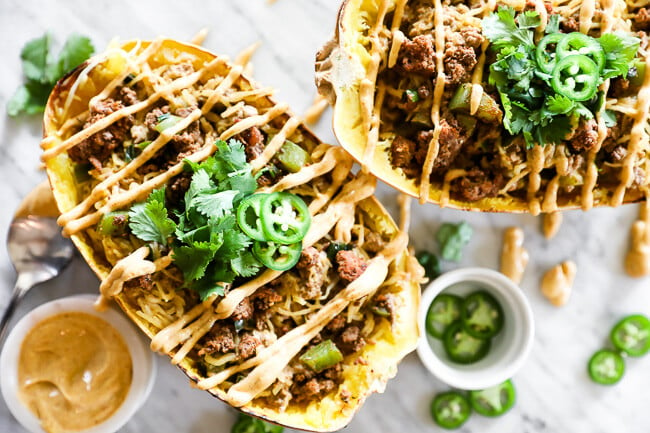 Why do a stuffed spaghetti squash?
We'll be honest here, it's all about the presentation! Flavor wise, stuffing the spaghetti squash back into the shell doesn't do anything. But it does look really nice and it's kind of a fun and unique meal. Sometimes you need to mix things up and spend a little time cooking a special meal for your loved ones. This taco stuffed spaghetti squash is a good one for that!
However, if you don't feel like stuffing the squash back into the shells, this recipe works fine to just put it all in a casserole dish. That might save you a little time and help get dinner on the table quicker – which could be exactly what you need. Just do what works best for you and your family.
The best taco flavors
We love taco everything, so making a taco stuffed spaghetti squash recipe was a no-brainer for us. This recipe has an easy homemade taco seasoning, ground beef, onions and peppers. The sauce adds a lot of creamy, chipotle lime flavor, so we left the rest of the toppings as optional. Some great toppings would be:
Shredded cheese (not Whole30)
Sour cream (not whole30)
Salsa or hot sauce
Avocado
Sliced jalapeño
Cilantro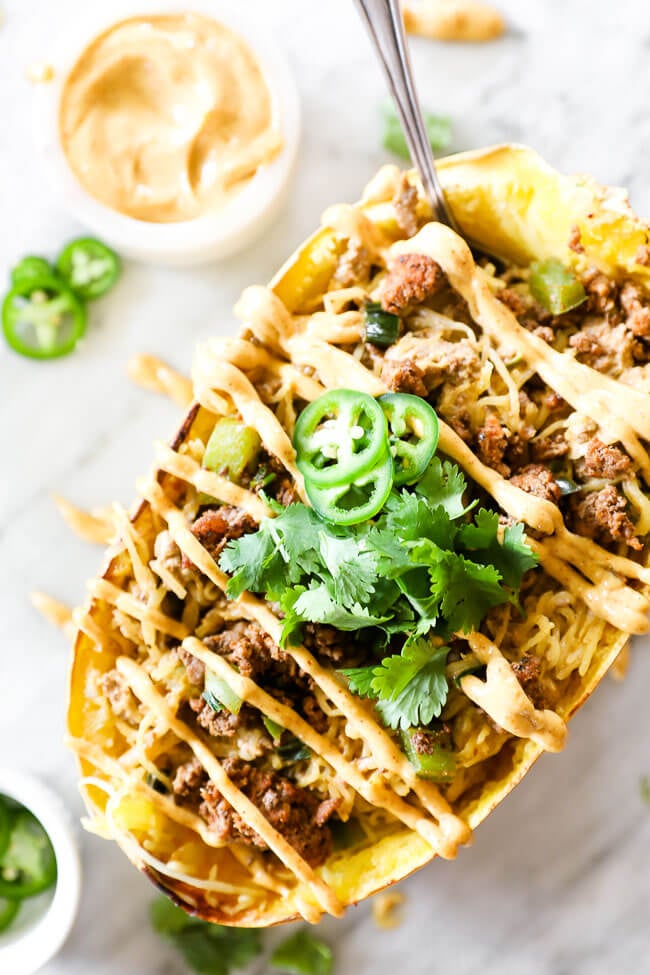 It's all about the sauce
We love making homemade sauces and this creamy chipotle lime sauce might be my all time favorite. If you have an immersion blender, it's just about the easiest sauce you can make. Just be sure to use a jar or cup that is just slightly wider than your immersion blender, that's the key to get the sauce to emulsify and thicken. Just be warned, once you make this sauce, you'll be making it again and putting it on everything.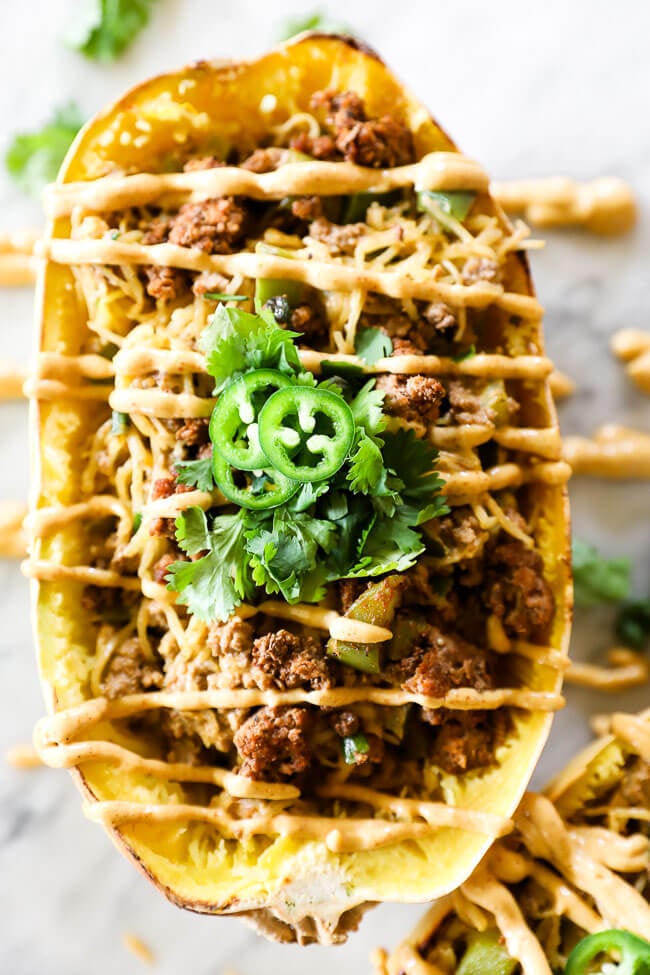 Some other spaghetti squash recipes
Your turn to try this taco stuffed spaghetti squash
Ok, now it's your turn! Have some fun in the kitchen and make this taco stuffed spaghetti squash recipe. Let us know how it goes by leaving a comment below. Take a photo and tag us on Instagram @realsimplegood, so we can check it out! And make sure to give us a follow if you don't already. Let's stay connected!
---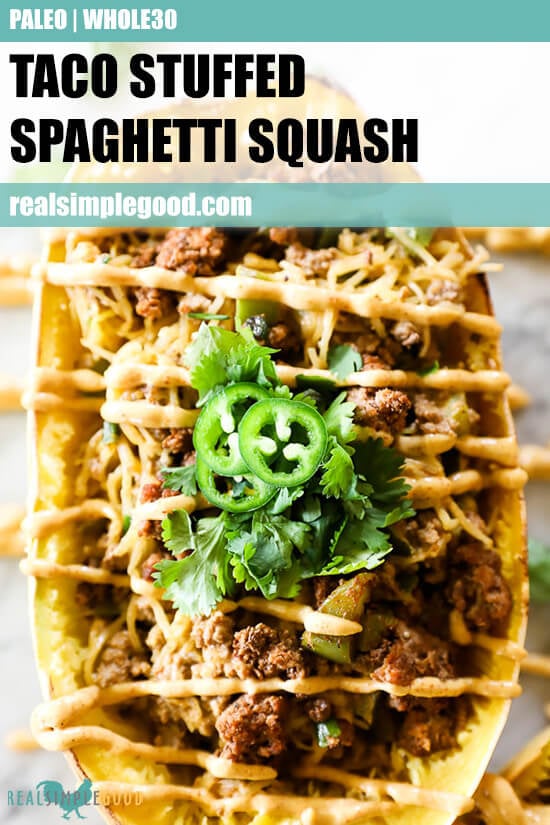 ---
Like this Recipe?
SHARE IT NOW OR PIN IT FOR LATER!
---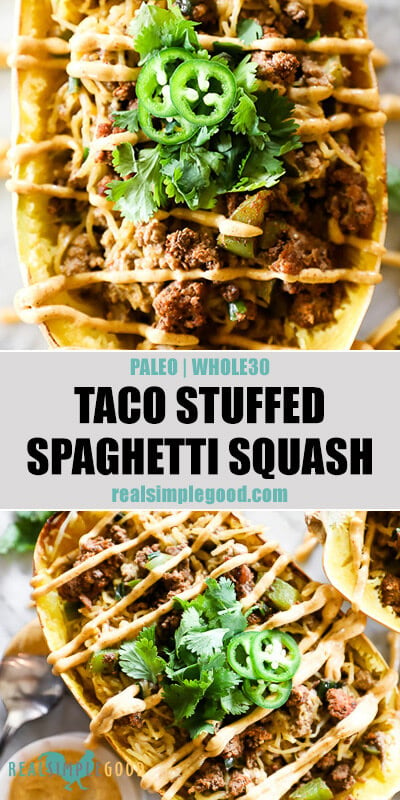 ---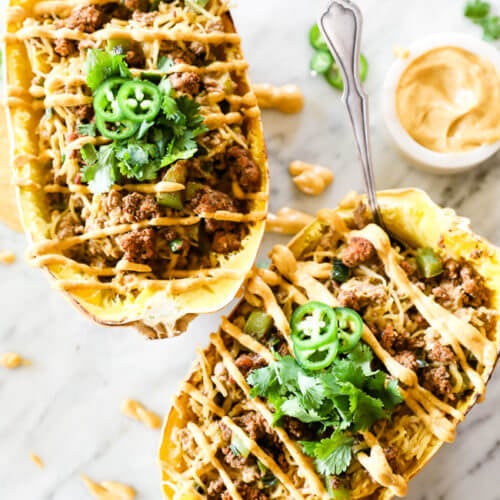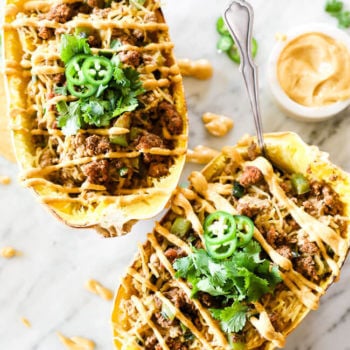 Get the Recipe:
Taco Stuffed Spaghetti Squash (Paleo + Whole30)
This taco stuffed spaghetti squash recipe is a fun one for the whole family. Easy and healthy, you'll love the taco flavors in this Paleo + Whole30 recipe.
Ingredients
2 small spaghetti squash, (each serving will be 1/2 stuffed squash)
For the taco seasoning:
2 tsp chili powder
2 tsp garlic powder
1 tsp paprika
1 tsp cumin
1 tsp onion powder
1/2 tsp pepper
1/2 tsp salt
1/2 tsp oregano
1/4 tsp cayenne pepper
For the filling:
1.5 lbs ground beef
1 onion, diced
1 bell pepper, diced
For the creamy chipotle-lime sauce:
2/3 cup avocado oil
1 egg
1 tsp chili powder
1/2 tsp sea salt
1/2 tsp mustard powder
1/4 tsp chipotle powder
1/4 tsp minced garlic, or sub 1/4 tsp garlic powder
2 tsp lime juice, about 1/2 lime
Optional toppings:
shredded cheese, (omit for strict Paleo or Whole30)
salsa
sliced jalapeno
chopped cilantro
avocado
Instructions
For the spaghetti squash:
Preheat oven to 400° Fahrenheit and line a baking pan with parchment paper.

Cut the squash in half lengthwise (stem to end). Scoop out the seeds with a spoon.

Place the squash cut-side down on the baking sheet.

Bake for 30-45 minutes, or until squash meat getting tender when pierced with a fork. Don't overcook, as the noodles will cook more when mixed with the other ingredients.

Allow to cool, then scrape the squash meat with a fork to turn the cooked squash into noodles. Scrape the spaghetti squash noodles into a large bowl and retain the spaghetti squash "shells". Keep the baking pan with parchment paper out, you'll need it later.
For the filling:
While the squash is cooking, prep onion and bell pepper as noted.

Heat a large skillet over medium heat. Once hot, add the ground beef and break it into small pieces with a wooden spoon.

Add the onion and bell pepper in with the beef. Cook, stirring occasionally, until the beef is browned and almost fully cooked, about 7-8 minutes.

While the beef is cooking, prepare the taco seasoning by mixing all of the seasoning ingredients together in a small bowl or jar.

When the beef is almost finished, add in the taco seasoning. Stir to mix and continue to cook the beef until fully browned. Remove from heat.
For the creamy chipotle sauce:
Place all of the sauce ingredients in a small jar or pyrex measuring cup, just wide enough for your immersion blender.

Place the immersion blender at the bottom of the container. Start blending while holding the blender at the bottom and don't move it from the bottom until the sauce begins to emulsify and thicken. Once it starts to thicken, slowly move the immersion blender to the top until it all of the oil is completely mixed in. It should result in a thick, mayo-like sauce.
Put it all together:
Heat your oven back up to 400° Fahrenheit.

Mix the taco meat together with the spaghetti squash noodles. Add in 3/4 of the creamy chipotle sauce (reserving 1/4 for drizzling on top before serving) and mix again.

Place the meat and noodle mixture back into the spaghetti squash shells. If you are using cheese, top the spaghetti squash with cheese.

Place in the oven to bake for 10-15 minutes, or until everything is warmed through.

Remove from the oven and top with any additional toppings as desired. Drizzle some of the creamy chipotle sauce on top. Serve and enjoy.