It's like a classic potato salad but better. Loaded with savory bacon and smoked cheddar cheese (optional), plus some crunchy celery and green onions, this creamy and delicious potato salad with bacon is sure to be a family favorite! It's even Paleo and Whole30 if you use an approved mayonnaise and omit the cheese!
THE PERFECT SUMMER SIDE DISH
I don't know about you guys, but summertime gatherings kind of call for potato salad (at least in my book). What can be more classic than some burgers or hot dogs (or both) with a big side of potato salad for a summer BBQ? But really, this potato salad with bacon goes well with any kind of BBQ and can be a good accompaniment to chicken, steak, ribs, etc. You should definitely whip up a batch to take to your next BBQ or summer gathering!
DID YOU REALLY PUT CHEESE AND BACON IN HERE?
Since I started making this potato salad with bacon, I've always had people ask me "what all did you put in here?" It's loaded with so many goodies I guess your taste buds can't distinguish all the flavors very easily. Everyone loves the bacon (obviously) but the smoked cheddar cheese is an optional surprise that I like to add in. The cheese makes it extra smoky and savory without being too overpowering to the rest of the potato salad. If you eat dairy, I suggest you add it in, you won't regret it! Of course, if you are strict Paleo or Whole30, you can leave it out.
BEING THE BEST ISN'T EASY
I won't lie, putting together this potato salad with bacon isn't easy. There are a lot of ingredients and it takes some time to do all of the cooking, chopping and mixing. I think that's why I only make it 2-3 times a year! However, all the effort is worth it because everyone loves it and it makes a HUGE batch. There are always leftovers to munch on and give away to friends and family. Plus, it gets better after sitting in the fridge for a day or two.
TIPS FOR MAKING THE BEST POTATO SALAD WITH BACON
Since making this recipe can be a little time-consuming, here are some tips to make it easier.
I like to cook the potatoes, bacon and eggs one day and put together the salad the next day. This gives everything time to cool after cooking so you can chop them up easier and breaks up the assembly process.
As noted in the instructions, start cooking the potatoes first, then the eggs, then the bacon. If you follow that order the potatoes will finish up about the same time as the eggs and bacon are done.
Use your Instant Pot to make the hard boiled eggs. The eggs seem to peel easier after being cooked in the Instant Pot, more so than when boiled on the stove.
Recruit some chopping help! Ask your partner or kids to help you chop all the ingredients (they will be eating the potato salad won't they)?
Finally, you'll need to use a very large bowl. It not only needs to be large enough to fit all the ingredients, but you need to mix everything well and you don't want it spilling all over when mixing.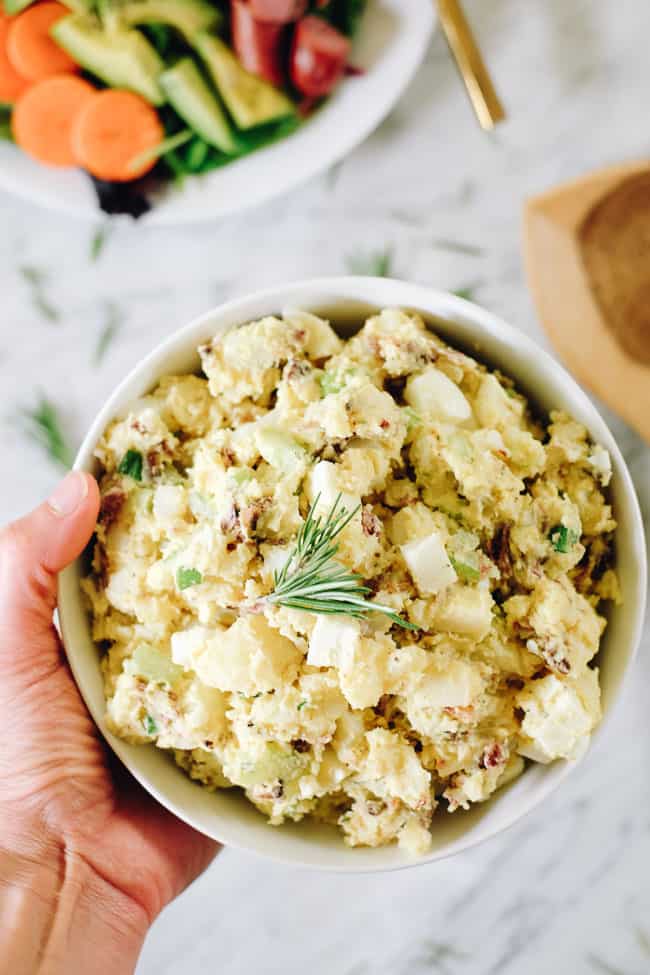 SOME MAIN DISHES TO PAIR WITH THIS POTATO SALAD WITH BACON
YOUR TURN TO MAKE A BIG BATCH OF OUR POTATO SALAD WITH BACON!
We truly hope you give this potato salad with bacon recipe recipe a try! We guarantee your friends and family will be asking you to make it again and again. Let us know how it goes by leaving a comment below. Then, take a photo and tag us on Instagram @realsimplegood, so we can check it out! Also, do you follow us on Instagram yet? If so, thanks so much, but if not make sure to give us a follow so we can stay connected!
LIKE THIS RECIPE? SHARE IT NOW OR PIN IT FOR LATER!
---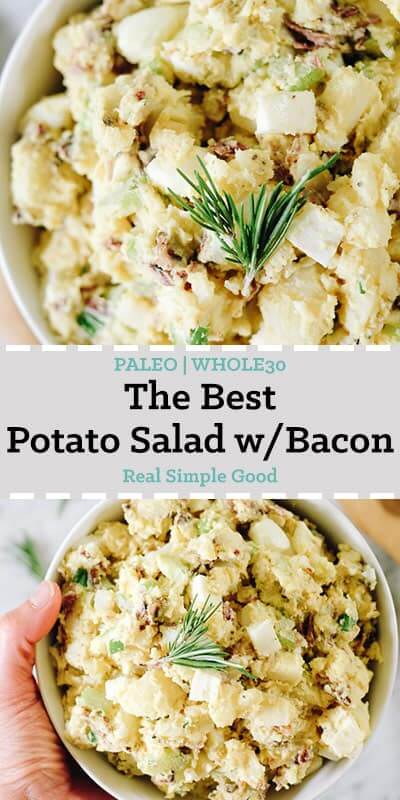 ---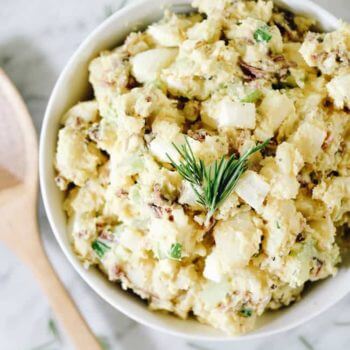 Get the Recipe:
The Best Potato Salad with Bacon (Paleo + Whole30)
It's like a classic potato salad but better. Loaded with savory bacon, smoked cheddar cheese plus some crunchy celery and green onions, this creamy and delicious potato salad with bacon is sure to be a family favorite!
Ingredients
5 lbs red potatoes
12 eggs
1 package bacon, (about 16 pieces)
6 cloves garlic, minced
1 bunch celery, sliced into small pieces
10 green onions, ends removed and diced
7 oz smoked cheddar cheese, cut into small cubes, (optional, omit for Paleo + Whole30)
3 sprigs fresh rosemary, diced
1.5 cups mayonnaise
1/2 cup yellow mustard
1 tsp sea salt
1 tsp ground pepper
Instructions
Cut potatoes into even sizes if needed, place them in a pot and cover with water. Add a few pinches of salt to the water and heat to high. Bring to a boil and boil for 20-25 minutes, until the potatoes are tender when pierced with a fork. Drain and allow to cool.

Hard boil the eggs. You can do this in the instant pot – Place the trivet in the bottom and add 1 cup of water. Add all the eggs in and close the lid and seal. Cook for 5 minutes at high pressure with a quick release. Carefully remove the insert and run the eggs under cool water. Peel and set aside.

Cook bacon (we like Hempler's uncured brand) in a large skillet over medium heat. Once cooked, remove it and place on a paper towel lined plate to cool.

When the potatoes have cooled, chop them into small cubes and place them in a large bowl. Using your hands, mash the potatoes up just a little bit and mix them together. This is to get a creamier texture, skip if you prefer chunkier potato salad.

Chop eggs into small pieces and add them to the bowl. Dice or crumble bacon and add the pieces to the bowl.

Chop garlic, celery, onions, cheese and rosemary as noted. Place everything in the bowl and give it a mix with a sturdy spoon.

Add mayonnaise (we like Primal Kitchen brand) and mustard and mix again. Keep mixing (it will take a while) to mix everything together evenly.

Finally, taste and season with salt and pepper to taste. We used 1 tsp each. I suggest adding 1/2 tsp at a time and mixing and tasting until you have the right amount.

Serve and enjoy! This potato salad gets even better after a couple of days in the fridge.