Have you guys picked up your copy of the Casual Veggie Cookbook yet? If you couldn't tell from all of our latest posts, we are pretty proud to have contributed to such a unique and creative resource. As one last hurrah to celebrate the release of the cookbook earlier this week, we are sharing some links today to some of the other contributors in the theme of a veggie potluck. Click on the links at the bottom of the page to find some new recipes from the other bloggers that would be perfect to take to your next potluck or holiday gathering.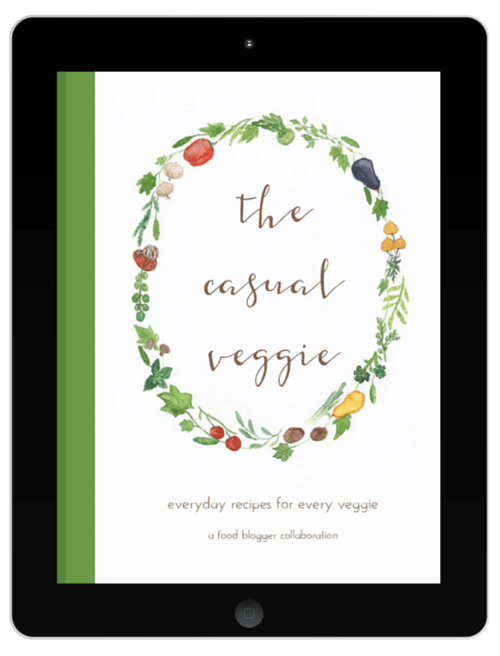 ---
For our potluck recipe, we created a fresh new salad that is sure to be the hit of your next gathering.
This kale and cabbage salad is an easy salad to make and keeps well in the fridge if you want to make it in advance and take it to a potluck or any get together. It has some almonds, apple and orange slices in it for a little crunch and fruity flavor.
The dressing is simple and has a hint of sweetness from the honey.
We love this salad because the chopped kale combined with the fruit give it a unique texture and flavor. The almonds are just a crunchy added bonus.
If you try out this recipe, let us know what you think by leaving a comment below and adding a rating. Also, take a picture and tag it on Instagram #realsimplegood so we can check it out!
---
Get the Recipe:
Kale and Cabbage Salad
Ingredients
For the salad:
5-6 leaves large kale, chopped finely
1/4 head of cabbage, chopped
3/4 cup raw almonds, chopped
1/2 apple, sliced into strips
1/2 orange, peeled and chopped into sections</span>
For the dressing:
3 Tbsp balsamic vinegar
3 Tbsp olive oil
1 Tbsp mustard
1 Tbsp honey
Salt and pepper
Instructions
Slice up all of your vegetables for the salad and combine everything in large bowl.

Mix the dressing ingredients together in a bowl.

Pour the dressing over the salad and mix everything together well to incorporate the dressing.

Serve and enjoy.
---
Here are the links to recipes from the other bloggers who contributed to the cookbook. Help us all celebrate one last time the release of this amazing cookbook by visiting their sites and trying some new veggie-focused potluck recipes.
A Southern Grace – Black and Tan Orange
Family Food on the Table – Fall Harvest Rice Salad
Family For Health – Autumn Squash Chicken Stew
My Happy Belly – Sweet Roasted Squash
Parsley and Pumpkins – Kohlrabi Cranberry Salad
The Delicious Balance – Cauliflower Stuffed Acorn Squash
The Weekly Menu – Italian Veggie Popover Pizza
Treble in the Kitchen – Kale Salad with Acorn Squash and Spiced Walnuts
Where is my Spoon? – Cauliflower in Tomato Sauce