To celebrate the release of The Casual Veggie Cookbook, join us for a virtual launch party with drinks and appetizers courtesy of some of the other contributing food bloggers! Each of us is sharing one of our favorite drink or appetizer recipes (see links at the bottom of this post).
While not every recipe is paleo friendly, we appreciate the plethora of knowledge that these creative food bloggers have and we have enjoyed exploring their sites for new recipe ideas. We hope you browse through these recipes and get some good inspiration for the upcoming holiday season!
We also really hope you purchase this cookbook. Since we received the sneak peek a couple of weeks ago, we have been using it a lot for inspiration and trying new recipes. There are so many fresh looking and creative recipes we want to try, we know it will be a resource for us for a long time to come. We are proud to be contributors to such a unique and creative cookbook.
Plus, it's fun to learn about the various veggies in season that may not be our go-to's and then to be able to get ideas for how to use and prepare them right in the book. So don't wait, click on the picture of the book or link below to download the book today.
Only $18 for 166 new recipes, what a deal!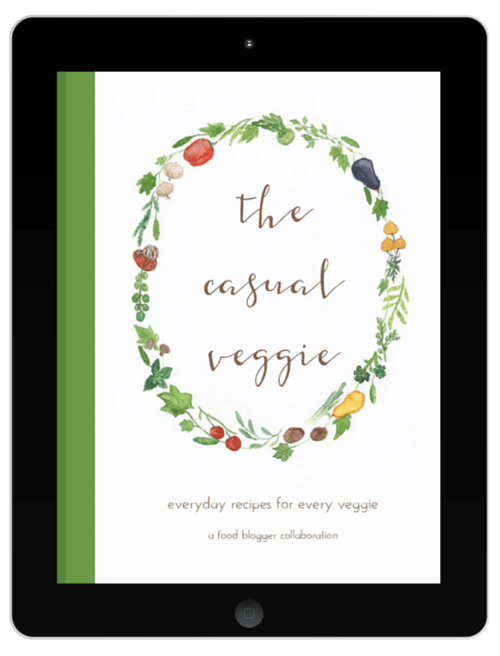 To keep with the theme of the cookbook, we are sharing a new appetizer recipe today for the launch party featuring mushrooms. While this launch party is virtual, we know that you will have plenty of gatherings to attend in the upcoming months. Our sausage stuffed portobello mushrooms have been so popular we thought we'd make a smaller appetizer version with our equally well-loved lemon artichoke pesto sauce!
These pesto stuffed mushrooms are sure to be a hit at all of your fall and holiday gatherings. We are pretty excited for the holiday season this year to share many of our favorite recipes with our families, friends, and you guys too! So here's to kicking off the fall and the upcoming holiday season with some yummy ideas to serve at your many gatherings.
---
Get the Recipe:
Pesto Stuffed Mushrooms
Instructions
Preheat your oven to 350 degrees.

Remove the stems from your mushrooms.

Place the pesto stuffed mushrooms on a baking sheet.

Bake the mushrooms for 15 minutes.

Remove from the oven and place your mushrooms on a serving dish.

Prepare to be complimented on your creative efforts in the kitchen!
---
Here are the links to recipes from the other bloggers who contributed to the cookbook. Help us all celebrate the release of this amazing cookbook by visiting their sites and trying some new drink and appetizer recipes.
A Tasty Mess – Pumpkin Madelbrodt
Cooking Up Clean – Pumpkin Apple Wontons
Family for Health – Bacon Wrapped Brussels
Fitful Focus – Pumpkin Kale Smoothie
Hola Jalapeno – Guacamole Deviled Eggs ‎
Parsley and Pumpkins – Butternut Squash and Sauerkraut Pizza with Fizzy Pumpkin Punch
Pumpkins and Peanutbutter – Simple Spaghetti Squash Cakes
The Weekly Menu – Sweet Potato Casserole Muffins
Toaster Oven Love – Veggie Pita Pizza Bites
Vermilion Roots – Lemongrass Ginger Barley Tea
Where is my Spoon? – Roasted Beetroot with Crisp Chickpeas
Will Cook For Friends – Sparkling Pear Ginger Cocktail