With the launch of The Casual Veggie Cookbook coming up on October 19th, we wanted to give you a sneak peek today into one of the recipes you'll find in the cookbook. With so many recipes packed into this book, we had a really hard time choosing only one to feature today.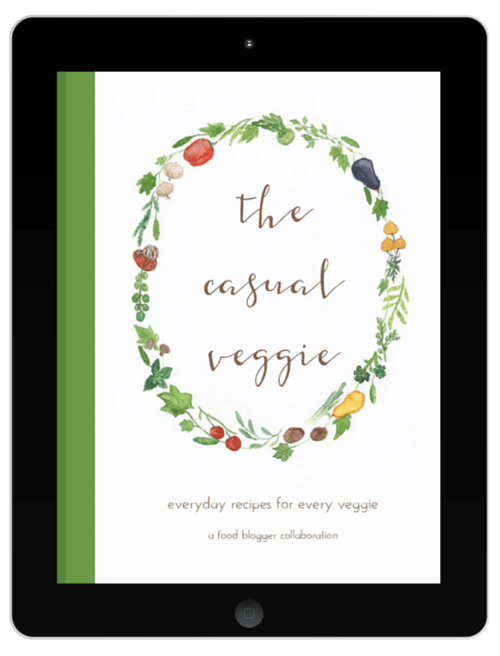 Since we have had the cookbook for a couple of weeks, we thought we could share some details on the content you can expect when you purchase the book on October 19th (because we know you are going to buy it the day it comes out aren't you??)
Here's what you'll be getting:
Recipes for 29 different veggies!
THE WHOLE COOKBOOK IS ORGANIZED AROUND VEGGIES
The Casual Veggie is all about celebrating the variety and diversity of veggies.
The book is packed with 166 recipes to help you eat healthy.
ONE CHAPTER FOR EACH VEGGIE
A photo of the veggie growing in the field
Nutrition information
Summary of how the veggie is grown
What to look for at the market
How to store the veggie
How to prep the veggie
4-8 recipes featuring the veggie
IT'S NOT A DIET OR LIFESTYLE SPECIFIC COOKBOOK
This is a cookbook for people who want to eat home cooked meals, using real food, with a focus on plants. Even though a lot of the recipes aren't paleo, we have found that nearly all of them can be made to conform with the paleo principles with only some minor changes.
This isn't just a cookbook. It's a tool to help you live and eat healthier.
There is a range of recipe styles, including meat dishes, meatless, gluten free, breakfast, lunch, dinner, desserts, and snacks.
YOU WILL BE INTRODUCED TO DOZENS OF TALENTED BLOGGERS YOU'LL LOVE GETTING TO KNOW BETTER
The food bloggers bio will provide a direct link to their site and let you know their cooking style (gluten free, paleo, etc).
Readers can go to the food blogs for more recipes tailored to their niche.
EACH RECIPE IS WRITTEN BY SOMEONE WHO IS SKILLED IN WRITING TASTY, CREATIVE, AND ENGAGING RECIPES
Whether you're looking for a snack, an easy lunch or a filling dinner we've got you covered.
They're on your computer and in your kitchen when you need them.
DIGITAL
Internal linking makes it easy to navigate the 400+ pages.
The table of contents contains links to jump ahead.
Each veggie chapter contains a link to jump back to the table of contents or ahead to the index.
The bloggers bio contains links to their website.
Formatted for use on an electronic device
Side by side viewing on desktop to see photo and recipe together.
Vertical scrolling on tablets and smart phones shows the photo first, then the recipe.
PRINTABLE
The photo and recipe are on separate pages. The recipe can be printed without the photo.
The page number in the table of contents indicates the page of the black and white recipe. You can print the recipe you need without jumping to that place in the cookbook.
---
Ok, now that you know all about the cookbook, below are some pictures of one of the recipes we recently made from the book.
This is an amazing Carrot Ginger Salad from Jean of Primal Health with Jean. It's colorful, crispy, gingery and a unique and healthy side dish!
You'll have to buy the cookbook on October 19th to get this and other recipes featuring carrots and all of your favorite vegetables.