Summer grilling is the easy part – we just thaw out whatever protein in the freezer sounds good, and fire up the grill. However, new ideas for healthy side dishes are always a little harder. We grill lots of veggies, but sometimes want a different summer side dish option. This Paleo + Whole30 watermelon salad is the perfect way to mix things up a bit and enjoy fresh, seasonal produce!
Just a handful of ingredients and tons of flavor
While this watermelon salad only has a handful of ingredients and is super easy to throw together, it is bursting with flavor! The sweet, juicy watermelon paired with spicy arugula, nutty hazelnuts and tangy balsamic is pretty much perfection. The feta cheese is optional, but if you use it it adds a little creaminess. And the touch of sea salt makes for the perfect salty, sweet combo!
Cheese isn't Paleo or Whole30 so why do you use it in this watermelon salad?
Cheese isn't Paleo, and it's not Whole30. You are correct! And that is why it's completely optional. This watermelon salad turns out great without the cheese, but it's a nice addition IF you tolerate cheese and enjoy it sometimes like we do. Leave it out if you don't. That's cool, too! You do you.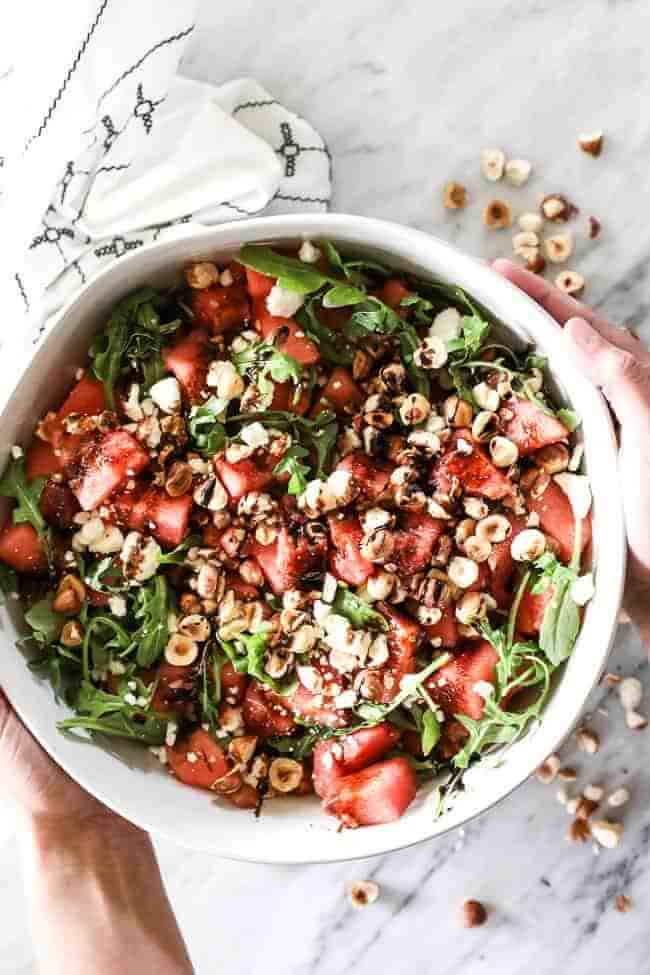 Perfect for all your summer BBQ's and cookouts
Do you say BBQ or cookout? Just wondering. Before we started blogging, I had never heard anyone use the term cookout. Here in the Pacific Northwest, everyone just calls a casual summer get together that involves grilling a BBQ. But I've learned that some of you call it a cookout, and just so that we are all on the same page…this watermelon salad would be perfect for making and taking to all your summer BBQ's and cookouts!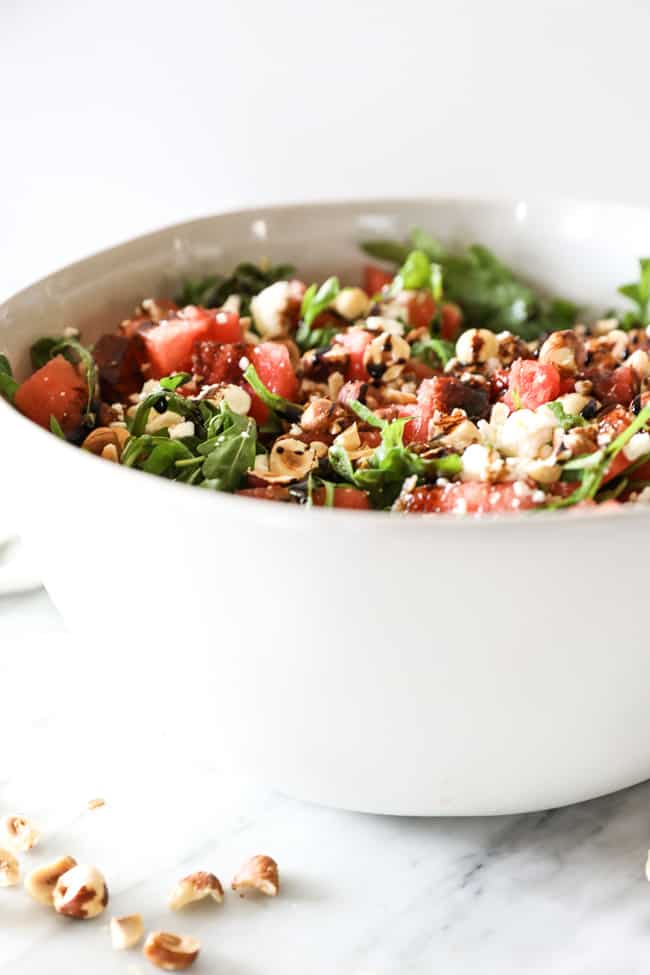 Some other summer side dishes
Your turn to try our watermelon salad
Whether you are grilling at home, hosting or going to a BBQ or cookout, plan to make this watermelon salad for a fresh, flavorful summer side dish. Everyone will love this healthy salad! Leave a comment below and let us know how it goes. Also, take a pic to share on Instagram so we can see. Tag us @realsimplegood, and give us a follow if you don't already. We'd love to stay connected!
---
---
Like this Recipe?
SHARE IT NOW OR PIN IT FOR LATER!
---
---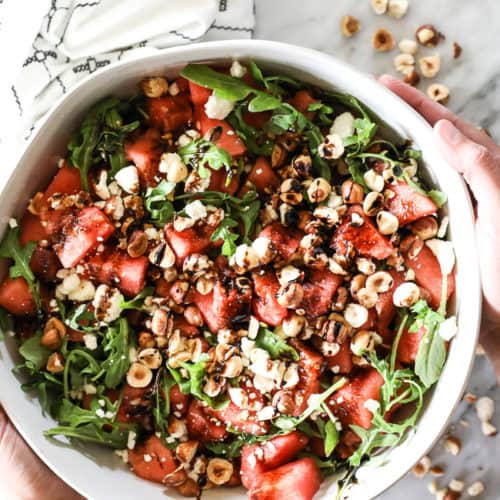 Get the Recipe:
Watermelon Salad (Paleo + Whole30 options)
This Paleo + Whole30 watermelon salad is the perfect way to mix things up a bit and enjoy fresh, seasonal produce! It's a great healthy summer side dish!
Ingredients
1 watermelon, chopped into cubes without rind
2 cups arugula
1/2 cup hazelnuts, chopped
1/2 cup feta cheese, (optional – omit for paleo + whole30)
Balsamic, to taste
Sea salt, to taste
Instructions
Combine all of the ingredients, except balsamic vinegar and sea salt, in a large bowl and toss to mix.

Drizzle with balsamic vinegar and sprinkle with sea salt to taste.