Where To Buy Bone Broth: A Bone Broth Review
You've probably at least heard of bone broth and maybe even that it's really good for you! It is, and there are plenty of reasons why adding bone broth to your diet is a good idea, but it can be hard to know where to start and what to look for in bone broth. We've put together this bone broth review to help you get familiar with bone broth and learn where to buy bone broth and find the option that best suits your needs.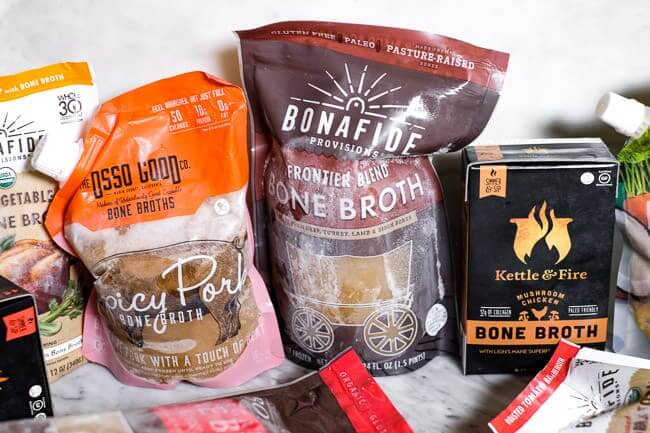 What Is Bone Broth
Bone broth is a broth made by simmering animal bones (chicken, beef, pork, bison, turkey, etc.), water, vegetable scraps, seasonings and apple cider vinegar for several hours. You then strain all the goodies out and are left with a superfood broth. You can make bone broth pretty easily at home and there are also several store bought options readily available now, too.
Why Is Bone Broth So Good For You?
The magic comes from the bones. They infuse the broth with collagen and gelatin which are great for your gut, joints, skin, nails, hair and more. I started to look into bone broth for the gut health benefits. Living with Multiple Sclerosis means that I tend to struggle with gut health. Despite initial diet and lifestyle changes, I continued to have Leaky Gut. Bone broth is one of the healthiest things you can put in your body to help heal the lining of your gut and intestines. I try to add it in as much as I can to support gut health and a healthy immune system.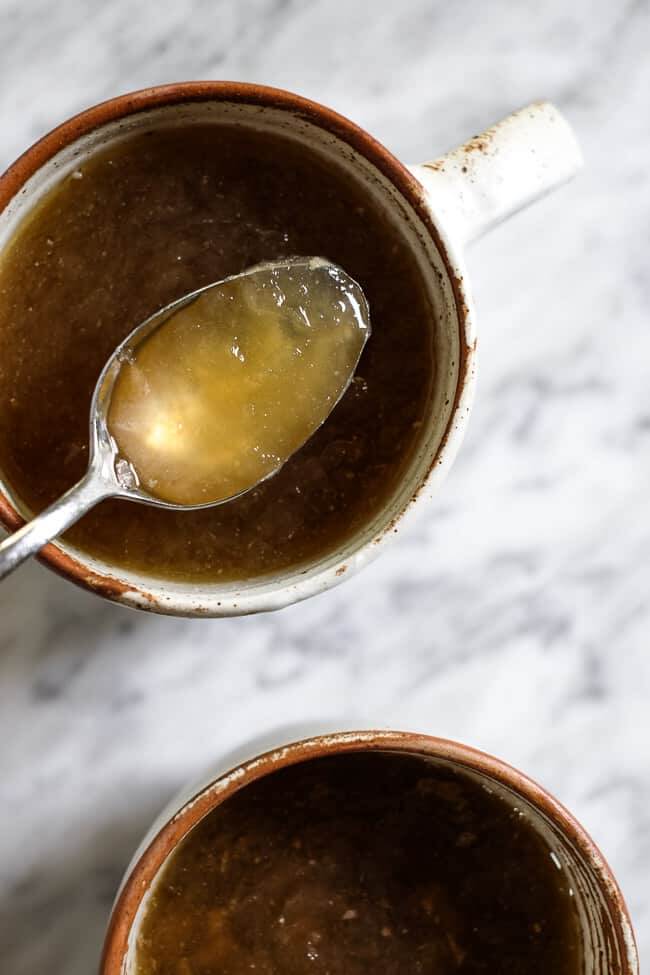 Make vs. Buy
You can definitely make bone broth at home on your stove top or in your slow cooker or Instant Pot. It's not that it's hard, but it is time consuming. First you have to collect the bones and vegetable scraps and then you have to actually do the making and storing part. Like I said it's not super hard, just a little bit of a project. If you're up for it, try our Crockpot Bone Broth recipe. If you're thinking you want to add bone broth in, but don't have the desire or time, you're in luck! Keep reading below for some of our favorite options on the market.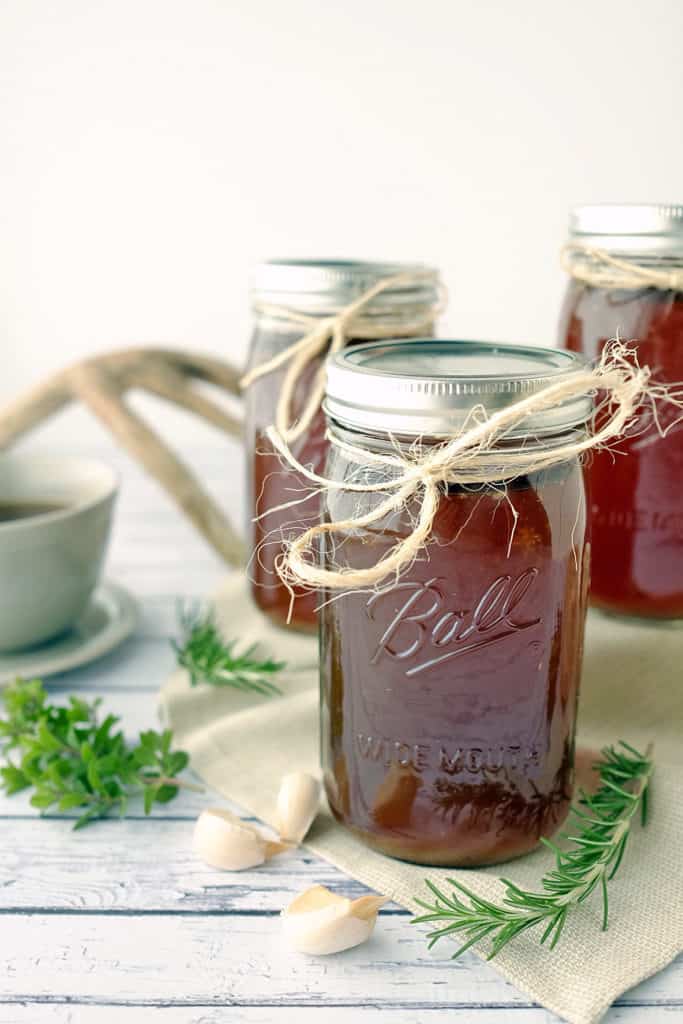 Our Favorite Bone Broth Options
This is where it gets a little complicated because as with most things that gain popularity, there become more options. This is great, but be advised that not all options are equal. Most of the shelf stable options out there actually contain little to no collagen or gelatin, which is the superfood part of bone broth. So…as always, read labels and look for options that are the most health promoting…the $2 shelf stable option probably isn't your best bet, even though it might say "bone broth" on the packaging. It may have been made at too high of a heat or not simmered long enough to get all the goodies out of the bones. There are several factors, and here are our favorite brands to look for if you're looking for real gut healing bone broth.
Osso Good Bones – this brand is great for sipping! Yes, I generally prefer to just sip on bone broth in a mug. It's cozy and delicious, and the fact that I do like to just sip it solo means that I can tell which ones actually taste good on a stand alone basis and will also therefore add the most flavor to anything you are cooking with it. Osso Good Bones arrives on your doorstep frozen and when you thaw it out in your fridge to use you will quickly notice that it is gelatinous like the picture above – a sign of high quality bone broth. Don't worry the the jell-o like texture disappears when you heat it up. They also have a variety of soups and also Whole30 and AIP compliant options as well. Pricing is as follows on their website – 16oz pouch for $9.99 ($0.62/oz) and soups are a 12oz pouch for $7.99 ($0.67/oz). You can save $15 off your order with the code REALSIMPLEGOOD at checkout! 
Bonafide Provisions – this is a brand worthy of sipping straight out of a mug. You don't need to dress it up or do anything fancy with it. It ships to your door frozen and you will notice that the gelatinous texture when thawed tells you it's got the goods packed in! They also have soups available in an array of yummy flavors, some of which are even Whole30 compliant. I love the soups for a quick and easy lunch option! Bonafide Provisions has impeccable quality and doesn't sacrifice on ingredients, time or anything to make sure your body is fueled with only the best. And if you want to feel inspired, go read about how the company began! In terms of cost, on their website you can get a 24oz pouch for $12.50 (~$0.52/oz) and their soups are $7.50 for a 12oz pouch (~$0.63/oz). Their pricing is a more economical option than Osso Good above. You can save 20% on Bonafide Provisions with the code RSG20 at checkout!
Kettle & Fire – This is a convenient shelf stable option, and it is simmered for longer than most shelf stable brands and actually has some collagen/gelatin in it, specifically if you refrigerate their beef bone broth you will see it get a little gelatinous in texture. It is great for having an option ready to go in your pantry, or you can even store it at your desk at work. The flavor is good and can be sipped solo, although I still prefer the first two options above flavor wise. We do like Kettle & Fire for putting in a soup or when we are cooking. They have ready made soup options, but in my opinion they aren't as good as the two brands above. Some of them also have added sweetener, and while still a Paleo friendly sweetener, I just prefer my soups unsweetened. As far as pricing goes, you can find this online or at your local health foods store like Whole Foods for about $6.99 for a 16oz package ($0.44/oz) and soups are about $8.99 for a 16oz package ($0.56/oz). Save 10% off Kettle & Fire online with the code REALSIMPLEGOOD at checkout!
Options available on Thrive Market – If you are a member at Thrive Market, you will appreciate that there are some options available including Kettle & Fire, Bare Bones, Epic and Thrive Market brand. You can save some money by shopping with Thrive Market – if you are new to Thrive Market you can sign up for a free 30 day trial and get a free gift with your first order with this link.
Other shelf stable brands like Pacific Foods and Imagine available at your grocery stores – first of all, don't get these thinking you're getting a gut healthy bone broth like the other options listed above. I like to think of these options as a basic stock, fine for using in your cooking. Just know what you are and aren't getting and if you are hoping to heal your gut and boost your immune system, look elsewhere. Also, double check the ingredients as some of them have added sugar and other ingredients.
In Conclusion
Hopefully this post has helped you learn more about where to buy bone broth or make your own and why you should add it into you diet! Depending what your needs are you might go with a frozen delivered option, like Bonafide Provisions or Osso Good Bones, to get the most gelatin and collagen for gut health. Maybe you just want to add a little extra goodness to your cooking with a shelf stable option like Kettle & Fire. Whatever your needs are, there are some great options available to you! 
LIKE THIS POST? SHARE IT NOW OR PIN IT FOR LATER!
---