One of the most common questions we get from readers going through one of our Whole30 Meal Plans is this – "what snacks can I have on the Whole30?" While the Whole30 program is actually designed to keep snacking to a minimum (or not at all), it is recognized that sometimes during the 30 days you might need some snacks. We put together this listing of 30 Whole30 snacks to give you some unique ideas for Whole30 compliant snack options!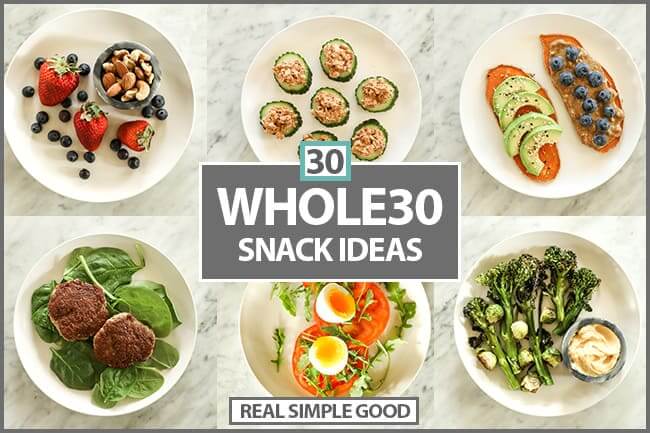 When is it ok to snack during my Whole30?
First things first, doing a Whole30 is not only life changing but habit changing as well. A lot of snacking is habit based and not actually based on feelings of true hunger. When you go through your Whole30, you'll need examine your snacking habits and determine when you are truly hungry and need a snack vs. wanting a snack just for a treat or out of habit.
A good way to determine if you are truly hungry and need a snack is to ask yourself this question (Source the Whole30 website) – "Am I hungry enough to eat steamed fish and broccoli?" If the answer is yes, you're legitimately hungry; go eat a snack! If the answer is, "No, but I'd eat an RXBAR/trail mix/scoop of almond butter" you're just having a craving–no snack for you!"
What should my Whole30 snacks look like?
Ideally, a Whole30 snack should just be a "mini-meal". You know the Whole30 meal template? Follow that and you'll be fine. Try to eat a snack with protein, fat and carbs (a small portion of leftover dinner is the best example). These will be the most satiating snacks that will get you through to your next meal.
The best Whole30 snack
As alluded to in the previous paragraph, the BEST Whole30 snack is actually an easy one – LEFTOVERS! Since you are already cooking Whole30 compliant meals, it's easy to plan for and make a little extra in case you need a snack. Leftovers can be lifesavers when doing a Whole30, trust us!
True mini-meals require assembly
We don't think you'll have any trouble finding Whole30 compliant emergency snacks and travel food. These are the bars, meat sticks and pre-packaged items you may want to have at your desk, in your purse or in your car for true emergency needs. See the Whole30 approved list here.
However, for this listing, we are providing you with homemade Whole30 snack options that are quick and easy while still falling under under the umbrella of a "mini-meal". While not every snack in this listing is a mini-meal with all 3 macronutrients (protein, fat and carbs), a lot of them are! Those snacks that are not contain a combination of at least 2 of the 3 macronutrients.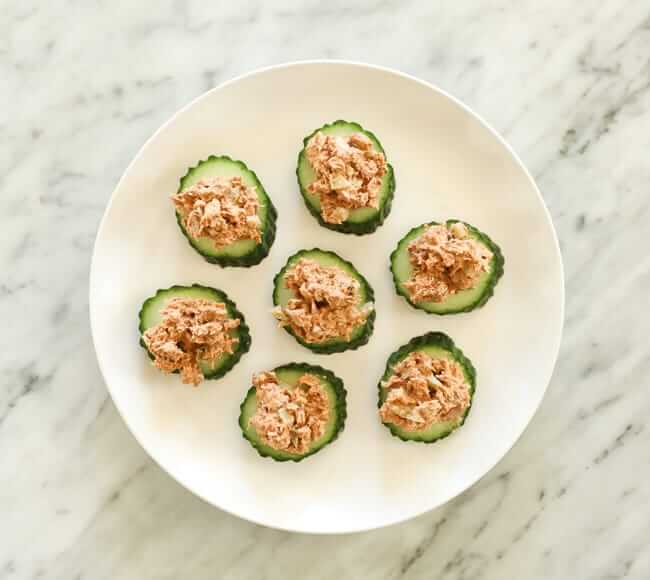 Tips to go along with this snack list
At the end of each section, we've listed some compliant products we've found to help you out when shopping. Just double check the ingredients before purchasing, as products can change.
For snacks in the "prep" section, it's easiest batch cook ingredients to have items in the fridge when needed. Choose what you want and cook some extra bacon, hard boil some eggs, or make sweet potato "toast".
For any of the "meat" based snacks in the listing, you can sub any leftover meat you have on hand.
For a simple guacamole, mix together chopped avocado, lime juice, garlic powder, salt and pepper to taste.
The easiest way to make hard and soft boiled eggs is in the Instant Pot. See this page for instructions and different cooking times for soft and hard boiled.
To make sweet potato "toast", slice a sweet potato into thin slices, about 1/4 inch in thickness. Place on a parchment lined baking sheet and bake for 10 minutes at 400°. After 10 minutes, flip the potatoes over and bake for another 10-15 minutes, or until they are cooked through.
You can swap out any compliant sauce of your choice wherever mayo or mustard is used.
Mix things up and use whatever fruits and vegetables are on hand or in season
On to the Whole30 snack listing
We put a lot of thought into this Whole30 snack listing and have organized it into sections for you as noted below. Just click on the link if you want to jump directly to any section.
Grab – These are quick and easy snacks that can made in just a minute or two. They might require a quick chop of fruit/vegetables.
Make – Still quick and easy but these snacks might require some heating or more assembly time.
Prep – These snacks require a little advance prep (e.g. make hard boiled eggs, prep tuna salad, etc.)
---
GRAB SNACKS
---
1. Veggies with almond butter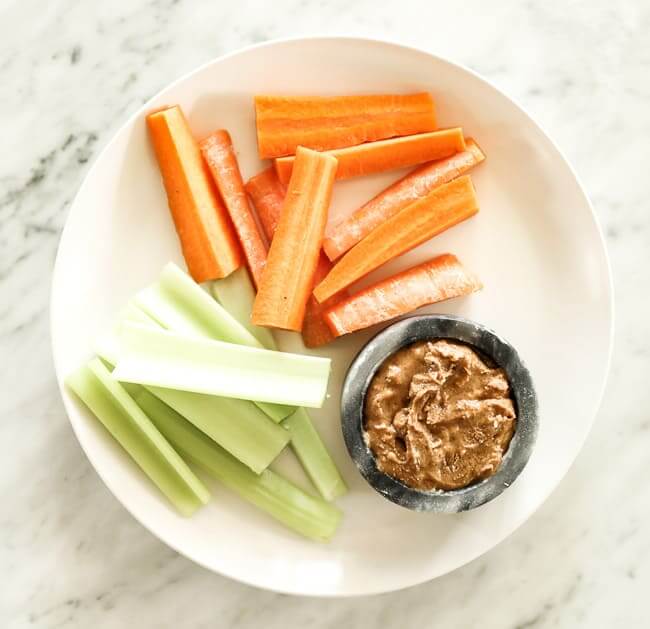 2. Sliced tomato with avocado and basil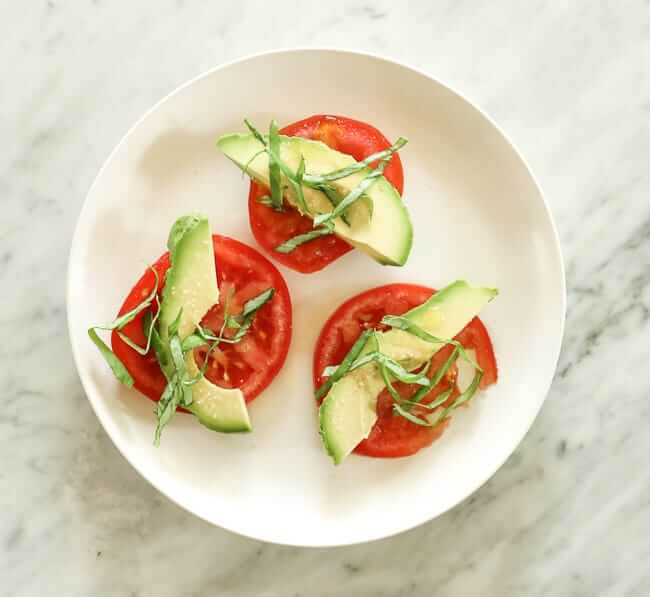 3. Prosciutto and fruit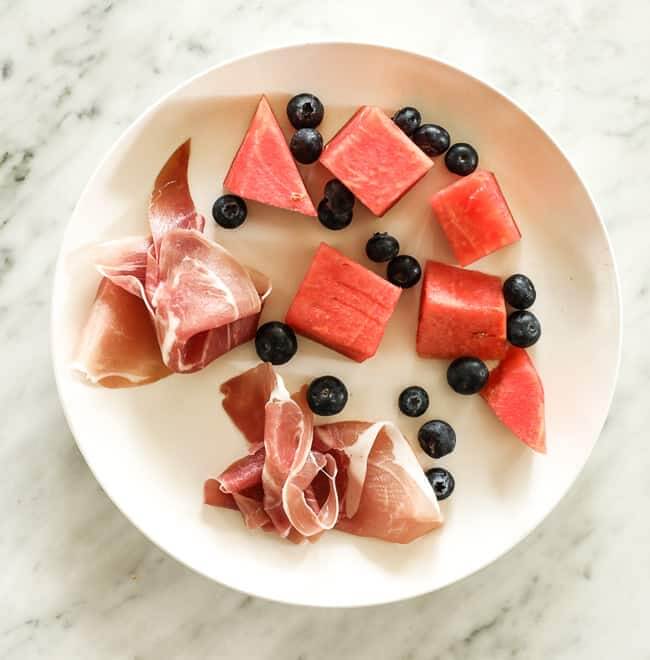 4. Veggies and compliant ranch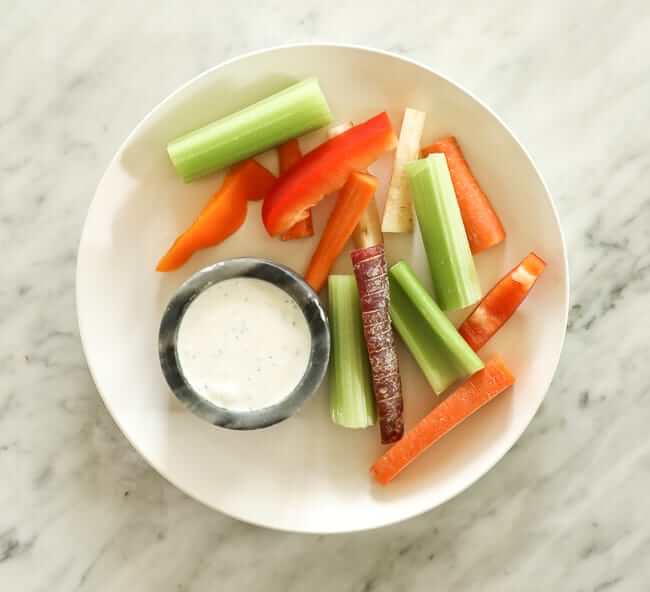 5. Mixed nuts and berries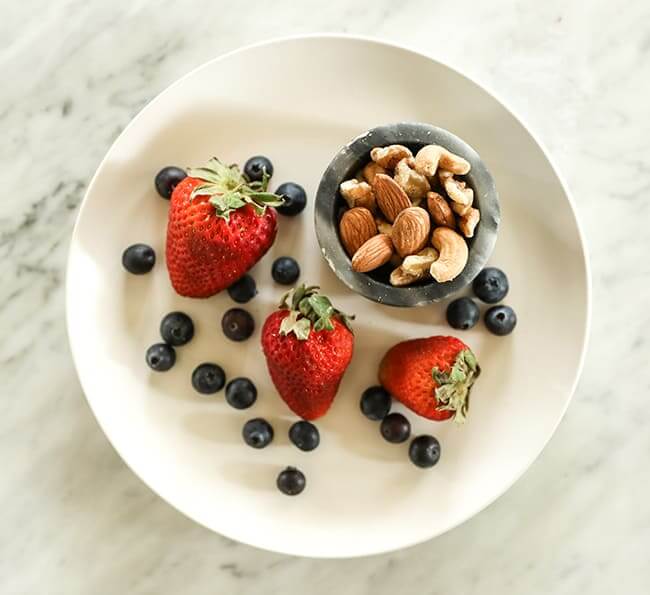 6. Olives with meat (lunch meat or leftovers)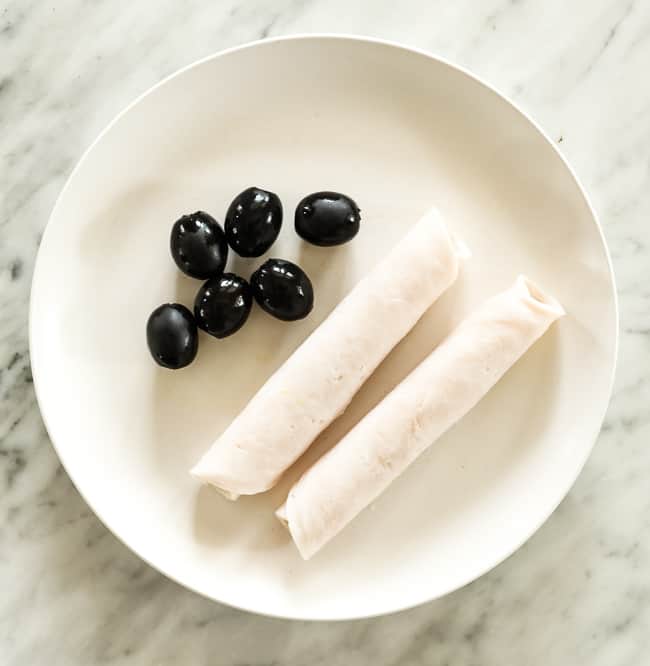 7. Kimchi with avocado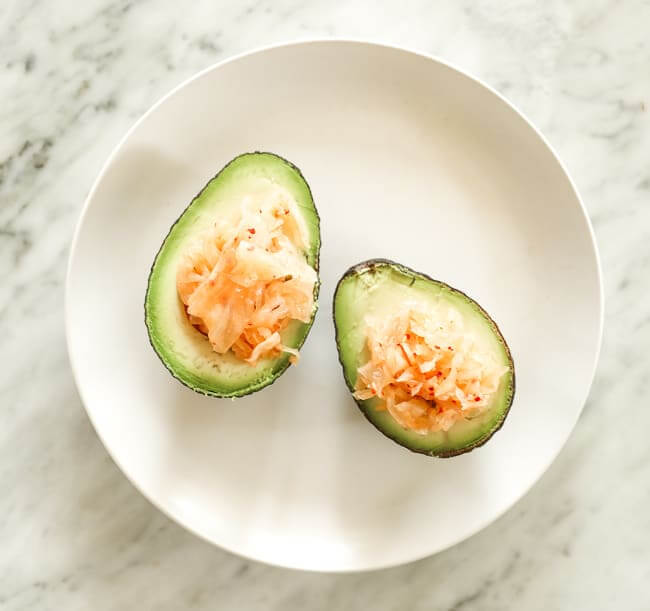 8. Macadamia nuts, prosciutto and dried fruit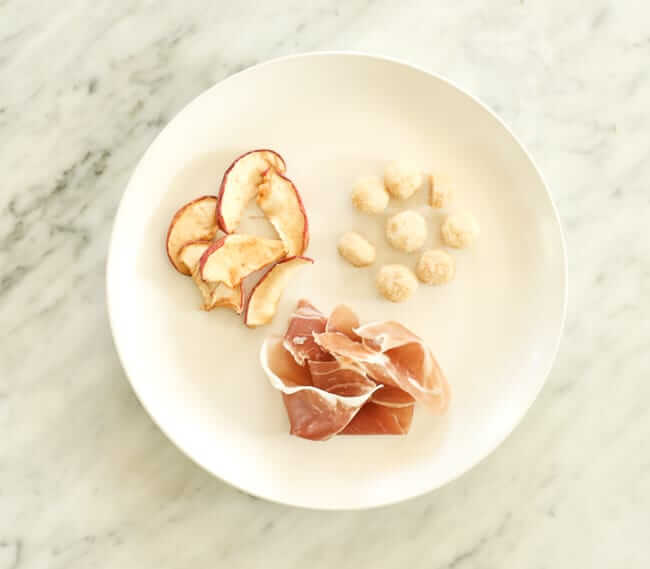 9. Veggies with non-dairy yogurt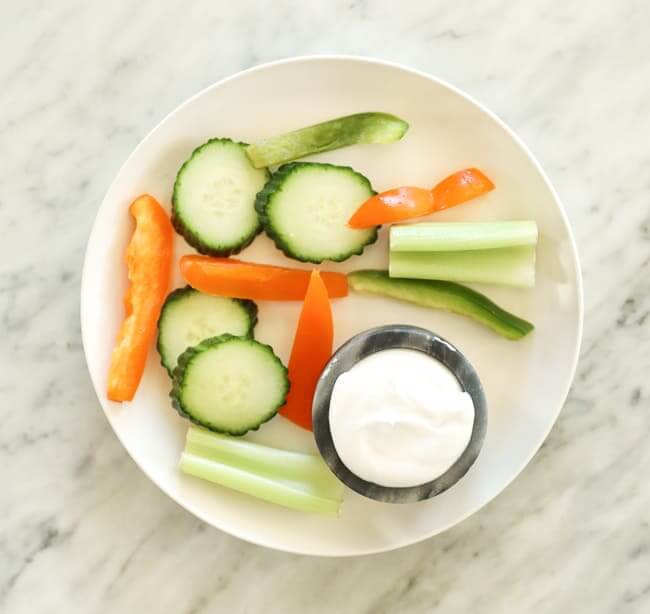 10. Pickles and meat (lunch meat or leftovers)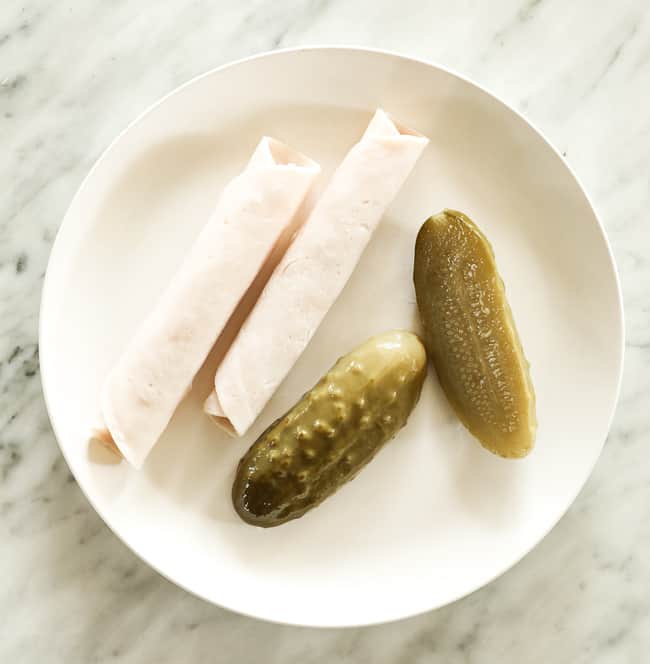 11. Fruit with almond butter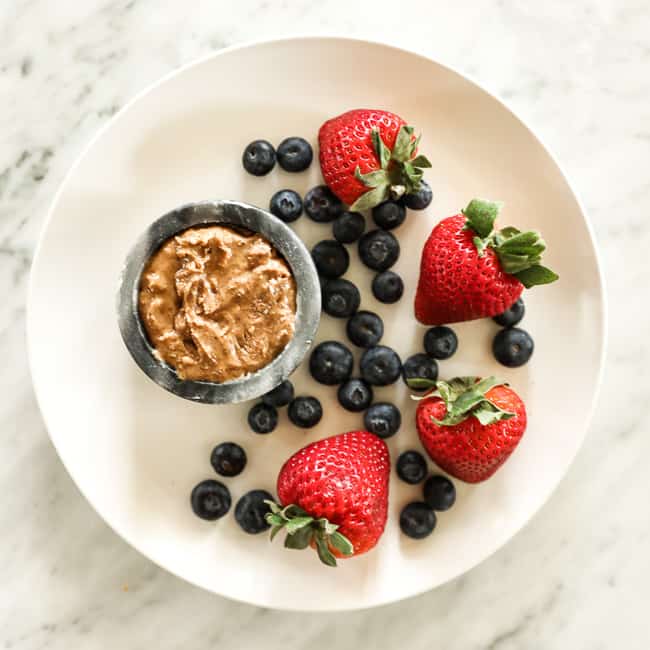 SOME WHOLE30 COMPLIANT PRODUCTS FOR GRAB SNACKS
LUNCH MEAT:
Other options might exist at your local store, just check the ingredients and make sure there aren't any sneaky sugars in the ingredients!
PROSCIUTTO:
Trader Joe's
Other stores – Just check ingredients, they should just be pork and salt.
RANCH DRESSING:
NON-DAIRY YOGURT:
PICKLES:
KIMCHI:
---
MAKE SNACKS
---
12. Bell pepper sandwich (lunch meat, pickle and mustard)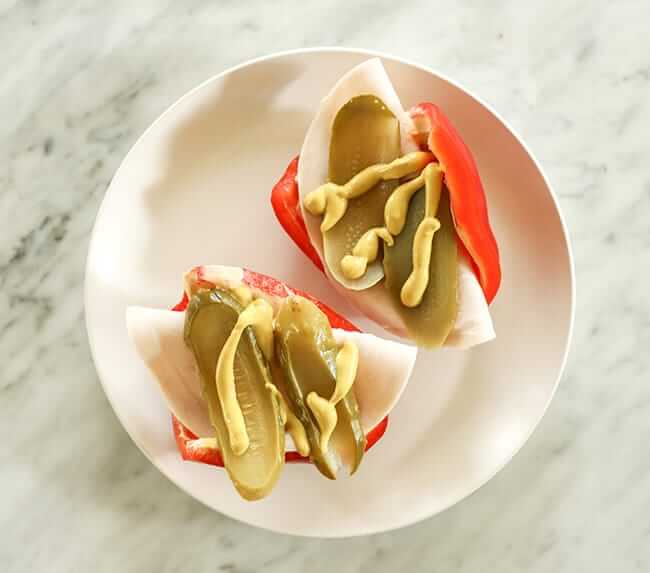 13. Chopped sausage, kraut and avocado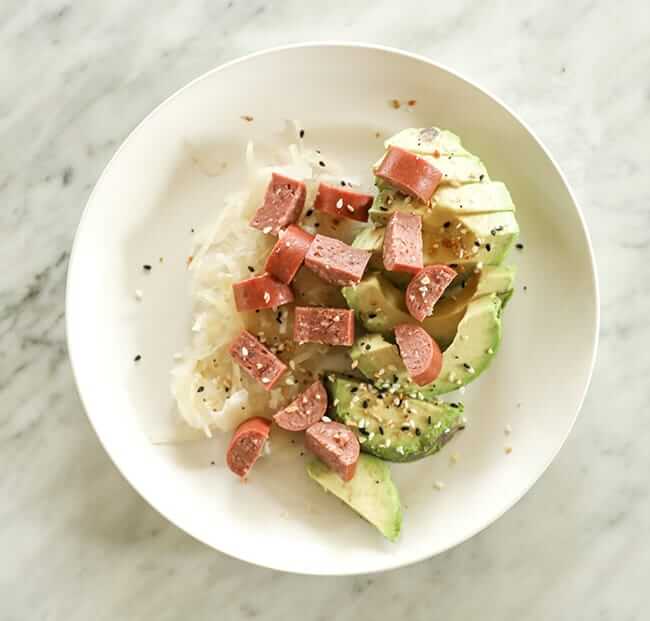 14. Bone broth and veggies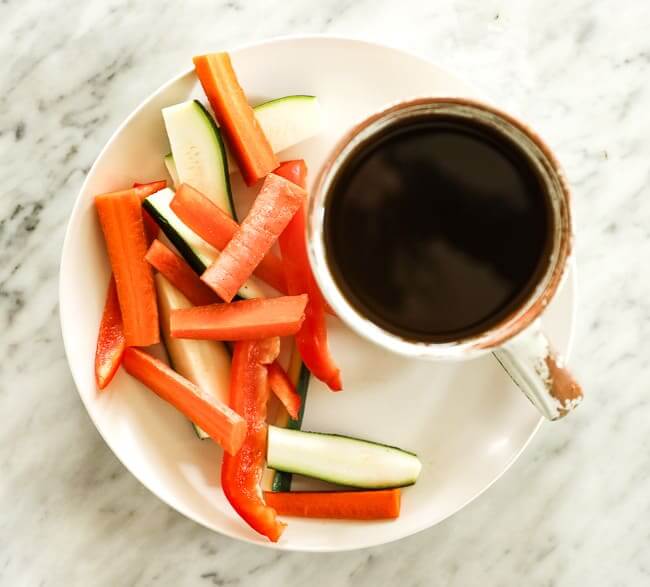 15. Lunch meat (or leftover meat) wrap with avocado and mustard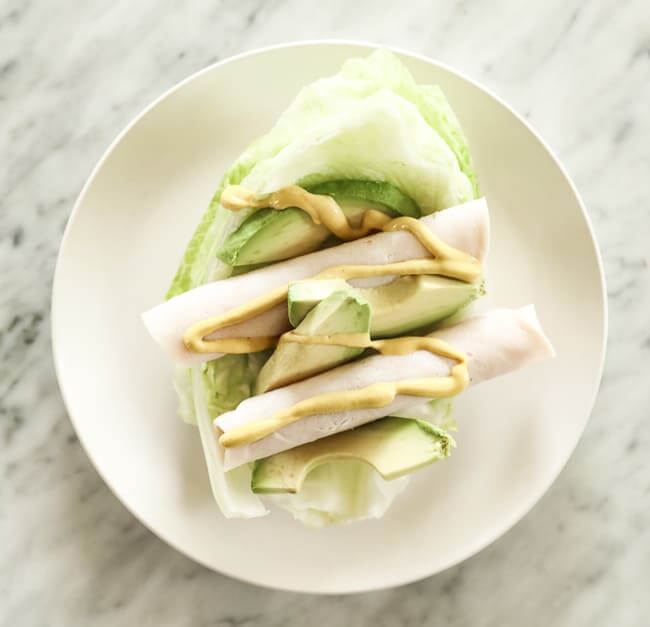 17. Veggies with simple guacamole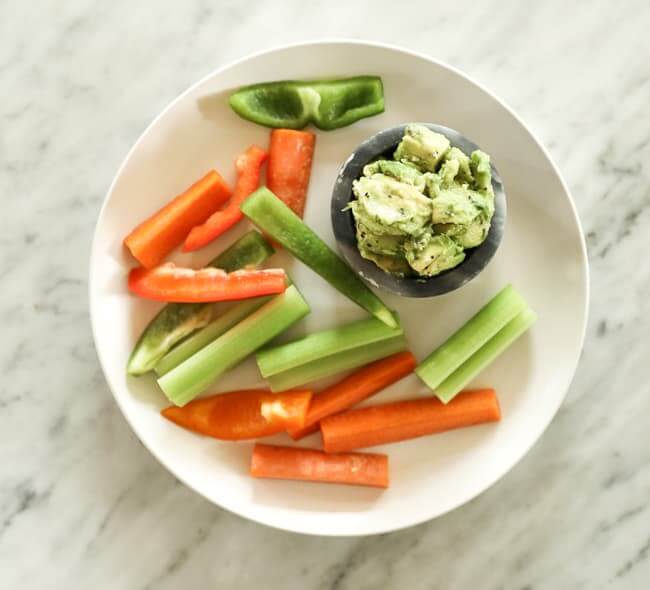 18. Sausage, greens and mustard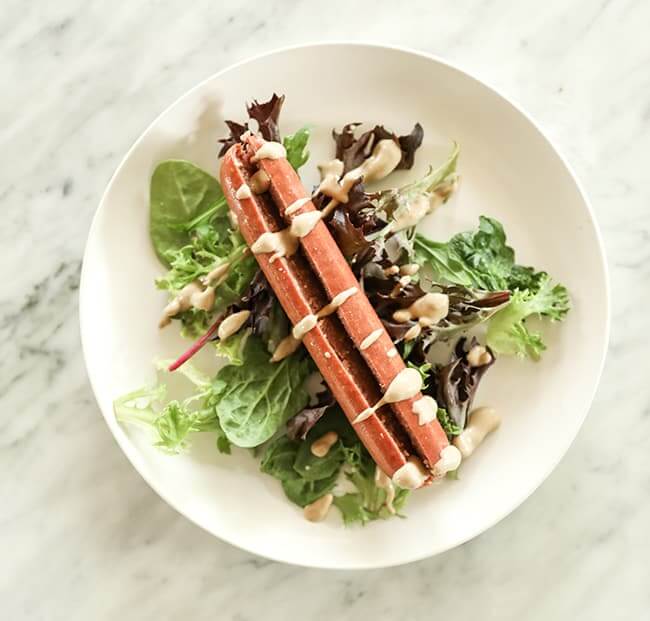 19. Sausage (or beef) patty and spinach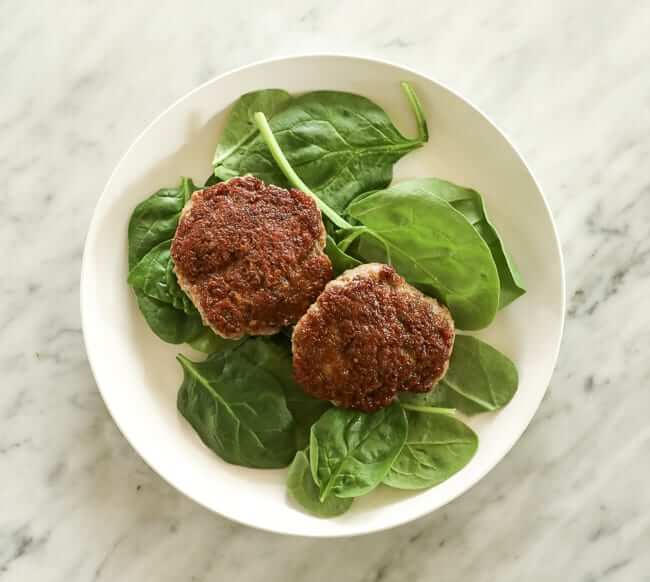 20. Quick scramble (egg, meat and spinach)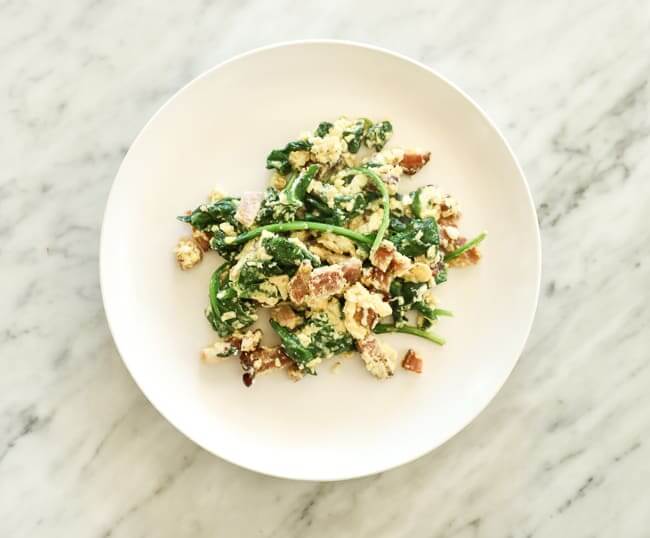 20. Bone broth and coconut yogurt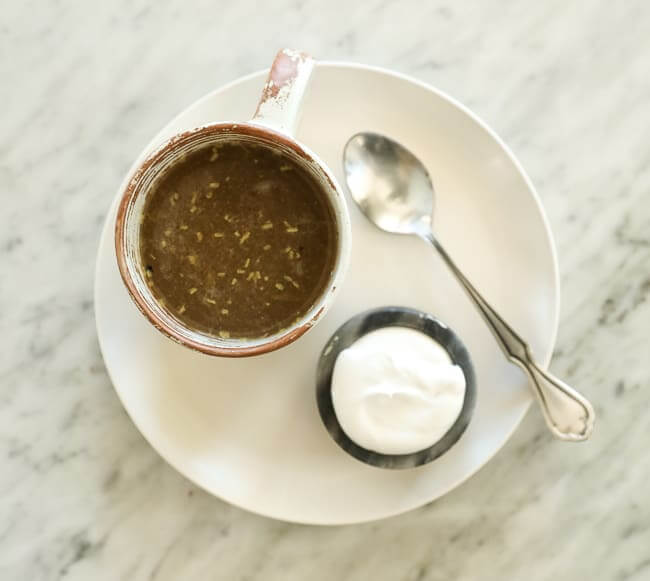 SOME WHOLE30 COMPLIANT PRODUCTS FOR MAKE SNACKS
PRE-COOKED AND FRESH SAUSAGE:
GROUND SAUSAGE:
MUSTARD:
Annie's Yellow Mustard or Dijon Mustard
Other store brand mustards are compliant also (Trader Joe's, Whole Food 365 brand) just check ingredients.
SAUERKRAUT:
BONE BROTH:
---
PREP SNACKS
---
21. Soft boiled egg over tomato with greens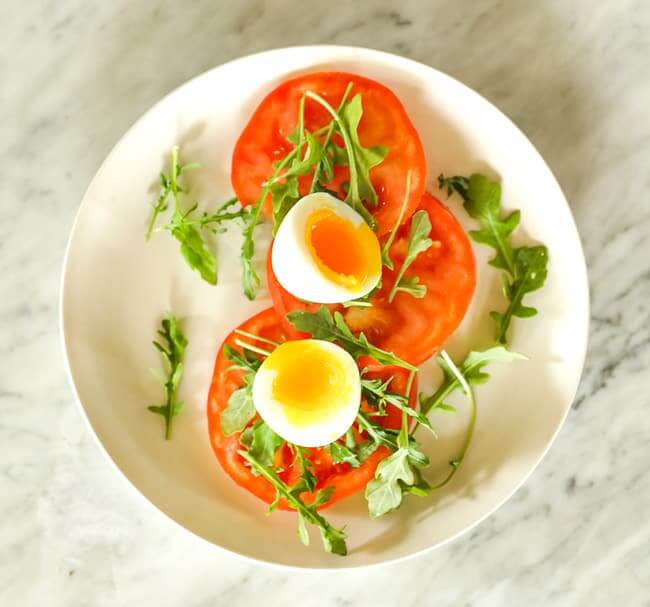 22. Roasted veggies with ghee and nutritional yeast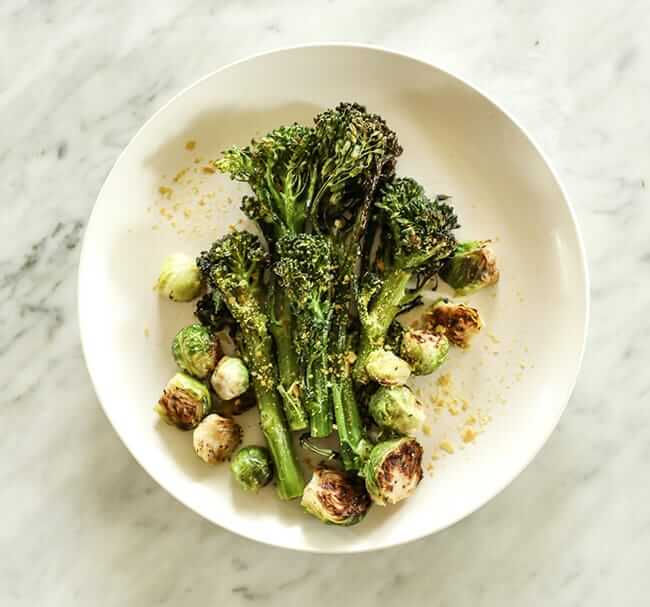 23. Sweet potato toast (2 ways)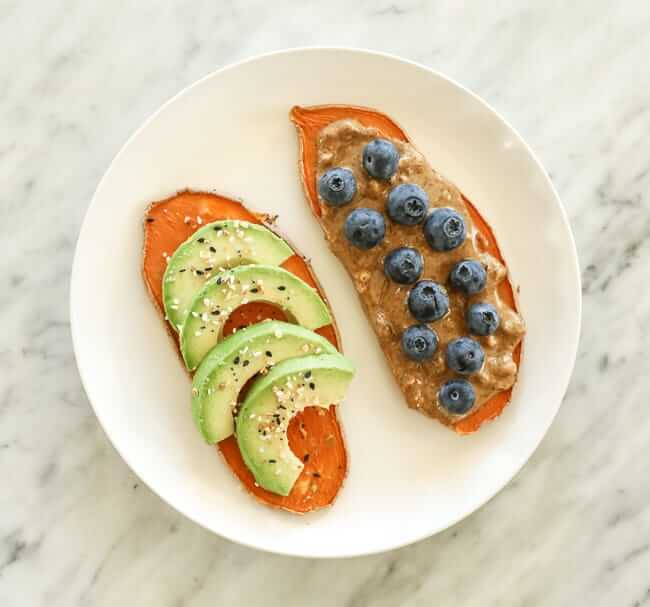 Toppings pictured are sliced avocado with some everything but the bagel seasoning salt and almond butter with blueberries. You can really use anything that sounds good for toppings. We like to add on some healthy fats and leftover protein to make this a true "mini-meal".
24. Cucumber slices with tuna salad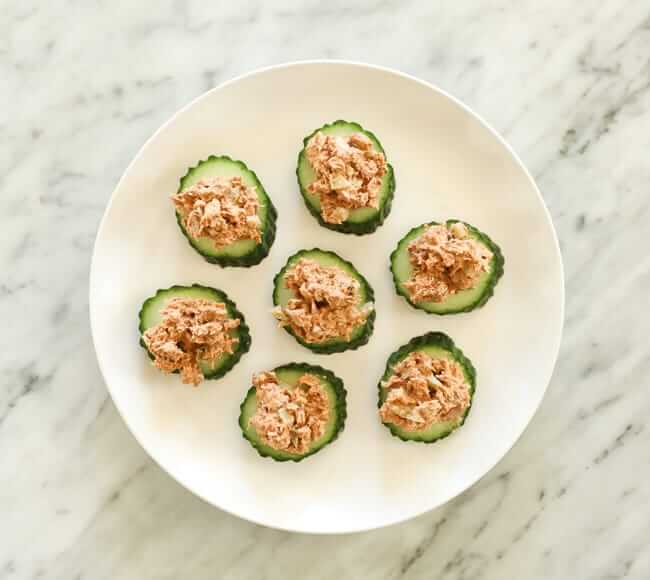 25. Hard boiled eggs (4 ways)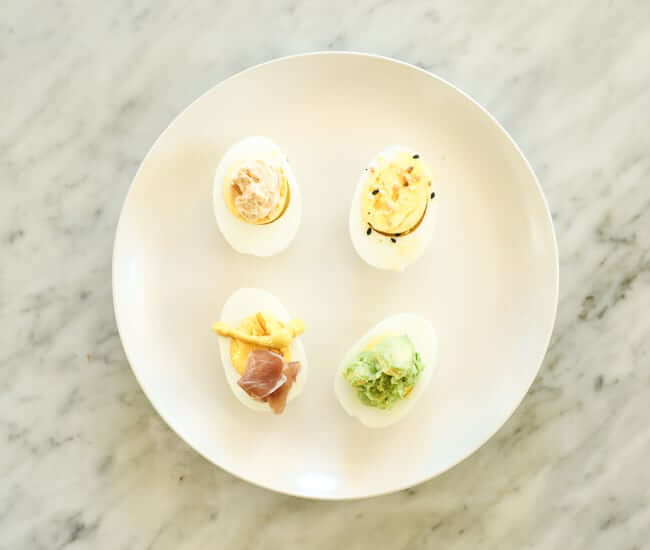 Pictured topped with (clockwise from top left):
26. Bacon in cabbage cup with simple guacamole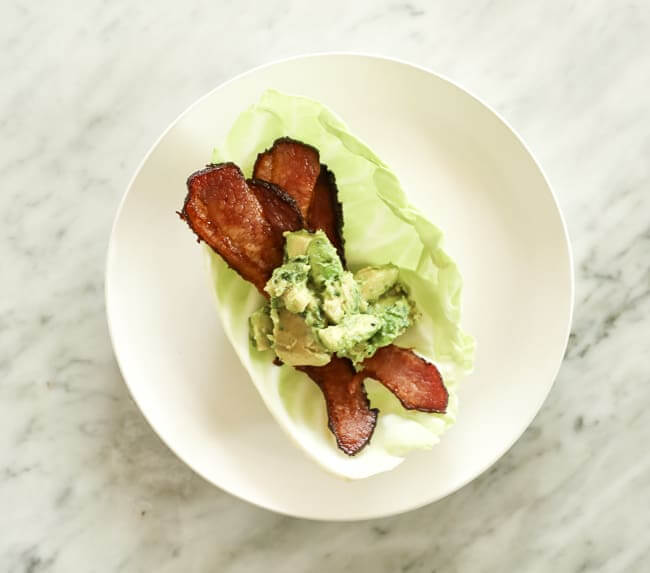 27. Chicken salad on apple slices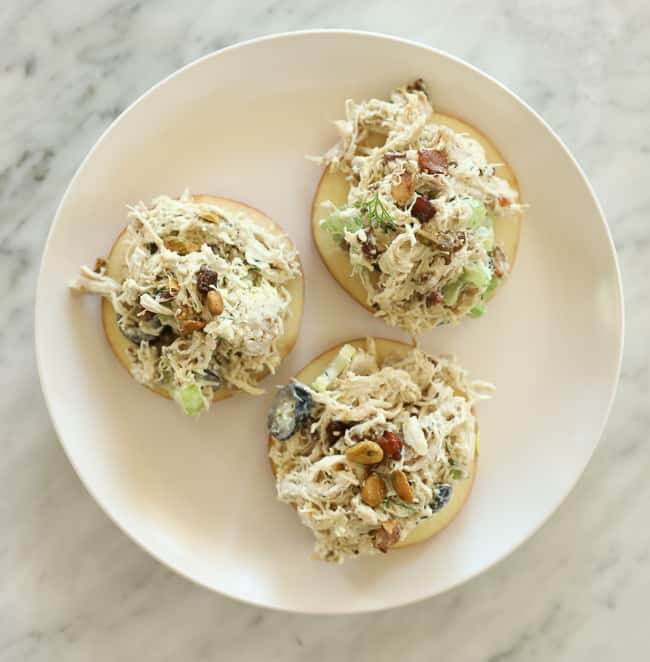 Pictured above using our Keto Chicken Salad recipe.
28. Carrots with coconut butter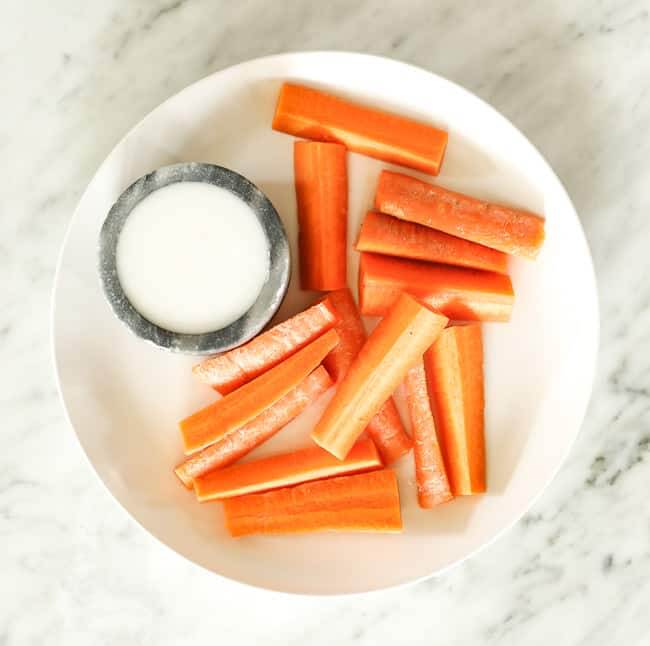 29. Roasted veggies with compliant mayo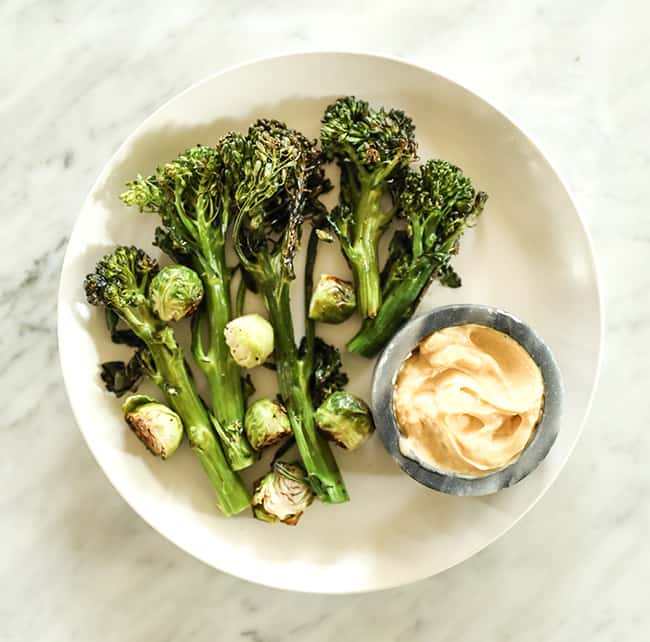 30. Bacon with simple guacamole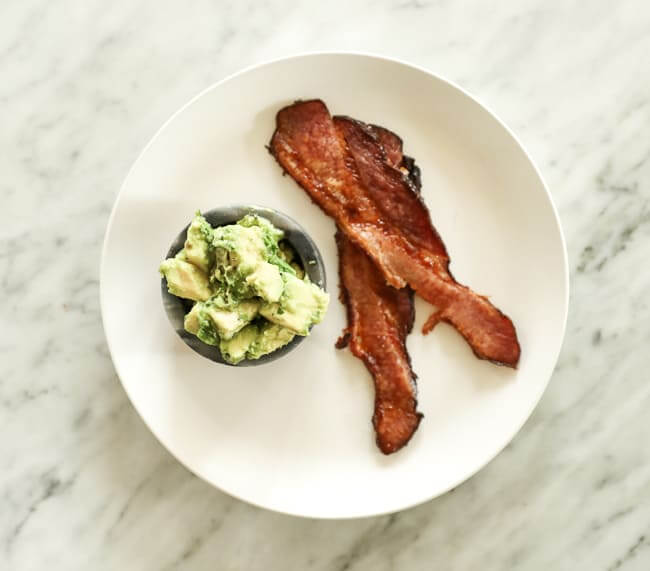 SOME WHOLE30 COMPLIANT PRODUCTS FOR PREP SNACKS
BACON:
GHEE:
NUTRITIONAL YEAST:
COCONUT BUTTER: